Set in Pretoria, South Africa, The River follows the activities of two families, the Dikanas and the Mokoenas, from opposite sides of the economic spectrum as they strive to gain mastery of the recently discovered diamond in Cullinan, not far from Pretoria.
The River, with its apt description of how betrayal, murder, and the pursuit of a particular goal can connect two groups of people with nothing in common, has created a buzz in the lives and hearts of thousands of viewers who are always waiting for new episodes.
Recap Of What Happened In The River January 2022 Episodes
If you missed any episode in January 2022, then you are in the right place for a review of events that unfolded in this gripping drama series. The series returned in January with Beauty's shock at the revelation made by Emma and Refilwe's unpleasant surprise. It also shows Emma's complete disregard of Beauty's warning with regards to her constant involvement in gaslighting.
The people of Refilwe are left to ponder the implications of Mohumi's return after a prolonged absence. They are also faced with the prospect of battle which they might not be ready for. The series ends in January after the new management comes up with decisions that leave the people of Refilwe in a very unpleasant situation. Kedibone also brings herself down for her community's sake.
Latest From The River Season 4 (and 5) Teasers For February 2022
The cast and crew of one of South Africa's most viewed TV series return in February with more thrilling scenes and fans can get a brief taste of the action to come here.
The River promises to be more appealing and suspense-filled as it nears the finale of season 4 and also premieres with Season 5 on Monday, February 7, 2022. Join us as we take you through what to expect this month – The River season 4 & 5 teasers for February 2022.
Tuesday, February  7, 2022 (Episode 257)
Things I Hate About Love
Cobra is taken aback by Lindiwe's proposal. Fear of the unknown plagues Refilwe as it faces its future.
Wednesday, February 8, 2022 (Episode 258)
You've Got Yourself A Gun
The Refilwe community struggles to handle their impending doom. Secret plans are still being made by an unexpected pair.
Thursday, February 3, 2022 (Episode 259)
Assume The Position
An enemy's enemy is a friend. Cobra goes the extra mile while recruiting extra help to destroy a common foe.
Friday, February 4, 2022 (Episode 260, Season Finale)
Swimming With The Sharks
An old adversary reappears to the shock and surprise of the people of Refilwe.
Monday, February 7, 2022 (Episode 1, Season 5 Premiere)
Kings, Queens, And Paupers
Mabutho makes a personal vow after Refilwe gets a new lease on life.
Tuesday, February 8, 2022 (Episode 2)
An Old Stranger
The Dikana household plays host to an old stranger with tough questions.
Wednesday, February 9, 2022 (Episode 3)
Extension
Lindiwe stands her ground over her choices and Kedibone steers her family away from their biggest favor.
Thursday, February 10, 2022 (Episode 4)
Lucky Streak
Lindi has to face an unexpected, old acquaintance. The Mokenas are in for another surprise even as they prepare for their big move.
Friday, February 11, 2022 (Episode 5)
We're Doing Something Wrong
Lindiwe believes there's more to the new offer she just received and the moments begin anew.
Monday, February 14, 2022 (Episode 6)
Pins And Needles
Mabutho struggles to accept his circumstances and Lindiwe finds it challenging to handle a business proposition.
Tuesday, February 15, 2022 (Episode 7)
The Big Fish
Lindiwe has made an unusual friend, while it seems the Mokoenas have to find some friends as well.
Wednesday, February 16, 2022 (Episode 8)
Overworked And Overwhelmed
Cobra rubs his wealth in the nose of Mabutho which leaves him feeling agitated over his financial status.
Thursday, February 17, 2022 (Episode 9)
Reality Check
Lindiwe and her new friend become more fond of each other. Zweli finds it hard to adapt to his new condition and things go from bad to worse for Mabutho.
Friday, February 18, 2022 (Episode 10)
At This Time Of Night?
Zweli reaches a decision point at work and at home. Mabutho searches desperately for help but is this the limit for him?
Monday, February 21, 2022 (Episode 11)
Duplicity
Lindiwe's family is distressed over her regular rendezvous with Mnqobi while Mabutho's new job is not what he expected.
Tuesday, February 22, 2022 (Episode 12)
A Foreign Worry
Lindiwe finds it hard to answer some tough questions directed at her and Mabutho furthers his ambition in an unscrupulous manner.
Wednesday, February 23, 2022 (Episode 13)
Suspicious Activity
Zealot is made to feel like a stranger in his own home while Mabutho senses some hanky panky at work.
Thursday, February 24, 2022 (Episode 14)
Dead Men Don't Speak
Zweli gets a wake-up call as Detective Tshabalala pours cold water on his face. Mabutho insists on unraveling the mysteries at his place of work.
Friday, February 25, 2022 (Episode 15)
On Record
Zweli acts on his theory. Mabutho is unaware of the dire consequences of the invitation he accepted.
Monday, February 28, 2022 (Episode 16)
Cracks In The Walls
Mabutho faces the consequences of his actions. Cracks begin to appear in the walls of Zweli's and Lindiwe's relationship as she gets closer to the new mining magnate.
List Of Actors And The Characters They Play In The River
The River boasts remarkable cast members, including a guest appearance from Connie Ferguson who reprised her role as Harriet Khoza from The Queen, whose really professional and unique interpretation of their given roles have helped to make the show fun, intriguing and interesting.
We're sure fans will love to know the real names of their favorite characters. Below is a basic list of the actors and the roles they interpret.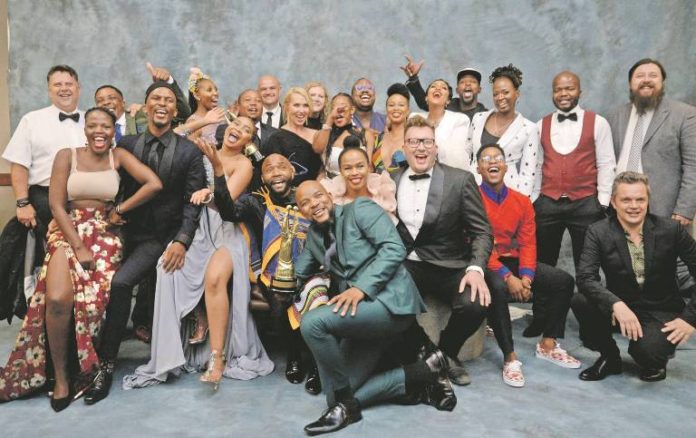 Sindi Dlathu – Lindiwe Dlamini-Dikana
Larona Moagi – Tumi Mokoena
Hlomla Dandala – Commissioner Zweli Dikana
Presley Chweneyagae – Thuso Mokoena
Moshidi Motshegwa – Malefu Mokoena
Lawrence Maleka – Zolani Dlamini
Tinah Mnumzana – Mam' Flora Moloi
Lunathi Mampofu – Emma Dlamini
Seputla Sebogodi – Mohumi
Jet Novuka – Walter Sotshongaye
Lunga Mofokeng – Andile Dikana
Zenokuhle Maseko – Mbali Dikana
Linda Mtoba– Nomonde Dikana
Tango Ncetezo – Paulina Dlomo
Lunga Shabalala – Lindani Dlomo
Matshepo Mokgopi – Dimpho Mokoena
Galaletsang Koffman – Beauty
Thapelo Segobodi – Khabzela
Tsholofelo Matshaba – Kedibone Mokoena
Thembinkosi Mthembu – Mabutho Dimba
Chuck Shisane – Detective Tshabalala
Ferry Jele – Veronica Dlamini
Connie Ferguson – Harriet Khoza
Mary-Ann Barlow – Gail Mathabatha
Nokuthula Ledwaba – Angelina Mthombeni
Shanon Esra – Advocate Sandra Stein
The River Has Seen Some New Faces Join The Cast
Cast members leaving telenovela shows is not a unique experience. Even the most well-written shows witness cast departures and The River is no exception. Some cast members have left the show for a variety of reasons, but it has also seen new faces. The show welcomed Wiseman Zita as Mondli. It also shows the arrival of Mzwandile Ngubeni as Elvis Bajoyi.
The River Premiered In 2018 And Has Been Renewed For A Fifth Season
The amazing drama series was released in 2018 by Tshedza production company and premiered on January 29, 2018, on 1Magic. The show is televised every weekday from Monday to Friday at 7 pm on the 1Magic network, Showmax, and Mzansi Magic.
Towards the end of 2021, November precisely, the show received backing for an additional season scheduled for premiere on Monday, February 7, 2022.