The South African TV series Uzalo revolves around two families – the Xulu and the Mdletshe families from KwaMashu, who got close to each other following a switch of their eldest sons. So many interesting storylines have emerged from this beautiful plot, with talented local actors doing justice to them. Uzalo Teasers for July 2022 are here and, as usual, loaded with suspense and thrilling lines.
Uzalo is one of the most-watched soapies in the country. Over 1800 episodes of the show have aired as of July 2022. Interestingly, it competes with popular shows such as Generations, The Queen, Scandal, and Muvhango.
A Recap Of What Happened in Uzalo in June
The show ended in June with Nomaswazi arriving at a perfect plan on how to find out her father's killer. On Wednesday, 1 July, the 85th episode of the show began with Antoinette's discovery of something private about Dorcas. They ended up fighting each other while Vuyiswa and Hector did their best to make amends.
Like Nkosiyabo, Brutus also found himself in trouble after he was accused do stealing cocaine. Things also didn't look good for Hector and Harriet, and plans were made for his life to be taken. Nkosiyabo shot Siyabonga while Vuyiswa and Hector welcomed a baby, leaving viewers itching more about the news.
Uzalo Teasers July 2022
Friday 1 July 2022 – Episode 85
Njinji's decision ends up putting the family in serious danger. The tide seems to have turned for Gabisile, and Lilly is accosted by MaDongwe and Nonka about her debts.
Monday 4 July 2022 – Episode 86
Lilly finds out her finances are a topic of discussion in the family, and she is not happy about it. It eventually dawns on Sbu that starting a business is not as easy as he thought, while Njeza finds out that there's a new bull in his kraal. An abused man gets help through Gabisile's radio show.
Tuesday 5 July 2022 – Episode 87
Vika and Njinji abandon Nomaswazi in their next project. Gabisile almost gets burnt for playing the hero. Lilly loses out on an important work assignment because of General, while Njeza pleads Sbu's case to Hlelo.
Wednesday 6 July 2022 – Episode 88
The Magwazas have no option but to give up one of their biggest assets to save their skin. Now, Hlelo gets a taste of the life Sbu has been selling to her. TGabisile finds her way to the man who is abused by his wife. Now, the woman has to make the biggest decision.
Thursday 7 July 2022 – Episode 89
Gabisile's good acts come back to bite her when she receives a threat in the studio. Kwanda shocks Nonka with an unexpected proposal, ready to make things more serious between them, and Hlelo is looking so pretty, turning heads with her new look.
Friday 8 July 2022 – Episode 90
The hostage situation at K-Mash FM turns out badly. MaDongwe tries her best to convince General that moving in with her is a great idea while Sbu and Nkunzi get into a serious argument.
Monday 11 July 2022 – Episode 91
Will Nkunzi save Gabisile's life now he knows her life is in danger? He is already out to rescue her from danger.
Tuesday 12 July 2022 – Episode 92
Gabisile faces the wrath of a crazy woman. Njinji subscribes to Nomaswazi's idea and lets Mamba go while the General's presence continues to cause chaos in the Xaba house.
Wednesday 13 July 2022 – Episode 93
Mamba visits Nkunzi after escaping the Magwazas. MaDongwe's kids and General face reality as the children disagree on his involvement with the family. K-Mash FM wants Gabisile back at work.
Thursday 14 July 2022 – Episode 94
Nomaswazi drops off a nasty parcel for Nkunzi. MaDongwe's relationship status is not looking good since the kids got involved in it. Hlelo impresses Njeza and Sbu while Nkunzi tries to convince Gabisile to reconsider her career.
Friday 15 July 2022 – Episode 95
Gabisile makes up her mind to face her fears boldly as she finds her way back to the mic. Nomaswazi drops a bombshell on the Magwazas about Mamba's death. Mbatha's new project isn't greatly received.
Monday 18 July 2022 – Episode 96
Something unexpected unfolds between Hlelo and Njeza. Gabisile presents a compromise to Nkunzi regarding her radio show. MaDongwe seems to have her mind up her mind on how to make General disappear from her heart.
Tuesday 19 July 2022 – Episode 97
Gabisile's shocking decision leaves Nkunzi frustrated. Njeza and Sbu and their boss exchange words. MaDongwe and General have a heart-to-heart.
Wednesday 20 July 2022 – Episode 98
Tension is high between Nomaswazi and Vika when Nomaswazi gives him a cool warning. Things fail to go according to plan for Nkunzi. Finally, Sbu and Njeza's business takes off. General is getting deployed into a war country.
Thursday 21 July 2022 – Episode 99
Hlelo has to choose between choosing Loktion Bling Wrap and KwaNjomane VIP Lounge. Kwanda finds himself working alongside someone he detests while Vika sets his sights on Sbu and Njeza.
Friday 22 July 2022 – Episode 100
Vika discovers evidence of sabotage and takes effective measures in retaliation. Meanwhile, Gabisile strong-arms Nkunzi into revealing himself to the world. Hleziphi makes a big discovery that might have serious consequences.
Monday 25 July 2022 – Episode 101
Nonka finds out something about her boyfriend, while Flavia worries about the controversial guest they have on their line-up. Meanwhile, Nkunzi pays a surprise visit to the Magwaza Homestead.
Tuesday 26 July 2022 – Episode 102
Hlelo does the unimaginable; she takes her shot at Nkunzi live on air. When Kwanda organizes a lavish surprise party, everyone thinks he will go on his knees for love. Especially with the evangelist, bishop, and pope Mbatha present.
Wednesday 27 July 2022 – Episode 103
Kwanda succeeds in lifting all of Nonka's concerns off her shoulders. Nkunzi's actions rile Gabisile up the wrong way, while Njinji discovers information about Mamba that just gives her migraines. Mbatha is not backing off from finding the woman of his dream.
Thursday 28 July 2022 – Episode 104
Vika is not comfortable with Nomaswazi's secrets and wants to know. Nkunzi informs Gabisile he's not going to her luncheon. Mbatha wakes up stranded at the beach.
Friday 29 July 2022 – Episode 105
Nomaswazi comes up with an idea on how the family can settle the Debt Collectors for the time being. Hlelo and Njeza have an agreement, what happens on the sea, stays on the sea. Hleziphi insists that Nonka and Kwanda are drug dealers.
Meet Uzalo Actors And The Characters They Play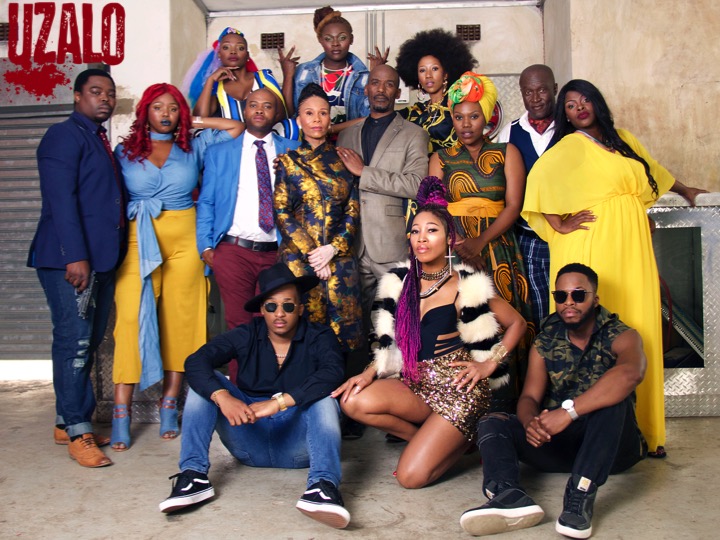 Sibonile Ngubane as Khataza
Nyalleng Thibedi as Zekhethelo Mhlongo
Don Mlangeni Nawa as Dlomo
Luthuli Dlamini as Bheki Zulu
Bonga Dlamini as Mkhondo Xulu
Gugu Gumede as Hlengiwe Mlambo-Mhlongo
Nkanyiso Makhanya as Njenza
Noxolo Mathula as Lilly Dongwe
Masoja Msiza as Nkunzi Mhlongo
Thuthuka Mthembu as Nonkanyiso
Thembinkosi Thwala as Mondli Mdlalose
Khaya Dladla as Ghamakulu Cetshwayo
Sthembile Mhlongo as Flavia
Baby Cele Maloka as Gabisile Khumalo
Wiseman Mncube as Sibonelo Mhlongo
Nompilo Maphumulo as Nosipho Xulu
Simphiwe Majozi as Sbusiso
Shauwn Mhkize as Herself
Thembi Nyandeni as Ninji Magwaza
Nokuthula Mabika as Thobile
Ronald Mkhwanazi as Simon Nsimbi
Londeka Mlaba as Sibahle
Omhule Gela as Nomaswazi Magwaza
Siyabonga Radebe as Vikizitha Magwaza
Bheki Mkhwane as Melusi
Mpumelelo Bhulose as Musi
Leleti Khumalo as Zandile Mdletshe
Londiwe Mthembu as Maphindi
Ayanda Mdeltshe as Khumbulani
Khabonina Qubeka as Nokuthula
Hope Mbele as Amahle Sishi
Sandile Mfusi as Kwanda Buthelezi
Thabisile Zikhali as Constable Biyela
No New Actor Joined Uzalo Recently
A lot has changed in Uzalo over the years. Several actors have joined and left the show for several reasons. While Uzalo fans await new faces on the series, it is pertinent to mention that the last batch of actors to join Uzalo did so in March 2022, and they are doing great.
Do you know where the danger is? 👀⚠️ #UZALO Tonight at 8.30pm on @Official_SABC1 pic.twitter.com/ilaWhTnfam

— Uzalo- Mon – Fri 8:30pm (@Uzalo_SABC1) July 6, 2022
Some of them are Ronald Mkhwanazi as Simon Nsimbi, Thabisile Zikhali as Constable Biyela, Omhule Gela as Nomaswazi Magwaza, and about five other thespians.
You Can Catch Up With Uzalo On Weekdays On SABC1
Uzalo is a product of Stainless Glass production, while Khumbulani Hlongwaneis credited as its producer. The South African media experts Gontse Lekgetho and Mmamitse Thibedi are the show's executive producers.
If you are a fan of the crime drama show, tune in to SABC 1 at 8:30 pm every weekday to enjoy every bit of the show for 23-25 minutes. Uzalo is currently airing its eighth season with over 1800 episodes. The show has been airing on SABC1 since 2015.