Thabo (Real Name: Thabo Mabogwane; Born April 24th, 1986) is a 37 year-old music artist well-known as one-half of the famous afro-house music band, Black Motion.
Along with DJ Robert Mohosana, Smol created Black Motion in the year 2010. Since then, the electronic duo has gone on to achieve incredible success on the local and international stage. By building their sound on the foundations of the drum, with rhythms structured around native languages, Black Motion has been able to bag several music awards, including the South African Music Awards for Best Dance Album.
Thabo from Black Motion's Biography Summary
Full name: Thabo Mabogwane
Nicknames: Thabo from Black Motion / Smol / Thabo Smol
Gender: Male
Date of birth: April 24th, 1986
Thabo from Black Motion's Age: 37 years old
Ethnicity: Black
Nationality: South African
Zodiac Sign: Taurus
Sexual Orientation: Straight
Religion: Christian
Marital Status: Single
Thabo from Black Motion's Baby Mama: Rakgadi Sedy Koetle
Thabo from Black Motion's Children: 1 daughter; Refentse Tshimologo Mabogwane
Siblings: Nthabiseng (sister)
Thabo from Black Motion's Net worth: $500,000+
Famous for: Being one half of the popular music band, Black Motion
Thabo from Black Motion's Instagram: @realthabosmol
Twitter: @thabo_smol
Facebook: @BlackMotion
What is Thabo From Black Motion's Age?
Thabo from Black Motion, whose real name is Thabo Mabogwane, is 37 years old. He was born in Soshanguve, North Pretoria, on April 24th, 1986. Hence, his zodiac sign is Taurus.
Thabo Smol started making music at an early age. His career, however, took off in his early 20s, and now at the age of 37, he has become a global star. Thanks to his uncanny talent as a percussionist.
Who are Thabo Smol's Family Members?
In January 2023, Thabo from Black Motion wrote an emotional message to his parents on IG. From the posts, it was deduced that the music artist was raised by loving and supportive parents. He expressed his gratitude to his father and mother for always standing by his side, even in his darkest times.
Also, he is grateful to God for giving him such loving parents and wasn't shy to publicly express his love for them. Furthermore, Smol has a sister called Nthabiseng. The two are very close and the 'Rejoice' hitmaker never fails to celebrate his sister on her birthday.
Thabo Mabogwane Founded Black Motion with DJ Mörda in 2010
Thabo Mabogwane and Robert Bongani Mohosana (aka DJ Mörda, formerly known as Murdah Bongz) were born and raised in Soshanguve. Having grown up in the same hood and being into music production, the two had a mutual friend named Moses, who linked them up. Their coming together then gave birth to the formation of the music group Black Motion.
Both Thabo and Bongani cite Moses as the founder of Black Motion following his investment in the group. Moses, who loves investing in up-and-coming artists, bought the music group its first music equipment. With the duo being raised in Soshanguve, where House music is part of the culture and tradition of the residents, Black Motion started producing afro-house music.
The Music Duo Released Their First Single in the Same 2010
Thabo Smol and DJ Mörda started out with drumming and then became very popular for doing what artists do in the studio on stage. While performing on stage, Thabo and Bongani would support their keyboardists and vocalists with DJ and percussionist acts. The two then had their breakthrough in the music industry with the release of a single titled 'Banane Mavoko' (clap your hands) featuring the late Jah Rich in 2010.
The song became an instant hit as it earned widespread radio play as well as international recognition. They subsequently got signed to Kalawa Jazmee and Universal Records. And in the next year, the duo went on to drop their debut studio album, 'Talking to the Drums.' They followed it up with the release of a second album titled, 'Aquarian Drums.'
It's noteworthy that the Black Motion members come from the clan of Queen Modjadji, where everything is done with drums, from healing to initiation and celebration. As a result, Thabo Mabogwane and Bongani Mohosana incorporated drumming as an important element in their music. And it has helped them to carve a niche in the music scene as their music has been featured in several local compilations.
Thabo from Black Motion Ecountered Huge Success with Fortune Teller and Subsequent Albums
Following the success of their first two albums, Thabo from Black Motion and Bongani was signed by an international record label, Tribe and Nulu, which started releasing their songs overseas. In March 2012, the music band performed at the prestigious Winter Music Conference held in Miami, US. They were also invited to the music conference again the next year.
Later in 2014, Black Motion released their third album, 'Fortune Teller' and it was certified gold by the Recording Industry of South Africa (RiSA). More so, the album clinched the Best Dance Album Award at the 21st annual ceremony of the South African Awards. After signing a record deal with Sony two years later, the music duo dropped their third album, 'Ya Badimo' on October 28th, 2016.
Interestingly, it was certified platinum by RiSA. In partnership with Ballantine Scotch Whisky, Black Motion had a music campaign titled, The Ballantine's Beat of Africa in February 2017. Then in the following year, on September 21st, 2018, Thabo Smol and DJ Mörda dropped a hit song, 'Joy Joy' featuring Brenden Praise which was certified platinum.
In the next month, 'Moya Wa Taola,' Black Motion's fifth album, was released. It was commercially successful and won a couple of awards. Later in February 2020, the music group released another smashing song, 'Uwrongo,' collaborating with Ami Faku, Prince Kaybee, and Shimza. The song debuted at No. 1 on Radiomonitor Charts and received gold certification from the Recording Industry of South Africa.
Furthermore, Black Motion dropped an award-winning sixth studio album, 'The Healers: The Last Chapter' on September 24th, 2020. The album featured several top musicians, such as Simmy, TRESOR, and Sauti Sol. Their single, 'Everything,' featuring Afrotraction and trumpeter, Mo-T, was released two months later. In the past years, Thabo from Black Motion and Bongani Mohosana has performed in Botswana, Angola, Namibia, the United Kingdom, and Portugal.
Black Motion's Music, a Source of Spiritual Healing
In an interview in 2018, Thabo Smol disclosed that he has an ancestral calling, but it doesn't mean he has to be a sangoma. His calling, however, helps him to play the drums in a way that transfers spiritual healing to the audience. Through drumming, Black Motion's music has healed broken hearts and souls.
Smol went on to narrate an amazing experience he had in the UK after a performance. He said he was met backstage by a white guy with Nigerian roots, who confessed to him that he had been depressed and saw his grandmother in a vision telling him to let go. Then after Black Motion's performance at the concert in the UK, he felt lighter and relieved.
With Thabo Mabogwane using his music to fulfill his spiritual calling, Black Motion's albums draw heavily from the ancestors. From 'Talking to the Drums' to 'Aquarian Drums' and 'Moya Wa Taola.' The latter, which is the duo's fifth album, means "spirit of the divining bone," and it's said to be a reference to them being traditional healers. The Black Motion members believe that music is their bone, and they throw it on the floor for the audience to get spiritual cleansing.
List of Black Motion's Songs and Albums
Songs
Banane Mavoko (clap your hands) featuring Jah Rich
Little Blue Girl feat. Miss P
Father To Be feat. Dr. Malinga
Dimensions
Kakaramba
Rejoice
Joy Joy feat. Brenden Praise
Don't Let Me Go feat. Miss P, Djeff, and Malehloka
Everything feat. Afrotraction and Mo-T
Uwrongo feat. Ami Faku, Shimza, and Prince Kaybee
Albums
The Healers: The Last Chapter (2020)
Moya Wa Taola (2018)
Ya Badimo (2016)
Fortune Teller (2014)
Aquarian Drums (2012)
Talking To The Drums (2011)
Under Black Motion, Thabo Mabogwane Has Won Many Accolades
Smol and Mörda have made a name for themselves in the music industry through the release of music with a distinctive and unique African sound. They are rated as one of the best live performers in the world due to their unique take on the live DJ experience on stage. Not only have their music and hybrid live shows gotten audiences entertained but they have won them many accolades.
In the year 2015, Thabo from Black Motion and DJ Mörda took home South African Music Award for Best Dance Album with 'Fortune Teller'. They also won two Dance Music Awards in 2017. Their fourth studio album, 'Ya Badiwo' released in the previous year, clinched the Dance Music Award for Best Live Act and the Best International Producer Award.
In the same 2017, the album additionally won the Best Dance Album Award at the 23rd ceremony of the South African Music Awards. Although the music duo got nominated for Favourite Music Artist/Group Award at the 2017 DStv Mzansi Viewers Awards, they didn't claim it. Nonetheless, they moved to bag South African Music Awards for Best Dance Album and Duo/Group of the Year with their fifth album, 'Moya Wa Taola' in 2019.
Furthermore, Thabo from Black Motion and his bandmate won another SAMA Award for Best Dance Album in 2021. Thanks to their sixth album, 'The Healers: The Last Chapter', which had many hit singles.
Recap of Awards Won by Black Motion
SAMA Award for Best Dance Album, 2015
SAMA Award for Best Dance Album, 2017
Dance Music Award for Best Live Act, 2017
Dance Music Award for Best International Producer, 2017
SAMA Award for Duo/Group of the Year, 2019
SAMA Award for Best Dance Album, 2019
SAMA Award for Best Dance Album, 2021
The Truth About Black Motion's Split
Rumors about Black Motion's disbandment started circulating in April 2022 when controversial entertainment blogger Musa Khawula tweeted that the music group had split. However, Black Motion owner and representative Spirit Motion refuted the rumor in July by releasing a press statement, making it clear to the public that Thabo Mabogwane and Bongani Mohosana are still members of Black Motion.
The statement explained that the group does not only exist but has plans to release more music in years to come. Spirit Motion also explained that the only change in the group is that Bongani had rebranded to DJ Mörda in a bid to launch his solo career in early 2022. And, Smol, on the other hand, has plied his trade in business, which they would reveal later on.
The duo was speculated to have gone their separate ways after Bongani Mohosana was seen performing without his band member, Thabo Smol. With the group's representative setting the record straight that DJ Mörda was still part of Black Motion despite launching a solo career, the rumor was put to rest. However, in November 2022, it was noticed that Black Motion had recruited a new member in the person of Kabelo "Problem Child" Koma.
Even though Mohosana disclosed that he was hurt seeing on social media that he was replaced with Kabelo, he still insisted that he was part of Black Motion. Subsequently, the relationship between Bongani and Spirit Motion went south, and it was then they made it public that the DJ is no longer a member of Black Motion. Hence, Black Motion now consists of Thabo Mabogwane and Kabelo Kamo.
In a response letter released by Spirit Motion on January 7th, 2023, it was stated that Bongani Mohosana voluntarily left Black Motion for over a year. They also alleged that he absconded as a director of Spirit Motion (Pty) Ltd, having been dormant in the company since and is yet to be formally disassociated from his role.
Why Did Black Motion File a Court Case Against One of Its Founding Members?
In December 2022, it was alleged that Moses Nkia Mokgoko, the owner of Black Motion's record label – Spirit Motion, filed a theft case against one of its founding members, Bongani Mohosana, at Olievenhoutbosch police station, north of Johannesburg. DJ Mörda reportedly broke into Spirit Motion's office and studio in Centurion on December 15th, 2022, and made away with equipment worth over R200,000.
Spirit of motion VS Bongani "Morda" Mahosana, this is very sad this is not the @black_motion we signed up for. pic.twitter.com/Luh7ammhOE

— Ras Cal Ugesi (@rascaldj_za) January 11, 2023
According to reports, it wasn't his first time breaking into the house. He was said to have gone to the premises some weeks before and deleted some of the songs recorded by Thabo and Problem Child. And he allegedly took Thabo Smol's passport. After the first incident, the owner of the music group had a discussion with the Mörda and then decided to let the matter slide.
Hence, no charges were pressed, but they changed the door locks. But with Mohosana breaking down the doors to gain access to the house when they were out performing at a gig, Moses Mokgoko had to open a case of malicious damage to property against the music artist. Afterward, Spirit Motion started legal proceedings against him for taking the law into his own hands.
Consequently, Bongani Mohosana was served a letter of demand which gave him until Friday, January 13th, 2023, to return the equipment taken from Spirit Motion's business premises, and the case will be dropped. Following the court order by the High Court in Gauteng, the 'Rainbow' composer has reportedly returned the stolen equipment to the company.
List of the Over R200K Worth of Recording Equipment Taken by DJ Mörda
1 x PMC TwoTwo studio monitor (pair) = R75,900
2 x Maag Audio EQ4 (500 series) = R31,300
2 x Wes Audio Mimas 1176 compressor (500 serious) =R35,100
2 x Heavy duty boom mic stand = R3,400
1 x Redco DB25 96pt Bantam patch bay = R12,300
1 x Telefunken AR51 tube condenser mic = R32,900
1 x NI complete 12 Ultimate Collector's Edition = R27,000
1 x Telefunken M60 FET mic (matched pair) = R22,700
1 x Cabling (based on the patch bay, mics, and speakers) = R15,000
DJ Mörda's Response
After Bongani Mohosana was served a letter of demand, his legal representative, Neo Mashele, said that his client is part owner of Spirit Motion. As a result, he didn't steal the equipment but took it to use and returned it later. Mashele further said that Thabo and Bongani, who are both directors of Spirit Motion, will have a sit-down discussion regarding the future of Spirit Motion as a company.
Also, in Bongani's responding letter, he stated that he was a shareholder and co-director of Spirit Motion (Pty) Ltd, which owned the equipment at the studio and office. Hence, he had undeniable access to the premises and would remove equipment for live artistic performances and music production and subsequently return it.
However, on behalf of Black Motion, Spirit Motion pursued legal action against Bongani Mohosana for acting in a manner that is not aligned with the laws of South Africa.
The Aftermath of Thabo and Bongani's Separation
With one half of Black Motion, Bongani doing gigs overseas and was busy traveling, Thabo was forced to find a new bandmate and got Kabelo Kamo as Bongani's replacement. The new band member had his debut performance at the Tastic Heritage Festival in November 2022. And Fans instantly fell in love with Black Motion's new member as his outstanding performance raised a conversation on social media.
Though the music group seemed to have gained balance with the reformation, things took another turn when they got engaged in a legal case with its former member, DJ Mörda. Consequently, Black Motion made headlines for the wrong reason in January 2023 when they failed to show up at a concert held in Kanye, Botswana.
Even though they had a concert at Cigar Lounge in Gaborone, Botswana, on December 30th, 2022, Thabo and Kabelo failed to appear at the Coolerbox event hosted on New Year's eve. Black Motion and Blaq Diamond were supposed to feature as international artists in what happened to be the first installment of the event.
The Coolerbox event organizer, Michael Sebaka, explained that when he contacted Smol and Problem Child, they said they couldn't show up due to unforeseen circumstances. They had been paid fully for the gig.
Thabo Smol Foundation
Thabo Mabogwane launched a non-profit organization, Thabo Smol Foundation in 2021. The foundation focuses on getting unemployed IT graduates youth between the ages of 18 and 35 certified in courses like Big Data, Security and Compliance, Cloud, and Dev Ops. To make them employable, Thabo's foundation will mentor and train the graduates.
Also, the organization has entered into partnerships with some companies that are keen to employ trained IT graduates. Thabo Smol Foundation has additionally been making donations towards the development of townships' educational systems.
Who is Thabo From Black Motion Dating?
Thabo from Black Motion is believed to be single at the moment. However, the talented percussionist is known to have been in an on-and-off relationship for some years before things went south between him and his partner. In recent times, Thabo Mabogwane has been romantically linked to celebrities like Zodwa Wabantu and Kelly Khumalo. And here are juicy details about the romantic encounters.
Thabo and Zodwa Wantu's Affair
In August 2021, professional dancer Zodwa Wabantu made a shocking revelation on Laziswe's Youtube show, Drink or Tell the Truth. When asked about the last person she went home with after hanging out, Zodwa spilled a secret between her and Smol by telling Mzansi that she slept with the music producer at her house three weeks prior.
Zodwa further said on the show that it's not a secret that she was having sexual relations with the musician because he is not a married man. And even though he might have a girlfriend, that is none of her business because Thabo never told her about his girlfriend. South Africans went wild on social media after watching the show, and thus, Thabo from Black Motion trended at the time.
After the video went viral, Mabogwane had to respond to Zodwa's public confession of their hook-up. In a video he shared on social media, he admitted to sleeping with the risque dancer but explained that he was single when it happened. He also said that it's fine if people want to judge him as he doesn't care. More so, he pleaded with his fans to respect the mother of his child.
Surprisingly, Zodwa Wabantu took to Instagram a while later to ask Thabo Smol to come back for another intimate encounter and promised that she would never air their business in public again.
Thabo Smol's Rumored Relationship with Kelly Khumalo
A month after Smol trended for his intimate affair with Zodwa Wabantu, he further made headlines for an alleged romantic affair with singer Kelly Khumalo. Some Twitter users with excellent investigating skills started speculating that Thabo had found love in the arms of Kelly after discovering that the two were in the same location, Bloemfontein, Free State at the same time.
The dating rumor was sparked by Kelly Khumalo's IG post of herself wearing a pair of spunky polka dot yellow socks and captioned it, "I stole these socks, the owner can call me." Shortly after, a Twitter user dug up a picture of Thabo wearing the exact jolly yellow socks.
And it didn't take long for South Africans to speculate that the music stars were seeing each other on the down low. However, neither Thabo from Black Motion nor Kelly Khumalo commented on the dating rumor.
Smol Had a Child with His Longtime Girlfriend in 2018
For some years, Thabo Mabogwane was in a loving relationship with Rakgadi Sedy Koetle – the younger sister of former Scandal actor Mapaseka Koetle. They seemed happy in love as they often shared a video of them dancing to Black Motion's songs on Instagram. Then on 2018 Father's Day, which took place in June, Thabo from Black Motion announced in an IG post that he just became a first-time dad.
After wishing himself a Happy First Father's Day, he thanked God for making it possible and also expressed his gratitude to his baby mama, Rakgadi. On the other hand, the new mommy gushed about the father of her child in a heartfelt post. It is believed that their daughter, Refentse Tshimologo Mabogwane, was birthed in June 2018, as the couple revealed they were expecting a child that same month.
Why Thabo From Black Motion Broke Up With His Baby Mama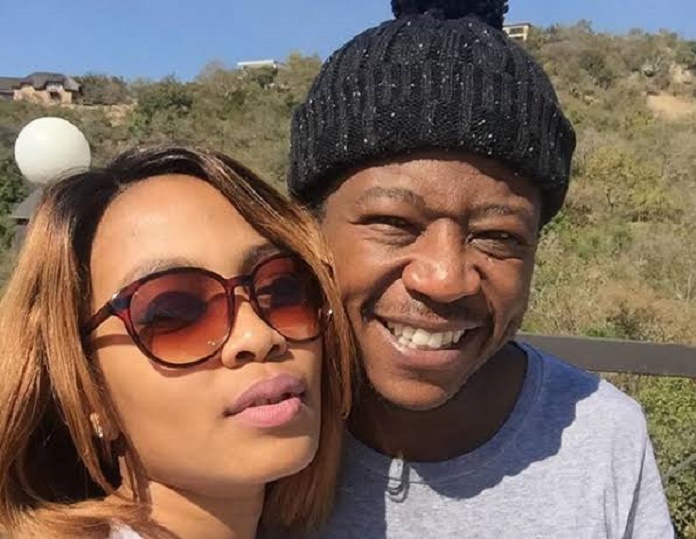 Six months after the birth of their daughter, Smol and Rakgadi allegedly had a messy breakup that led to their relatives intervening to see if things between the two can be amended peacefully. The former couple reportedly parted ways due to allegations of cheating on the side of the music producer.
However, in April 2020, on Thabo's birthday, Rakgadi Koetle hinted that she had reunited with her baby daddy after posting a lovely birthday message for him on IG. Rakgadi did not only profess to love Thabo forever but also made it public that she would love to have more babies with him in the future.
Although the couple seemed to have gotten things right this time, they reportedly broke up the second time in late 2020. Consequently, Thabo's baby mama unfollowed him on Instagram and deleted all his pictures.