Johannesburg is the biggest city in South Africa and due to the level of development in the city, it is largely populated with people from all walks of life. Jo'burg or Jozi as it is commonly called is a city full of cultural diversity, creativity, and epic nightlife. As such, there are several relaxation spots in the city, and individuals who want to unwind after a hectic week can pack a picnic basket and a blanket, take some time off to relax and rest in one of the numerous picnic sites in Jo'burg.
Additionally, the expense of having a great picnic should not worry you because these places cost anywhere from R50 to R500, and some are totally free of charge. So, what's your excuse? Pack that picnic basket, roll up the blanket, get the family in the car and go to one of these great destinations for a picnic or braai. With a wide variety of venues to choose from, you can decide what will suit your desires the most; from rowboats and soccer to gourmet baskets and leisurely hikes.
Features That Make A Place Stand Out As A Perfect Picnic Spot
When you decide to go on a picnic with your loved ones – family or friends – you should go all out to make it a memorable one. Besides the food, snacks, and drinks you will have to take to the venue, one of the most important things to take into account is the venue itself. How comfortable and presentable is the venue?
While looking out for a venue, you have to take a lot into consideration. If the aim of going on a picnic is to have fun and relax, then a lot of work should be put into picking out a perfect venue that would help you to relax. For a picnic spot to be perfect, it should have:
A nice and relaxing view
Not overly crowded
Availability of natural shades or man-made shades
Access to toilets and washrooms
Recreational facilities and fun games
In some cases lively music, barbecue and grill spots, access to safe water, etc.
Many parks in and around Johannesburg encourage visitors to bring out the weber and light the braai. What can we say, South Africans just know how to have a good time! Below is a list of the venues that welcome braai-ing on their premises. Some may have braaing facilities available and others, will ask you to provide your own.
Here Are 15 Best Picnic Spots In Johannesburg
There are many options to choose from if you are in need of open space to hang out with your friends as you share some meal or snack in Jo'burg. Below, we have compiled a list of the 15 best picnic spots in Johannesburg with details to help you make a choice. So, don't miss out this summer, enjoy Johannesburg and the beautiful parks and gardens in it.
1. Thokoza Park
Location: 1682 Ntuli Street, Moroka, Soweto, Gauteng Province, Johannesburg
Opening time: 10 am
Closing time: Very late
Gate fee: Free
Telephone: +27 (0)11 938-1820
Tips for a better experience: The Park can become busy on a Saturday afternoon, so morning visits are better.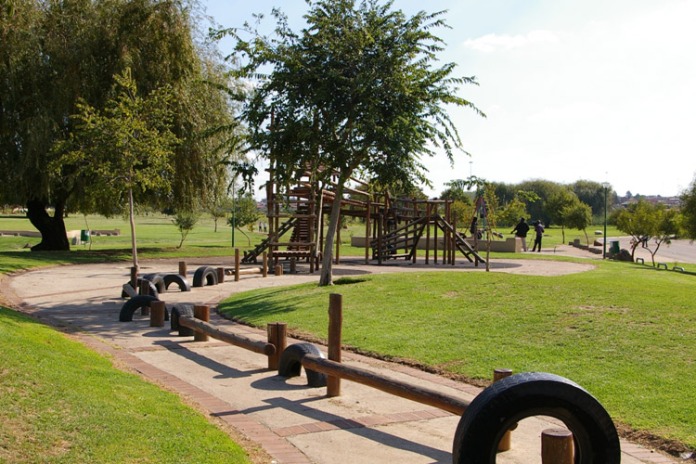 A historical park, Thokoza Park is large and often hosts events like art exhibitions and jazz concerts for visitors. This beautiful park is also home to paved walkways and many pleasant picnic spots under a shady tree or under the warm sun. Braai spots are plenty here. Children often enjoy this venue as it allows them the opportunity to feed ducks, play in the jungle gym, and make use of the netball courts in the park.
Thokoza Park lies on Ntuli Street in Rockville, Soweto. Whilst this is its official address, the park is fairly large – 4.5 hectares – that includes the Moroka dam, and it thus spreads on both sides of Vundla Street, all the way to Chris Hani Road – the longest street in Soweto that links roughly 70 percent of the suburbs in the township.
The new Reya Vaya bus system, in place since 2010, has a route from the city center that culminates at the large Thokoza Park Station. Commuters use the bus service to get to the place and many park their cars at the station close to the park, as nearby is the Maponya Mall. The Park itself has been worthy of attention. Both Thokoza Park and the Moroka Dam Wetlands rehabilitation projects were awarded gold merit awards at the UN-endorsed Liveable Communities Awards in London in 2010.
2. Kloofendal Nature Reserve
Location: Galena Avenue, Roodepoort, Kloofendal, Johannesburg
Opening time: 6 am
Closing time: 6 pm
Gate fee: Free
Telephone: 011 760 9143, 0116742980, 0796935608
Tips for a better experience: The Park is very busy on weekends, so try out an after-work walk if you're visiting for the first time
Kloofendal is a cultural heritage and ecotourism facility in the Roodepoort suburb of Kloofendal. The 128ha park was one of the first nature reserves in Joburg and offers urbanites a retreat from city life. The area has a high conservation value, with the natural environment representing a transition zone between the Bankenveld, Drakensberg, and Savana ecosystems.
Just 25 kilometers from the city center, it is home to a number of small mammals such as duiker, mountain reedbuck, dassie, mongoose, hedgehog, black-backed jackal, mole rat, gerbil, and more. There is a stone amphitheater with picnic and ablution facilities, walking trails of various distances, and a dam with a hide. A map of the reserve is available from the security guard on duty.
The reserve is open everyday of the week, including public holidays, from 6 am to 6 pm. It is fully fenced, and the security guard is always on duty. It also offers various activities, including organized walks and talks, mainly organized by Friends of Kloofendal, a voluntary organization dedicated to its preservation.
3. Gillooly's Farm
Location: 47 Boeing W Rd, Bedfordview, Johannesburg
Opening time: 7 am
Closing time: 7 pm
Gate fee: Free
Telephone: +27 (0)860 543-000
Tips for a better experience: The Park hosts a Parkrun every Saturday from 8 am, so try to visit after 10 am to avoid the rush. Gillooly Farm also has a restaurant on the waterfront, Mrs Sippi Blues, with breakfast and a pub-style menu.
Gillooly's Farm offers a place of serenity and escape, a veritable sanctuary from the non-stop pace of the City of Gold, as Johannesburg is affectionately known. It is in the upmarket town of Bedfordview, which is on the East Rand. This part of Gauteng, South Africa, is known for its industry, commerce, and retail facilities. However, as Gillooly's Farm testifies, it also offers wonderful natural treasures amidst the hubbub.
This retreat is enjoyed by all for its walking trails, where you can spot a number of bird species and enjoy the warm South African sun and fresh air. Some of the more than 50 species of birds that can be found here include white stork, white-breasted cormorant, African darter, grey heron, egret, Egyptian goose, reed cormorant, house sparrow, yellow-billed duck, and Cape Wagtail. The man-made lake of Gillooly's is home to sharp tooth catfish, blue kurper, and the common carp; adding to the biodiversity and appeal of this natural area.
There are also recreational areas at the farm to keep the little ones (and the young at heart) busy while the parents enjoy delicious food and welcome refreshments at the restaurant. The braai area can be utilized by families and friends with prior arrangement and are the perfect way to pass long summer afternoons with special folks. There are also picnic facilities scattered around the scenic dam. Braai-ing is allowed here, but you'll need to make prior arrangements with the staff to enjoy it. The park is named after its original owner, James Gillooly, who sold the farm to the city when it was later converted into a park.
4. Zoo Lake
Location: On the corner of Jan Smuts Avenue and West World Street, Johannesburg –  opposite the Johannesburg Zoo
Opening time: 9:30 am
Closing time: 5:45 am
Gate fee: Free
Telephone: 011 483-1017
Tips for a better experience: One of the most popular annual events in Joburg is held at Zoo Lake. 'Jazz on the Lake', held in early September, is a celebration of the end of the winter cold and a welcome to the warmer days promised by the start of spring, celebrated by song and dance.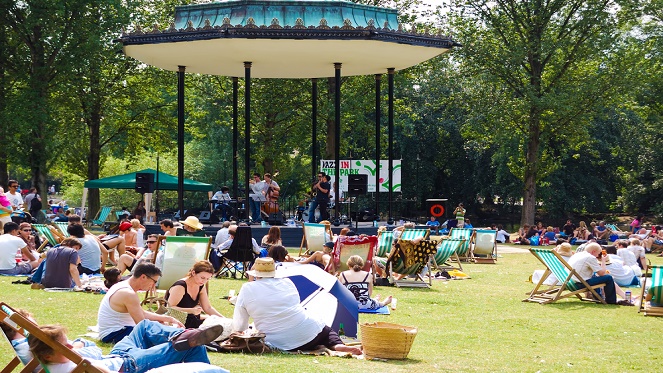 Set on the corner of Jan Smuts Avenue and West World Street in Johannesburg, virtually across from the Johannesburg Zoo, the popular Zoo Lake always seems to be a hive of activity – dog walkers, joggers, skateboarders, and kids. Zoo Lake is a large park situated around a manmade lake that makes for perfect weekend ambles, only 15 minutes from the center of Johannesburg.
Zoo Lake is one of Johannesburg's most popular outdoor spaces and certainly one of the safest, particularly over weekends. It takes roughly one to two hours to walk around the lake, depending on the route you take. Followed by a row on the lake or a lazy meal at the local restaurant and you can easily make a morning of it. On the first weekend of the month, there are the 'artists under the sun' art market, which draws the crowds.
The Park provides large areas of lawn for picnicking and braai-ing. Zoo Lake also has many events open to the public, including jazz concerts and open-air art exhibitions. If you forget your picnic basket, head over to Moyo's for some authentic African dishes, with a local flair. Other attractions include the Zoo Lake swimming pool and a large soccer field.
5. Rietvlei Lifestyle Centre
Location: 101 Swartkoppies Road, R554, LiefdeenVrede, South of Johannesburg, 2190
Opening time: 9 am
Closing time: 5 pm – however for weekends the closing time is 6 pm.
Gate fee: Entrance to the reserve costs R55 per adult, R20 for children (6-16 years), and free for children under 5. The disabled or elderly (over 60) pay R20 entrance fee.
Telephone: 079 041 1488
Tips for a better experience: Free parking, but an additional R50 fee to park inside the picnic area.
Rietvlei Zoo Farm is a beautiful farm that is located in the South of Johannesburg and offers a wide range of recreation, education, sports, and family outdoor activities. The Picnic Park lapas/braai areas and Rietvlei Trails are set in the most tranquil settings on the farm, surrounded by natural wetlands, oak trees, and beautiful gardens and lawns, where you can relax and enjoy the sunshine and outdoors.
Children can enjoy a jungle gym, pet and feed farm animals, discover birds in the aviary, or even enjoy pony and tractor rides. There's also a mini-zipline for the more adventurous children. Visitors are welcome to make use of wooden benches in the braai and picnic area but are also encouraged to bring any other gazebos, chairs, braais, or tables that they think are necessary.
6. Dorothy Nyembe Park
Location: Off Roodeport Road, Main Road, Soweto, Johannesburg
Opening time: Daily
Closing time: Late
Gate fee: Free
Telephone: +27 (0)11 938-7600
Tips for a better experience: An early experience is the best experience. Avoid the crowd for a more relaxing atmosphere and a better picnic experience.
Set in Mofolo North, in Soweto, Dorothy Nyembe Park is a 26-hectare area marked by the unusual, sculpted figurines that stand four to five times the height of men, their arms outstretched, trees planted behind them. The Park includes a bird hide overlooking a series of dams, an environmental center, children's play area, sports facilities, and a dam. It takes roughly 30 to 45 minutes to walk around, depending on how distracted you are by the park's facilities.
The Park, besides having beautiful lawns for picnicking, also has a giant chessboard and other sports facilities like a soccer field and netball court. For more cultural events, the park has an amphitheater, and unique sculptural pieces scattered across the lawn. In 2010, it won a United Nations Livable Communities Award in the naturally built project category.
7. Pioneer Park (Wemmerpan)
Location: Rosettenville Road & 11th Street, Johannesburg
Opening time: 8. A. M
Closing time: 4:30 P. M
Gate fee: Free
Telephone: 011 435-0425
Tips for a better experience: Guests are encouraged to visit the Transport Museum, near the park for a look at the vintage car collection
If you are looking for a park, which offers something for just about everyone, Wemmer Pan is well worth a visit. The highlighted musical fountain fills evenings with a touch of magic, boat cruises are a great way to spend weekends, and an adventure park is ideal for children.
Rowing competitions and flower shows are held in the park during summer. This is a lovely spot for a picnic or a braai, although you're advised to bring along a portable braai stand. There is also a kiosk and restaurant.
Pioneers' Park was formally opened on 26 April 1924 by the Governor-General, the Earl of Athlone, on land bought by the council. Cedar and poplar trees were planted in commemoration of the opening of the park. The Park is named in memory of the founders of Johannesburg and the great industry of which it is the center.
8. Innesfree Park
Location: 2148 Katherine St & Graystondr, Sandton, Johannesburg, 2148
Opening time: 8:30 pm
Closing time: 5:30 pm
Gate fee: Free
Telephone: 082 904 3850, 011 712 6600
Tips for a better experience: Make sure to check if there are any events going on in the park before you plan your picnic. Innesfree is also particularly busy during the week, so try to skip the after-work rush and make it a Saturday afternoon picnic instead.
Situated in the heart of one of the most popular northern suburbs of Sandton, Innesfree Park provides tranquility within the suburban infrastructure. It has superb landscaping and is easily accessible. The farm includes two beautiful dams and is often used for motor shows, arts, and culture exhibitions, as well as an excellent spot for picnics and outdoor shows. Portable barbecues are recommended.
This Park is on the larger size of the scale, so there's plenty of space to picnic, braai, and for the kids to run around. Enjoy the wide-open spaces and fresh air. Be sure to bring some fun activities if you bring children along on your picnic so that they can make use of the area.
9. Emmarentia Dam
Location: Main entrance is on Olifants Road, Emmarentia, Johannesburg
Opening time: Sunrise
Closing time: Sunset
Gate fee: Free
Telephone: +27 (0)11 712-6600
Tips for a better experience: There is a small café near the main entrance on Olifants Road which serves light meals and refreshments, but visitors are welcome to bring their own picnic baskets into the park
Reputed to be the best dog walk in Johannesburg, Emmarentia Dam lies next to the Botanic Garden in Emmarentia, north Johannesburg. Tranquil lawns in which families can meet and play, walkways peppered with wooden benches placed strategically to afford moments of stillness and reflection, make this a sprawling and popular park for escapes from city living.
Emmarentia dam is certainly one of the city's most tranquil spots and the setting amongst water and trees is attractive to many weekend visitors who picnic and braai on the grassed lawns. There are woodland and natural grass areas and a tearoom that does first-rate scones. The dam itself has become a home for watersports like canoeing and rowing, while the vast area of lawn is welcoming for those wanting to picnic or braai.
Many species of waterfowl live in the reeds around the dams and park benches are scattered around the lawn for a patient observation experience. The banks of the dam are also the site of the annual summer sunset concerts that see a variety of local and international musicians team up to make music for people to enjoy thoroughly in one of Johannesburg's best-loved venues.
10. Brookwood Trout Farm
Location: 1747 Kromdraai Road, Johannesburg, South Africa
Opening time: 6 am
Closing time: 6 pm
Gate fee: Between R50 to R70
Telephone: 072 256 7561, 082 856 2448
Tips for a better experience: This venue also makes for a great fishing spot while you picnic
The Brookwood Trout Farm hosts a well-kept picnic area that makes for a fantastic summer picnic spot. Only one hour's drive from either Johannesburg or Pretoria, Brookwood Estate is an idyllic retreat spot. The picnic area is located alongside the Blaaubank Spruit River, which is an excellent place for children to swim in the summer.
The site has braai and picnic facilities ready and available for the whole family. It also has fully equipped chalets, Camper's Cabins, and many more. Enjoy this quiet shady picnic venue this season with the family. Unfortunately, this site has a strict 'no pets' rule, but the tidiness of the park makes up for it.
11. Delta Park
Location: 77 Craighall Rd, Victory Park, Randburg, Johannesburg
Opening time: 4. A. M
Closing time: 10. P. M
Gate fee: Free
Telephone: 011 888 4831
Tips for a better experience: Delta also hosts a Park Run every Saturday morning, so avoid visiting during this period if you want to miss the hustle and bustle, or join the fun by registering to take part. The Park includes the Florence Bloom Bird Sanctuary, a 7.5-hectare sanctuary that is also the oldest bird sanctuary in the city.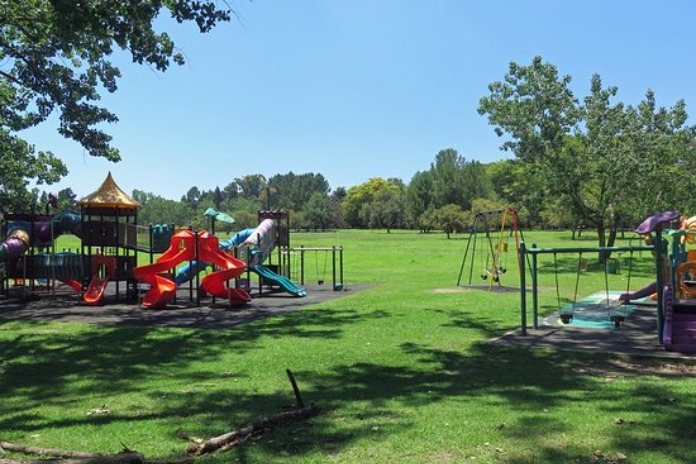 Delta Park is a rather large green recreation spot in northern Johannesburg that lies nestled in amongst the suburbs of Victory Park, Blairgowrie, and Craighall Park. Delta has a lot of open space and grassy lawns which are great for picnics. The Park also has three small dams that encourage flourishing plant life near them, as well as a bird sanctuary where you can observe a variety of species of birds.
You can check out some of the viewing huts scattered around the sanctuary and see up to 250 species of the bird right in the middle of the city here, including a number of water birds, the odd kingfisher (if you're really quiet), bishops, weavers, and owls. The parks border on Delta Park school and also hosts an environmental center with courses for children and adults to enjoy.
12. Mushroom Farm Park/Hyundai Sky Park
Location: Sandown, Sandton, Johannesburg
Opening time: 6 am
Closing time: 6 pm
Gate fee: Free
Telephone: 011 784 6881
Tips for a better experience: Avoid the park on Sunday afternoons to dodge the crowds
Not everyone likes the huge hot air balloon that dominates the skyline at Mushroom Park, opposite the Radisson Blu Hotel. A few grumbles have been heard. However, that was before the grumblers knew that the balloon also marks the spot of a rather pretty inner-city park. A magical park with green landscaped lawns and a quaint, little river that flows down the bottom.
Known as Mushroom Park to most people, the park was recently renamed Hyundai Sky Park. The small park, which has always been there but certainly not in its present pretty state, was rehabilitated as part of the Gautrain project – the grounds served as a temporary 'shaft' allowing the construction company responsible for the train's tunnel access to the construction works.
Now the park's rolling slopes are the site of an interactive children's play area (including a sandpit), an earth garden, outdoor gym, amphitheater, duck pond, and a paved path for walkers, joggers, and cyclists. Tables and benches are perfect for picnics and mid-week nanny and au pair meets, there are clean public toilets and a couple of hefty security guards.
This park is a great getaway for families with kids who want some entertainment over weekends or in the holidays. It has many sources of entertainment like an interactive children's play area, outdoor gym, and duck pond. Dogs need to be on leashes but are still welcome in the park. Tables, chairs, and benches are also available.
13. James and Ethel Gray Park
Location: Melrose Street, Melrose Arch, Johannesburg
Opening time: 6 am
Closing time: 6 am
Gate fee: Free
Telephone: +27 (0)11 435-4727
Tips for a better experience: Take a look at the Katyn Forest Memorial while you're there
Locals who live close to James and Ethel Gray Park claim the park has the best sunrise view in the city. Early risers head to the park with their children and dogs, and the R5 million upgrade the park received around 2007 means it is well kept, as the gorgeous views over the city are preserved for those who enjoy them.
James and Ethel Gray Park is a small playground close to the suburb of Birdhaven, just south of Melrose Arch, and started as a bird sanctuary – hence the rather apt name for the suburb closest to the park. Its 36 hectares are fed by the Sandspruit River that winds through a series of landscaped lawns, indigenous vegetation, walkways, and benches. James and Ethel Gray Park provide a green lung in an otherwise rather built-up residential part of the city, giving local residents in a high-density area an escape environment that offers a space for reflection and walking.
Its steep banks are what make for the views out over the city so, whilst these same slopes might limit any use of the park for recreational space, the open grassy areas, the terraces, the stillness of the park (bar the traffic noise), and the views are what makes it such a safe haven for those who use it.
Residents of Birdhaven say that the park has the best views of the sunrise in the morning, so try to grab a picnic basket and place your blanket on one of the embankments with a picture of the Johannesburg skyline. The Park has a great mix of lawns and indigenous vegetation. There are also fantastic walkways and benches for a beautiful walk after your picnic.
14. The Wilds
Location: Houghton Drive, Houghton, Sandton, Johannesburg
Opening time: 8 am
Closing time: 6 pm
Gate fee: Free
Telephone: 011 643 2313
Tips for a better experience: Many varieties of birds live in the park, so stopping for a bird-watching break could be a good idea. Weekdays are surprisingly busy for The Wilds, but the vegetation can be thick at times, so it's always safer to walk in groups or visit when the park is busy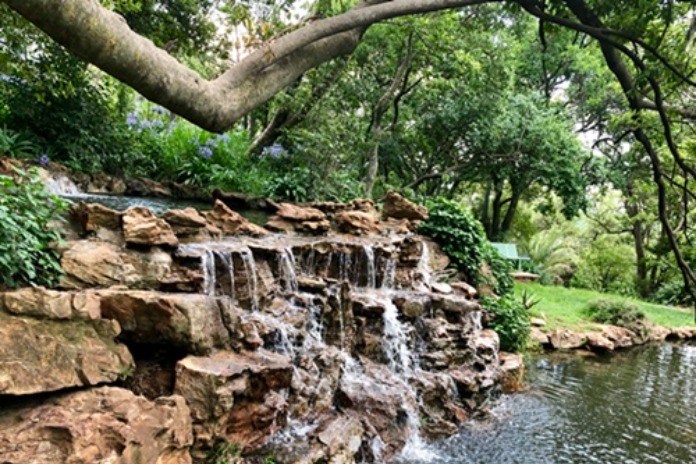 In the midst of the upmarket suburb of Houghton is The Wilds, a conservation area since 2006, and 16 hectares of incredible indigenous vegetation and lovely koppies. Through all of these ramble paths up hillsides that give you fantastic views of the city from a number of different angles. If you love to walk in nature, then the Wilds is inner-city magic. The network of paved footpaths remains in good condition and traverses most of the reserve. You can make an afternoon of it.
The walks are fairly hilly and there are trails on both sides of Houghton Drive, connected by a footbridge. The Wilds is an old park. It opened originally in 1938 and its paths were made of stone – which is why they're still in good shape today. There are a series of lovely lawns, ponds, waterfalls, and some of the best flora the city has to offer.
If you're a bird watcher, then the park's benches will provide plenty of opportunities to catch sight of a couple of unusual species. But a sign cautions that you walk the park at your own risk – like all Jo'burg's parks, you are safer in larger groups, although the perimeter of the park is now fenced, and locals walk their dogs with little problem.
The Wilds park joins another six conservation parks the city now runs. The others are Melville Koppies Nature Reserve, Klipriviersberg Nature Reserve, Kloofendal Nature Reserve, Walter Sisulu Botanic Gardens, and Rietfontein Nature Reserve. If you keep an eye out, there are periodically arranged walks in The Wilds. It's one of the easiest and fastest ways to connect with nature, and exercise, whilst still within the city limits.
15. Budmarsh Country Lodge
Location: Route 96, Magaliesburg, Johannesburg
Opening time: N/A
Closing time: N/A
Gate fee: N/A
Telephone:011 728 1800
Tips for a better experience: Best enjoyed as a couple
Located in the heart of the Magaliesberg, surrounded by green lawns and lush gardens, Budmarsh Lodge offers guests comfortable accommodation and fine dining in a country setting just a short distance from the town of Magaliesburg. Budmarsh is the perfect retreat for couples in need of a break or looking to celebrate a special moment, as well as the ideal base for those eager to explore the Magaliesberg and the Cradle of Humankind.
Enjoy a day of tranquility at Budmarsh Lodge. Set up a picnic blanket under the trees with a picnic basket filled by the executive chef with tasty goodies. The lodge has a 'no music playing devices' rule, but this just allows you to appreciate the variety of bird species more, which include Kingfishers.
The Lodge also provides blankets and pillows for our comfort. Children over the age of 12 are welcome, but there's a limit of 4 per picnic spot, and the experience is more suited towards couples.
Recap Of Best Picnic Spots In Johannesburg
Thokoza Park
Kloofendal Nature Reserve
Gillooly's Farm
Zoo Lake
Rietvlei Lifestyle Centre
Dorothy Nyembe Park
Pioneer Park (Wemmerpan)
Innesfree Park
Emmarentia Dam
Brookwood Trout Farm
Delta Park
Mushroom Farm Park/Hyundai Sky Park
James and Ethel Gray Park
The Wilds
Budmarsh Country Lodge