South African artist Ashley Raphala who is better known by his stage name DJ Shimza has a net worth estimated of $2 million or R31 8210 653.51 according to Scout Africa.
Having started his career at the age of 15, he is currently 39 years old and has since risen to join the highest-paid disc jockeys in the whole of South Africa, even though he is also very much recognized and respected for his vocal talent. Like most other successful celebrities, Shimza has not made it a secret that he is earning big money from his career and has often taken to social media to share some of the things he owns, including his luxurious house and cars that cost nothing short of millions.
Profile Summary of DJ Shimza
Birth name: Ashley Raphala
Age: 39 Years Old
Career: Musical artist
Net worth: $2 million
DJ Shimza Has Achieved a Lot as a 39 Year-old
It was on the 15th of May 1984 that the South African DJ was born and named Ashley Raphala, which means he is now 39 years old. The singer was birthed in Swaziland, where he spent some part of his early life, although he was brought up in Tembisa, Ekurhuleni, by his mother.
He has always had an interest in music since he was very young, but it was at 15 that he decided to pursue a career as a DJ; he was in Grade 8 at the time. Shimza gained the support of his family, which helped him go far. By 2011, when he was 27, he emerged as the winner of the Gauteng Carnival DJ competition. The feat gave him both the equipment he needed and also the exposure.
In 2013, he was signed to the Soulistic Music record label, paving the way for him to join big names such as DJ Black Coffee and Culoe De Song. Since then, he has continued to experience unending growth in his career.
How He Boosts His Incredible Net Worth of $2 Million
As stated, Shimza has risen from a young boy trying to make it in the busy South African music industry to a man who is not only a success but has a net worth that is estimated at $2 million to show for all the hard work and talent.
While his music is obviously a big source of income for him, it is not the only avenue through which he makes money. Here are some of the main sources of his fortune:
Djing Career
Shimza's career as a DJ is one of the main things that has made him rich and famous. This has exposed him to some of the biggest stages in the world, including the famous Ibiza Spain, where he has now become a big name. He has also been to many countries like the United States, South Korea, France, and the United Kingdom, among other places.
Although no revelation has been officially made regarding how much he charges per hour, there were rumors in 2015 that he was paid R3,500 for each hour. Since then, a lot must have changed if there is any truth to that.
He Is An Entrepreneur
Many people only know the DJ as an entertainer, but he is also an entrepreneur. DJ Shimza embarked on a business venture in 2019 when he opened a restaurant, The Hang Awt, in his hometown of Tembisa. In 2021, he decided to expand his business by starting a second restaurant which he named Fridays. This time around, he decided to start it in Midrand.
He also makes money from various customized merch, including the most recent addition of a customized face mask. His earnings from these ventures are not known.
Endorsement Deals
He has a good number of endorsement deals to his name, including one with the clothing brand Diesel South Africa. Shimza also signed another deal with Ballantine. This deal got him very excited because he signed it in his own restaurant.
In 2020, Shimza announced that he signed a deal with US talent agency, United Talent, which also manages big names like Akon, 21 Savage, Die Antwoord, Young Thug, DJ Khaled, Jason Derulo, Nasty C, and Burna Boy, among many other big names.
DJ Shimza's Best Mix Is Debatable
Since he broke out in 2011, Shimza has released many tracks that have made him a household name in the music industry. He has made several mixes that it will always be hard for one to accurately decide what his best mix is.
His Lockdown House Party Mix has gained so much followership in the same way as his many one-man shows. Others are his House Mix and Shimza Mix, all of which have moved places.
Although he has been in the business for a very long time, it was in 2015 that he released his self-titled album, which gained an impressive acceptance in the country and beyond. The next year, he released an EP, One Man Show.
DJ Shimza Has a Luxurious House as One of The Many Testaments of His Wealth
Shimza has several houses he has built over the years. In 2015, he completed his breathtaking mansion in Midrand, which obviously cost him millions of Rand. While the features of the duplex were not revealed, it is clear that it has many rooms and facilities that one would need in a property of that magnitude.
Interestingly, that was also the same year that he built a bungalow for his mother. He took to his Instagram to reveal to his fans that the house he was working on for his mother was almost set.
Although his Johannesburg home is the one known to the public, it is believed that he has other properties in other parts of the country.
It's No Secret That He Loves Good Cars
Some blessings come in the form of pain, you are not cursed you are just being prepared for better things ❤️ pic.twitter.com/Zt76qyqIeq

— SHIMZA (@Shimza01) June 3, 2019
DJ Shimza has spent millions of Rand, acquiring some beautiful and luxurious wheels over the years. Although he obviously loves to ride in great cars, he seems to love it even more if it is a Mercedes Benz, as it is the German car brand that dominates his collection.
Before now, he had a Mercedes-AMG G63 which retails in the country for between R2.5m and R3m. Unfortunately for him, he lost the car, which came with a twin-turbocharged 4.0-litre V-8 engine after it was stolen from the garage of his Blue Valley Golf Estate home. The car which went missing in 2019 was never found. The good news, however, is that his insurance company paid for it after carrying out an investigation.
Not too long after the G-Wagon was stolen, the famous disc jockey decided to acquire for himself another one of the German cars, spending more than R2 million. Apart from this, it is known that he has several other Mercedes cars, but the models have not been revealed.
Not to enjoy the luxurious cars alone, Shimza decided to buy a brand new BMW SUV car for his mother in 2020. The "Lockdown House Party" co-creator had no problem splashing R600,000 to get the car for his mom, thanking her for the sacrifices she made in raising him as a single mother. Before this, he got for himself an orange Lamborghini, although the amount he spent in acquiring the luxurious beauty is not known.
Shimza Is Into Giving Back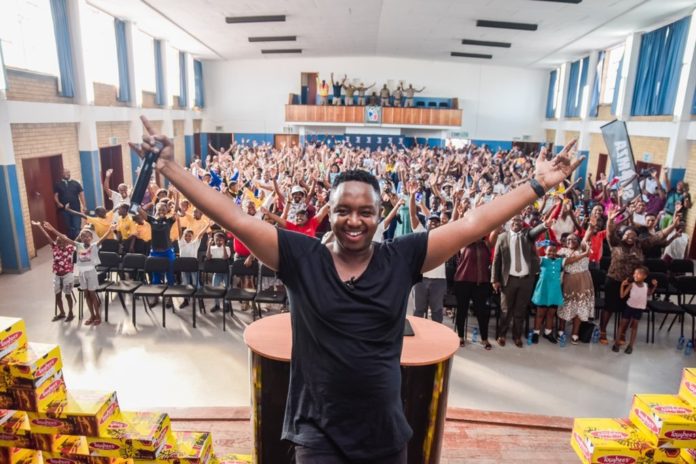 More than just making the millions and living in luxury, the DJ has also made it a habit to give back to those in need. It is towards this end that he started the Shimuzic Foundation. Although there is no information as regards how the foundation came about, it is known that he has partnered with other philanthropists to assist many of recent.
In 2020 during the COVID-19 pandemic, his foundation teamed up with the Siya Kolisi foundation to raise money for COVID-19 affected families. The two were able to deliver food parcels to families who were negatively affected by the pandemic to provide some level of relief around Ekurhuleni.
More so, in February 2021, he decided, through his foundation, to impact the lives of school children in his community by providing shoes to 400 kids. He carried out this project in partnership with Hollywoodbets South Africa.