There was a time that Kelly Khumalo and Jub Jub were easily tipped to be the next big celebrity couple in South Africa. They were both famous at the time, very young with great careers ahead of them, and they seemed to be very much in love. Unfortunately, the promise they brought with them soon fizzled out after Jub was sent behind bars for culpable homicide.
Even before then, the relationship was already on a downward slope as a result of allegations of domestic abuse that topped discussions about the relationship. The relationship produced a son before it finally ended, but not too many people could say they had a detailed understanding of what really went wrong with the once lovers due to the bad blood that now exists between them.
Kelly Khumalo and Jub Jub Relationship Timeline
They started dating in the late 2000s
Kelly had a miscarriage in 2008
Their son was born in 2010
Kelly Khumalo and Jub Jub parted ways in 2012
Jub Jub left prison in 2017
They Started Dating After She Ended Her Relationship With Prosper
Kelly Khumalo and Jub Jub became an item after her relationship with the late Prosper Mkwaiwa. By that time, Kelly was already a household name in the South African entertainment industry, and Jub Jub was also on the rise as a rapper.
Both of them were young, beautiful, and talented and so everyone envisioned them as the next "it couple." They were first linked in the late 2000s and remained together for more than a couple of years before the relationship came crashing. While they were together, they enjoyed flaunting their relationship, making fans believe all was well between them.
They broke up several times and continued to return to the arms of each other before Kelly made up her mind for the last time to walk away and never look back. Kelly revealed that although she loved Jub, she did not believe he was really into it because he loved her. She was also later able to get over him, and when he got sentenced to 25 years behind bars, she simply said it was good for him, and she felt no remorse for him.
Kelly Khumalo and Jub Jub Had A Son Together
Kelly's relationship with Jub Jub was everything but great, yet it managed to be blessed with a son, Christian, who was born in 2010. The child arrived when the rapper was still battling not to be jailed following his arrest for a drag racing incident that left four kids dead.
Jub did not get to be in the life of his son first because of his fall out with Kelly, and secondly because he was sentenced to prison for a 25-year term. He remained behind bars until 2017 when he was released on parole.
The singer continued to make sure that her son and his father don't have any relationship as after the rapper's release, Kelly refused to allow him any access to their son. She claimed that both she and Christian were doing good and did not need the assistance or involvement of Jub in their lives.
Kelly also had a second child with the late Orlando Pirates goalkeeper who was murdered at her place, Senzo Meyiwa. She is bringing up the two kids together as a single mum.
Kelly Khumalo Never Married Jub Jub
https://www.instagram.com/p/CIpZ0y8DU_Z/
There was a time when Kelly Khumalo and Jub Jub were very close and almost inseparable. They went through many problems, including unprecedented domestic abuse, but somehow, they still stuck together so much that one might believe they were held by marital vows.
On the contrary, the couple had never walked down the aisle. In fact, they had never come close to getting married since they were never engaged until the relationship came to a sad end. Both of them continued to date others after they parted ways, but neither had tied the knot until 2020 when Jub revealed that he was married to his Italian lover, whose name he gave as Zenith Mia.
As stated, the relationship did not lead to the altar, but it was blessed with a kid, Christian. Before the birth of Christian, Kelly came close to having a child, which she lost to a miscarriage due to the stress of the relationship that turned toxic in 2009.
Kelly Khumalo and Jub Jub Finally Called it Quits Because The Abuse Got Out Of Control
The afro-pop singer and rapper had a very good first two years of relationship. Jub was sweet and loving, but it all changed when the abuse started. Kelly did not want to believe what was happening, and there was no change in sight for Jub; he was cheating on her and equally abusing her.
It was unbelievable for her that he could be this much of a different person. But soon after it started, she saw all the signs that she needed to leave the relationship as soon as possible as his personality seemed to have split from what it used to be. Rather than walking away from the relationship, she became just like him. She needed to defend herself, and she ended just like him, becoming toxic.
He tried stopping her from going to work claiming that she was cheating on him with a colleague at Rhythm City. Kelly Khumalo did not reveal what she was going through to anyone except her family members. But then, her father, who was also abusive, did not believe that her boyfriend was abusing her.
She made up her mind many times to walk away from Jub, but the love she had for him was strong that it continued to bring her back. Kelly later decided that the best thing for her to do for herself and her son was to go public and reveal what she was going through. The singer believed that would make it harder for her to return to her abuser. She went public but still found her way back to the rapper.
The abuse only got worse, but it was not enough to separate Kelly Khumalo and Jub Jub. The singer remained there for him through his trial after the aforementioned accident that claimed the lives of four kids and left 2 others badly injured. The rapper continued to abuse her, and it was this that finally did it for her.
Kelly Khumalo left Jub Jub and recreated herself for a new start when she got into a salon and cut off her hair to signify a new Kelly who was free from the clutches of an abusive relationship. She tried to make the relationship work, but the abuse got out of control and she decided to call it quits.
The Bad Blood Between The Former Lovers Continued After Jub's Release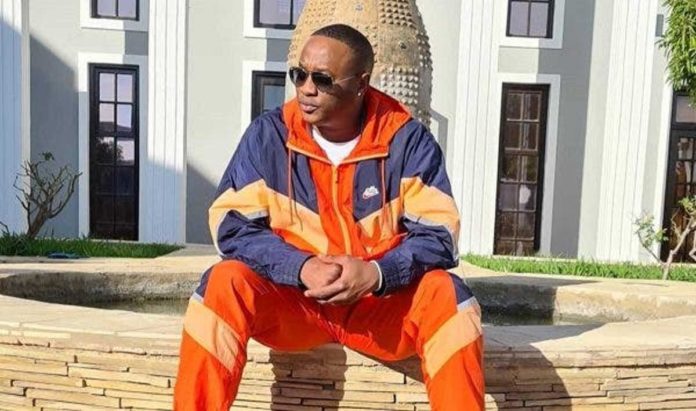 Molemo Maarohanye (a.k.a Jub Jub) got a chance at a new beginning in 2017 when he was released from prison after spending more than five years behind bars. So much had changed for him except for the bad blood that existed between him and his former lover, Kelly.
Even with the kid between them, they have continued to shut each other out of their lives. Kelly did not hide her feelings that she did not want him in the life of her son. When she was accused of denying him access to the kid, she claimed there was no way she could deny him when he didn't make a move in the first place.
This suggested that Jub had not tried to reach out to her over the kid. He took to his social media to take what many believed was a shot at Kelly when he wrote that he stated that it would be hard for people to wear make-up on their two faces every day.