Gugu Gumede (born December 10, 1991) is a South African actress aged 31 years who garnered much recognition for playing the fictional character Mamlambo in Uzalo, the South African television show.
Having been acting since 2013, she has no plans of slowing down. Through her roles, Gugu has reached an enviable level of prestige in the industry, and all the credit goes to her gripping performances.
Besides acting, the actress is passionate about her family and faith. She has thousands of loyal fans who follow her on social media just to keep to tabs on her daily activities and other aspects of her personal life. Generally, Gugu is well-loved because she is a phenomenal person and also does an amazing job as an actress.
Summary Of Gugu Gumede's Bio
Real Name: Gugu Gumede
Gugu Gumede's Date of Birth: December 10, 1991
Gugu Gumede's Age: 31 years old
Place of Birth: Ulundi, KwaZulu-Natal South Africa
Tribe: Zulu
Gugu Gumede is Popularly Known as: Mamlambo
Most Notable Work: Uzalo
Marital Status: Single
Gugu Gumede's Education: The American Academy of Dramatic Arts, Los Angeles
Gugu Gumede Hails From Zulu Tribe, The Biggest Ethnic Group In South Africa
The Zulu tribe is famed for being the most populous ethnic group in South Africa. The tribe is also known for producing very successful South Africans and Gugu Gumede happens to be one of them. The actress was born in KwaZulu-Natal province on December 10, 1991.
Gugu's name might have a lot to do with her person. The name Gugu means a precious person, and her surname Gumede is a popular Zulu name, which means someone diligent and a persevering worker who enjoys doing a job well and finishing it. Gumede's life began in a small town in northern KwaZulu-Nata province called Ulundi. She was raised alongside her brother by a single mother in a pleasant and happy home.
The actress shared that her mother practiced great parenting skills and also instilled amazing values in her children. Her childhood, according to her, was nothing short of amazing, even though she and her brother faced a lot of challenges that commonly exist in a single-parent household.
She Lost Her Dad In A Tragic Manner
Actress Gugu Gumede was only sixteen years old when her father passed on. Simon Hulumeni Gumede tragically lost his life in a fatal car accident on his way back from his children's school, where he had dropped them off. Further details about his death, including the exact cause of the accident and location, are yet to be disclosed by his family.
Before his death, Simon was well-known in the South African political scene. He was the longest-serving member of the Inkatha Freedom Party (IFP), as well as the chairman of the KwaZulu-Natal provincial house of traditional leaders. Though Gugu's father was not part of her life for a long time, he was the most amazing person she knew then. Simon's absence is still felt in her life and the political community at large, especially in IFP.
Gugu Gumede's Mother Is A Political Heavyweight Too
The Gumedes are known for their penchant for politics. The actress's dad was not the only political figure around her, Gugu's mother is an influential politician with an impressive profile. Zanele kaMagwaza-Msibi has been active in the South African political scene for years. She is the president of the National Freedom Party (NFP) and a former parliamentarian.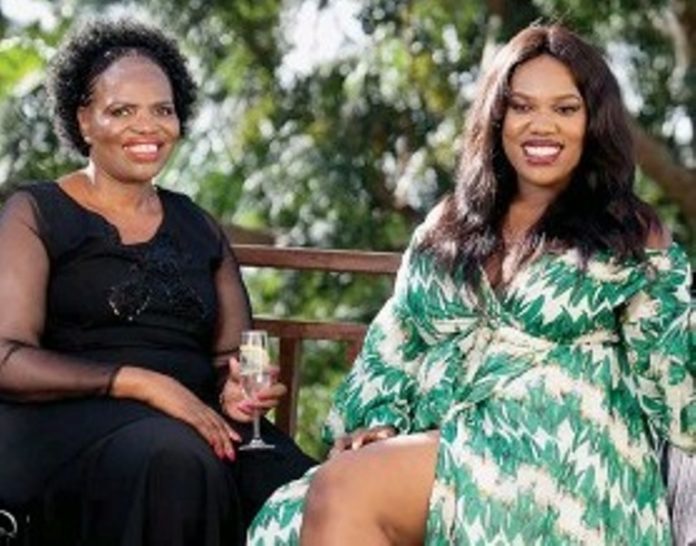 She served in the cabinet of Jacob Zuma as the Deputy Minister of Science and Technology of South Africa. Before her election to the South African Parliament, Zanele was a councilor for nineteen years and a Mayor of the Zululand District Municipality for fifteen of those years.
Gugu Gumede's mother once served the Inkatha Freedom Party as its chairperson. In 2009, she was elected to contest in the general election for the position of KwaZulu-Natal's Premier. Zanele, a University of Zululand graduate, has been the leader of NFP since January 25, 2011.
Gugu Gumede Accomplished Incredible Things At A Young Age
Gugu Gumede is one of the South African celebrities whose name usually comes to people's mind when the discussion is about people who achieved incredible success at a young age. The Uzalo star may not have been around for years in the entertainment industry, but she has worked with notable personalities. In 2018, at the age of 28, Gumede was among South Africa's A-list celebrities who made presentations at the 11th Crown Gospel Music Awards. Other prominent entertainers who shared the stage with Gugu include but are not limited to Rebecca Malope, Clement Maosa, and Somizi Mhlongo.
The actress recently bought a new house and a car for herself. Her fans got to know about these additions after the news went viral. The actress wanted to keep the information away from the public being a private individual, but somehow people finally saw the pictures of her newly-acquired assets.
Even though Gugu is a fan favorite on Uzalo, she is yet to win a major award for her role. However, Uzalo, as a TV show has won several prestigious awards, including the 'Coolest TV Soapie' by The Sunday Times Generation Next Awards (3 times in a row), 'Most Popular Soapie' by the 'South African Film and Television Awards' amongst others.
Several of the actors have also been nominated and won several awards. Uzalo holds the record as the most-watched television show in South Africa, a position that was previously held by Generations: The legacy.
She Won Her Iconic Role After She Thought She Had Lost Her Chance
Gugu Gumede became convinced that she would go places through acting at the age of 9. After she shared this news with her mother, Zanele, instead, tried to convince her to study law. Her mother later gave in when she saw how determined she was but encouraged her to get an education first.
When she was 13, her mother brought home a pamphlet of the New York Film Academy as she knew she would eventually send her to a drama school. After high school, Gugu enrolled in the American Academy of Dramatic Arts in Los Angeles to study acting.
This was our perfect PERFECT wedding 😁 https://t.co/dZtu4ZnWkn

— Gugu Gumede (@realgugugumede) September 25, 2018
After her education, she was undecided about returning home as she had already built a life for herself in Los Angeles and was hoping to pursue a career in Hollywood. During one of her visits home, her mother encouraged her to meet experienced industry people. It was in the course of her meeting with prominent performers that she bagged her first television role.
Gugu Gumede couldn't return to the United States as her mother fell ill, and she had to stay back to take care of her. It was during this period that she auditioned and got a role in Uzalo. Gugu shared that the producer initially told her that she was too young for the character they had in mind (an elderly woman) and then too old to play her younger generation, but she later received a call telling her that she would be suitable for the character, Mamlambo.
Gugu Gumede Shares One Thing In Common With Her Uzalo Character 
Most actors are not like their characters and Gugu happens to be one of them. However, she shares one thing in common with her phenomenal character – her love for God and the church. Gumede is a deeply religious Christian; she doesn't hold back when it comes to her faith.
Unlike her Uzalo character who is a middle-aged woman, Gugu Gumede is much younger in real life. While Mamlambo is loud, very opinionated, a man-stealer, and a gossip, Gugu is the opposite of all these attributes in real life – the actress is reserved, shy, and hates unnecessary attention.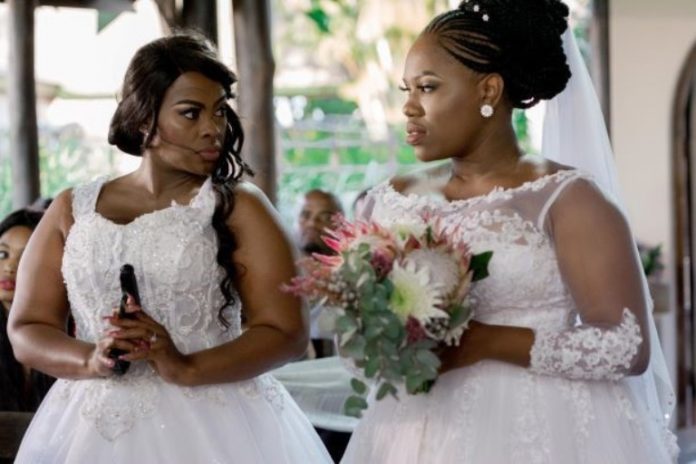 Nevertheless, the KwaZulu-Natal native admires the character of Mamlambo as she finds her interesting, justifiable, real, and flawed, which is why she has been able to resonate with millions of fans of the show. Gumede is a fan favorite on Uzalo. She is loved by viewers not only because she perfectly delivers her roles, but also because she has an amazing personality.
The Uzalo Star Has Another Hit TV Drama Under Her Belt
Apart from Uzalo, she has appeared in Generations, wherein she played Mandisa. She appeared in the TV show alongside notable actors such as Katlego Danke, Thami Mnqolo, Menzi Ngubane, Seputla Sebogodi, Sophie Ndaba, Maggie Benedict, Zenande Mfenyana, Thato Molamu, Patrick Shai, and Atandwa Kani.
Gumede snagged her Generation role after she returned from the United States in the year 2013 when she completed her studies. Of a truth, Gugu's career is yet another reminder that being a successful actor isn't about how many roles one gets, but how well one utilizes the ones they get.
Gumede's Professional Career In Summary
She launched her career in 2013 after her return from the United States.
Her first television job is Generations
Gugu Gumede won her Uzalo role in 2015. She rose to popularity for playing Mamlambo in the show.
She has worked with notable people in the South African entertainment industry.
Gugu's Spiritual Father Is One Of Her Biggest Supporters
Despite her parent's high societal stand, the actress has chosen to remain humble. Since the passing of her father in 2007, Pastor Alph Lukau of the Alleluia Ministries International South Africa has taken up the role of her spiritual father. The Uzalo star is known for being vocal about her faith and Lukau, as gathered, has been supportive of her life and career ever since the two got connected.