Nothando Ngcobo, who plays Hlelo on "Uzalo," is a South African actress born on June 6, 1994, and is best known for her fictional character on Uzalo. Aside from this role, she has starred in other popular TV series like "Isibaya" and the Daily Sun movie "My 4-5 Just Sleeps."
Her character in Uzalo is interesting because she reflects, to a large extent, the typical lifestyle of most young people who struggle daily just to make something out of their lives in the country. Ngcobo's appearance has not only brought her fame but also more opportunities in the entertainment industry.
Nothando Ngcobo's Bio
AGE: 29 Years Old
BIRTHDAY: June 6, 1994
BIRTHPLACE: Hammarsdale, eThekwini, KwaZulu-Natal Province
BIRTH SIGN: Gemini
ETHNICITY: Zulu
Hlelo On Uzalo Real Name
The real name of the Uzalo character Hlelo is Nothando Ngcobo. Nothando is a fast-rising actress born on June 6, 1994, in Hammarsdale, eThekwini, KwaZulu-Natal Province. She was also raised in the town by her parents. She is of Zulu descent, the largest ethnic group in South Africa.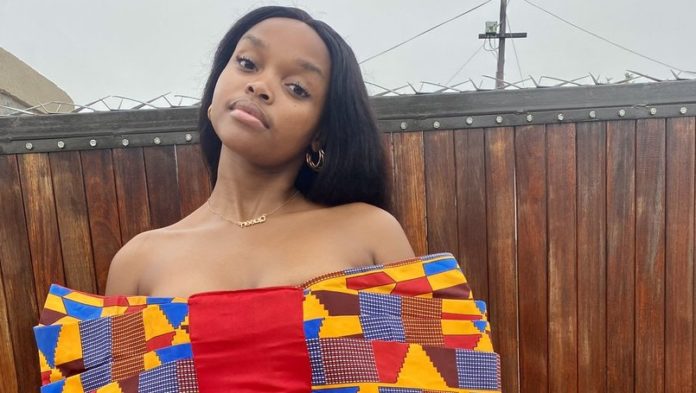 There is no available information about the actress's family background, parents, and siblings. However, it seems Ngcobo has a supportive family who has been her major source of inspiration to push harder.
She often speaks highly about her mother, who she said has made so many sacrifices just to make sure her acting career thrives. However, she shied away from revealing her name and other details about her.
Her father's name is also unknown, and it's unclear if she has siblings. The names of the schools Nothando attended for her elementary and high school studies are not public knowledge. However, it is believed that the schools must be situated around her birthplace since she spent the bulk of her life there. She also enrolled at The Market Theatre, where she did a part-time acting course in 2017.
The Actress Began Her Journey To Greatness In 2014
Nothando Ngcobo has always loved acting since her childhood. Upon completing her matric, she moved to Johannesburg to pursue her acting career. She started in the theatre industry, where she began receiving training. While still undergoing training, she bagged a role as an extra on Mzansi Magic drama Isibaya and later on Daily Sun movie, My 4-5 Just Sleeps.
She made her film debut in 2017 in the film, The Swallow Falls. Her outstanding performance earned her a nomination for Simon Sabela Awards for Best New Comer In Film alongside Ayanda Ngoma, Zikhona Mkhize, and Xolile Gumede. The fast-rising actress eventually won her first lead role in the KZN films and Inbox images' film, One Time Pin, in 2021.
Again, she was nominated for an award, which she eventually won. She walked home with the Best Actress In A TV Movie Award at the Rustenburg Film Festival in November 2021. 2021 was indeed a great year for the actress as she also snagged two more TV roles in the industry that year. The first was as Prudence Thabethe in season 1 of the DSTV's 1Magic Tv series, Lingashoni.
Nathando joined Uzalo in August 2021 in season 7 of the TV series as Hlelowenkosi Khawula, and since then, she has been doing a great job bringing her character to life. The Mpumalanga-born actress has also been appearing in films that will be playing at The Silicon Valley African Film Festival in California, USA.
Nathando's Character Hlelo Represents A Broken Soul In Uzalo
Hlelo grew a thick skin after being thrown into the street at a very young age. After roaming the street for years, she finally makes it to a mud-shack village through an invite. There, she gradually began to forget her dream and started living for the now.
While going through her near-death experience, Gabisile came to her rescue, offering her hope and revival. However, Hlelo was still faced with a serious challenge: breaking free from Mthundi, the very man who made her entrance into the village of mud shacks possible and who now considers her as his property.
Ngcobo shares a few things in common with her character; that's why she has been delivering excellent performance on the set. Like Hlelo, Nathonda is street-wise and also a victim of domestic violence. She is the right person for the role.
Who Is Actress Nathonda Ngcobo Dating?
The Uzalo star is currently not in a public relationship with a man as a wife or a girlfriend. There is no record of her love life. In essence, she is not known to have dated any man in the past. She has kept her fans in the dark about this aspect of her life.
Information about her body statistics is missing as well. However, she is blessed with a great body, which she keeps fit through exercise and healthy foods. She is also active on social media platforms, especially Twitter and Instagram. She is being followed by over 80,000 people on Instagram and more than 2,000 followers on Twitter.