In most things, one can easily describe Baby Cele as a success. The famous South African actress has made appearances in important productions and has won several awards for her hard work. One aspect of her life, however, that doesn't seem to talk of similar success is her love life as she has had two failed marriages in the past and is currently in her third.
The mother of two got married for the first time at a very young age, but the union was short-lived after she suffered abuse and other forms of ill-treatment from her then-husband. At the moment, her third marriage seems to have the charm for her, even though her past marriages remain stories to be told.
Quick Profile of Baby Cele
Full name: Baby Cele Maloka
Date of Birth:

22 March 1972

Age: 51 years old
Place of Birth: Umlazi, KwaZulu-Natal
Husband: Thabo Maloka
Children: Thando and Yolisa Cele
Baby Cele's First Marriage Was At An Early Age
The exact age at which Baby Cele first married is not known, but she revealed that she was still a very young woman. In the same light, other information about the man she married remains unknown.
When she was 16, Cele was approached by Mbongeni Ngema, who told her he believed she had what it took to become an actress. The veteran writer, actor, and producer then approached her parents in 1986 together with his wife to request that they went with her to Johannesburg and then New York to help her become an actress.
The marriage was a difficult one for the young Baby Cele, and although she endured for up to seven years, it later came to an end in divorce, leaving her with so much hurt.
The Actress Left Her First Marriage Because She Was Abused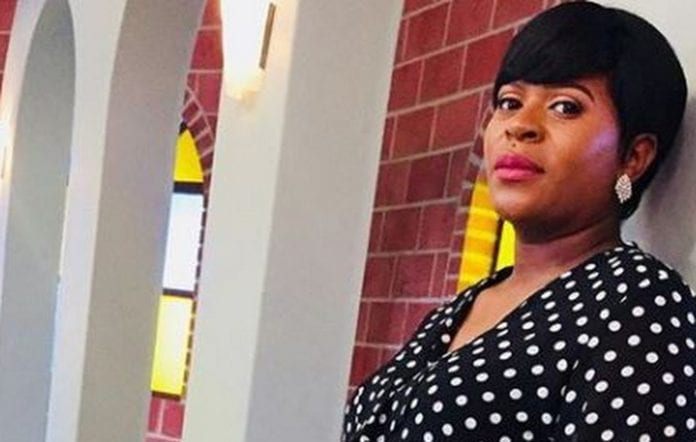 For a better part of her life in the eyes of the public, the veteran actress has ensured to keep her past marriage and all the experiences she passed through private. However, she decided to let fans into what happened to her in the past after a video of Babes Wodumo being slapped multiple times by her lover, Mampintsha, went viral online.
Baby Cele while condemning the act, revealed that she was herself once a victim of domestic abuse when she was much younger in her first marriage. According to her, she suffered abuse at the hands of her first husband, whom she described as a monster for seven years. The actress said she could relate with Babes as the entire saga took her years back to her first marriage.
Although the marriage was abusive and she was encouraged by friends and those close to her to leave her husband, she found it very hard to walk away, even though she did not love him anymore or had any feelings for him. She remained in the loveless marriage because she was scared the "Monster" threatened he was going to hunt her down and kill her like a dog if she ever tried walking away.
She later found the strength to walk away and start all over again. As a result of all she suffered from marriage at a young age and the abuse that followed, she stated that she felt worthless at some point, and it became hard for her to trust the genuineness of good men.
Her Second Marriage Ended After A Short while
The actress spent a long while alone before she decided to give marriage another try after she met Mandla Mabuza, who was a senior arts official in the Mpumalanga government. Mabuza carried out the traditional rights of paying the ilobolo of Cele during an umabo ceremony in February 2009 at Cele's home in Umlazi, Durban. This was followed by a traditional marriage later in the same year.
The head of performing arts at the provincial department of arts and culture and the actress first met in Witbank way back in 2005 and fell in love almost instantly. According to Cele, Mabuza told her he was going to marry her when they first met, and she thought he was mad.
Even though right from the start they felt that they were made for each other, that was not enough to hold their marriage together as it later came to an end in a divorce. It is not clear exactly when the marriage ended, and both the actress and her former husband continue to maintain their silence on why they parted ways.
Meet Her Third Husband- Thabo Maloka
After her second marriage came to an end, Baby Cele decided that marriage was not for her, and so she swore never to get hitched again. However, when she met Thabo Maloka and fell in love, she changed her mind and decided to give it another go, hoping the third try may just be the charm. According to her, even though she didn't want to marry again, she could not deny love.
Maloka, who is a businessman, first met the actress back in 2003 when they were introduced to each other by a mutual friend. They fell in love at the time, and even dated for a while before they ended the relationship in 2005 only to meet again in 2015 and pick up from where they stopped.
The two walked down the aisle in a big ceremony in 2017. Seeming to be someone who loves saying "I Do", the actress and her husband had another marriage, a traditional one, in 2019. More than a couple of years later, the marriage seems to be waxing stronger every day, even though they are maintaining a long-distance marriage because of their separate works as Baby Cele has since had to move to Durban for her role in Uzalo.
She Is Blessed With Two Children 
The first two marriages of the actress did not end well, but they left her with the best blessings anyone would pray for; two beautiful children- Yolisa Cele, who was born on November 4, 1999, and Thando Cele, born on March 9, 2010.
Although she has not revealed any details about the father of her first child who is now over 20, it is believed by some that Yolisa is a product of her first marriage while Thando is from her marriage to Mabuza. The actress conceived Thando after she struggled for a while to take in, and so when she was pregnant, it was unbelievable for her and her husband.
When the time for delivery came she gave birth but had to rush the baby to the ICU because her bundle of joy arrived with water in her lungs. She had to remain in the hospital for a while before the baby was declared out of danger, and they were allowed to return home.
While Thando is still young to decide a career path, Cele's older daughter has decided on following in the footsteps of her mother by becoming an actress. When she was much younger, Yolisa appeared in several TV commercials before she later transitioned to a career as a professional actress. She is better known for her role in the South African TV show, Isithembiso.
Baby Cele Is Currently 51 Years Old
The veteran award-winning actress was born on March 22, 1972, which means that she is currently 51 years old. She got a start in her career at a pretty much young age, and it was also around that time that she got married for the first time. This is one of the reasons why she seems to be in the movie industry almost always.
She gave birth to her first daughter when she was 27, and she did not have another child again until she was 39 years old. She did not reveal if this was part of the reason why it was harder for her and her husband to have their daughter. When Baby Cele got married for the third time in 2017, the highly talented actress was already 45 years old.
Baby Cele is already starring at the mid-ages, but she still manages to maintain a better part of her youthfulness despite all she has been through.