Thuthuka Mthembu (born 1998) is South African actress who owes her rise to popularity to the South African most viewed television soap opera Uzalo, wherein she starred as Nonkanyiso Zikhali, the pretty wife of Sibonelo.
Ever since Thuthuka Mthembu stormed the South African entertainment industry, she has continued to prove herself as an amazing and phenomenally talented actress.
The actress's performance in Uzalo has not only earned her the attention of Uzalo viewers but also praises from her colleagues and the attention of filmmakers in South Africa and beyond – all thanks to her incredible acting skills.
Mthembu's off-screen life is quite as interesting as the character she portrays in Uzalo. She doesn't hesitate to share her honest views on subject matters that pertain to everyday life, fame, and other aspects of life. She inspires a lot of budding talents in South Africa, especially those in the entertainment industry who look up to her.
Thuthuka Mthembu Was Born In The Late 90s
Thuthuka Mthembu's life began in the city of Johannesburg, where she was born and raised to be industrious and a goal-getter. The exact date of her birth is yet to be revealed, but records have it that her mother gave birth to her in the year 1998. The actress may be vocal on the screen, but she is a very reserved and private person in real life.
She hardly shares information about her personal life and family history. This explains why the identities of her parents, details of her family background, and other aspects of personal life are yet to be revealed for public consumption. However, we do know that Thuthuka is one actress who is very proud of her roots and the fact that a lot of people admire her as one of South Africa's beloved actresses.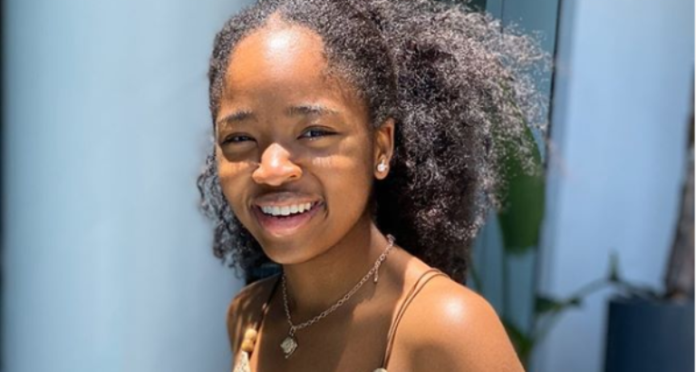 Summary Of Thuthuka Mthembu's Personal Profile
Real Name: Thuthuka Mthembu
Place of Birth: Johannesburg
Year of Birth: 1998
Popularly Known as: Nonka
Most notable work: Uzalo
Education: Unavailable
The Actress Was Raised By A Single Mom  
Thuthuka has always been vocal about her mother's influence while growing up, as well as in her career. As gathered, the actress grew up without her father in her life as she was single-handedly raised by her mother in Johannesburg.
Due to the circumstances surrounding her birth and early life, Mthembu hardly talks about her family. She has never mentioned the names of her parents, if she has siblings or not, and how she was able to cope as a child without her father by her side.
The actress doesn't hide her love for her mother. She often showers her with praises and appreciation for all she has done for her right from the day she was born.
Thuthuka Mthembu's Life Before Fame
Before her appearance in Uzalo, Thuthuka Mthembu was not known to most of the people in the South African entertainment community. She was just like every other hard-working young girl in South Africa. Although not much is known about her educational background, the fast-rising talent is believed to have completed her basic education in schools around her locality before pursuing her acting career.
It is not known if she did some jobs or had a business line before joining other actors in Uzalo as she is yet to publicly open up about her life before stardom. Ever since Mthembu became a well-known actress, lines have continued to fall in pleasant places for her. She has an overwhelming number of loyal fans who are impressed with her performance in Uzalo, as well as the support of filmmakers across Mzansi.
Because my twitter account deserves my attention too. ♥️ pic.twitter.com/5gm88wLEg8

— Thuthuka Mthembu (@MthembuThuthuka) January 5, 2020
Mthembu believes in moderation regardless of the fame and fortune she has earned within the short time she has been around in the industry. She once mentioned that she doesn't live a lavish life and that being an actor is not as glamorous as most people assume.
Acting Wasn't Thuthuka Mthembu's Initial Dream Career 
Like most fantastic actors making waves in the entertainment industry today, Mthembu's initial dream was not to become an actor, but a successful television personality. Being a talented and focused young woman, she appeared in various commercials as a child, and she kept pushing her way through until the year she finally won the role of Nonka in Uzalo.
Considering the impact Thuthuka has made within a short time she joined the industry, it's quite obvious that she didn't make a wrong choice. The actress once mentioned that she feels satisfied and fulfilled with the fact that she entertains people with her talent.
Thuthuka Mthembu has come to stay in the South African television industry, and her fans are excited about it as they would be enjoying more of her on-screen performances. The actress enjoys a huge fan base across social media platforms, including Twitter, where she has more than 3000 followers.
Uzalo Is Her First And Major Acting Gig
Although Thuthuka Mthembu is yet to comment on (or at least) list her filmography for public consumption, it seems the widely-viewed television soap opera is her first and only acting job. Apart from Uzalo, it is not known if she has appeared in any South African film or TV show.
That notwithstanding, it is worthy to note that Mthembu is doing an amazing job on Uzalo and also stands a chance of taking her career to the highest level if she continues to grow her game and also bands together with veteran actors in the industry.
Besides actress Dawn Thandeka King, the actress considers American filmmaker Ava DuVernay and renowned media mogul Oprah Winfrey as her role model.
Her Uzalo Character 'Nonka' Is An Interesting Person
Not much is known about the actress's acting journey, and how exactly she won her role in Uzalo. What matters most to her fans is that she is naturally talented and portrays a befitting role as well. Her Uzalo character 'Nonka' is quite an interesting person, just like Mthembu.
Nonka, in Uzalo, is the wife of Sibonelo Zikhali (played by Wiseman Mncube), the younger sister of Njeza (played by Nkanyiso Makhanya), and Hleziphi's friend. She works in the salon and also keeps a cordial relationship with those that are very dear to her.
Thuthuka Mthembu's role as Nonka has brought her so much recognition outside the filming set. Uzalo fans love her character so much as a result of her personality, and the way the actress brings her to life. The actress is yet to be seen on any other South Africa television show for now, but her fans are positive she would earn more acting roles as time progresses. Mthembu may be relatively new in the industry, but it appears the young talent has a lot of surprises up her sleeve.
Highlight Of The Actress's Professional Career
Thuthuka Mthembu may have other hidden talents, but she is best known as an actress.
She never wanted to be an actress, but her love for arts grew after she auditioned and won the role of Nonka in Uzalo.
Uzalo is the first soapie she has featured in. The show is also the most lucrative job she has done in her entire life.
Mthembu is positive she has a lot to learn in the industry. That's why she looks up to people like Oprah Winfrey and her Uzalo co-star Dawn Thandeka King.
Her acting skills in Uzalo is the main reason people love her.
She is yet to be nominated for an award (s) in the industry.
Thuthuka Mthembu Might Be Single In Real Life
Although Mthembu plays the role of Sibonelo's wife in Uzalo, she is not yet married in real life. She could be single or in a secret relationship since she has not publicly introduced anyone to the world as her boyfriend. Furthermore, information about her dating history is not available for public consumption neither has she given birth to her kids in the past.