Inno Matijane (born on January 27th, 1998; Age: 25 years old) is an eminent reality TV personality, music artist, social media star, and entrepreneur who is best known for his role in Moja Love's The Way Ngingakhona. Inno Matijane is openly gay and is reportedly dating famed dancer Limpopo Boy.
Inno is also known to have dated veteran TV presenter Aaron Moloisi. He has been in the showbiz world for more than a decade. And through his diverse gigs as an entertainer, he has come to meet his romantic partners. After keeping his relationship with Limpopo Boy secret for a while, Inno Matijane later confirmed the love affair in late 2021.
Inno Matijane's Biography Summary
Full name: Innocent Matijane
Nickname: Inno Matijane
Gender: Male
Date of birth: January 27th, 1998
Inno Matijane's Age: 25 years old
Ethnicity: Black
Nationality: South African
Zodiac Sign: Aquarius
Sexual Orientation: Homosexual
Religion: Christian
Inno Matijane's Boyfriend: Limpopo Boy
Inno Matijane's Ex-boyfriend: Aaron Moloisi
Inno Matijane's Net worth: $85,000+
Famous for: Moja Love's The Way Ngingakhona
Inno Matijane's Instagram: @innomatijane
Twitter: @innomatijane
Facebook: @InnoMatijane
Where Is Inno Matijane From?
The social media sensation Inno Matijane was born in Lesotho on January 27th, 1998. Later in 2005, his family relocated to South Africa and purchased a house in Senekal. His family, however, only lived in the house during weekends as their main place of residence was Free State. As a result, Inno Matijane grew up in Free State.
He once revealed that his family abandoned him when he lost everything he had; car, job, and apartment in a bid to save his mother's life. Unfortunately, his mum died, and Inno was left with nothing. He later went to his father's family but wasn't welcome. Hence, he moved out. Despite having suicidal thoughts, Inno has managed to stay strong and is doing well for himself now.
Inno's Educational Achievements
Inno Matijane completed his basic education in the South African province of Free State. He then attended Free State University and graduated with a degree in Exercise and Sports Science. While there, he served as the Human Rights Ambassador for Free State Centre. Furthermore, Matijane has held diverse gigs to earn a living since graduation.
He assisted with events for Kick4Life, a non-profit organization that addresses socio-economic issues. He also has worked with the US embassy in Lesotho. This is not surprising as Inno Matijane had his first job at Finite Magazine in Lesotho when he was 10 years old.
Inno Matijane is a Proud, Openly Gay Media Personality
Since he sprung to the spotlight in 2017 for posting funny videos on social media platforms, Inno Matijane has proudly identified as gay. He has unique body curves when compared to other men. He is a fashionista who loves showing off his curves and great fashion sense on social media platforms. And this has attracted his legions of fans.
Having been endowed with a curvy body structure and a big backside, the reality TV personality decided to show off his female alter ego despite identifying as gay. In September 2020, like fellow gay personalities—Lasizwe Dambuza and Somizi Mhlongo, Inno Matijane introduced his female alter ego to the world.
He first announced that his fans should get ready for his outfit the next day as he would dress up to go nowhere. He then set tongues wagging when he shared a picture showing the entire female look. He had his face made up and also wore nails and artificial hair. Nonetheless, Matijane has remained a proud gay entertainer.
He has co-hosted several shows like DJ Sbu Breakfast, Tbo Touch on The Takeoff, and Cliff Central. He also worked as a field presenter and content contributor for BET. He further appeared in the reality series, The Way Ngangikhona, which aired on Moja Love for over a year.
The show was the first South African reality series to cast the spotlight on the LQBTQ+ community. It featured Inno alongside MJ Maponya and Tholang Motsumi. Interestingly, it attained massive viewership and became one of the most-watched shows in the country.
Thanks to Inno's wit and humor. However, he left the show at the end of the second season's finale in 2021. And his departure wrecked the heart of the viewers.
Why He Left the Moja Love Show, Ngingakhona
The bubbly personality became a household name after landing a role in The Way Ngingakhona, aired on Moja Love. He featured in the first and second seasons of reality TV, which was the first South African TV show to tell queer stories. He became the favorite lead cast member. Sadly, at the finale of the second season, Inno announced his departure from the show.
He then said he would make his final appearance on the show during The Way Ngingakhona reunion. He thanked the fans for their huge support and love and said it was time for him to move on to other things he has a passion for. They include acting, singing, TV, and radio presenting.
As there's an end to everything, Inno Matijane decided to walk away from the show to focus on his music and entrepreneurial endeavors.
He additionally hopes to do another reality show, #NotSoInnocent in the future. It will be focused on his life as a  queer individual. Though City Press reported that the social media star would return for the show's third season, he never did.
The Reality TV Star Launched His Musical Career in 2021
Innocent Matijane is someone who believes that he can achieve anything in life and has no limit. As a result, he has spread his tentacles abroad and has been involved in diverse works in the entertainment industry.
Having been passionate about music, he kicked off his musical career with the release of a single, 'BaTlaoHurda, ' with HeartBeats under Jasmyn Records on March 10th, 2021. He then ventured into the amapiano genre with an Extended Play titled 'Lineo' released on September 24th, 2021 and his EP has only five tracks.
He also featured a number of artists on his debut amapiano project. His first single, 'Batlao Hurda,' featured Bizizi, DaKing, and HeartBeats, while the third song on the compilation titled, 'Letawa' featured DJ Skhatla. 'John Maputla,' 'Shibini,' and 'Mangwane' are other songs on Inno's Lineo EP.
Inno Matijane's Business Interests
Inno Matijane, a well-known goal-getter, has been able to rub minds with some of the most famous entertainers and media personalities in South Africa since he kickstarted his professional career. Not only has he made a name for himself in the showbiz sphere, but he has become quite popular for his business efforts.
Inno presently serves as the owner of an Apparel and clothing collection called Easy Thrift South Africa. He owns a beauty and skincare line, IM Beauty, launched in 2021. Some of his products include:
Inno Matijane Facial Cleanser
Inno Matijane Facial Moisturiser
Inno Matijane Bath Soap
Inno Matijane Body Lotion
Inno Matijabe Beard Oil
Meanwhile, in 2018, at just the age of 20, the Lesotho-born established a vegan restaurant called Healthy U Restaurant. He launched the business as a joint venture with Tathy Ntumba. On his social media handles, he often shares pictures of himself rocking his products.
His impeccable fashion sense, which he displays unapologetically at any given a chance, definitely accounts for his huge popularity on social media. And this has made him rank among the famous personalities in SA.
Who Is Inno Matijane's Boyfriend?
In mid-2021, Inno Matijane started posting about having a crush on the skillful dancer Limpopo Boy. He wouldn't stop speaking fondly of him and commenting on his posts with love emojis. At some point, he would share Limpopo Boy's pictures on his social media handles.
As a result, it was speculated that the social media star was dating the Limpopo native. He denied the rumors at first and even said that he would stop posting Limpopo Boy's pictures on social media.
Having been struck with love, Inno Matijane couldn't keep to his word. He, afterward, shared a picture of Limpopo Boy on his Facebook page, and his caption read, "My babe Limpopo boy-bujwa the most handsome man pls."
That same day, Limpopo Boy shared Inno's picture on his Facebook page and captioned it, "Dumelang." Soon after, they couldn't help but be on each other social media's space very often. The two even started going live together on Instagram. Hence, they sparked another dating rumor.
Inno Matojane later confirmed the love affair in late 2021 when he shared Limpopo Boy's picture on his Facebook page with the caption, "My person, my everything," along with a love emoji. In the comment section, one of his fans asked whether the post meant Limpopo Boy is off-market, Inno Matijane boldly replied 'YES!'.
His reply put the dating rumor to rest and was instantly taken to be a sort of announcement of the new relationship. Interestingly, his fans weren't shocked at the new relationship alert as they had been anticipating such for a long while.
Are They Still Together?
Judging by their Facebook posts, Inno Matijane and Limpopo Boy began their relationship in mid-2021. Many have been known for being in short-lived relationships, and many wonder whether Inno is still together with the popular dancer. Yes, the two are still going strong.
In May 2022, Limpopo Boy shared a Facebook video clip showing where he was hanging out with Inno Matijane. The video got his fans into a frenzy mood, and they couldn't stop complimenting how good they looked together. Limpopo then took to Instagram to thank Matijane for paying him a visit. The Way Ngingakhona, former presenter, replied, "I love you."
What Does Limpopo Boy Do For a Living?
Thoka Matome Mahlatse Robert, whose professional name is Limpopo Boy, was born in March 1994 in Botlokwa, Limpopo. Since childhood, he has been displaying his special dancing talent, which has gotten him to the international stage. From dancing in front of malls in Limpopo, the talented performer moved to Pretoria, and there, he had his career breakthrough. He performed at the State Theatre's Show Your Talent in 2016.
Throughout his dancing career, he has won many dance competitions in SA and even overseas, including the 2018 National Dance Competition in Namibia. For several years, he worked as a background dancer for the multi-award-winning singer, Makhadzi.
Limpopo Boy also had a performance with Sho Madjozi at the Global Citizen Festival headlined by The Carters―Jay-Z and Beyoncé. He has additionally performed alongside Makhadzi at the SAMAs and MTV Base Awards. Besides Makhadzi, the skilled dancer has appeared in the music videos of renowned music artists in the country, including Dr. Malinga, King Monada, Lady Zamar, and DJ Cleo.
In 2019, he established his dance academy called Limpopo Boy Dance Academy. Thoka graduated from Tidima High School in 2012, and four years later, he completed a Management Assistant course at EDUSA College.
Inno Matijane's Relationship With Aaron Moloisi
After years of suspecting Aaron Moloisi's sexuality as he loves to keep his private life on the down low, the seasoned TV presenter finally emerged as a guy when he revealed his relationship with Inno Matijane. It happened that in October 2020, Moloisi shared a picture where he was cozying up with the popular social media influencer.
The picture, which they used as a medium to make their love affair public, told a thousand words as it broke the internet at the time. The two media personalities boldly confirmed the affair by captioning the post, "finally." As a result, many assumed that they had been dating for a while but preferred to keep the relationship away from prying eyes.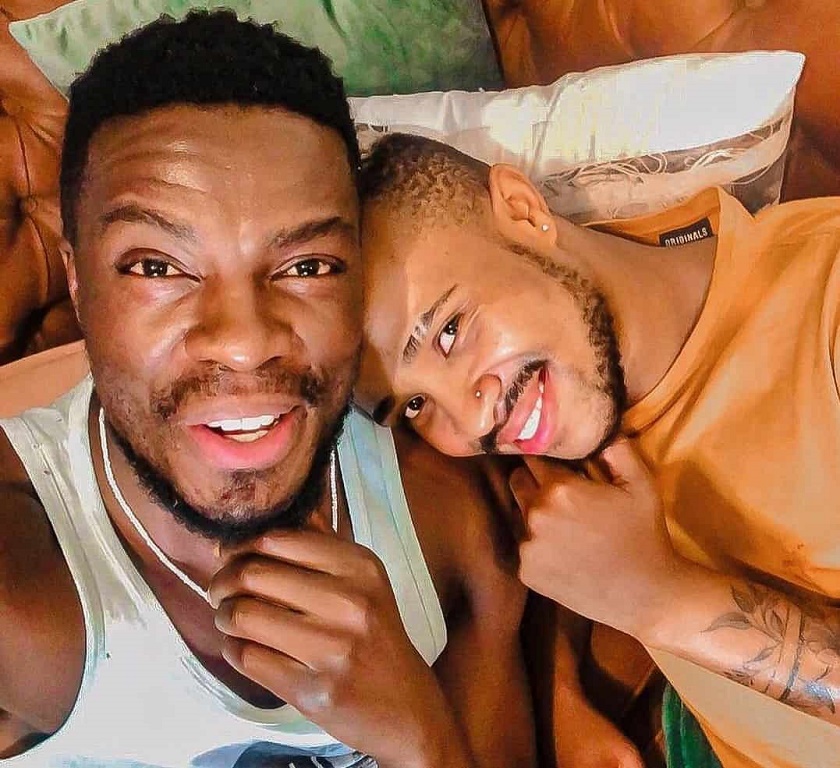 Aaron Moloisi and Inno reportedly met at Moja Love studio, where they had TV presenting and acting gigs, respectively. On the Moja Love Show, Ngingakhona, Inno Matijane, confused many viewers with his continuous complaints about how difficult it was for him to find love. Consequently, many assumed that he was single.
Aaron, on the other, has had some female partners in the past. Hence, the two announced the relationship was a big surprise to their fans, who never saw it coming. The couple dated for some time before it was noticed that the SABC presenter seemed to have found another partner in the person of Siphisile Masango, a fashion designer.
Currently, Aaron Moloisi and Inno Matijane are no longer together. They have moved on with their love life as they have been linked to other romantic partners since 2021. However, why they called it quits is unknown, and the exact time the separation happened.
Who is Inno's Ex-boyfriend, Aaron Moloisi?
Aaron Moloisi is an accomplished media figure whose career has spanned more than two decades. He was born on May 13th, 1979, in Ga-Dikgale, Limpopo. He is multi-lingual, speaking fluently isiZulu, Sesotho, isiXhosa, Setswana, and Sepedi. He bagged a Bachelor's degree in Chemistry and Microbiology from Fort Hare University and then began working as an Oracle developer in 2000.
He has worked as the presenter of numerous shows for SABC. They include the SABC1 lifestyle show, Take 5 (2002-2007), The Big Question on SABC2 (2003-2007), and Special Assignment on SABC3 (2009-2011). Since 2008, he has been working as the presenter of Shift on SABC1. Furthermore, Aaron Moloisi serves as the presenter of SABC's Rize Mzansi Show. He has been hosting the show since 2013.
Meanwhile, in 2007, he launched his own media house, Moloisi Media House, and works as the director. He also established a digital radio station, Legend Radio, in January 2022. As an actor, Inno Matijane's ex-partner has scored roles in After 9, Skeem Saam, and The Queen.