Aaron Moloisi is gay. He made the revelation in 2020, and he is currently in a relationship with Innocent Matijane, a social media personality and model. Before Innocent, he was rumored to have dated Siphosihle Masango and was also said to be the 'side guy' in Somizi/Mohale's marriage.
The truth about Aaron Moloisi's sexuality has remained a topic for debate among fans because while some think he is gay, others argue that he might be straight or bisexual. In the past few years, Aaron Moloisi himself has not helped matters, he has been linked to both men and women, throwing his fans into more confusion.
The whole thing gets tricky when you consider that Moloisi is a very handsome man with a well-built body physique and a classy fashion sense. In fact, he's got everything it takes to get any straight women or gay guy tripping. Interestingly, after several years of keeping everyone in the dark, it seems Moloisi has decided to come out of the closet with the truth about his sexuality – whether he is gay, straight, or bisexual – and who his partner is.
The Truth About Aaron Moloisi's Sexuality
44-year-old Aaron Moloisi who was born on the 13th of May 1979 is a handsome TV presenter and actor, best known for his role in the 2016 Hollywood movie, Queen of Katwe. He made his television debut in 2002 when he was chosen to be the presenter of the SABC1 program Take 5; his acting debut came with his appearance on the miniseries
After Nine
where he played the role of Hector, a gay character.
Aaron Moloisi who tries to keep his private life to himself has thrown his fans into so much confusion concerning his sexuality, with the type of pictures and captions he posts on social media. The question about his sexuality arises from the fact he has been linked to both sexes. On a day, he uploads pictures of himself and a lady looking all loved up, and the next day, he uploads another picture of himself and a man in compromising positions. Also, his role in After Nine has aided the speculation about his sexuality.
All of these have made fans wonder where he really stands, with most going for the option that he is bisexual, even without the TV presenter confirming the fact. However, in 2020, Aaron Moloisi finally let the cat out of the bag, revealing who his real partner is, and from the grand reveal, we can conclude that Aaron Moloisi is gay!
Although he may have uploaded pictures with captions showing that he is or was interested in women, the classy actor and presenter is actually interested in men. Aaron is known for his excellence and love for nice things and this has not changed with his choice of good-looking male partners.
Aaron Moloisi and Innocent Matijane Are a Couple
In October 2020, Aaron Moloisi broke the internet with a picture of himself and social media personality and model, Innocent Matijane, wrapped together, with the caption 'Finally'. It is rumored that these two have been in a relationship for a while but didn't think the time was right to let the public know.
https://www.instagram.com/p/CGngS7lBNIu/?utm_source=ig_embed
This great reveal came as a huge surprise to many Innocent Matijane's fans who actually thought he was single. After the embarrassment and rejection he received from MJ Maponya on Moja Love's reality TV show, The Way Ngingakhona, he kept complaining on social media about how difficult it is to find love, little did fans know that it was all camouflage and he had actually found a bae.
Although Aaron Moloisi has not been open about his sexuality, Innocent, on the other hand, has always made it known that he is gay. It is said that the couple met on Moja Love, where they work together.
Innocent Matijane is a TV Presenter and YouTuber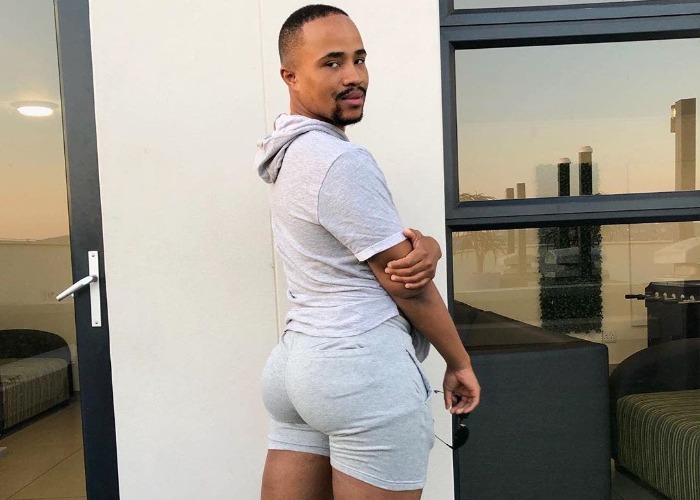 Aaron Moloisi's boyfriend, Innocent Matijane (fondly referred to as Inno) is a model, TV presenter, YouTuber, and reality TV star. Just like Aaron, he is good-looking and classy. Matijane, who was born on the 27th of January 1998, is very creative and knows just how to quickly identify and maximize opportunities. He started off by posting videos on social media before he became a star of The Way Ngingakhona.
Matijane who is currently 25 years old is still upcoming in the entertainment industry, compared to his bae who has been around for over 18 years. Also, Aaron, who is 19 years older than Inno is the owner of Moloisi Media House (PTY) Ltd. He is also an actor, scriptwriter, offline editor, and translator, in fact, Aaron Moloisi knows his onions in the South Africa entertainment industry.
Their relationship would be of great advantage to Inno, as dating someone who is already where you want to be in the entertainment industry could bring amazing opportunities his way.
Moloisi Was Said To Have Dated Siphosihle Masango
At the beginning of 2020, it looked like Aaron Moloisi and Siphosihle Masango, who is a fashion designer, were an item. On their individual social media accounts, they posted pictures of themselves chilling in Mozambique in what looks like a 'baecation'. Even before they uploaded these pictures, the rumor mill already had it that something was going on between them.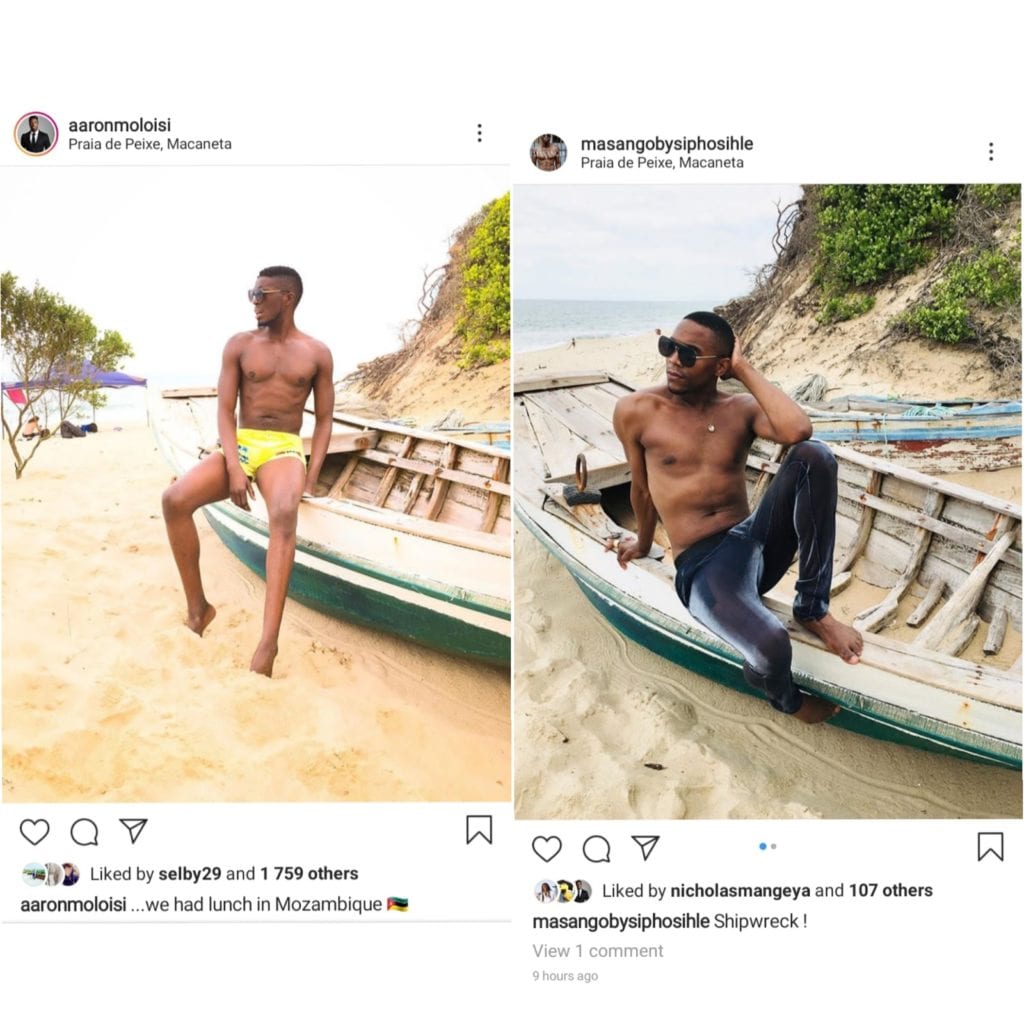 Although both Moloisi and Masango never confirmed whether or not they were actually in a relationship, rumor has it that they both started off as just sex partners but later decided to date. Just like they never confirmed whether or not they were dating, nobody knows when their alleged relationship came to an end and what led to its end. In truth, his seeming bromance with Siphosihle Masango came as a surprise to fans because before their trip to Mozambique, Moloisi had already dazed his followers with the picture of a 'mystery man.'
Siphosihle Masango
He Was Rumored to Be the 'Side Guy' in Somizi/Mohale's Marriage
In 2018, Aaron Moloisi posted a picture of himself and another man whose face was not completely recognizable on IG, and although he quickly brought down the picture, fans had already retweeted it and thought the 'mystery man' in the picture was Somizi's husband, Mohale Motaung-Mhlongo as they had an uncanny resemblance. Mohale, an actor, entrepreneur (the CEO of Glam Troupe), and model got married in 2019 to his gay partner, Somizi Mhlongo, who is a reality TV star and Idols SA judge.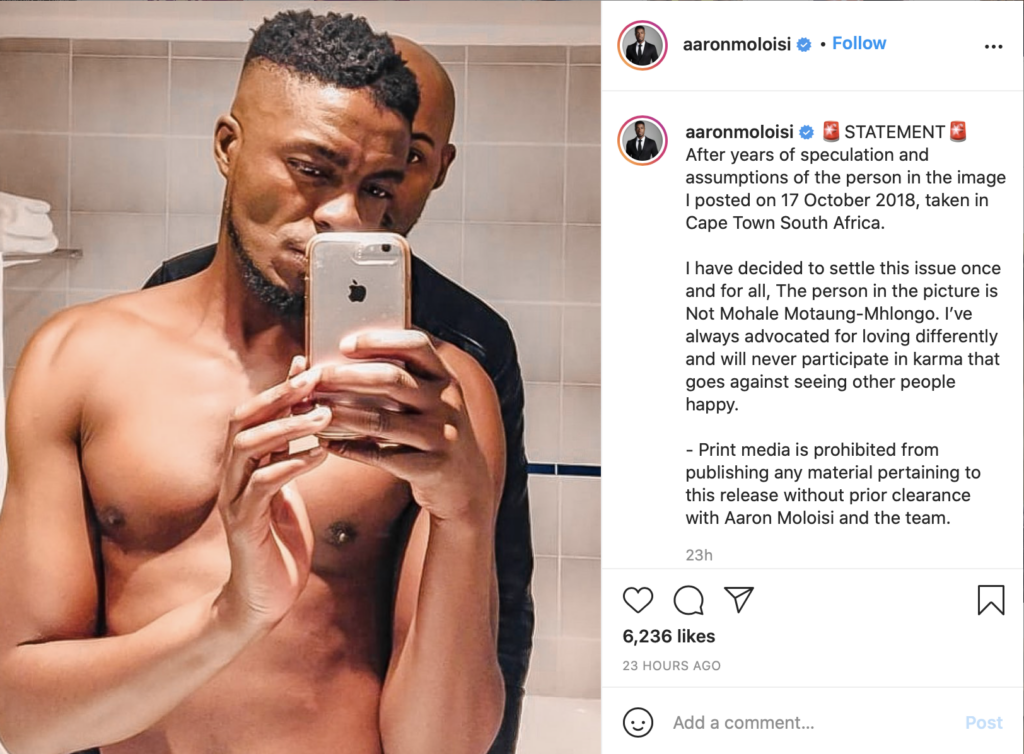 The controversy that trailed the picture resulted in rumors that the marriage between Somizi and Mohale was about to hit the rocks on the basis of infidelity. However, after two long years of silence, Moloisi finally decided to speak out about the 'mystery man' in the picture. With all the resemblance the mystery man has with Mohale, Moloisi still denied in a statement he posted on IG that the guy in the picture is not Mohale Motaung.
Aaron Moloisi Said He Wanted to Have Children With Khanyi Mbau
In February 2021, Aaron posted a picture of himself with actress and television host Khanyi Mbau with a caption saying there was a time he actually wanted to have children with her. These added to the confusion about his sexuality at the time. Fans seemed to love the idea of him having children with Khanyi, and said the duo would have had very beautiful children. It is safe to say now, however, that we will not be seeing that happen anytime soon since he has confirmed he is gay.