Somizi Mhlongo's net worth is estimated at $5 million. He is a South African actor, singer, choreographer, media personality, brand ambassador, television presenter, author, chef, and reality talent show judge.
Everything about Somizi Mhlongo is loud – from his career to his sexuality – but the loudest of all seems to be his luxurious lifestyle and the net worth that affords it. Somgaga, as he is fondly called, has a net worth of $5 million with which he has been able to fund his flamboyant living – the house, automobiles, trendy outfits, and all.
A multi-faceted entertainer, Somizi totally deserves all the wealth and luxury he is currently enjoying because he has worked really hard for it, although his fame can be said to be leveraged on the path his parents traveled.
Summary of How Somizi Mhlongo Made His $5 Million Net Worth
South African Idol judge
Dancer
Singer
Actor
Brand ambassador
Television presenter
Author
Media personality
Choreographer
Somizi Mhlongo Started His Acting Career At The Age Of 13
Somizi Buyani Mhlongo, who is 50 years old, was born on December 23, 1972, in Soweto. His parents were entertainers, which accounts for why he started his career at a very young age. He even dropped out of school to pursue a career in entertainment.
In 1987, at the age of 13, Somizi made his acting debut in the movie Scavengers. Five years later, he scored a role in the musical and political film Sarafina!, where he played the role of 'Whacko.' Since his role in Sarafina!, the Idols SA judge has been featured in other movies such as Kien Hiüber Afrika and Cry the Beloved Country.
Somizi's fame in South Africa started with him being featured in movies, but he has since diversified his source of fame, which means his source of income has also been diversified. He was a judge at Dance Your Butt Off from 2010 to 2012, and then in 2015, he came on board the South Africa reality talent hunt show – Idols SA.
Since 2015, he has remained a judge on the show while also running his own reality TV show dubbed Living the Dream with Somizi, which debuted on April 19, 2018, and airs on Mzansi Magic.
He Wears The Hat Of A Choreographer And Singer
Somizi Mhlongo's very first choreography performance was in the 1992 movie Sarafina! Since then, he has performed at major events in the country. In 2010, the FIFA World Cup was held in South Africa – the first time the competition was held in the continent – and Somagaga choreographed at both the opening and closing ceremony. This was a huge achievement for Somizi Mhlongo.
He was once a choreographer for the popular Joyous Celebration Choir and has performed at events like the Channel O Music Video Awards, Miss South Africa, Metro FM Music Awards, and South Africa Music Awards.
Somizi also has a YouTube channel where he uploads dance workout videos. He also tried his hands on music in the early 2000s, but sadly, it failed. In 2017, he released a song titled Ngibonile featuring Heavy K. This video has over 183k views on YouTube.
Somizi Is Also A Radio Presenter And Author
Somizi Mhlongo is also a radio presenter – a career he started in 2017 when he co-hosted the Metro FM's The Fresh Breakfast Show with DJ fresh and Mpho Letsholonyane. In 2019, he was moved from Metro FM breakfast show to #TheBridge.
Somizi has so far proven to be a jack of all trades and master of some. Besides acting, dancing, singing, and being a radio host, he is also an author. In 2017, he released his autobiography, a book which he wrote with Lesley Mofokeng. It was at the book launch he met his eventual husband, Mohale Motaung.
Endorsement Deals Have Also Contributed To His Net Worth
Another major income source that has contributed to Somizi Mhlongo $5 million net worth is endorsement deals. The fact that he is a crossdresser has helped him bag several endorsement deals that brands will naturally not want to give to a man. So far, Somizi has endorsed brands like:
DStv
Department of Water and Sanitation
McDonald's
McCafé
Although the exact amount of money he has made from these endorsement deals is unknown, you can tell that for his caliber of person, these brands must have made some good amount of money.
He has also hosted events like V Entertainment, South Africa Music Awards, Global Citizen Festival, and 1st KZN Entertainment Awards. He is said to make about R500,000 per month, which sums up to about R6 million per year.
Somgaga Lives An Extravagant Lifestyle
For someone who does all of these, you should not be surprised that he is one of the richest South African celebrities. And he knows just how well to spoil himself with luxury things. Somgaga has been spotted at events wearing expensive outfits and shoes. He even took to social media to show off his wardrobe, and a fan asked for some of his old clothes, and he was kind enough to give.
Even his best friend, Vusi Nova, knows just the kind of things he loves as he bought him a Gucci shoe worth R12,000 in 2017. Somizi's crossdressing interest also demands that he wears expensive wigs – which he has so many of. Besides clothes and shoes, Somizi also spends money on cars and houses; the entertainer does not take his comfort for a joke.
Somizi Spends His Money On Luxurious Houses
In 2019, Somizi purchased a property worth R6 million to add to the properties he already owns. The beautiful mansion is located at Zimbali Coastal Resort & Estate in Kwazulu-Natal. The luxurious finishing of the house was handled by Donald Nxumalo, a renowned interior designer. As beautiful as the house is, that's not his exact residence.
Somizi lives in his double-story building located in Johannesburg. The exact cost of his abode is unknown, but you can tell it cost a fortune from the features. The rooms in the house are made up of well-picked furnishings.
The kitchen happens to be one of the most outstanding parts of the house. It is well furnished with modern kitchen cabinets and gadgets. Considering that a man owns it, the kitchen is stunning. Somizi Mhlongo is known to have five houses, located in Gauteng, Free State, KwaZulu-Natal, Western Cape, and North West.
He Also Loves Nice Cars
Like every other celebrity, Somzi is also a lover of fast cars, and he has acquired a number of them. Some of the luxury rides in his car fleet include:
BMW i8 (est. $148,495)
369@5800  Maximum Horsepower @ RPM
1.5 L/91 Displacement (liters/cubic inches)
420 Maximum Torque @ RPM
Lamborghini Urus (est. $218,009)
Social distancing pic.twitter.com/Ubl5ePf5ec

— somizi somGAGA (@somizi) June 14, 2020
4.0-liter twin-turbo V8 engine
650 CV and 850 Nm of torque
accelerates from 0 to 62 mph in 3.6 seconds
190 mph maximum speed
Mercedes Benz G350d (est. $133,107)
2.0 Litre Diesel Engine
286 bhp@1200 rpm horsepower
600 Nm@2500 rpm torque
6 cylinder
Mercedes AMG-E63 (est. $107,350)
4.0L Twin-Turbo V8 Gas engine
9-Speed Automatic transmission
All-Wheel Drivetrains
Rolls Royce (est. $311,900)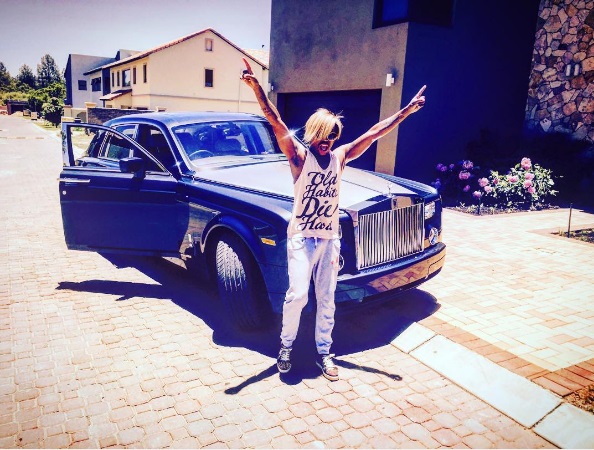 6.6L Twin-Turbo V12 Gas engine
8-Speed Automatic transmission
Rear-Wheel Drivetrain
BMW Z4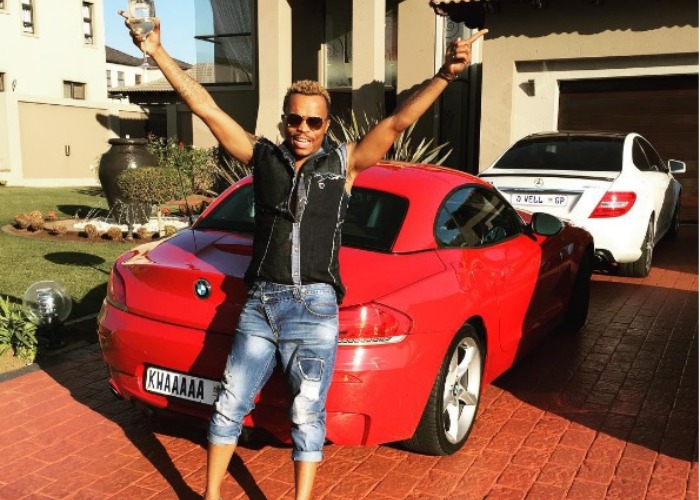 2998 engine displacement
335bhp@5000-6500rpm maximum horsepower
500Nm@1600-4500rpm torque
Somizi's Cooking Show Was Received With Mixed Feelings
In 2020, Somizi closed the deal on a cooking show on 1Magic – which further added to his sources of income. Announcing his new job was supposed to be great news, but not everyone perceived it that way. While many people felt he deserved it due to all his hard work, others felt he was talking all the jobs and hindering starters from hitting big gigs.
In response, he asked people to stop complaining because he has worked hard to get where he is today. Despite all these, Somizi Mhlongo is not relenting, and his net worth is expected to keep increasing.