Makhadzi owns about four cars, including a Mercedes Benz, a KIA Picanto, an Audi by Polokwane Audi, and a brand new Audi TFSl Vehicle. In February 2021, she blessed her mother with a house she built from scratch – the building is located in their home province. So far, there is no record of Makhadzi owning another house apart from that one.
When it comes to music, Makhadzi is the queen of Limpopo. Despite having a rough start and facing a lot of abuse at the initial stages of her career, she has been able to command a strong following and build a solid reputation in the South African music industry. Although she is not as rich as other male musicians from Limpopo, she has made good money from her music career. Although the Gagalanga crooner has had several issues in her career, especially regarding payments, she has remained at the top of her game.
Makhadzi Has Made A Lot Of Money From Music
Makhadzi, one of Mzansi's most favorite artists from Limpopo, has been able to build a decent net worth for herself, with the major source of her income being music. Like other musicians, Makhadzi makes money from shows and royalties for her music. With most of her songs getting over a million views on YouTube and a good number of views from streaming platforms like iTunes, Makhadzi is absolutely on top of her game and is consistently winning the hearts of fans.
When people make money, it is normal that they spend it on the things they love. Makhadzi is no exception as she is a lover of cars. Carefully scrolling through her Instagram account, you will observe that she is someone who naturally likes snapping behind nice cars. She has displayed her love for cars by the kind of cars she owns. The Venda queen owns about four cars, and on 13th January 2020, the Limpopo singer took to social media to inform her beloved fans that she just purchased a new Mercedes Benz.
Before that, she purchased her first vehicle – a KIA Picanto – in 2017. In November 2018, she was gifted an Audi by Polokwane Audi, and in December 2018, Makhadzi purchased a brand new Audi TFSl Vehicle. The purchase of her first car, the KIA Picanto, had many controversies surrounding it, particularly regarding who really bought the vehicle.
Makhadzi Paid For Her KIA Picanto, But The Vehicle's Ownership Is Not In Her Name
The Venda Queen's first car, which she purchased in 2017, sparked many controversies on social media in November 2020, three years after purchasing the vehicle. On 29th November 2020, Makhadzi opened up on Twitter about how she was mistreated by her former manager, Rita Dee Nephawe.
She revealed was that she paid for her KIA Picanto, but the car's ownership was not in her name. Rather, it was in the name of her former manager. It was quite a surprise how someone else would pay for a car she bought for herself, and the vehicle would be in the name of another person. Her revelation stirred up a reaction against her former manager by her fans.
In response to Makhadzi's claims, Nephawe said the KIA Picanto is her insurance. She claimed that Makhadzi had crashed her Audi and had not paid for the damages. She went on to say that if she returns the vehicle to Makhadzi, she will be left to pay for a bill that the star incurred.
So far, there has not been any evidence that Rita Dee Nephawe has returned the vehicle's ownership to Makhadzi, probably because the issue has still not been sorted out. We hope for a peaceful resolution to the issue in the nearest future.
Contrary to the Speculations, Makhadzi Does Not Own a Maserati
Makhadzi's fans will agree that the Venda Queen loves posing with random cars in her photographs. Aside from that, whenever she buys a new car, she always lets her fans know through the pictures she posts on social media.
Makhadzi bought a Maserati. The queen is winning ✌️🔥🖐️🙏♥️ pic.twitter.com/GIuFMATicj

— K U L A N I (@kulanicool) March 16, 2020
In her usual manner of posing with beautiful cars, Makhadzi uploaded a picture of herself standing in front of a Maserati worth R2.6 million in early 2020. Her fans did not waste any time reposting the pictures, congratulating their beloved queen on her purchase of a Maserati.
Some fans even went as far as saying the luxurious vehicle was a gift to Makhadzi but fell short of stating where the gift came from. However, Makhadzi's brand manager, Talifhani Banks, had to quell the rumors by telling Move that the luxury ride didn't belong to her principal.
Makhadzi Bought A House For Her Mother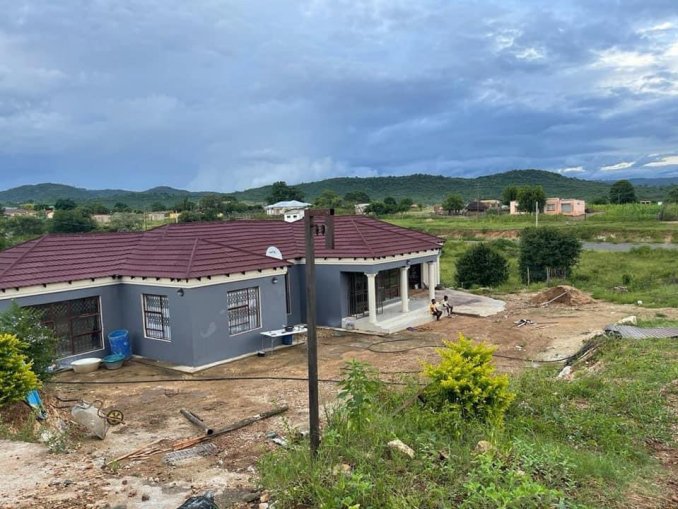 The Queen of Limpopo has proven that she is someone who has not forgotten where she came from. In February 2021, the Sugar Sugar hitmaker blessed her mother with a house she built from scratch – the building is located in their home province. According to her, the house showed appreciation to her mother for all she has done for her. Makhadzi is the eldest child in her family and was raised single-handedly by her mother after her parents broke up.
She started building the house in 2019, and by February 2021, the house was already looking beautiful, with nice roofing and ash and cream paint on the outside. So far, there is no record of Makhadzi owning another house aside from the one she built for her mother. It is also not clear whether she lives in the same house she built for her mother.
She Had A Fall Out With Her Former Manager Over Remunerations
The saga about Kia Picanto ownership is not the only thing Makhadzi revealed in her open Twitter complaints. She also revealed how she was being extorted by her former manager Rita Dee Nephawe. Makhadzi has recorded many successes in her music career since she released her first album at the age of 16 – in 2012. Most of her songs have done very well in the music market, while she charges up to R30,000 as appearance fees.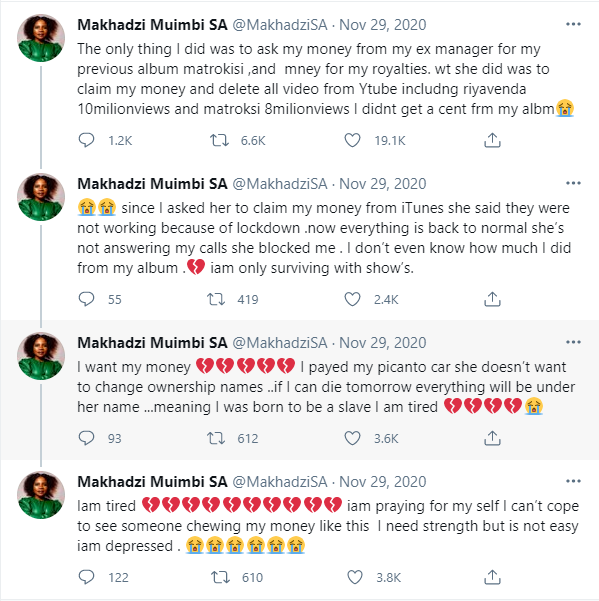 But, according to the singer, she was not receiving payments for most of her songs. When she asked her former manager for the royalties from her songs, Nephawe deleted her songs Riya Venda and Matorksi – both released in 2019 – which had 10 million and 8 million views on YouTube, respectively, to cover her tracks probably.
She narrates how she doesn't even know how much she makes from her own songs and asked her manager to claim her money from iTunes. She said Rita claimed the platform was down due to the COVID-19 lockdown, but that seems not to have changed even now the restrictions have been relaxed. According to Makhadzi, the situation was pushing her into depression. The revelation prompted her fans to start an online protest against her former manager with the hashtag #RitaDeeMustFall.
Rita Nephawe Denied The Allegations
In her defense, Rita Dee Nephawe claims she does not owe Makhadzi anything, even though she admitted to deleting the videos which Makhadzi accused her of deleting. She insisted she deleted the videos to cut ties with Makhadzi, as the artist was no longer under her management, having now signed with Open Mic Productions. Rita's lawyers even served Makhadzi legal papers suing her for defamation of character due to her tweet.