Hugh Masekela (4 April 1939 – 23 January 2018) was a well-known trumpeter, composer, flugelhornist, and bandleader who was born in Witbank town South Africa. Growing up, Masekela was motivated and inspired by the music on the 78 RPM, GRAMOPHONE RECORDS OF Louis Armstrong, Bessie Smith, Ma Rainey, Jelly Roll Morton, and others.
He was a trumpeter, flugelhornist, cornetist, composer, and singer, one who has been described as "the father of South African jazz." His Jazz compositions as well as his very popular anti-apartheid songs such as "Soweto Blues" and "Bring Him Back Home," are some of the works he is famed for. In 1968, he reached a milestone in his career as his version of "Grazing in the Grass," reached number 1, on the US pop hit charts.
Hugh lived his life, both career-wise and on a personal level, to the fullest before bowing to death in 2018. He was celebrated world over even as his legacies have a promise of living for always.
The Early Life Of Hugh Masekela Was Defined By Music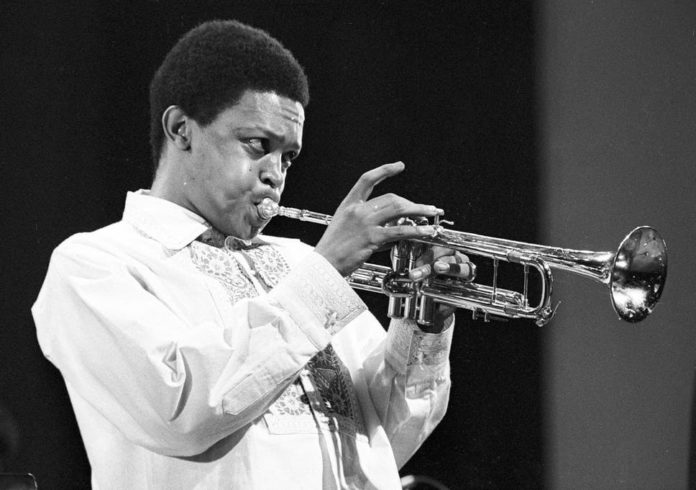 Hugh Ramapolo Masekela was born on 4 April 1939 in KwaGuqa Township, Witbank, South Africa. His father, Thomas Selena Masekela, was a  sculptor and health inspector while his mother, Pauline Bowers Masekela, was a social worker.
As a child, he was practically raised by his grandmother and it was with her that his musical talents developed. He started playing the piano at a young age and when he was 14, he saw a movie Young Man with a Horn (in which Kirk Douglas plays a character modelled on American jazz cornetist Bix Beiderbecke) and it was this movie that inspired him to start blowing the trumpet.
His very first trumpet was given to him by the anti-apartheid chaplain at St. Peter's Secondary School, Archbishop Trevor Huddleston. Through the influence of Huddleston, Masekela was able to master the trumpet under the tutelage of Uncle Sauda, the leader of the then Johannesburg "Native Municipal Brass Band". His schoolmates became interested in playing instruments after seeing how good Masekela had become. This then brought about the formation of South Africa's first youth orchestra, "The Huddleston Jazz Band."
His style of play was an embodiment of his experiences, the conflict, agony, and the exploitation of South Africa in the 1950s and 1960. In 1956, Hugh Masekela joined Alfred Herbert's band that was known as the African Jazz Revenue. During the Manhattan brother's tour to South Africa in 1958, Hugh wounded up in the orchestra for the KING KONG. The music was written by Todd Matshikiza. The King Kong set South Africa's first record-breaking blockbuster in the country that period.
Hugh Masekela left South Africa at the age of 21 in 1960. This would mark the beginning of his thirty years spell away from his country. Masekela left South Africa for New York, to Manhattan where he began music classes with the help of John Mehegan, Harry Belafonte, and Dizzy Gillespie. During this time, the golden era of jazz music was on top in the area and this is when Hugh started visiting the New York jazz scenes where he used to watch the likes of John Coltrane, Miles Davis, Max Roach, and others who were all great in the jazz music.
Amazing Music Career and Chart-Topping Songs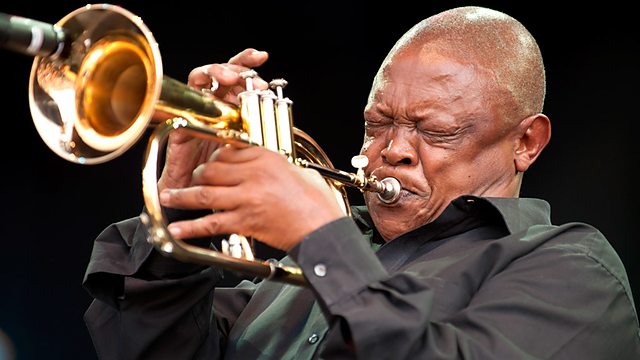 By the 1980s, Hugh was already known in many parts of the world and had made many achievements and won numerous awards. In 1981, Hugh Masekela moved to Botswana where he founded the International School of Music, partnering with Dr. Khabi Mngoma. Masekela grew bigger in the jazz industry. Several years later, he released Jive Records. This record helped Hugh set up a mobile studio in Gaborone. This is where he recorded the heat "Techno Bush". Techno Bush launched Masekela's first dance that became a hit called "Don't Go Lose It Baby".
He continued to release more albums until 2016 when he dropped his 44th and final album, titled No Borders. In 2020, a collaborative album was released with another African legend, Nigerian drummer Tony Allen.
Among his most successful songs is Grazing in the Grass which was one of the biggest hits of 1968. It topped the Billboard Hot 100 chart and was a Grammy Hall of Fame inductee in 2018. Other successful songs among many others are "Up-Up and Away" (1967), "Puffin' On Down the Track" (1968), "Riot" (1969), and "Don't Go Lose It Baby" (1984).
Back in 2004, Hugh published his autobiography that he had co-authored with Dr. Michael Cheers known as "Still Gazing: The Musical Journey of Hugh Masekela".
His First Two Marriages Were Not Successful
In 1964, he got married to South African born music songstress and activist, Miriam Makeba, while they were recording together in a band in the United States of America. However, the pair got a divorce in 1966, barely two years after their marriage. Although the union was a failure, the two did not severe their working relations as they continued to remain close as friends and working partners.
After this marriage, he was briefly married to Chris Calloway in 1968. Chris was a daughter to American bandleader Cab Calloway. She was a singer and actress, but all these were not enough to hold the marriage for more than a year as it came to an end in the same year.
Hugh subsequently married his second wife, "Elinam Cofie," in 1999 but divorced her in 2013 after 10 years of marriage. There was not so much that was revealed about their relationship and marriage as they kept it mostly away from public eyes. He has also been linked to other women including Jabu Mbatha and Haitian Jessie Marie Lapierre.
Sal Masekela Is Also Talented and Versatile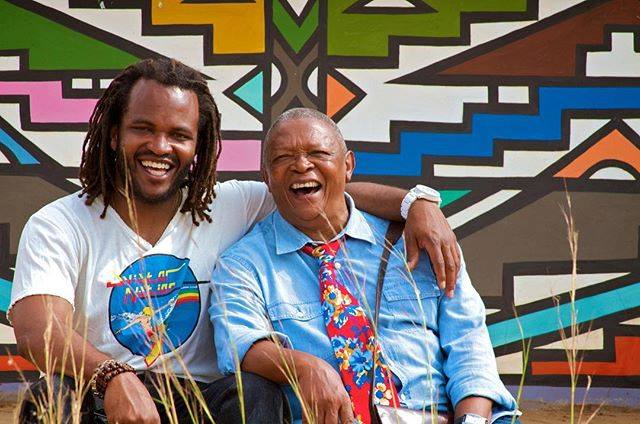 Sal Masekela whose full name is Selema Mabena Masekela is one of Hugh Masekela's children. He was born on August 28, 1971. He is an American singer, actor, sports commentator, and television host. His mother is Haitian, Jessie, and he has an older half-brother Nathan Gonzalez, who is a contestant on Survivor: Cook Islands. He grew up in Staten Island, New York, and Carlsbad, California, and attended Carlsbad High School. In his teens, he learned to surf, snowboard, and skateboard.
As a youth, Sal toured the world with his Jazz musician father, Hugh Masekela and this rubbed off on him as he started his own band "Alekesam." The band shares the same name with Sal's first movie which highlighted the relationship he shares with his father which is strengthened through music.
He later went on to become an intern at Transworld Publications which is the home of TW Surf magazines, TW Snow, and TW Skateboarding. This was the period that shaped his career. He has worked as a reporter and host for a good number of shows and events including; ESPN, Daily 10, the E! network, NBC among others.
He appeared as the host and executive producer of VICE World of Sports. from April 2016. Sal is the co-founder of Berkela Motion Pictures with Jason Bergh. He also has a clothing company called" Art of Craft." The company has a certain percentage which is donated to charity on every sale made.
Jessie while Paula is a product of his relationship with Motshidisi Jennifer.
Hugh Masekela Net Worth 
There are quite a number of musicians of African descent who have risen to become very successful in their own right. Impressively they have become global players who have both local and international appeal and in return, their assets run into millions of dollars. For Hugh Masekela, he was arguably one of the richest musicians in Africa with an estimated net worth of $275 million before his demise in 2018.
Hugh Fought Cancer For 10 Years Before It Killed Him
The South African Jazz legend who has made his mark in jazz music passed away on Tuesday, January 23rd, 2018, after a prolonged battle with prostate cancer. He touched many lives with his outstanding work and this made many fans sad. After the news of his death was announced by family members, heartfelt tributes started pouring in.
He was finally returned to earth on the 30th of January, 2018 at the Westpark Cemetery after a funeral at the Johannesburg Botanical Garden in Emmarentia.
The Legacies That Would Never Fade 
No more pain! 🙏🏽 pic.twitter.com/aSOfJH0HLh

— HUGH FEST 2022 At Nirox (@hughmasekela) January 23, 2018
1. Hugh Masekela mastered the art of playing the trumpet soon after Trevor asked Uncle Sauda, the then leader of then, Johannesburg "native" municipal brass band to teach him to play the trumpet. Masekela didn't take long to understand the skill and quickly went ahead to master how to play the trumpet. Soon, his schoolmates then became interested in the art which led to the formation of the Huddleston Jazz band. This was the first South African youth orchestra.
2. Hugh moved to Los Angeles by the late 1960s. Here, Hugh Masekela became friends with icons such as David Crosby Dennis Hopper and Peter Fond all of whom were hippie icons. It is also during this period that 'summer of love' heat in Los Angeles.
3. He won the Grammy for Best Contemporary Pop Performance – Instrumental in 1968.
4. He opened the Fifa Soccer World Cup kick-off concert in South Africa. This opening event was held in Soweto's soccer city.
5. Hugh Masekela opened his own studio and a record labelled "House of Masekela". The studio has already released its first music release that is; "Friends". Friends is a four-CD collection of jazz standards featuring his pianist friend named Larry Willis.
6. In 2011, he received a lifetime achievement award at the World Music Expo (WOMEX) held in Copenhagen. This was one of the biggest achievements in his musical career. This has also helped propel his fame and grow his music fan base all over the world. In 2012, South African president Jacob Zuma honoured Hugh Masekela with the highest order in South Africa that is "The order of Ikhamanga". Hugh Masekela used his global reach to help in spreading the word on Africa's heritage restoration.
7. Hugh Masekela released a total of 49 studio albums between 1962 and 2016.
Editors Recommendations:
10 Things You Should Know About Leleti Khumalo
10 Lesser Known Facts About Sol Kerzner
10 Things You Didn't Know about Richard Maponya