Jacob Zuma is a former president of South Africa who ruled the country from 2009 when he was elected to 2018 when he resigned. Prior to him assuming the highest office in the land, he had served as Deputy President of South Africa from 1999 to 2005 under the presidency of Thabo Mbeki who dismissed him over corruption allegations.
A truly controversial figure, the SA political leader is noted for having faced numerous political and legal challenges, both before and during his time in office. He has battled corruption and fraud charges as well as rape charges but was acquitted. On numerous occasions, he was able to survive motions of no confidence, both within the ANC ruling party and in parliament. One thing that he could always count upon and that helped him maneuver his way out of trouble was the support he had from the people who considered him to be very much one of them. His charismatic personality and background story that the average South African could relate to was what enabled him to rise to the top.
Jacob Zuma Did Not Recieve Any Formal Education
Zuma's full name is Jacob Gedleyihlekisa Zuma. His Zulu middle name Gedleyihlekisa means the one who laughs while grinding his enemies. His clan name, on the other hand, is Msholozi. The future South African president was born on the 12th of April 1942 in Nkandla, KwaZulu-Natal.
As a result of him born to parents who were poor; his father was a policeman who died at the end of World War II when he was just five years old while his mother worked as a domestic worker, Jacob Zuma had no formal education. He had to work odd jobs in order to support his mother but, however, still managed to teach himself how to read and write English. He has since gone ahead to learn many other languages as he reportedly speaks French, Russia, Portuguese, Swahili, and Xhosa, in addition to his native tongue of Zulu, fluently.
Later in life when he became a revered political leader, he was conferred with many doctorate degrees. In 2001, the University of Zululand and the University of Fort Hare conferred him with an Honorary Doctor of Administration degree and an Honorary Doctor of Literature/Letters degree, respectively. In that same year, he was also awarded an Honorary Doctor of Philosophy degree from the Medical University of Southern Africa.
The University of Zambia (UNZA) Great East Campus in 2009 gave him an Honorary Doctor of Law degree while Peking University awarded him an Honorary Professor of International Relations degree in 2012.
He Got Involved with Politics as a Teenager and Spent Up to Ten Years in Prison
Jacob Zuma began engaging in politics at the age of 17 when he joined the African National Congress (ANC). He became a member of Umkhonto we Sizwe, the militant arm of the ANC, in 1962 after the South African Government banned the party in the previous year. In 1963, he joined the South African Communist Party (SACP) and it was through his membership of SACP that he received military training in the Soviet Union.
In that same year, Zuma was arrested along with 45 recruits of the ANC. The group was convicted of conspiring to overthrow the apartheid government and were sentenced to prison. Zuma was sentenced to ten years imprisonment and was held on Robben Island along with Nelson Mandela and other prominent ANC leaders.
After his release from prison, Jacob Zuma continued working with the ANC and was instrumental in the re-establishment of the party's underground structures in the Natal province. During this time, he joined the ANC's Department of Intelligence where he rose to later become the department's Head of Intelligence.
Zuma's Time on Exile From South Africa
Jacob Zuma first left South Africa in 1975. He spent some time in Swaziland before moving to Mozambique where he became a member of the ANC National Executive Committee in 1977. He also served as Deputy Chief Representative of the ANC in Mozambique until the Mozambican and South African governments signed the Nkomati Accord in 1984 which prevented Mozambique from supporting the ANC to undertake violent actions in South Africa and for South Africa to stop aiding the RENAMO movement in Mozambique.
After the signing of the Accord, Zuma took the position of Chief Representative of the ANC. In 1987, after the South African government had requested Mozambican authorities to expel six senior members of the ANC, including Zuma, the liberation fighter was forced to leave the country for Lusaka, Zambia. The ANC headquarters were subsequently moved to Zambia and he was appointed Head of Underground Structures. Shortly after that, he was named Chief of the Intelligence Department.
Return to South Africa and Political Career
In 1990, following the unbanning of the ANC, Jacob Zuma became one of the first exiled ANC leaders to return to the country. That same year, he was elected Chairperson of the ANC for the Southern Natal region. The following year, he was elected the Deputy Secretary-General of the ANC and in 1994, was nominated as the ANC candidate for the Premiership of KwaZulu Natal but lost.
After Nelson Mandela was elected president in the 1994 general election, Zuma was appointed as Member of the Executive Committee (MEC) of Economic Affairs and Tourism for the KwaZulu-Natal provincial government. Before the end of the year, he was elected National Chairperson of the ANC and chairperson of the ANC in KwaZulu-Natal.
In December 1997, Zuma was elected Deputy President of the ANC at the party's National Conference. His election to the position subsequently meant that he was appointed executive Deputy President of South Africa in June 1999 when Thabo Mbeki was elected as president.
In 2007, Jacob Zuma was elected President of the ANC which by implication would make him the President of South Africa in 2009. The party went on to win the national election on 6 May 2009 and Zuma was sworn in as President of South Africa three days later. In December 2012, he defeated challenger and then Deputy President Kgalema Motlanthe to be re-elected as ANC leader. On 21 May 2014, following the 2014 general elections where the party retained their majority, Zuma was elected for a second term as president.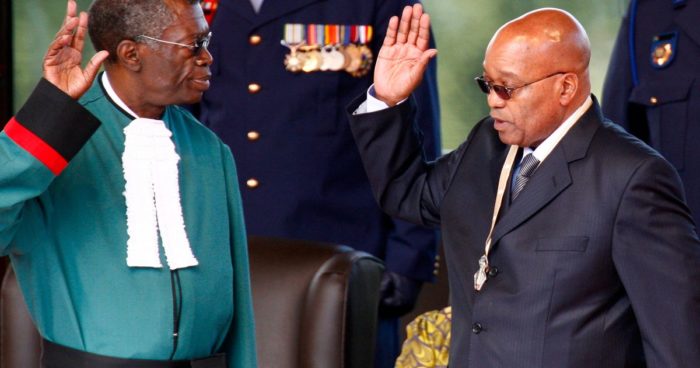 Highs and Lows of His Political Career
Jacob Zuma's political high point came during the major ARV rollout. There are an estimated 6 million HIV/AIDS patients in South Africa. However, Zuma's improved healthcare system, especially for AIDS patients, led to a healthier nation with a longer life expectancy than years before.
His political low point occurred when he announced his resignation as president with immediate effect as he was facing a motion of no confidence in Parliament in February 2018. Before that, another low point was when he was sacked as deputy president in 2005. Then-South African President Thabo Mbeki sacked Zuma from his position as deputy president due to allegations against him on fraud and corruption. He was taken to court but the charges against him were dismissed on procedural grounds.
In addition to the corruption charges, Jacob Zuma also faced rape charges. In 2005, he was charged with raping a 31-year-old known HIV-positive woman at his home in Forest Town, Gauteng. Zuma denied the charges and claimed that the sex was consensual. The courts eventually acquitted him, finding that the sexual act in question was consensual. During the trial, the political leader was criticized for his ignorance about HIV/AIDS after he claimed that he had a shower after having unprotected sex with his accuser so that he could avoid contracting the disease.
With a Net Worth of $20 million, Jacob Zuma was One of the Highest-Paid Presidents in Africa 
In 2016, President Jacob Zuma's salary received a five percent increase that was affirmed by the National Assembly. This meant that he was earning approximately over R7,800 per day and R2.9 million per annum which made him one of the highest-paid African presidents during his reign. He has since been estimated to have a net worth of $20 million.
Apart from his salary, Zuma has various business endeavors that largely contributed to his wealth. They include smart stock investments and substantial property holdings.
His Lavish House in Nkandla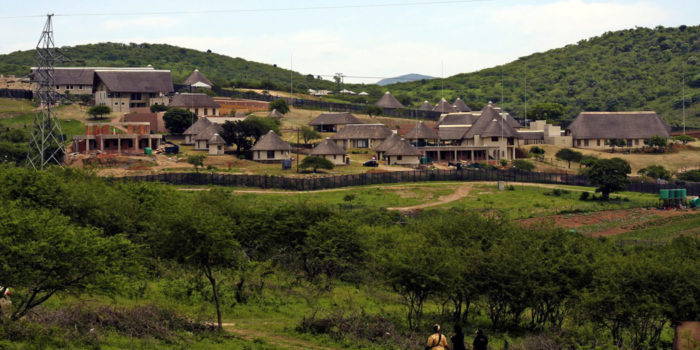 Shortly after Jacob Zuma became president, the state spent over two hundred million rands to renovate his private homestead at Nkandla in rural KwaZulu-Natal. This action has been described as one of the most controversial aspects of his rule and Zuma had to answer for it in parliament. He claimed to have been unaware of the scale of the work that had gone on in the home and agreed to two investigations, one of which was to determine if there were any breaches of parliamentary spending rules.
A report by the Public Protector found that a swimming pool, which was claimed to be a fire pool, was added to the house. There was also an amphitheater, a cattle kraal, and chicken runs added to the home. Zuma was found to have violated the executive ethics code and was ordered to pay back part of the cost of the upgrade.
Another notable home he owns is a mansion in Dubai located in Emirates Hills. The mansion, which features 10 bedrooms, 13 bathrooms, a double grand staircase, nine reception rooms and space for 11 cars, was reportedly bought for R330 million by the Gupta brothers, a family of wealthy Indian-born businessmen who have had a long-standing but controversial relationship with Zuma that has caused discomfort within the ANC and the South African public.
Jacob Zuma Has Been Married Six Times
Jacob Zuma is a polygamist who has been married six times. His first marriage was to Gertrude Sizakele Khumalo who he met as a teenager in 1959. They married shortly after he was released from prison in 1973. About three years later in 1976, while he was in exile and his wife remained in South Africa, Zuma married a second wife, Mozambiquan Kate Mantsho. He would later start another relationship with fellow ANC exile, Nkosazana Dlamini, and the two got married in 1982. They, however, divorced in June 1998.
Zuma remained with two wives until January 2008 when he married Nompumelelo Ntuli (MaNtuli) in a traditional ceremony. Two years later, in January 2010, he married Thobeka Stacie Mabhija whom he had initially paid lobola to her clan in 2007. In April 2012, the SA president married for a sixth time, to Gloria Bongekile Ngema.
Prior to him marrying Nompumelelo Ntuli, Zuma had in 2003 paid 10 cattle as lobola for Swazi Princess Sebentile Dlamini. She was expected to become his wife but Zuma did not go ahead with the arrangement which was said to offend the Swazi royal family.
He is Believed To Have More Than Twenty Children
It is no surprise to see that Jacob Zuma has more than twenty children seeing that he has been married six times and has had numerous more known sexual relations with many other women. As a result of this, not all of his children are known to the public.
From his marriage to his first wife, Zuma has no children. His second wife Kate, however, gave birth to five of his children; Mxolisi (born in 1980), twins Duduzile and Duduzane (born in 1984), Phumzile (born in 1989) and Vusi (born in 1993 and died in 2018).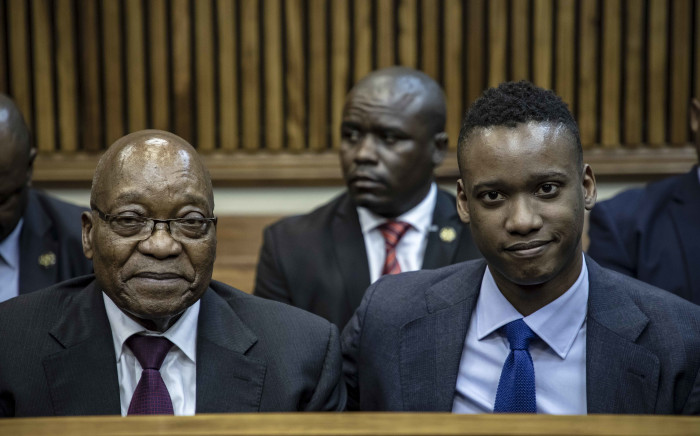 Zuma's third wife Nkosazana gave birth to four children; daughters Msholozi (born in 1982), acrtoss Gugulethu Zuma-Ncube (born in 1985), Thuli (born in 1987), and Thuthukile Zuma (born in 1989).
Zuma and his fourth wife MaNtuli have three children. Details about them are not known but the first two are Thandisiwe and Sinqobile. Mabhija, his fifth wife, has three children for him, the first of who was born in 2007 while Ngema, his sixth wife, has one son for him named Sinqumo.
Zuma's Out of Wedlock Children
Minah Shongwe, the sister of Judge Jeremiah Shongwe who famously recused herself from Zuma's rape trial because of the possible conflict of interest, has a son named Edward, born 1977, for Zuma.
Pietermaritzburg businesswoman Priscilla Nonkwaleko Mhlongo has two daughters for the former SA president while Sonono Khoza gave birth to Zuma's daughter, Thandekile Matina Zuma, in October 2009.
Nonkanyiso Conco, who is reported to soon become his seventh bride, has a child for him that was born on his birthday in April 2018. Three other children are said to have come from an unnamed woman in Johannesburg and one other from another unnamed woman in Richard's Bay.