DJ Maphorisa doesn't have a wife or girlfriend right now. He is assumed to be single following a nasty breakup with his girlfriend Thuli Phongolo. 
DJ Maphorisa's relationship status is the area of his personal life that is most frequently searched, given that he has previously been associated with various women. Due to his secretive nature, the South African club DJ often leaves the public in the dark about the details of his romantic relationships by refusing to confirm any of them personally.
Who Is DJ Maphorisa's Girlfriend? 
South African sensational club DJ and amapiano artist DJ Maphorisa is not currently married or openly dating anyone. He is assumed to be unmarried and single. He could, however, be covertly dating someone.
Themba Sonnyboy Sekowe, who normally keeps a low profile in relationships, has been quiet about his love life at the moment following his most recent relationship, which landed him in a police holding cell.
Since the unpleasant experience, the Banger crooner has provided no indication to the public that he is now dating anyone and has instead been entirely focused on his job.
DJ Maphorisa has never been so lucky with love as all the relationships he has been in or rumored to be in have ended in public embarrassment and turmoil.
Sokwe is a renowned record producer who blends House Music, Amapiano, and Afropop. He has collaborated with several eminent musicians and has earned production credits from them.
Some of the prominent names he has collaborated with include Wizkid, Sizwe Alakine, Kwesta, Uhuru, Drake, Black Coffee, Major Lazer, Runtown, C4 Pedro, TRESOR, Kabza De Small, Young Stunna, and Killer Kau.
Who is the Mother of DJ Maphorisa's Daughter?
The identity of the woman who gave birth to DJ Maphorisa's daughter is not public knowledge. The amapiano star hasn't revealed her identity or discussed anything about her publicly.
Not only that, nobody is aware of how and when they met, how long their relationship lasted, the circumstances that led to the birth of their daughter, and if they are still friends or co-parenting their daughter.
DJ Maphorisa's fans only got to know that he is a father in 2021 after he shared a video of himself and his daughter hanging out at a public facility.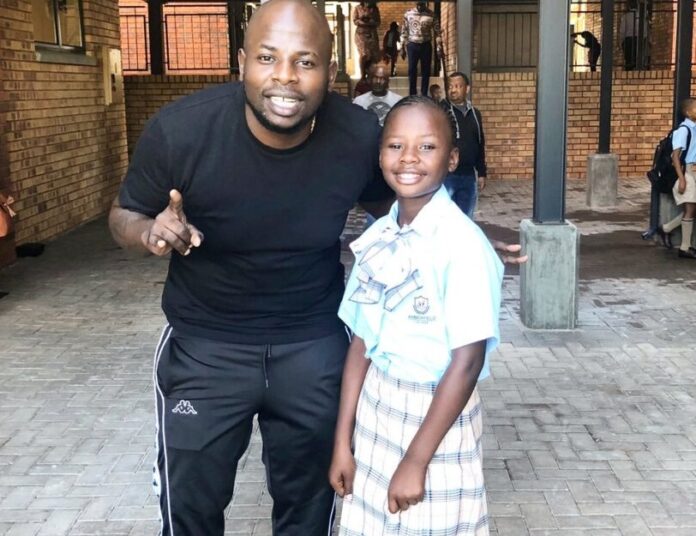 In the video, he introduced his daughter and also announced that she would be celebrating her 12th birthday in a few days' time. Sonnyboy's daughter is named Lesedi Sekowe. She was born in 2009.
However, it's not clear if Lesedi currently lives with her mother or not. From what is perceivable based on the pictures of the DJ and his daughter as shared on Instagram, the two share an incredible and close bond.
Regardless of his busy schedule, he often spends quality time with her and has never failed to celebrate every significant milestone in her life. It's not clear if the artist has other kids.
Who Has DJ Maphorisa Dated?
DJ Maphorisa has been linked to various women, but he has never confirmed dating any of them personally or publicly. Here are some of the ladies he's been with.
1. Thuli Phongolo
Thuli Phongolo is a South African actress and DJ best known for playing the fictional character Zama on the SABC TV series, Tshisa. DJ Maphorisa and Thuli sparked dating rumors after a video of the two acting all mushy surfaced on the internet in late 2021.
The amapiano star would later send a cryptic message to a mystery girl on his Facebook page, which led to his fans pressing him to open up about the girl and his love life.
While DJ Maphorisa declined to speak further, Phongolo took to her social media to debunk the rumor that she was in a romantic relationship with DJ Maphorisa. She asked the public to ignore the video of herself and the DJ that went viral earlier.
Thuli claimed that they were just friends and nothing more. It, however, became clear that the two had been in a serious relationship in May 2023 when DJ Maphorisa was arrested for physically assaulting Phongolo in her apartment in Sandton, Johannesburg.
In her statement, the actress claimed that the amapiano star became aggressive and started beating her after she confronted him over a heated argument they had the previous night.
The argument actually began at a show they both attended. DJ Maphorisa is said to have forcefully taken away Thuli's phone before dragging her to the balcony where he repeatedly hit her on her chest, neck, and shoulder with his elbow.
Phongolo reported the assault to the police, and her now ex-boyfriend was arrested and charged with multiple counts of assault. Not much has been heard about the case lately.
However, the amapiano star is said to have taken back the two luxury cars (a Mercedez G-Wagon and a Porsche) he bought for Thuli after the incident.
No one is aware of the kind of relationship that exists between the two former lovers right now or if they intend to mend their broken relationship.
2. Cyan Boujee
DJ Maphorisa has also been linked to South African digital content creator, socialite, DJ, and brand influencer Cyan Boujee, originally born Honour Zuma Zanc.
Rumors about his alleged relationship with the then-19-year-old lady gained public attention after screenshots of her violent altercations with a fellow 19-year-old named Beverly Tlhako started to circulate online.
In the screenshots, which were later shared on Twitter, Cyan accused Beverly of betraying her by dating her boyfriend.
There were rumors that Boujee, who insisted that DJ Maphorisa was her boyfriend, caught Beverly flirting with him and confronted her about it. In response, Beverly insulted Cyan by requesting they should form a threesome.
Angered by the response, Cyan lost her cool, and the two women got nasty, calling each other names and shaming each other online. In the midst of all the commotion, DJ Maphorisa remained silent and never acknowledged whether the girls' statements were accurate or not or whether he was dating any of them.
Boujee has severally been at the heart of social media drama due to her turbulent personal life ever since she first emerged as an influencer in 2020.