Kabza De Small's wife is Kamogelo "Geloo" Moropa, who was his longtime girlfriend. The two dated on and off for several years before they tied the knot in a traditional wedding ceremony in September 2021. Since getting married, there have been rumors of the two calling it quits. However, Kabza De Small and his significant other are still together.
Meet Kabza De Small's Wife
Kabza De Small's wife, Kamogelo "Geloo" Moropa, was born in the year 1995 in Pretoria. She completed her basic education at Sandringham High School. Afterward, she attended the University of South Africa and graduated with a Bachelor of Arts in Health Science & Social Services in Psychological Counselling.
From the same university, Kamo acquired a Bachelor of Arts Honours in Psychology. In the past years, she has reportedly worked as an operator at Stuttafords and also as a sales assistant at an Adidas shop.
Kabza De Small and His Wife Had an Unsteady Relationship
According to reports, Kabza De Small and his better half, Kamogelo, made a decision to keep their personal life away from the media while dating to avoid the pressure that comes with being in the public eye. Hence, the two successfully kept their relationship on the low. It's unclear how Kabza De Small and Kamo met. However, they dated for a long time, but the relationship was unsteady.
At some point, they had to call it quits and later reunited. During one of the breakups, the music star was said to have dated someone else, but the relationship didn't work out as he was still in love with Kamo. After surviving the ups and downs, the lovely couple eventually moved their relationship to the next level.
When Did Kabza De Small Get Married?

Kabza De Small is one of those celebrities who prefer to protect their partner by not sharing their love life with the public. As a result, the amapiano star got married in September 2021 and kept it under wraps. It was a month later that one of his close friends disclosed to News24 that he was a married man.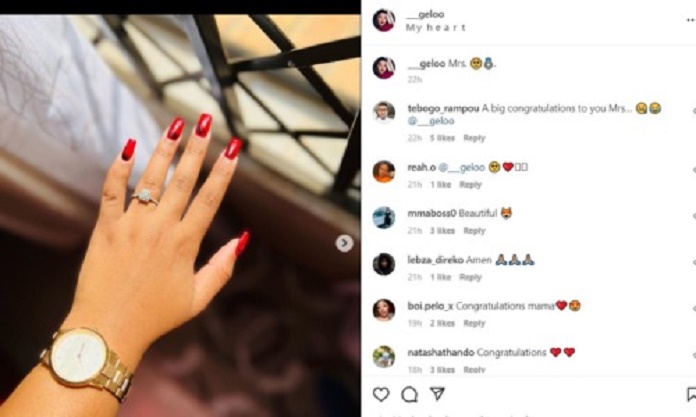 He approached Kamogelo's family to ask for her hand in marriage and then moved on to pay her lobola in September 2021. Though he kept his marriage secret, it was noticed that he started wearing two wristbands called 'iziphandla' at the end of September 2021. And the wristbands signify that he's married.
Keeping to their agreement of not making their relationship public, Kamo only shared a picture of herself in traditional attire and tagged Kabza. Later in September 2022, the couple was reported to have had a civil wedding after Kabza De Small posted a picture of himself dressed in a suit on Instagram, which is unlike him as he usually rocks casual wear.
His wife, on the other hand, shared a picture where she was wearing a diamond ring on her wedding finger on her Instagram account, which is set to private. She then captioned it, "Mrs," and it made people believe that she and her husband had a private white wedding.
Did Kabza De Small and His Wife Separate?
Seven months after their traditional marriage, Kabza De Small was reported to have split from his wife by entertainment blogger Musa Khawula on allegations of cheating. The award-winning maestro was said to have cheated on Kamogelo with YouTuber cum influencer Nicole Maleka while dating. Nicole allegedly claimed in a YouTube video that she was in a serious relationship with Kabza when he paid Geloo's lobola.
Shortly after, Kabza De Small's wife refuted the rumor by posting pictures of herself on IG with the caption, "A wife". Later in February 2023, Musa Khawula began spreading the rumor that the 'Amantombazane' hitmaker was cheating on his wife with a lady called Linda Simelane. Kabza De Small and his wife are yet to comment on the cheating rumor.
How Many Children Does Kabza De Small Have?
Harde boi 🙏🏽❤️ May the Lord give you strength.

— Cubique DJ (@CubiqueDJ) December 23, 2020
In October 2019, before Kabza and Kamogelo got married, Sunday World reported that the two were expecting a baby girl. The couple then had their first child two months later. Sadly, their baby girl passed away in December 2020.
Just Friday she's was turning 1 year 💔

— YOUR FAVOURITE SPHAMANDLA (@SphamandlaLive) December 22, 2020
Kabza, who was heartbroken, took to Instagram and shared two heartbreak emojis. From the comments, it was deduced that the singer had lost his child, who was going to turn one year in that same month. At the moment, it's still unclear whether the couple has welcomed another child.