Thuli Phongolo is a 29-year-old South African actress and DJ born on January 22nd, 1994. She has an estimated net worth of $7 million.
Thuli launched her career as an actress in 2012, appearing on the SABC TV series Tshisa as Zama. She has gone ahead to make more TV appearances and also branched out to other endeavors in the entertainment industry. Besides acting, she is a reputable DJ and voice-over artist who has worked for several brands and individuals.
Summary of Thuli Phongolo's Biography

Full name: Thulisile Phongolo
Nickname: Thuli
Gender: Female
Date of birth: January 22, 1994
Thuli Phongolo's Age: 29 years old
Ethnicity: Xhosa
Nationality: South African
Zodiac Sign: Aquarius
Sexual Orientation: Straight
Religion: Christianity
Marital Status: Unmarried
Siblings: 2
Thuli Phongolo's Net worth: $7 million
Famous for: Playing Namhla Diale on the soapie Generations: The Legacy
Thuli Phongolo's Instagram: thuliphongolo
Twitter: @Thuli_P
Facebook: Thuli Phongolo
How Old is Thuli Phongolo?
DJ Thuli Phongolo is 29 years old; she was born in Soweto, Johannesburg, on January 22, 1994. She was raised alongside her two siblings – a younger brother and a sister.
She hasn't revealed the identities of her parents and siblings publicly. Also, she has deliberately kept her fans in the dark about the kind of family she was born in, her upbringing, and her early life.
Thuli matriculated from Allen Glen High School at Allen's Nek in Roodepoort, Johannesburg. She studied Strategic Marketing Communications at the University of Johannesburg.
Though a talented actress, she did not attend any drama school or even receive any form of formal training in acting. She is naturally blessed with superb acting skills which she honed during filming and interaction with experienced actors.
What Tribe is Thuli Phongolo?
Thuli Phongolo is of the Xhosa ethnic group. Though scattered across Zimbabwe, Botswana, Namibia, and Lesotho, the Xhosas predominately live in South Africa. Besides IsiXhosa, which is their main language, they also speak other languages such as Afrikaans, Sesotho, English, and Zulu.
Thuli P Makes a Living Through Various Endeavous in the Entertainment Industry
Thuli P has had a thriving mixed career since she burst into mainstream success in 2012. She is an actress, DJ, social media influencer, and businesswoman.
Phongolo began her career as an actress after graduating from the university. She made her first TV appearance in 2012 on the 3rd season of the TV series Tshisa which ran on SABC. Her performance on the programme was nothing short of stunning. It skyrocketed her stardom and also earned her a sizeable following on social media and fans alike in real life.
Thuli's acting career got the needed boost and attention from South African filmmakers when she started appearing on the soap opera Generations: The Legacy as the fictional character Namhle Diale in 2014. She auditioned and won the role after the producers of the show advertised vacant roles on the show. They took the move after they dismissed the principal characters of the show over an unresolved salary dispute.
Phongolo's character was a prefect at her high school and the daughter of ex-convict Lucy Diale (Manaka Ranaka). Generations: The Legacy remains her most prominent TV work though she has left the show since 2018.
The Soweto-born actress's next acting project after she left Generations was Makoti, an interesting TV series produced by the SABC. She plays the role of Lilitha in Makoti and her character is quite an interesting person.
Besides the central theme of the show, Makoti also follows Lilitha and her journey of trying to fit in with her family, whilst handling her overbearing mother-in-law and inquisitive extended family.
Thuli P has also appeared on the Mzansi Magic's TV series The Republic as well as the Showmax series The Wife and the film, I Am Sofia.
The actress doubles as a disc jockey. It's not clear when exactly she started her DJing career, however, one thing that is clear is that she has grown her DJ craft to the point that she now gets booked back-to-back. With the assistance of her manager, she has successfully taken her craft to an enviable height within the short period of time she started out. She has performed before audiences at high-profile events and nightlife centers across many cities in the country and even outside of the country.
She is a Social Media Influencer as Well
The former Generations star is a well-known socialite and one of the most followed celebrities on Instagram. She is indeed a sensation and a force to reckon with on the platform. She currently has over 3.5 million followers there.
Thuli equally has an impressive number of followers on her Facebook profile, however, she last posted on the platform in 2022.
Thuli Phongolo's Movies and TV Shows
Tshisa
Generations: The Legacy (2014-2018)
Makoti
The Republic
The Wife
I Am Sofia (film)
Thuli Phongolo Charges R20,000 Per Hour
For an hour of DJ performance, Thuli Phongolo bills R20,000. The DJ reportedly only flies business class with Fly SAA or British Airways when booked, although she hasn't publicly verified this.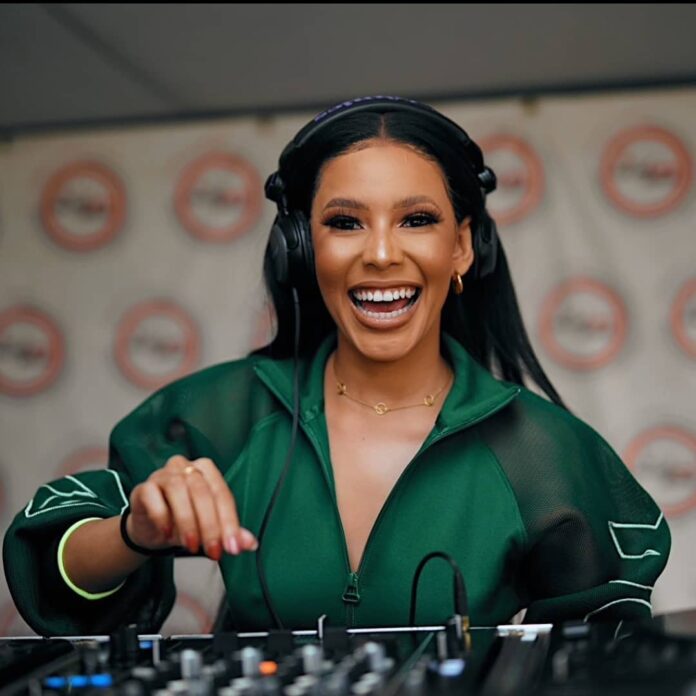 The host of the Soweto native is obligated to keep her at a five-star hotel and provide her with an escort while she performs. According to reports, her rider consists of 4x Still Water, 4x Tonic Mixers, 2x Moet Nectar Imperial, 1x Hubbly Bubbly, 1x Remy Martin VSOP, and 4x Red Bull.
Since the report went viral in 2022, Phongolo has not responded.
What Is Thuli Phongolo's Net Worth?
Thuli Phongolo has an estimated net worth of $7 million. A huge part of her money came from her acting career. She also makes substantial income from DJing in reputable nightlife centres, high-profile events, and parties.
Her bio on one of her social media platforms indicates that she is into business as well. However, nobody is aware of the specifics of her line of work as she hasn't made any public statements about it.
Since Thuli P is still involved in the entertainment industry and intends to concentrate more on elevating her DJ career to the top rung of the ladder, her net worth is certain to increase in the future.
She aspires to become a well-known radio DJ soon and break into the music industry because of how lucrative the industry is and the advantages it offers.
Who Is Thuli Phongolo Dating?
Thuli is not currently married or involved in a relationship that is known to the public. Raphael Griffiths, a former Muvhango on-screen star, was once her longtime boyfriend. She has also been linked to artists JazziQ and DJ Maphorisa.
She and Maphorisa became trending topics around May 2023, when it became known that Maphorisa had abused her inside her Johannesburg apartment. The kind of relationship they have at the moment is unclear.