Cyan Boujee (born August 25, 2001) is a 22-year-old South African club DJ, content creator, model, entrepreneur, and philanthropist whose real name is Honour Zuma Zacn. 
Cyan Boujee is one of South Africa's most successful content creators, with massive followings on Instagram, Twitter, Facebook, Tik Tok, and YouTube. She started out as a makeup artist and later rose to immense popularity for posting her makeup tutorials on social media.
Summary of Cyan Boujee's Biography

Full name:  Honour Zuma Zacn
Nickname: Cyan Boujee
Gender: Female
Date of birth: August 25, 2001
Cyan Boujee's Age: 22 years old
Ethnicity: Black
Nationality: South African
Zodiac Sign: Virgo
Sexual Orientation: Straight
Religion: Christianity
Marital Status: Single
Cyan Boujee's Ex-boyfriend: Bamzy Riches
Cyan Boujee's Height in Inches: 5 feet 4 inches
Cyan Boujees Height in Centimetres: 163cm
Cyan Boujee's Weight: 58kg
Cyan Boujee's Net worth: $800,000
Famous for: Her social media content
Cyan Boujee's Instagram: cyan.boujee24
Twitter: @CBoujee
Facebook: Cyan Boujee
Cyan Boujee was Born on August 25, 2001, in South Africa
Cyan Boujee's parents gave birth to her in South Africa on the 25th of August 2001. She hasn't disclosed the names of her parents, siblings, and other family members publicly. There is also no available information about her childhood, upbringing, and background.
My dad legit said "power of the tongue" 😂♥️#influencerchallange pic.twitter.com/W47AOVmJnq

— Cyan.Boujee🥂 (@CBoujee) August 11, 2020
The content creator received her basic education in primary and secondary schools in her locality. It's not clear if she went to college or not.
She Began her Journey to Greatness as a Makeup Artist
Boujee first gained popularity as a makeup artist. Then, she used to post videos of her makeup tutorials on Instagram, after which she created a YouTube channel and continued her uploads.
Cyan's popularity skyrocketed as she continued to create interesting videos, and soon, she started making lifestyle videos of herself having fun with her friends, working out, and living the best moments of her life.
Not long after, her social media pages won the attention of thousands of onliners and subsequently got monetized. Today, Boujee is one of the most followed content creators in the country.
From the money she has made from her multiple income streams, she has been able to establish a thriving business as well as a foundation called Reaching Out Foundation. She helps poor and disadvantaged people with food, clothes, and other items through the foundation.
The businesswoman has remained consistent over the years. She shows up every day with interesting content for her followers. When she is not flaunting her flashy lifestyle, she is promoting brands or getting her fans mesmerized with lovely pictures of her paid gigs and more.
Cyan Boujee's Social Media Accounts and the Number of People Following Her
Cyan enjoys a massive fanbase across all her social media accounts, and she isn't showing any sign of slowing down.
Cyan Boujee's Instagram: cyan.boujee24 (over 220,000 followers)
Twitter: @CBoujee (over 96,000 followers)
Facebook: Cyan Boujee (over 2400 followers)
YouTube: Boujee Space (over 74,000 subscribers)
What is Cyan Boujee's Net Worth?
Cyan Boujee has an estimated net worth of about $800,000 – $900,000. Let's take a look at how she makes her money. 
DJing
Though a fast-rising DJ, Boujee hasn't been doing entirely badly as one. She gets books almost every week, and it is something she is grateful for. She has performed in several notable cities in the country, and she makes good money from spinning the deck.
Social Media Accounts
Cyan has monetized social media accounts. She makes decent earnings from her pages, including Facebook, Instagram, YouTube, and others.
Business
The content creator is a thriving business that puts lots of cash into her pocket. However, her line of business, how much she makes from it monthly, and how long it's been in operation are not public knowledge.
Social Media Influencing
Cyan endorses several brands on her Instagram page. She is known to have made promotional posts for fashion brands like Limits, Umbrobo, Clere, and several others. She is currently an ambassador for the elite fashion brand Fashion Nova.
Collaboration with an Online Brand
Cyan Boujee reportedly entered a collaboration deal with the popular online shoe store, All Brand Sneakers. The deal has been rewarding.
Did Cyan Boujee Have Surgery?
Yes, Cyan Boujee had surgery. She admitted in an interview with Mac G and Teboho Thobejane in September 2022 that she underwent Brazillian Butt Life (BBL) surgery, which is typically done to augment the look of the buttocks while removing fats from other parts of the body.
The socialite also disclosed that she saved up for the procedure for the money as receives as a 'Girlfriend Allowance' from her boyfriend.
A Look at Cyan Boujee Before and After
Quite a lot has been said about Cyan's pre/post-surgery body with diverse, divided opinions. While a lot of people were unimpressed with the changes, the content creator and some of her fans considered the surgery a great one.
Boujee wasn't looking bad before undergoing the process, and a lot of people loved her body. However, during her interview with Mac G, she revealed that she has always wanted to save up money and work on her body because she was bullied for a long time in high school for her body.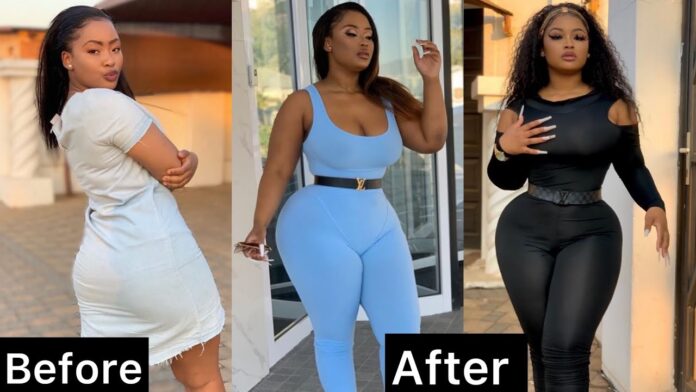 She claimed she had 'an ice cream body and a boyish figure', which she didn't like. Following the surgery, Boujee has a more banging body and fuller hips and breasts. She also insinuated that she was not done with getting the perfect body she had always wanted.
Did Cyan Boujee Have An Accident?
In August 2022, Cyan Boujee and her friend Karabo (a.k.a Madam Supra) trended online after the latter went to her YouTube to narrate how she and Cyan had an accident on their way to a paid gig and how the content creator left her to die after the accident.
Boujee allegedly left her friend at the accident scene while she was still struggling for her life and went ahead to attend the gig without mentioning the incident to the people there. It was later said that she was told by her managers to speak about it even though she tagged her friend Karoba in a live video she did at the event as if both of them were together.
Following the revelation, a lot of people criticized the content creator and even alleged that she wanted to use her friend for ritual. Cyan, in response, claimed she and Karabo had come a long way and that she wouldn't do anything that would hurt her. She also shared that she was hospitalized as well.
Who is Cyan Boujee's Boyfriend?
Cyan Boujee's boyfriend is South African rapper Bamzy Riches. It's not clear when exactly they started dating and if they are still together now. The two trended in May 2022 after Bamzy assaulted Boujee physically in her apartment.
He was arrested for the act, after which he reportedly paid her for damaging her property, including her iPhone, and inflicting wounds on her.
The DJ also alleged that she fell pregnant with her boyfriend's child after he forcefully slept with her. Cyan disclosed she later had a miscarriage.