Cindy Mahlangu is a South African actress and model who is currently blazing the trails in the entertainment scene. Recently, she was one of the lead actresses in Netflix's original series, Blood & Water, where she interpreted the character of Zama Bolton. Having just begun her acting career in 2018 with a debut role in the TV series, The Herd, the television actress is leaving no stones unturned as she guns for the pinnacle of success in a craft she has come to love.
Born on November 21, 1996, and educated as an accountant, Cindy has proven that she has what it takes to carve a niche for herself in the challenging South African film industry. She has also waded into the waters of celebrity romances and has gotten what would seem like a big catch for herself. Her brewing romance with soccer star Bongani Zungu is well documented and fans can't wait to see where that leads.
At 26, she has already made a solid impression and also recorded appearances in gigs such as etv's Scandal!, SABC1's Makoti, and Mzansi Magic's The Queen. Her role as Siyanda Dlamini on the latter has made waves among lovers of telenovelas, especially the way she returned after her character was thought to have been written off the show.
Summary of Cindy Mahlangu's Profile
Full Name: Cindy Thando Mahlangu
Date of Birth: November 21, 1996
Age: 26 Years Old
Place of Birth: Standerton, Mpumalanga, South Africa
Occupation: Model, Actress
Most Notable for: Blood & Water, The Herd, Scandal!, The Queen
Cindy Mahlangu's Role as a Siyanda From The Queen Is One of Her Biggest Roles on TV
Cindy Mahlangu's appearance in the South African TV series, The Queen, aired on the Mzansi Magic channel, further enhanced her reputation as the darling of telenovelas. The show tells the story of a drug baroness and her fight to maintain the status of her family as the top drug empire in the country despite obvious competition and rivalry by other drug families. It premiered on August 1, 2017, and has notable South African actors – including Connie Ferguson and Themba Ndaba – as part of its ensemble. The TV series, which is in its fifth season – with over 1,000 episodes so far, saw Cindy Mahlangu make her debut in the third season.
Mahlangu's character, Siyanda Dlamini, was a mother of one and a recovering drug addict. She worked at The Corner House, a restaurant owned by Boitswarelo and Amogelang Maake (played by Mara Louw and Natasha Thahane) and got involved with Kagiso Khoza, a philandering young man who is involved with several other women (played by Loyiso MacDonald) after her fiancè got killed. She would attempt to get Kagiso to marry her after getting pregnant for him (even though she had lost the pregnancy without his knowledge) but would be shot by Goodness Mabuza (played by Zenande Mfenyana), another woman impregnated by Kagiso before they exchange their marital vows.
At first, the character of Siyanda Dlamini was lined up to feature only as a recurring cast. She executed her role so well and became one of the characters fans wanted to see. This made the producers tweak their script to accommodate her role after promoting her to the main cast. She would then feature in the 4th and 5th seasons – and would continue to do so after it was confirmed by the producers of the show that her character did not end with the wedding shooting.
Cindy Mahlangu Left The Show But Her Character was Later Reinstated
When Cindy left The Queen in June 2020 following the death of her character on the show, there was outrage as fans accused the show producers Shona and Connie Ferguson of being 'highhanded' and 'insensitive' in dealing with actors on their show (as other actors had quit the show for one reason or the other before Cindy Mahlangu's exit). Questions have been asked why her character was 'killed' in the show as many believed she was fired from the show and then recalled – a claim she has since refuted.
She came out in defense of the Fergusons, claiming she was assured of been part of the next phase of the project before she left the show and that the phasing out of her character at the point was part of the show's original storyline. However, despite Cindy's effort to calm the nerves, it is believed that she left because her contract ran out, and she was in line for another job with another South African TV series Scandal, where she went on to play the role of Violetta Mamba.
Cindy Mahlangu has since returned to The Queens reprising the role of Siyanda Dlamini and she was really excited to be back to the fold. Subsequent episodes of the show have seen Siyanda return to work at The Corner House were found and a bag of money – about R2 million. She keeps the money, quits her job, and began living a lavish lifestyle. When it was discovered that the money she was spending recklessly belonged to a drug baron named 'Dollar' (played by Simo Magwaza), all hell was let loose, and she was on the run from Dollar's thugs.
How Has Cindy Mahlangu's Role as Siyanda Helped Her Career?
Although playing Siyanda Dlamini in the Mzansi Magic telenovela wasn't her first acting role, it catalyzed the successes Cindy Mahlangu has gone on to achieve in her career. Her first project on the small screen was the 2018 supernatural drama series, The Herd, where she played the role of Dumazile. However, since her work on The Queen, her career has only grown in leaps and bounds. When Cindy left The Queen, albeit temporarily, in June 2020, she immediately secured another gig on etv show, Scandal! as Violetta Mamba.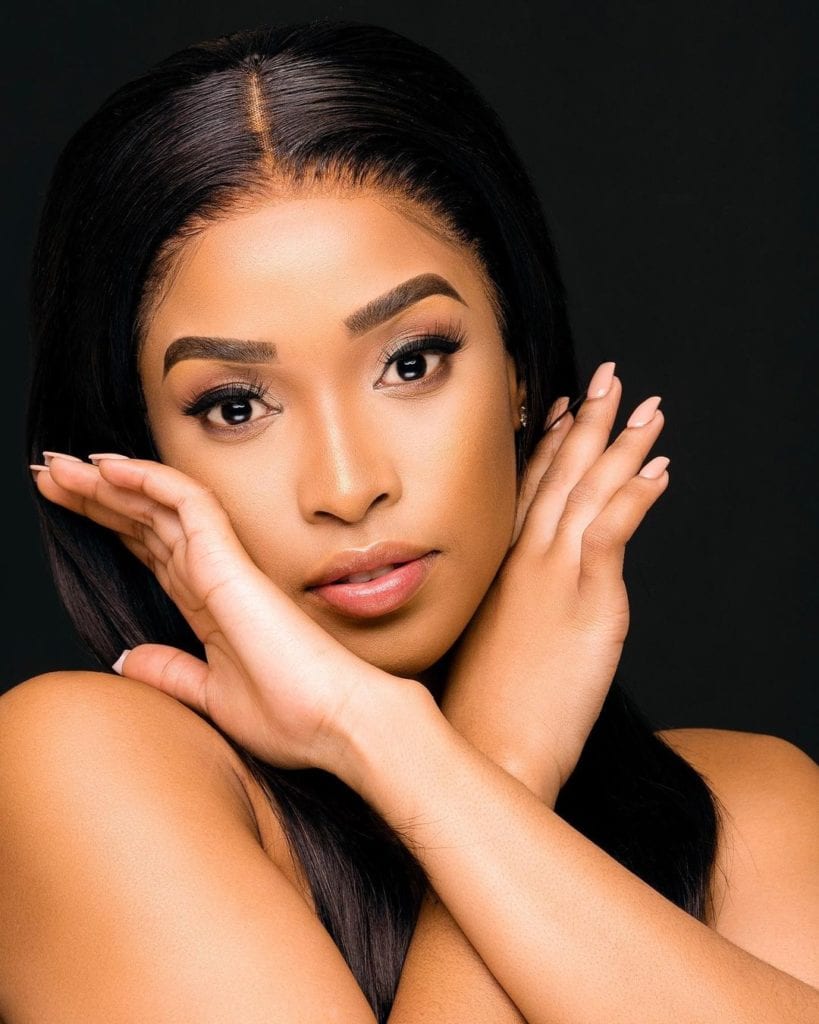 Next up for Cindy was what has been described as her biggest role yet – a role as Zama Bolton in Netflix Original series, Blood & Water. The series follows Queen Sono (released February 2020) as the only two African original series by the international film streaming platform.
Here's a list of TV shows Cindy Mahlangu has been a part of since her debut in 2018:
The Herd as Dumazile
Makoti as Kayise
Kings of Jo'burg as Phumzi
The Queen as Siyanda
Scandal as Violetta
Blood & Water as Zama
The Blood & Water star is Dating Football Star, Bongani Zungu
The beautiful and delectable Cindy Mahlangu may be an upcoming superstar in terms of her burgeoning career, but she has already done so well for herself and her efforts are beginning to pay off. On the relationship front, the qualified accountant and part-time model is known to be in a relationship with Bafana Bafana and Amiens soccer star and midfielder, Bongani Zungu. The revelation of their relationship raised eyebrows because the midfielder, who is currently on loan in Scotland from his French club side, playing for Scottish Rangers, was involved in a messy breakup drama with his ex-fiancee, Khanyi Cele.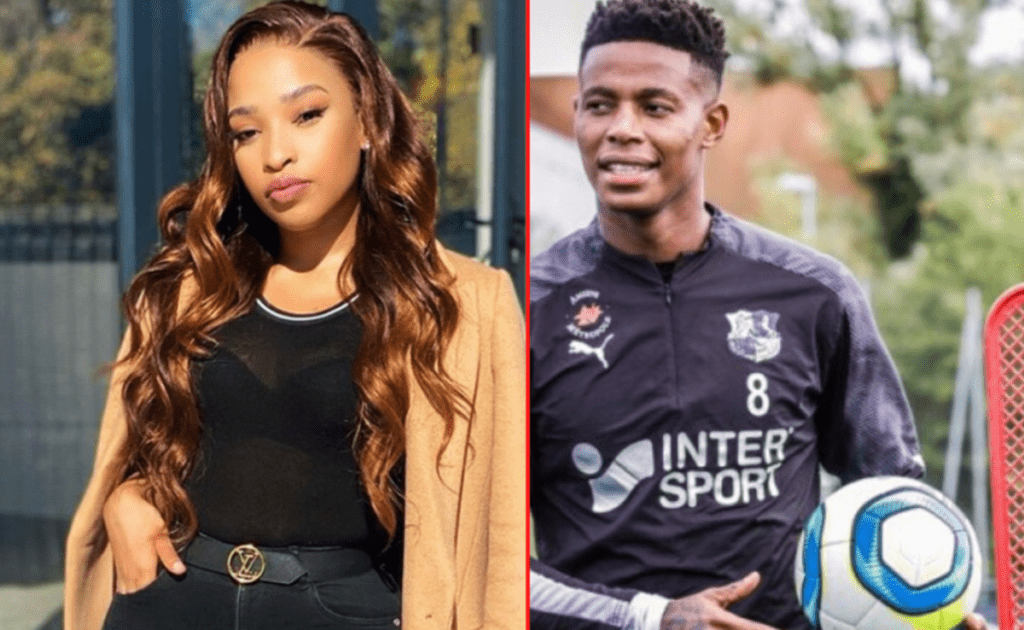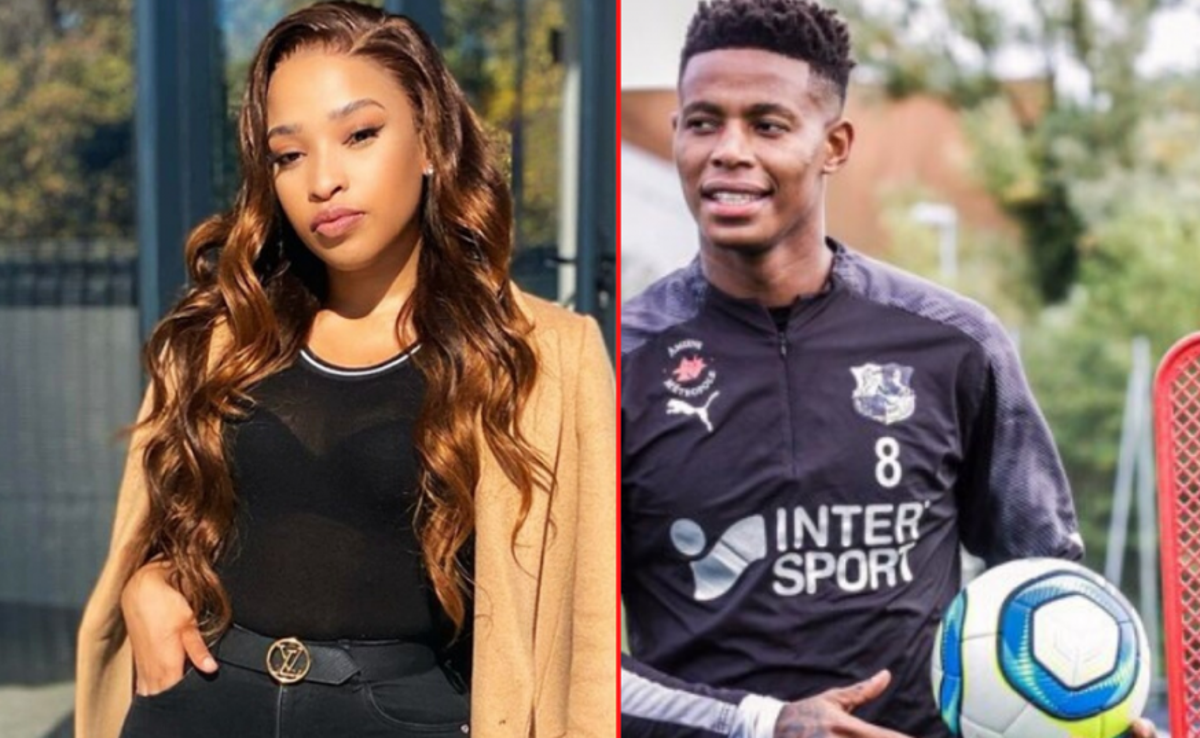 How Long Has Cindy Mahlangu Been With Bongani Zungu?
It has been reported Cindy Mahlangu and Bongani Zungu kicked off their relationship in June 2020. Though it was only speculated initially, it became official after a short clip of Zungu planting a kiss on Cindy's lips while she called him 'babe' surfaced on social media. Fans suspected there was something brewing between them when the pair started flirting with each other on social media while exchanging romantic gestures with each other.
Bongani Zungu zungu and cindy are official now wow😮 pic.twitter.com/xHX4wyoLCO

— chocolate Papi ⁶𓅓 (@Ramasela_10) August 10, 2020
They have maintained a long-distance relationship and have given their fans a glimpse of their romance by sharing their video calls on their social media platforms. Last year, they posted videos of themselves loved up while wishing each other a happy birthday. More so, it was Cindy who revealed on social media that the Bafana Bafana star was moving to Scotland on a loan deal.