Having their lives out in public has not been an easy path for most of the Real Housewives of Johannesburg (RHOJ) stars. While some of them have been able to put their families together by drawing a line between a reality TV show and real life, others have had to watch their family break apart for not being able to do the same. One thing that has remained common for all the Real Housewives of Johannesburg husbands, whose families survived the show, is their wealth and ability to understand the roles of their wives in the show and give them the space to play it well.
Although the RHOJ reality TV show is more about the wives, they wouldn't be called wives without their husbands. To understand where some of the ladies draw their courage from, you should meet the Real Housewives of Johannesburg husbands.
What We Know About The Real Housewives Of Johannesburg (RHOJ) Husbands
Although the reality TV show is more about women, most of the drama and accusations that make it really interesting to watch usually have a lot to do with their husbands and families. You may not always see the Real Housewives of Johannesburg husbands on the show, except on special occasions. Still, their relationship and issues with their wives have contributed immensely to the show's success.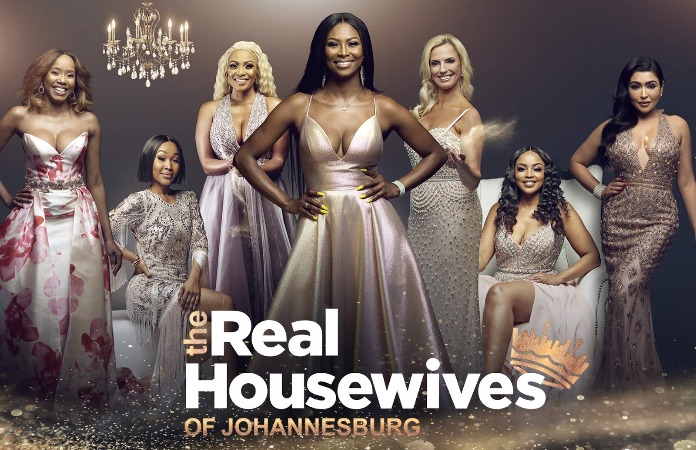 Oftentimes when the housewives try to shade each other, one of the easiest means of doing it is attacking the marriages of their rivals. And sadly, in most cases, this results in a break-up or dissolution of the marriage. For most housewives, since their husbands are the source of their flamboyant lifestyle, when there is a divorce, they can no longer handle the expensive and loud lifestyle any longer.
Despite all of the divorce cases that have been associated with the RHOJ TV series, some of the husbands have been supportive of their wives from the start of the show up until now. It is important to note that some of the men in the lives of these housewives live low-profile life and have nothing about them in the public space. However, here is a list of some of the Real Housewives of Johannesburg husbands:
1. Eddie Greef
Age: N/A
Wife: Christal Kay
Occupation: N/A
Current Marriage Status: Divorced
Marriage Duration: 2011 – 2019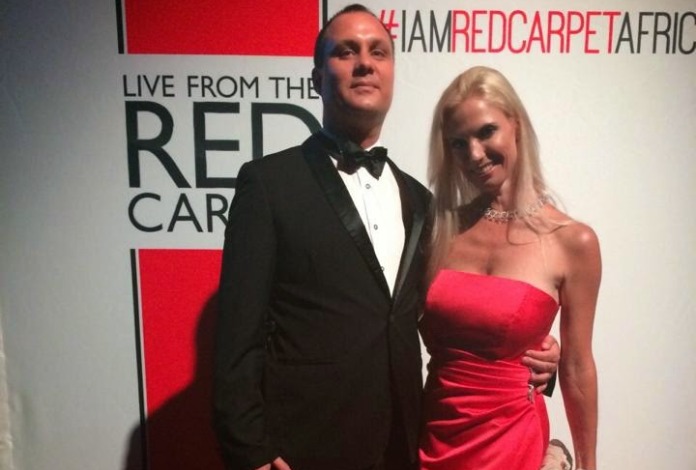 Eddie Greef is the ex-husband of Christall Kay, and having him on the show would have been great even if it was just for one episode. However, the nature of his job as a financial advisor for Liberty Life, a South African Insurance Company, usually requires that he travels. Although he had all the money required to show off an affluent life on a reality TV show, he just wasn't interested.
Eddie Greef would probably have been one of the most popular and talked about Real Housewives of Johannesburg husbands. Still, despite being married to one of the most dramatic and loud housewives, Christall Kay, he never made an appearance on the show. From what we know, Eddie is not the kind of person who wants to show his life off in public. For this reason, not much is known about him outside what his ex-wife revealed.
Eddie Greef got to know Christall Kay first as a neighbor who turned into a close friend. Finally, she took up the challenge of proposing to him, something most women will never do, but since he also loved her and saw the possibility of building a home with her, they married in 2011.
Eddie was married to Christall years before she became a reality TV show personality. When the opportunity to appear on the RHOJ reality TV show popped up, Greef wanted his ex-wife to continue practicing as a lawyer while they both live a private life, but Christall Kay wanted just the opposite. Due to not getting the necessary support from him, their marriage could not last longer than the show's first season, as they both separated in 2019 – after 8 years of marriage.
Since their divorce, Eddie Greef has moved on with his life and is said to be dating someone whose identity is not revealed, while he co-parent's their son with his ex-wife.
2. Themba Gezane
Age: 49 years old
Wife: Brunette Seopela
Occupation: Chief Sales Director at Tsebo Solutions Group of Companies
Current Marriage Status: Divorced
Marriage Duration: 5 Months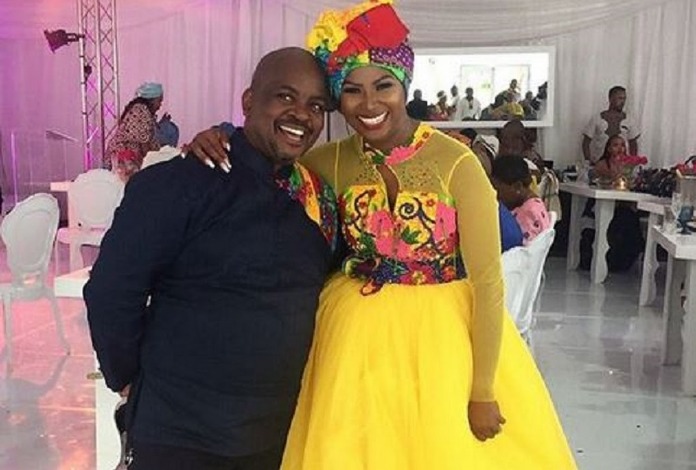 Themba Gezane was the husband of Brinnette Seopela. He is the Chief Sales Director at Tsebo Solutions Group of Companies, and he knew that his wife was a part of the Real Housewives Of Johannesburg (RHOJ) TV show from the onset of their marriage and did not seem to have a problem with it.
In the first season of the RHOJ, we saw the extravagant wedding of Themba Gezane and Brinnette Seopela, who he dated for just 100 days before marriage. And although 100 days did not look like enough time to court and know someone probably before marriage in the eyes of other people, they were so in love to wait longer. Their lavish wedding ceremony was aired as a part of the reality TV show.
Sadly, the marriage was almost as short as their courtship as they got divorced just 5 months later. While she claimed that they broke up because her husband was abusive, he had something else to say. According to him, her extravagant and reckless lifestyle were the major reasons.
He claimed that despite cautioning her to cut down on expenses, she still insisted on having a flamboyant wedding, and even after the wedding, she just always wanted to show off irrespective of the cost. He also added that she always kept late nights, and when he cautioned her about all of these, she labeled him 'unsupportive.'
Other housewives shaded Brinnette for getting married to Themba Gezane for his money. They believe Brinnette probably realized that Themba Gezane was not as rich as she expected after getting married. Albeit, he is a comfortable man who places value on the money he works for and does not see reasons to squander it. Hence, Themba Gezane was ready to support his wife on the show if she was willing to curtail her spending.
3. Quinton Masina
Age: N/A
Wife: Naledi Willer
Occupation: Radio Presenter
Current Marriage Status: Divorced
Marriage Duration: 2017 – 2019
Quinton Masina was the husband of Naledi Willer, one of the stars of RHOJ season one. He is a DJ that works as a radio presenter and producer at SABC. Also known as 'Naked DJ,' he is the founder of Naked Factory, a clothing brand. Just like Themba Gezane and Brinnette Seopela, Naledi and Quinton Masina also had a splendid wedding. The only difference was that theirs happened about a year before the show, so it was not aired on the show.
Naked DJ and his wife seemed to be the perfect match. He seemed so confident of his marriage that he even shared relationship advice. However, to the surprise of everyone, in 2019, Naledi took to social media to announce their divorce and also deleted all the pictures of him she once uploaded. We do not know the exact cause of the divorce, but like most other housewives in season one, her marriage did not survive the show, even though she did not return for the second season.
Since their divorce, Quinton Masina has moved on with his life and is currently in a relationship with Kayleigh Schwark, a footballer and fitness enthusiast. And he is obviously living his best life as both his career and relationship have continued to flourish.
4. Lebo Gunguluza
Age: 33 years old
Wife: Lebo Jojo Gunguluza
Occupation: Businessman and Entrepreneur
Current Marriage Status: Divorced
Marriage Duration: 2017 – 2020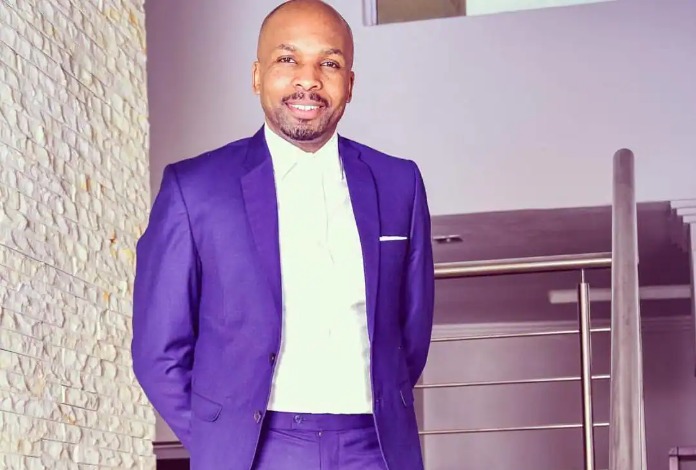 Lebo Gunguluza is one of the Real Housewives of Johannesburg husbands. He is a businessman who founded a magazine distribution company in South Africa that is the first of its kind, as it is the first magazine distribution totally owned by a black South African. Just like with his marital life, his business has also faced challenges, but he has managed to stay at the top of his game – in business.
Lebo Gunguluza was married to Lebo Jojo Mokoena, one of the housewives on the RHOJ reality TV series, who joined the show in the second season. They had an expensive traditional wedding in 2017, and in 2018, they traveled all the way to Mauritius for their 'Destination Wedding,' which made headlines that year. Not long after their wedding, their sex tape got leaked, but they handled the situation maturely and did not allow it to tamper with their relationship.
The couple looked like a perfect match until fans noticed that Lebo JoJo was no longer wearing her marital band on pictures she uploaded on social media. While the side questions were being asked, Lebo Gunguluza opened up about their marriage in 2021, saying they have been separated for about a year and were finalizing their divorce.
Both couples did not say the reason for their separation, so it is difficult to say her presence on the show contributed to it. Also, this is not the first time he is getting divorced. He was previously married for eight years before getting a divorce in 2008.
5. Lenamile Isaac Mophatlane
Age: 50 years old
Wife: Mpumi Mopthalane
Occupation: IT Mogul
Current Marriage Status: Married
Marriage Duration: 2008 – present
Lenamile Isaac Mophatlane is the 50-year-old husband of Mpumi Mophatlane, who plays the role of Mrs. Mops, the rude and arrogant housewife. He has been very supportive of his wife, who took a break from public life to pay attention to her child but resumed her public appearance when she joined the cast of RHOJ in season two.
While his wife is busy making a name for herself in the entertainment industry, he is building the name he has already made for himself in the business world. Lenamile Isaac Mophatlane is the founder of Randvest Capital Business Connexion Group Ltd, a company he founded with his late twin brother in 1996.
The Billionaire IT Guru is also the C.E.O of Telkom's reconstituted enterprise unit and is also the chairman of Bothomed LLC. Mr. Isaac Mophatlane is also a board member of Catholic Education Investment Co. and Crossfin Technology Holdings Pte Ltd. He is a member of the Black Management Forum, Electronic Industries Federation, and Black Information Technology Forum. With all these positions, he can afford to sponsor his wife's luxurious lifestyle, which she depicts on the show.
To propose to his wife, who he met while she was still in the university, he took her all the way to Milan in Italy and spoilt her with many good things that money can buy. When you see his wife flaunt wealth on the show, you know where it is coming from. Of all the women in the house, having the support of a rich husband makes it easy for Mrs. Mops to live a lavish lifestyle effortlessly. 
Although Brinnette Seopela accused Mrs. Mops of cheating on her husband, from the look of things, Lenamile Isaac does not care about what she said, as he still loves his wife very much.
6. Iqbal Sharma
Age: N/A
Wife: Tarina Patel
Occupation: Businessman; Former Transnet Boss
Current Marriage Status: Married
Marriage Duration:  2009 – present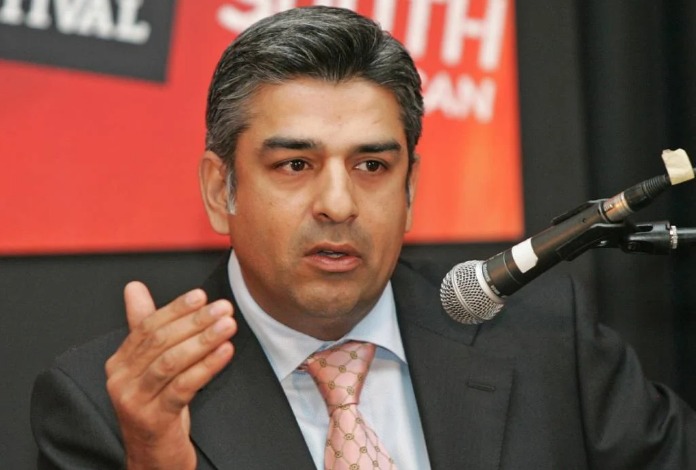 Iqbal Sharma is a wealthy and influential Indian-South African who had held several positions in South Africa and is said to be from one of the biggest political families in India. He is the former boss of TransNet Tender and one-time Director-General of South Africa's Department of Trade and Industry.
He is not a new face at the World Economic Forum, WTO, and a host of other international platforms, where he has been invited to speak. Iqbal Sharma has also been recognized by the 'Financial Mail' as he appeared in their list of 400 Most Influential People in South Africa. SA Success Magazine has also recognized him as one of the most remarkable entrepreneurs in South Africa.
Although he has everything a wife could want, he gives his wife, Tarina Patel, her space and allows her to do her own thing. She appeared on the second season of the RHOJ show. Being a wife of an affluent husband, she is one of the classiest, wealthiest, and most elegant housewives whose self-confidence is undeniably obvious to viewers. Unlike most other housewives, Tarina Patel had managed to keep her marriage with her husband, Iqbal Sharma, together.
It is believed that they got married when she was 17 years old; they have maintained love and friendship between themselves since then. But their family is currently going through hard times as Iqbal Sharma was arrested in June 2021 for money laundering and fraud due to the failure of the Estina Dairy Project in Vrede in the Free State that is worth R288 million. He was arrested alongside three other top Free State officials  – Seipati Dlamini, the Chief Financial Officer of Free State Agricultural Department, Dr. Limakatso Moorosi,  and Peter Thabethe, former heads of Free State's Agricultural Department.
Following their court hearing on the 3rd of June 2021, these officials have been granted bail, but Iqbal was denied bail. Aside from the fact that his name and his company's name have been dragged to the mud, some of his properties have also been seized. In all of these, the wife of his youth is still standing right beside him.