Dali Mpofu is a South African lawyer, politician, and businessman who has a net worth of $7.8 million. Reports show that he earns a monthly salary of R236 415.45 – which is about $15,000. He currently serves as a board member for organizations like Proudly South African, International Marketing Council of South Africa, and Electronic Industries Federation.
Although his sources of income are quite clear to everyone, he has found himself entangled in a financial scandal that involved the misappropriation of funds. And just when his political career seemed to have been facing its toughest time, he made his big break in business.
How Dali Mpofu's Net Worth Came About
Dali Mpofu is said to have a net worth of $7.8 million, an amount he has amassed through his political career and other job positions he has served in different sectors. There are reports that Dali Mpofu receives a total monthly salary of $15,000, which amounts to about R236 415.45 – at the time of writing this.
He Started His Career As A Politician
Dali Mpofu started his career as early as 1989 as a member of the African National Congress Youth League (ANCYL). Through the association, he played his role in helping South Africa put an end to apartheid.
As apartheid was brought to an end and ANC became a legal political party, Dali Mpofu started to benefit from his contribution to the party as he held some political positions. In the ANC, he served in the Social Development Department as deputy to Winnie Madikizela Mandela. The monthly or yearly remuneration he got from his position in the ANC is not a thing of public knowledge.
Unfortunately, sometime in the 1990s, Winnie Mandela accused Mpofu of playing a role in the misappropriation of ANC funds. She claimed she gave him the sum of  R160,000 from the funds. As a result of the allegations against him, among other things, he was relieved from his position in the ANC in May 1992. However, he remained in the party until 2013. We can't say for sure how much he made while he served as a member of the ruling party in South Africa.
He Was The National Chairperson Of EFF
After serving as a member of the African National Congress  (ANC) for 33 years, Dali Mpofu decided to leave the party. In his resignation letter, he made it clear that he did not believe the ANC could provide the social and economic freedom that South Africans needed.
He joined the Economic Freedom Fighters (EFF), serving as the party's national chairperson. A year after joining EFF, he contested for the position of Gauteng province premier but did not win.
Since losing the election in 2014, Dali Mpofu has not held any other political position in the country. However, he is still a renowned political icon in the country. It is unknown how much he made from serving as the National Chairperson of the EFF.
Dali Mpofu Has Served As The President Of SABC
While Dali Mpofu was still a part of the ANC, he was also building a career for himself in the business sector. One of his most significant career achievements remains becoming the South African Broadcasting Association president.
He served in this position for four years, from 2005 to 2009. While serving as SABC's president, he was also the Board Chair for Boxing South Africa, which he assumed in 2005 and held until 2008. In 2004, he became the chairman of Business Against Crime but left the position after serving for one year.
Dali Mpofu had also held the position of president of The Electronic Industries Federation. He was president of the federation from 2002 to 2006. Once again, we don't know the amount of money Dali Mpofu made from holding all of these highly placed positions in the country.
Here is a simple breakdown of all the positions he has held:
Deputy Head of ANC Social Welfare Department
National Chairperson of Economic Freedom Fighters (EFF)
President of SABC
Board Chair for Boxing South Africa
Chairman of Victims Support SA, Business Against Crime
President of The Electronic Industries Federation
Being A Lawyer Also Contributes to Dali Mpofu's Net Worth
Dali Mpofu is a legal luminary by profession. He has advocated for people like Jacob Zuma, Gareth Cliff, and Patricia De Lille. Considering the high-placed individuals Dali Mpofu has advocated for in the law court, the fact that he is not a small lawyer is unarguable.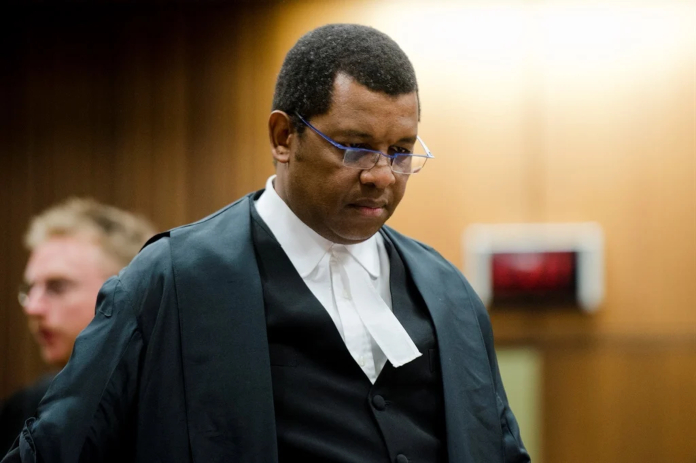 He earned a Bachelor Of Law degree in 1991 from the University of South Africa. Before that, he had earned a bachelor's degree in Procurement Studies from the University of Witwatersrand Johannesburg in 1988.
It is rare for any lawyer to announce how much they make for each case they handle. As such, the amount of money Dali Mpofu Makes from advocating for people in the court is not public knowledge. But considering the caliber of individuals he advocates for, you can tell that practicing law must have contributed to his $7.8 million net worth.
It is noteworthy to add that since 1999, Dali Mpofu has been the advocate for the National Anti-corruption Task Team. He is also an acting judge at the Labor Court of South Africa.
Dali Mpofu Is Currently The Chairman Of Utajiri Investments
Currently, Dali Mpofu holds many positions in different companies and organizations across South Africa. One of such positions is being the chairman of Utajiri Investments. In 2001, he resumed office as the Chairman of the National Anti-corruption forum, which he has held to date.
Since 2006, he has served as a board chair for Proudly South African. From 2005 to date, he has been serving as a council member of the International Marketing Council of South Africa. The following year after he left office as SABC president, he became the president of the Southern African Broadcasters Association. Since 2006 to date, he has held this position.
Here is a breakdown of all the other positions that Dali Mpofu is currently holding:
Chairman of Utajiri Investments
Board Chair for Proudly South African
Council Member of the International Marketing Council of South Africa
Non-Executive Director at Thebe Securities
Group Executive Director of Corporate Affairs, Altron Group
Director at Altech
Director of PowerTech
Chairman of ICT BEE Charter Working Group
Director of Rentech
Director of Battery Technologies (Pty) Ltd
All these positions have arguably contributed to his $7.8 million net worth.
His Career Success Has Earned Him Awards
For someone who has held and is currently holding so many positions in South Africa, winning an award would not be a surprise. Dali Mpofu's hard work has earned him the following awards:
IT Personality of the Year Award, Computer Society of South Africa
Businessperson of the Year, BBQ magazine, Black Business Quarterly