Bridgette Radebe (born 26 February 1960) is a 63-year-old South African businesswoman best known as one of the richest women in South Africa and, in fact, on the African continent. She is also known as the sister of South Africa's First Lady Tshepo Motsepe and South African businessman Patrice Motsepe.  She has an estimated net worth of R11 billion ($809 million). 
It is not surprising that Bridgette is as wealthy as she is, owing to the fact that she is one of the biggest names in the mining business in South Africa.
Among the first black female mine owners in Africa, she is also a highly respected businesswoman and a sister to the first black billionaire in South Africa, Patrice Motsepe. In the same way as her younger brother, Bridgett has gained respect for her business acumen as she occupies important seats in various companies. Beyond the amazing fortune that she has been able to accumulate, Radebe has an interesting life story.
Summary of Bridgette Radebe's Biography
Full name: Bridgette Motsepe
Gender: Female
Date of birth: 26 February 1960
Bridgette Radebe's Age: 63 Years Old
Ethnicity: Black
Nationality: South African
Zodiac Sign: Pisces
Sexual Orientation: Straight
Marital Status: Married
Bridgette Radebe's Husband: Jeff Radebe
Bridgette Radebe's Children: Mandisa Radebe, Malaika Radebe, Vukani Radebe
Bridgette Radebe's Parents:

Chief Augustine Butana Chaane Motsepe and Key Motsepe

Siblings:

Tshepo Motsepe and Patrice Motsepe

Career: Businesswoman and miner
Bridgette Radebe's Net worth: R11 billion
Famous for: Being the richest women in South Africa and, in fact, on the African continent
The Early Life And Influences Of Radebe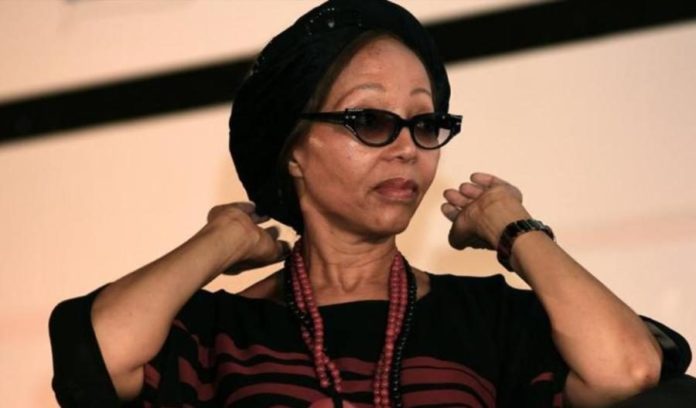 On 26th February 1960, Bridgette Motsepe was born into the family of Kgosi Augustine Motsepe and his wife, Key Motsepe. Her father was a chief among the Tswane people and he also worked as a school teacher before he later started a business. Her mother was a good woman who was always eager to help the poor. This means that while she and her siblings learned the ropes of the business world from their father, their mother taught them kindness.
Bridgette was brought up as the middle child in a family of three kids alongside her older sister Tshepo Motsepe who is the First Lady of South Africa, and her younger brother, Patrice Motsepe. The three children grew up watching their father get involve in business each day and that attracted them to follow the same path. This accounts for why Bridgette, Tshepo, and Patrice are all active players in the business world.
Apart from her father's active involvement in business which later became one of her biggest influences, Bridgette Radebe also grew up seeing her parents fight the oppressive apartheid regime, something she was also drawn into as a young child. This is what would later influence her activism.
She Had A Dream Of Becoming A Lawyer
Brigette saw so many injustices when she was growing up. At the time, blacks were not allowed to hold mining licenses, and secondly, her tribe was robbed of royalty payments for mineral rights leased to a Canadian company at one time. When they decided to protest the injustice, they were met by aggressive resistance with teargas, dogs, police, and even guns. This made her make up her mind that she was going to practice law and become a mining lawyer.
She worked very hard until she finally got accepted into the Wits University. Unfortunately, there was another hurdle in front of her; she was prohibited from studying at the university because she was black. Hence, she was banished to the racist 'Bantu education' University of the North by the apartheid regime. Again, she and others decided to protest against the Bantu education system, and in the process, she was expelled alongside those who took part in the protest, thwarting her ambition of becoming a lawyer.
Not broken by all the challenges that stood on her path, Bridgette Radebe later went to the University of Botswana from where she obtained an LLB Accounting and Business/Management degree, she was at the university from 1973 to 1977 when she graduated.
How She Went Into Business And Rose To The Top
Another dream that the early childhood experiences of Bridgette Mostsepe left her with, was the yearning to be involved in the mining business. With her education completed, she decided to work for British Petroleum in the early 1980s.
From there, she joined the mining business as a common miner in the mid-1980s. There was also legislation that prevented her from entering the business but she defied all odds to make it, becoming the first black woman in the mining business.
In a few years, Motsepe expanded in the mining business. She has recorded many achievements in different areas of her life and held various positions, including the following:
Founder Mmakau Mining
Founder and Board of Trustee Member, New Africa Mining Fund
President South African Mining Development Association
Former Vice Chairman of the Minerals and Mining Development Board
Former Head of Public Affairs for the National Soccer League
Board member Sappi Limited
Chairperson of the International Women's Forum South Africa
African Rainbow Capital's CFO
Bridgette Radebe's Net Worth And How It Has Grown Over the Years
Radebe's name has been among the richest women in South Africa for a very long time. Even before the 2010s, she already started gaining recognition as one of Africa's richest women. In 2011, she was named alongside Angola's Isabel Dos Santos, Irene Charnley, and Pam Golding as some of the richest women on the continent. Forbes estimated that at the time, all the nine women on the list had a net worth of at least $50 million.
Although many still believe that her net worth is around R1 billion, she has since earned more than that. Before 2015, Forbes Africa estimated that she had a net worth that was estimated at $25 million, which means that she had close to R400 million.
After 2015, her net worth was already estimated to the tune of R1 billion. Today, she has seen a great upsurge in her fortune and now has an estimated net worth of $809 million which means she has over R11 billion to her name. One of the most impressive things about her fortune apart from the numbers that count for her is that she is a self-made wealthy woman, considering how she started.
Bridgette Radebe Is Not Richer Than Patrice Motsepe
Though Bridgette Radebe is a very wealthy woman, she is still nowhere near her younger brother, Patrice Motsepe who has been among the richest people in South Africa for many years. More so, he is the first black man in the country to attain billionaire status and he achieved the feat years ago.
While Radebe's net worth is only estimated at $809 million, that of Patrice Motsepe is put at an estimated $3.2 billion. She is yet to reach the status of a billionaire but Patrice has been there for many years. Nevertheless, she still stands among the richest women on the African continent.
Interestingly, the major source through which both siblings fueled their net worth is mining, even though they also make money from other business engagements. Patrice has investments in sports as he is the owner of Mamelodi Sundowns F.C. and also has a 26% stake at Blue Bulls Rugby Union, 37% stake in the Blue Bulls Co, and 37% shares at Remgro. He also makes money from Ubuntu-Botho Investments (UBI) which he created in 2003 among many other companies. He is currently the president of the Confederation of African Football (CAF).
Their oldest sister, Tshepo Motsepe has also not failed in the hardworking department that the family has come to be known with. Although she is not as rich as her two younger siblings, Tshepo, whose net worth has not been revealed is also a very rich woman. Married to the current President of South Africa Cyril Ramaphosa, she is also a businesswoman and a medical doctor. She has held various positions, including as the Deputy Director of The Reproductive Health Research Institute and also served as the chairperson of the African Self Help Trust (ASHA Trust). While her net worth is not known, her husband, Cyril Ramaphosa has an estimated net worth of R6.4 billion ($450 million).
Beyond the successes they all share, the three siblings also enjoy a very good relationship as they are obviously close.
All The Ways Bridgette Radebe Makes Her Fortune
For a woman as wealthy as Radebe, it is not surprising that she makes her fortune from multiple sources, although at the top of her list is her involvement in the mining business. Here are ways that she is able to make and sustain her good fortune:
Mining Is Her Major Source Of Fortune
Bridgette Radebe made the move that would come to define her life for many years to come in the 1980s. The businesswoman was still in her 20s at the time. That was the time she started as a miner and what she did was manage individual shaft mining operations. She also oversaw the production of materials for the larger mine operations.
She continued this until she was able to found her own mining company, Mmakau Mining in the 1980s. Although the company has since been mostly into mining precious metals such as gold and platinum, it is also involved in steel and alloys, as well as energy through Mmakau Energy.
Radebe started her company through contracts, but she was soon able to own her own mines which were completely black-owned by the early 1990s. The company also has shares in one of the biggest shaft-sinking and underground construction companies globally, Shaft Sinkers (Pty) Ltd.
She Leads The South African Mining Development Association
Away from her own mining company which is doing remarkably well, Bridgette Radebe has recorded the feat of becoming the head of the South African Mining Development Association (SAMDA). Since she took charge of the affairs of the association, she has brought in her vast business acumen, especially in the mining industry, helping the association to record many more achievements.
Apart from that, she is a member of the New Africa Mining Fund. This is a mining venture capital fund that was designed to serve in providing capital for exploration and mining development projects at various stages. The body provides funding for exploration and mining works all over Africa. It covers all minerals except minerals diamonds and uranium.
Radebe Is A Member Of Different Companies And Bodies
In 2004, she became a board member of the global pulp and paper group Sappi when she became a non-executive director. According to the company's chairperson, she was brought in to add a fresh perspective to board discussions. She remained in the position for the next 13 years before she retired in February 2017.
With a rather busy resume, Radebe has also served on the National Research Foundation board. She was also the first president of the International Women's Forum, a body that once had big names like the late former British prime minister Margaret Thatcher, US Senator Hillary Clinton, and South Africa's First Lady at the time, Zanele Mbeki.
Apart from the different means through which she made her fortune, she has also recorded many achievements including the following:
Global Foundation for Democracy's Businessperson of the Year 2008
Mababongwe: Renaissance Woman Award, University Durban-Westville
The Onkgopotse Tiro Excellence Awards, Limpopo University, 2010
Africa's Most Powerful Businesswomen, African Business Review, 2015
Nominee African Business Woman of the Year, Global African Business Awards, 2018
Bridgette Radebe Has Not Been Able To Stay Away From Controversies And Scandals
For a better part of her personal life and career as a miner and businesswoman, Bridgette Radebe has managed to stay away from scandals and controversies. Nonetheless, her name has still been drawn into some major controversies in the past.
There Was a Money Laundering Charge Against Her in 2020
In 2020, there were claims that she was involved in a money laundering case together with the former president of Botswana, Ian Khama. The allegation against the two was that they were involved in money laundering and terrorism. The government of Botswana claimed that Radebe and the former president wanted to use the laundered funds to cause political unrest in the country and also strengthen the opposition against the government of President Mokgweetsi Masisi.
According to prosecutors in Botswana, the former president, and Radebe who was an Ambassador at the time, siphoned around $10.1bn (about R173bn) outside of Botswana to an account where Radebe, the former president, and a few others were signatories.
Interestingly a UK law firm Omnia Strategy Llp, after investigating the matter, declared that all the allegations leveled against Radebe and the former president were completely false as they were reportedly made without any shred of evidence.
Before then, her name had already been cleared by banks in the country by showing that she was not a signatory to the accounts in question. She made it clear that she knew she was innocent of all the allegations from the start and was going to sue all her accusers.
She Was Accused Together With Patrice Motsepe Of Attempting To Topple President Masisi
The businesswoman and her mining mogul brother, Patrice, were accused of meddling in Botswana's presidential policies by funding the campaigns of the country's former foreign minister Pelonomi Venson-Moitoi who was looking to unseat President Mokgweetsi Masisi.
Radebe was accused of laundering money through the  Avante Security Services for the purpose of the electioneering campaign. This led to the freezing of the account of the Gabarone-based security service company by the Financial Intelligence Agency (FIA).  The businesswoman was accused of making questionable transfers amounting to R13.2-million from her company Mmakau to Avante. More so, the allegations were that the money was further transferred to people linked to the campaign of Venson-Moitoi.
Bridgette insisted that she was only looking at partnering with Avante Security Services in a business she was hoping to start in the country.
Although she did not deny her closeness to Venson-Moitoi, she stated that she was not trying to oust the government of Masisi, even though there were recordings that caught her on tape, strategizing on how to fund the former's campaign and how to get funds for the campaigns. She maintained her innocence, calling on both South Africa and Botswana to carry out a thorough investigation as she doesn't want her name and that of her family to be dragged into the mud.
Bridgette Radebe Is Married To Jeff Radebe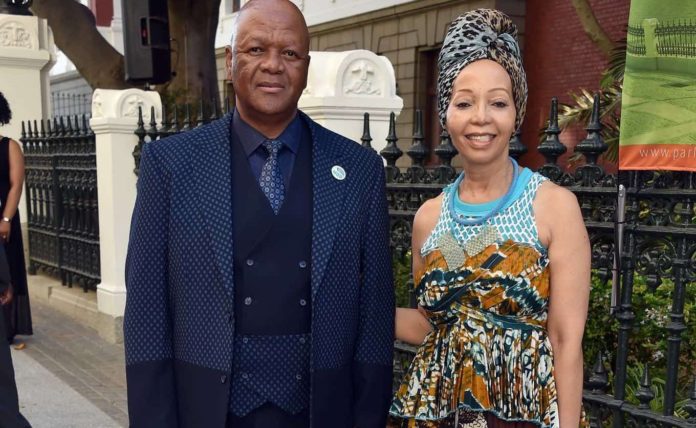 The career aspect of the life of Brigette Radebe has been a very busy and successful one, but so is her personal life. She has been married to a South African politician for many years, Jeff Radebe, although the actual year that they walked down the aisle is not known.
Jeff Radebe was born on 6 August 1953 in South Africa. He got his tertiary education from the University of Zululand where he started his journey towards obtaining a law degree and finally completed his studies at the Karl Marx University in Leipzig. Having joined the anti-apartheid struggle, he was sentenced to 10 years behind bars on Robben Island.
After the country's independence was granted, he became a politician and has held various positions. From 1994 to 1999, he served as the Minister of Public Works, and from 1999 to 2004, he was Minister of Public Enterprises. After this, he became the country's Minister of Transport from 2004 to 2009, and finally, he held other positions; Minister of Justice and Constitutional Development, Minister in the Presidency, and Minister of Energy.
The marriage has since been blessed with three wonderful children Mandisa Radebe who is better known as DBN Gogo, Malaika Radebe, and Vukani Radebe. In the same manner, as most other children of the rich and famous, Radebe's children maintain a very quiet lifestyle.
Mandisa Radebe
Date of birth: May 30, 1993
Age: 30
Career: DJ and Musical artist
Professionally known as DBN Gogo, Mandisa is a DJ who for many years, has kept her true identity a secret, making sure that she rose to fame in her chosen field all through her hard work. It is important to point out, however, that Bridgette Radebe, is her stepmother and she was birthed to Jeff Radebe from a previous relationship.
Mandisa revealed that although people have been quick to claim her success was due to her influential family, they only got to know that she was becoming a full-time DJ and was taking the entertainment business seriously only a year ago. By this time, she had already started making her name without being identified as a rich kid.
Malaika Radebe and Vukani Radebe
Unlike Mandisa, the two other children of Radebe have maintained a very quiet lifestyle. Malaika is the youngest child of the mining billionaire. The exact date of her birth is not known, neither is the date of birth of her brother, Vukani Radebe.
The Marriage Between Bridgette Radebe And Jeff Radebe Has Survived Some Controversies
Bridgette Radebe and her husband Jeff Radebe have been together for many years, but their years together have not been without controversies that have tested their foundation. One of the first and most serious issues they had to battle with was in 2017 when Jeff, then a cabinet minister, was embroiled in a sexting controversy.
According to the allegations leveled against him, the minister begged a staff who was claimed to be half his age, to send her nude pictures to him. He allegedly sent the raunchy messages to the then 29-year-old Union Buildings staffer, Siyasanga Mbambani via text and e-mails. The young staff blew the whistle on the minister after she was suspended for being too close to politicians. She claimed she was the one being chased by the politicians instead. Radebe did not acknowledge or deny the claims.
Another trouble that the couple faced was when Bridgette Motsepe-Radebe was accused of having an affair with Former Botswana president, Seretse Khama Ian Khama. Following the allegations that the former president and the businesswoman were having an affair, Ian made it clear that it was not fair for anyone to claim he was the reason behind the challenges in the marriage between Bridgette and Jeff. In the same manner, the businesswoman did not hold back as she came out to totally deny the claims that she was cheating on her husband.
Radebe revealed that her family has always been very close to that of Khama as their fathers used to be friends. According to her, even before he was born, her father and his father were friends and even attended the University of Fort Hare together, making it clear that prior to his term as the first president of Botswana, the older Khama and Radebe's fathers were always close pals. Hence, her closeness with the younger Khama was not because of any affair going on.
Notably, none of the controversies were strong enough to break the bond between Bridgette Radebe and her husband. The couple has remained together as nothing happened.