Johnny Mogaladi is a South African businessman and the chairman of Polokwane City Football Club. His net worth sits somewhere between $100 million and $500 million. 
Though a successful businessman, Mogaladi's popularity immensely soared around 2012 when he purchased the franchise from the owners of Bay United. He has also made major headlines over the years for his involvement in a handful of controversies in his relationships with people.
Summary of Johnny Mogaladi's Biography

Full name: Johnny Mogaladi
Gender: Male
Ethnicity: Black
Nationality: South African
Sexual Orientation: Straight
Religion: Christianity
Marital Status: divorced
Johnny Mogaladi's Ex-Wife: Tebogo
Johnny Mogaladi's Children: Katlego Mogaladi
Johnny Mogaladi's Net worth: Ranges between $100 million – $500 million
Famous for: Being the owner of Polokwane City Football Club
Where was Johnny Mogaladi Born?
Johnny Mogaladi was born in Zebediela, Limpopo, South Africa, many years ago. There is no insight into his actual age, date of birth, family background, upbringing, family relatives, and early life.
He spent most of his life in Limpopo and also completed his basic educational levels in the region. However, the names of the academic institutions he attended are not public knowledge.
Johnny Mogaladi's Net Worth
The businessman's net worth is estimated to be between $100 million and $500 million. He made his wealth from the businesses he was running before acquiring Polokwane City Football Club in 2021.
Since he bought the club, his financial status has changed for good, and his wealth has continued to grow. Sadly, there are no documented records of how much he has invested in the club.
His overall earnings from the club are yet to be published by the relevant authorities as well. Mogaladi's football club was promoted to the Premier Soccer League in May 2023.
Johnny Mogaladi's House
Johnny Mogaladi has real estate properties in the country, but information about their exact locations, worth, and features is difficult to come by.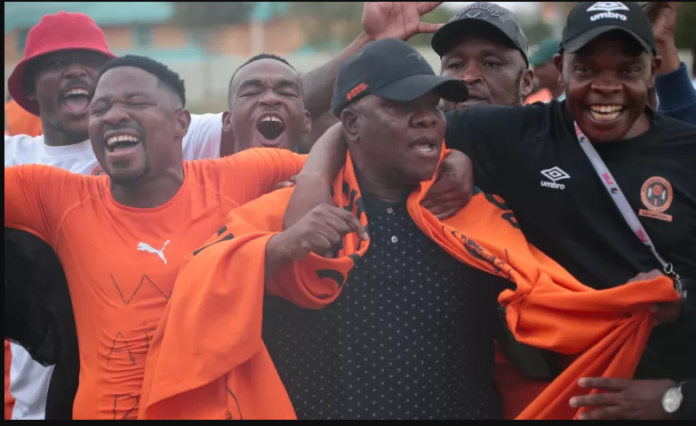 The City boss has a house in his hometown, however, he hasn't publicly commented about other properties he has acquired over the years.
Does Johnny Mogaladi Have a House In Zebediela?
Johnny Mogaladi owns a house in GaRakgwatha in Zebediela, Limpopo. In 2015, news broke that the football club boss threatened to burn down his Zebediela house and kill one of his farm workers if the worker escaped from his farm.
According to the worker named Abel Mokebe Lebese, the PSL owner broke his head with bottles after he discovered that his sheep died in his neighbor's yard. He later locked down in a room and forced him to cook for his dogs.
Lebese later escaped and reported to the police.
Who Is Johnny Mogaladi's Wife?
Johnny Mogaladi's wife is called Tebogo. Sadly, the two have reportedly been divorced for a long time. Tebogo is said to have walked away from their marriage after she was abused by the businessman on several occasions.
There is no available information about their union while it lasted, such as the year they got married, how and when they met, and how long the union lasted.
Johnny Mogaladi's Children
PSL boss Johnny Mogaladi's failed marriage produced kids. He shares many kids with his ex-wife, including his daughter Katlego Mogaladi, who was thrust into the limelight in 2019 after she shared pictures of herself in a Gert-Johan Coetzee gown that she wore for her Grade 12 matriculation.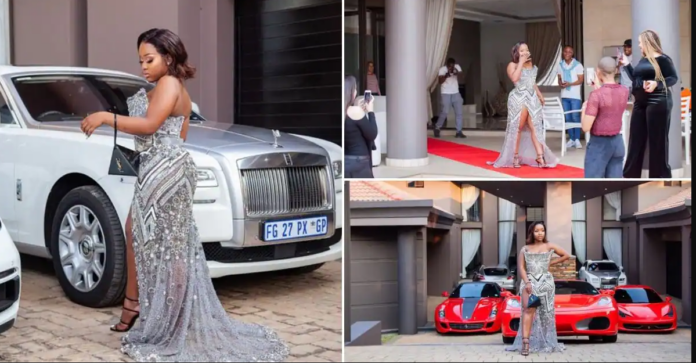 Katlego exuded wealth, affluence, and class in the photo, which also captured two luxury cars behind her – a Ferrari and a Rolls Royce.
Johnny Mogaladi's Businesses
Johnny is a businessman, however, his line of business hasn't been publicized by the club owner apart from the football club he owns. He bought the club in 2012 from Bay United owners for an undisclosed amount.
Johnny Mogaladi's Cars
The number of cars Johnny owns, their brands, and their worth are not public knowledge.