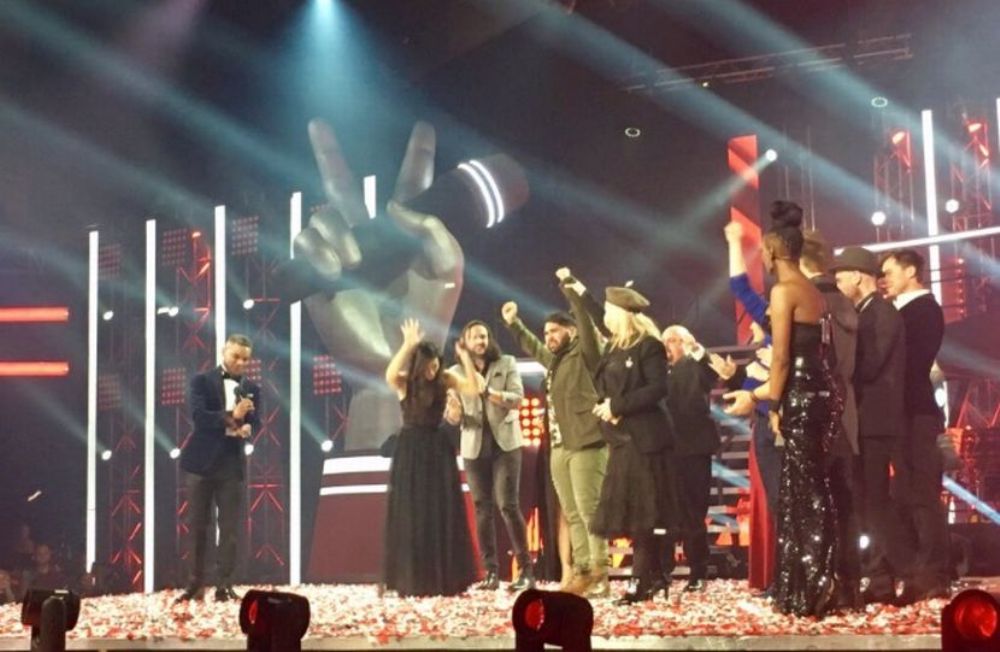 The grand prize for The Voice SA season two was claimed by Craig Lucas from Elsies River, Cape Town on Sunday night.
Craig, 24 and coach Khan Morbee were crowned the winners of the star search reality TV show. As the winner of the singing competition, Craig walks away with a recording contract from Universal Music. Also, a R250,000 cash prize; a new car; a smartwatch and cellphone; a camera; a TV and R100'000 worth of fashion vouchers are his.
Craig was an audience favourite during the competition. He wowed crowds with his performances right from the start. In fact, his coach Khan once described him as "the love child of John Legend and Freddy Mercury."
Also Read: Justice Is Served: Musician Brickz Found Guilty Of Rape By Magistrate Court

An emotional Craig says Thanks
During the two-hour finale which was held in Johannesburg, some of South Africa's biggest artists collaborated with the show's seven finalists.
According to statistics, more than 1.6 million votes were cast, an all-time record for The Voice SA. Subsequently, Lucas beat runner-up Josh Ansley as well other finalists – Samantha Leonard, Caroline Grace Brussow, PJ Pretorius, Fatman and Luke Lovemore.
Notably, last night's contest was the first time in the history of the show that the finale was contested by seven musicians. This follows dodgy voting tactics which resulted in the return of two contestants who had previously been booted out of the contestant.
Interesting facts about The Voice SA Season Two winner Craig Lucas
The young man has always loved music right from a very young age. However, he didn't let this stop him from keeping his promise to his mother Jenny Lucas to complete his studies first. Subsequently, he holds an honours degree from the University of Cape Town.
According to his mother, Craig lost his father at the age of three and was exposed to drugs and gangsterism while growing up in a small household in a crime-and-drug-infested area in Elsies River with his older brother and mother. Notwithstanding he didn't chose to follow that path in his life.
Though there was no adult male figure for guidance, his mother tried her best to train him into the man he is today.
Craig grew up as an introvert and would lock himself indoors to sing and write music. But this did not stop him from pursuing academic excellence as well.
Also Read: Watch: Kwesta's Freestyle Makes Sway's List Of Top 5 Best In 2017

He graduated at the top of his class at Elsies River High School. He was also an active participant in various talent shows. Apparently, this helped him build his stage confidence for The Voice SA.
While his love for music knew no bounds, Criag chose to pursue a degree in economics and politics at UCT before kickstarting his professional music career.
Craig's mom, 62 was happy to hear that her son entered the competition. She has been a pillar of support since the competition kick-started and has attended every show since the blind auditions. She was also there again on Sunday night at the finale of Voice SA Season Two.
Watch the moment of victory
The moment Craig wins #TheVoiceSA on @MNet . pic.twitter.com/o0UBNDAQ8Q

— TVwithThinus (@TVwithThinus) July 9, 2017