Jeff Radebe is a South African politician whose last office while he was in service was as the Minister of Energy from 26 February 2018 to 30 May 2019. His marriage to Bridgette Radebe almost hit the rocks in 2017 and 2019 following two cheating scandals on Jeff's part involving two women named Siyasanga Mbambani and Ian Khama.
At 70, Jeff Radebe is one of the seasoned politicians in South Africa and a well-respected cabinet minister during his service years. He has certainly come a long way since he joined the ANC as a student in 1976. His rise through the ranks was gradual and fraught with all of the same troubles that every other black politician and early activist faced during apartheid. He was sentenced to a 10-year jail time for terrorism acts in 1986 but was released after a 12-day hunger strike.
Having been in the public light for decades on end, Jeff Radebe has had his fair share of the good, the bad, and the ugly. He is married to mining mogul Bridgette Radebe who is also the sister of millionaire businessman Patrice Motsepe. Besides being known for the 25 years he has put into public service, Jeff has a reputation as the longest-serving minister of the democratic South African era. On the negative side, however, he has also made headlines for cheating on his wife and other personal controversies.
Jeff Radebe Got Into Politics at 23 Years Old
Radebe's dreams of a possible career path started in the medical line but he developed a passion for politics when he was introduced to the Black Consciousness Movement. Following this new passion, he went on to study law at the University of Zululand with hopes of playing an important role in the freedom struggle. He became an activist with an arm of the ANC as a student.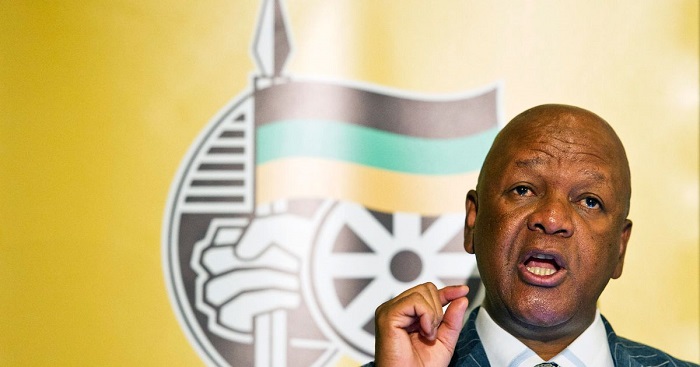 As soon as he graduated, he took on a larger role with the ANC but was sent out to Mozambique to avoid the authorities and eventually to Tanzania where he worked at the Dar el Salam Radio station as a journalist. Next, he made a move to Zambia where he worked with the International Department of the ANC. Jeff Radebe joined an underground network of the ANC from Lesotho and commenced raising other activists for the party. During this time, he also got some military training with the Umkhonto we Sizwe (MK) in preparation for bigger roles in the ANC.
During an ANC mission gone wrong in Johannesburg, Jeff Radebe got arrested, convicted for terrorism, and was sentenced to 10 years in prison at Robben Island. He appealed the conviction and had it reduced to six years. This notwithstanding, his stay in prison was short but while it lasted, he was very much in the know of ANC's activities and had become the head of its political department. He was eventually released after a 12-day hunger strike which he had organized to propagate the release of political prisoners at the time. After his time in jail, Radebe had a short stint as the project coordinator of the National Association of Democratic Lawyers (Nadel).
Political Offices Jeff Radebe Has Occupied
Having proven himself with all he went through as an activist and the jail time he served, Jeff Radebe earned his first official appointment as ANC's Southern Natal Region chairperson. He served in this position from 1991 until 1994 but during this period, he also served on the Regional ANC Peace Forum as its chairperson and as a member of the Natal Regional Dispute Resolution Committee.
Radebe's many political efforts paid off when the first democratic elections were held in 1994 and he was appointed Minister of Public of Works under the first administration with Nelson Mandela as president. Subsequently, it was a long busy road for the politician; from 1998 to 2003, he was a member of the Business Trust while serving as the minister of Public Enterprises until 2004. From 2004 to 2009, he served as the Transportation Minister still under the administration of Thabo Mbeki.
When Jacob Zuma became president in 2009, Jeff Radebe's wealth of knowledge and experience in all things politics and administration was an invaluable asset and that saw him receive an appointment as Minister of Justice and Constitutional Development from 2009 to 2014. Until 2018, he was a Minister in the Presidency still under former President Zuma.
When President Ramaphosa resumed office as the 4th democratically elected president of South Africa, Jeff Radebe was once again appointed Minister of Energy but this was the last as his time in the office came to an end in 2019. His drop from Ramaphosa's cabinet was allegedly a result of the controversy he was roped into over the South Sudan R14.4bn oil deal which he signed despite being advised not to do so by the Central Energy Fund.
Quick Summary of Jeff Radebe's Political Positions To Date
Minister of Energy from 27 February 2018 until 25 May 2019
Minister in The Presidency of the Republic of South Africa from 26 May 2014 until 26 February 2018
Member of the National Executive Committee (NEC) of the African National Congress (ANC) since 1991
Member of the National Working Committee (NWC) of the ANC since 1991
Head of the ANC Policy Unit and Member of the SACP Central Committee
Project co-ordinator for the National Association of Democratic Lawyers (Nadel) from 1990 to 1991
Deputy chairperson of the ANC, Southern Natal Region – 1990
Jeff Radebe Has Been Married To Bridgette Motsepe For Many Years
There is no specific timeline for how Jeff Radebe met or married his wife Bridgette Radebe, but the union between the two has lasted many good years, survived many a scandal, and produced one of SA's strongest power couple in the process. Bridgette is certainly no ordinary woman; she is the sister of billionaire businessman Patrice Motsepe and a business mogul in her own rights who many have argued is almost as influential in the country's mining affairs as her husband is in the political affairs of the country.
While it appears like all is well and goes in the Radebe paradise, the couple has lived through some scandals that would have separated any other couple.
Their Marriage Has Survived More Than One Cheating Scandal
A marriage that has lasted as long as Jeff Radebe's union would surely have stories to tell, and because Jeff and Bridgette are public figures in their own rights, every indiscretion makes headlines and is sometimes blown out of proportion. Two particularly recent cheating scandals rocked Radebe's marriage to Bridgette and had the people of South Africa wondering whether the union will survive.
Jeff Radebe's 2017 Sext Scandal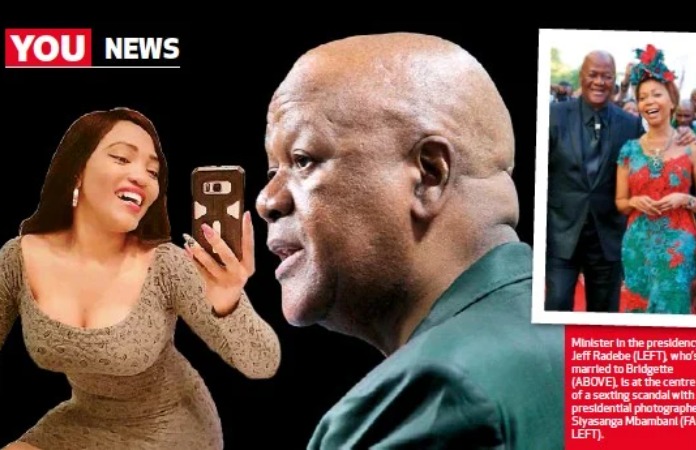 Before 2017, Jeff Radebe had a stellar career and was regarded as an outstanding leader with no scandal to his good name. All of that changed when a certain Union Buildings staffer, Siyasanga Mbambani exposed explicit texts and emails he had exchanged with her.
The trouble started when Siyasanga Mbambani got suspended from her job as a presidential photographer on claims that she often wore skimpy clothing in an attempt to seduce the then-president and vice, Jacob Zuma and Cyril Ramaphosa. In her defense, the then 29-year-old claimed that the politicians at the Union Buildings were the ones sexually harassing her. To further bolster her argument, she released the raunchy texts she had exchanged with Jeff Radebe as proof of her stance.
Investigations would later reveal that while the texts and emails were truly an exchange between the then Cabinet minister and Mbambani, there was no harassment of any sort. Owning up to his failures, Jeff Radebe quickly spoke up and offered apologies to his wife and the people of South Africa for his actions.
Many thought it would take a while for his marriage to recover from the scandal but that was not the case. Soon after his public apology, he was accompanied by his wife to make further amends at the house of Madikizela-Mandela, and just like that, the couple carried on as though nothing had transpired.
The Alleged Bridgette Radebe and Ian Khama Affair 
The next time allegations of cheating came up in Radebe's marriage was in 2019 when rumors came up that Bridgette Radebe was having an affair with Ian Khama, former president of Botswana. This was at the height of the tensions between Khama and his successor, President Mokgweetsi Eric Masisi when Bridgette Radebe had allegedly mediated in efforts of easing the tension between the two as a friend of Khama's.
Once the affair made headlines, it created a whole lot of tension between the two countries and resulted in Bridgette being banned from traveling to Botswana. The alleged affair, in addition to other theft rumors, raised a lot of dust. Khama was the first of the two to speak up, he cleared the air by saying they were just friends and that the rumors were started by President Mokgweetsi Eric Masisi in an attempt to get back at him.
Bridgette Motsepe-Radebe eventually spoke up about the allegations in a press conference where she said her father and Khama's father were friends and that the friendship continued between both families even after their parents are no more. She further said her friendship with Khama grew because they schooled together in Botswana. She also stated that she was not having any issues with Jeff Radebe as the different reports insinuated. To their credit, however, the couple weathered this particular storm and came out stronger.
Is Bridgette Radebe More Accomplished Than Her Husband?
The debate about just how successful Bridgette is compared to her husband Jeff has been a long and hard one, even though opinions are still divided as to who is more accomplished. Contrary to the initial misconception surrounding her success and the fact that she is Patrice Motsepe's sister, a look at her profile proves she earned every good name she has for herself. Her entrepreneurial efforts started in the mining sector in her early 20s when she was engaged in a shaft mining operation.
Defying the oppressive laws at a time when it was not allowed for black people to own mining licenses, she rose through the ranks until she became the first black female South African deep-level-hard rock miner in South Africa. She founded Mmakau Mining which had interests in mining coal, ferrochrome, gold, and uranium while also exploring other mining assets. Besides her work as a miner, Bridgette Radebe has equally occupied some important positions in the South African Mining Sector. She is currently the President of the South African Mining Development Association and has received some prestigious awards for her work.
Seeing as Bridgette and Jeff Radebe run in different circles, it may not be so easy to determine who is more accomplished, especially since both their names hold a lot of power in different circles. However, considering just how much of himself Jeff has given to public service over the years, starting from his years as an activist, it is safe to say he is more accomplished than his wife even though she is just as powerful as he is.
Jeff Radebe Has Three Children From His Marriage
Although there are no specifics to the number of years Jeff Radebe has been married to Bridgette Radebe, it is apparent that the union between the two has lasted a very long time. Considering that he is 70 years old and has only been married once, the speculations are that they have been married for well over 30 years. Testament to this is the fact that their children are all grown up and well established on their own different paths. Together, Jeff Radebe and his wife have three children; two daughters and a son.
Mandisa Radebe
AKA: DBN Gogo
Age: 30
Career: DJ
Born on the 30th of May 1993, Mandisa Radebe rose to fame as DBN Gogo far from her family name and the influence it wields. For a long time, she nurtured her talent in house music while studying Law and generally keeping the world in the dark about her family ties. It was not until 2019 when she started calling attention to her work and brand of House music that the public started looking into her and unearthed details of her lineage.
Many have applauded her grit and ability to stay off the limelight until she made her own name. 2020 was a busy year for the rising star who has staked her claim on the DJ world and is, without a doubt, one of the hottest on the scene right now.
Mandisa seems to be the only one of Jeff Radebe's children whose life and activities are known to the public. His other children Vukani Radebe and Malaika Radebe lead very private lives and as such, not much is known about them. Because the rest of his children are not known, speculations came up about Bongani Radebe being one of his children but it turned out that they share no relations at all.