Thabo Mbeki is not dead but very much alive and still plays an active role in running his foundation known as Thabo Mbeki Foundation. He has been rumored to be dead severally but these were all rumours and has no basis
Sort of like the Kennedy and Bush families of the United States of America, the Mbeki family of South Africa is arguably one of the most popular and strongest political dynasties in the country. Right from the time the country was under apartheid rule, members of the family gave up everything they had, including their lives in some cases, to ensure that black South Africans would no longer be marginalized and would later take control of their country's destiny.
One member of the family who was able to later go ahead and hold the highest office in the land was Thabo Mbeki, who first served as Deputy President under Nelson Mandela before becoming President.
Summary of Thabo Mbeki's Biography
Full name: Thabo Mvuyelwa Mbeki
Gender: Male
Date of birth: 18 June 1942
Thabo Mbeki's Age: 81 years old
Ethnicity: Black
Nationality: South African
Zodiac Sign: Gemini
Sexual Orientation: Straight
Marital Status: Married
Thabo Mbeki's Wife: Zanele Mbeki ​(m. 1974)
Thabo Mbeki's Children: Kwanda Mbeki
Thabo Mbeki's Parents: Govan Mbeki and Epainette Mbeki
Siblings: Linda (sister, late), Moeletsi (brother) and Jama(brother)
Thabo Mbeki's Height in Inches:  5′ 2½″
Thabo Mbeki's Height in Metres: 1.59
Thabo Mbeki'sNet worth: $11 million (est.)
Famous for: Being part of the people who fought against apartheid rule and also for being a former President of South Africa
Thabo Mbeki's Instagram: theofficialthabombeki
Biography of Thabo Mbeki
Thabo Mbeki was born in Mbewuleni, Cape Province, on the 18th of June, 1942. He is one of four children to South African politician and political prisoner Govan Mbeki and his wife Epainette.
As a result of his father's involvement in anti-apartheid activities, Mbeki got involved with the struggle quite early. At the age of 14, in 1956, he joined the African National Congress (ANC) Youth League where he was charged with mobilizing students in support of the ANC. By 1962, however, the young man and other ANC Youth League members had to flee the country after the organization was banned.
Thabo Mbeki subsequently moved to the UK where he began drawing international attention to the activities of the apartheid government in South Africa. In 1963, when some members of the ANC were arrested, including his father and Mandela, Mbeki approached the United Nation's special committee against apartheid to plead for the life of his father. In 1964 his father and others were found guilty and expected to be sentenced to death. He subsequently led a march of students to meet the UK prime minister and deliver a petition signed by over 660 students and staff of the Sussex University where he was schooling. This went a long way in sparing the lives of the imprisoned ANC members.
For many more years, Thabo Mbeki would continue to draw support against the apartheid government in South Africa. This required him spending time in countries like the United States of America, Nigeria, Zimbabwe, Russia, and Swaziland among others. By 1994, when the first democratic elections were held in South Africa, Mandela won and Mbeki was named Deputy President. He would later go on to succeeded Nelson Mandela in 1999, serving two terms before resigning in 2008 with nine months left in his second term.
Education
Thabo Mbeki received his primary education in Idutywa and Butterworth. For his secondary school education, he attended Lovedale Missionary Institute where he was later expelled for holding student strikes. This left him with no option but to study at home and then sit for his matriculation exams at St. John's High School Umtata.
In the following years, Mbeki completed his A-level examinations, similar to those taken in schools in England, and enrolled to study economics as an external student with the University of London. He would later go-ahead to complete the requirements for a bachelor's degree in economics at Sussex University in May 1965. That same year, he returned to Sussex to do his Masters in Economics and Development, completing it in May 1968.
In the 90s and 2000s, after the apartheid South African government had become a thing of the past, Mbeki was awarded numerous honorary degrees from institutions in his home country and around the world. In 1994, he received an honorary doctorate in business administration from the Arthur D Little Institute, Boston. The University of South Africa would go-ahead to give him an honorary doctorate in 1995, the same year his alma mater Sussex University awarded him an honorary doctorate of laws. Rand Afrikaans University awarded Mbeki another honorary doctorate in 1999 while Glasgow Caledonian University awarded him an honorary doctorate of laws in 2000. His final honorary degree came in 2004 when the University of Stellenbosch awarded him an honorary doctorate in commercial sciences in 2004.
Foundation
Following his retirement from office, Thabo Mbeki established the Thabo Mbeki Foundation, a non-profit organization that aims to support efforts aimed at promoting the achievement of Africa's Renaissance. The foundations plans to do so by serving as one of the intellectual hubs of the African Renaissance Movement, contributing to the training of the African youth to become change agents, consistent with the interests of the peoples of Africa and humanity as a whole, and facilitating interaction and co-operation among progressive formations in Africa and the African Diaspora.
Fact Check: Is Thabo Mbeki Dead or Alive?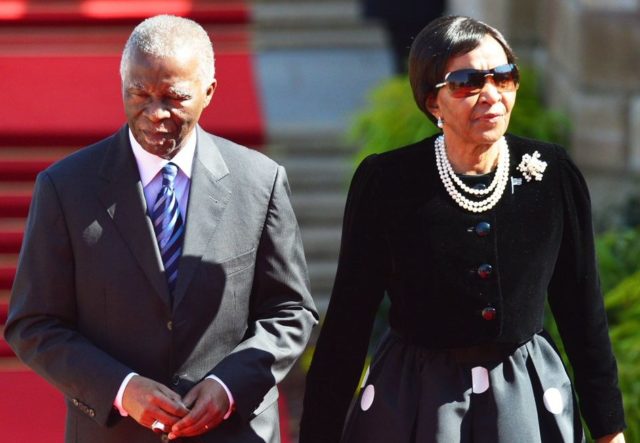 Thabo Mbeki has been a victim of several death hoaxes that have been prominent on the internet in the past decade. The former South African leader is however very much alive and still plays an active role in running his foundation. He has further been spotted in public alongside his wife on numerous occasions attending state events.