Patrice Motsepe is married to the very beautiful Precious Moloi, a philanthropist and fashion entrepreneur, and together with his wife, they are parents to three boys; Kgosi, Kabelo, and Thlopie.
Motsepe is a private individual, but his decision to keep a low profile on certain aspects of his life has never deterred the world from wanting to know more about him. Here's more on who his family members are and their respective endeavors.
Patrice Motsepe Shares Three Sons With His Wife
Motsepe and his beautiful wife, Precious Moloi, are parents to three lovely boys. The power couple gave birth to them after their marriage in the year 1989. The two supposedly met for the first time while studying at the Wits University. Years later, after they graduated, Patrice found love in the arms of Precious and proceeded to seal his love for her by making her his wife.
The pair has been committed to raising their children ever since they had them. The mining billionaire has no daughter of his own. It is unknown if it was planned or not, but what matters most is that he and his wife are proud parents. They are fulfilled with their three sons and all they've been able to accomplish so far.
Meet Patrice Motsepe's Children
Being born into a wealthy family means you're pretty much guaranteed to be famous. For most rich kids, flaunting their parents' wealth, especially on social media, is one way to prove they belong to the elite class. But then, there are also kids born into wealthy families who cherish their privacy and literally shy away from public drama or unwanted attention. The Motsepe brothers belong to the second class.
Despite their father's wealth and connection, the brothers have managed to stay humble and out of trouble all their lives. The few times they've made headlines are all for good reasons, and we are certain their parents must be proud of them.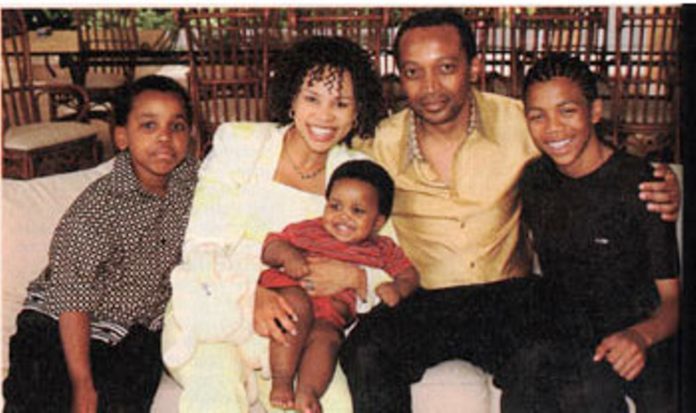 The couple raised their three sons in their mansion in the city of Johannesburg. They,
however, have massive properties across the country, including a sprawling apartment that worths a whopping R69 million. The property, which they acquired in 2014, is located in Cape Town, precisely outside Bishops Court, and covers a 12,000 square meters plot.
Interestingly, the Motsepe family home is surrounded by well-known individuals such as South Africa's best-selling author Wilbur Addison Smith and the Spanish and German embassies.
Who are the Motsepe brothers?
1. Thlopie Motsepe
Thlopie Motsepe is the first son of Patrice and Precious Motsepe. He was born in South Africa years ago. Information about his date of birth is not readily available for public consumption, but it is believed that he was born either in the late 1980s or early 1990s. The name of the institutions he attended, the year he graduated, and the course he studied are not open to public scrutiny.
His father's business interests clearly influenced Thlopie's career. In fact, he was groomed to fulfill high expectations. He is already doing exploits in the business world. He is said to be one of the owners of the solar energy company ePower Holdings. The firm, which reportedly supplies communities that are not connected to the electricity grid with Green Renewable energy, is co-owned by Rudi van der Westhuizen, Tariq Yusuf, and Brent Peterson.
Sometime in March 2021, the young man succeeded his father as the president of the premier league soccer club, Mamelodi Sundowns F.C. The development follows Patrice's ascension of the Confederation of African Football (CAF) presidency seat in March 2021. The South African mining magnate took over from Madagascar's Ahmad Ahmad in leading African football.
Thlopie is said to have been groomed for the position way before 2021. He has always been around in the club's meetings and other engagements, so his installation came as no surprise to many people. Not much is known about the young man's personal life; thus, it is difficult to tell if he is in a relationship or not.
Unlike most rich kids, Thlopie maintains a low profile ven on social media. He doesn't have a Twitter while his Instagram account is a private one. Thlopie's few pictures on the internet suggest he doesn't live a flashy lifestyle. However, social media went abuzz sometime in 2011 after a Twitter user shared that Patrice's then-twenty-year-old son owned a Supercharged B7 Audi RS4.
Tlhopie Motsepe (Patrice's 1st born son) is 1 lucky lad he is only 20 & he drives/owns a Supercharged B7 Audi RS4

— Boikanyo Kabelo (@br_kabelo) May 13, 2011
Neither the billionaire nor his son reacted to the claim.
2. Kgosi Motsepe 
Kgosi Motsepe is the second son of Patrice and Precious. Not much is known about his personal life and career, as expected. His date of birth, the schools he attended, when he graduated from them, and more are yet to be publicly published. It is believed that he was born in the early 1990s, going by the time his parents got married and had his elder brother.
Since there is no information about the nature of his job, it is difficult to tell if his father influenced his career choice. The young man is not popular on social media as well. His privacy seems to be important to him, just like his elder brother and parents.
3. Kabelo Motsepe
Patrice Motsepe's children are strangers to the spotlight, including Kabelo. He is hardly seen in public like Thlopie, who follows Patrice to some of his business meetings. Kabelo's life began in the early 1990s or thereabout. He has since left school, but there is no information about his academic pursuits and graduation.
Also, we are not sure what he specifically does for a living and what his relationship life is like. We believe that the young man is doing well for himself, just like his elder brothers. None of the brothers has made headlines for being involved in any scandal or drama that comes with being a rich kid.
Is Any Of Patrice Motsepe's Children In Business With Him?
Yes. Mr. Motsepe and his first Thlopie are known to have had a business relationship over the years. This same connection paved the way for the younger Motsepe to succeed his father as the president of Mamelodi Sundowns.
Patrice could have a business link with his other sons, but it's not public knowledge yet. Generally, he shares a strong bond with his kids. He keeps a cordial relationship with each of them and has been a supportive father right from day one.