Connie Ferguson's net worth is $2 million which is the equivalent of ZAR 35 million. Connie Ferguson is a South African-based Botswana actress, filmmaker, producer and businesswoman whose huge net worth funded her lavish lifestyle with a beautiful mansion and luxury cars.  
Connie Ferguson has been in the South African entertainment industry for over two decades. She has had a very successful stay in the industry, so much so that she has amassed a net worth of $2 million over the years. Connie Ferguson, also known as the queen of South African television, is not just a beautiful and talented woman; she is also very industrious. Aside from her acting career, which is the major source of her income, Connie Ferguson has also built her net worth through other business ventures.
She is a model, an entrepreneur, and has bagged a lot of endorsement deals. Combining all of these with her acting career has not been so easy, but being the industrious woman she is, Connie Ferguson has been able to pull it through, and her hard work has obviously paid off. It is not every day we get to see South African female celebrities with a net worth that is up to $2 million.
Sources Of Connie Ferguson's Net Worth of $2 Million
Her Filmography
KONI Multinational Brands
Ferguson Films
The face of Garnier's Even & Matte
Brand Ambassador for Eskimo, Wella Sheen, Vodacom, and Black Chic
Connie Ferguson Made a Large Chunk of Her Net Worth For Starring in Generations for 18 Years
The beautiful and independent Connie Ferguson started her career in 1991 as a model before switching to acting with minor roles like in Tropical Heat and Crime Reporter. In 1994, she landed a major role in one of Mzansi's popular television soapies, 'Generation,' where she played the role of Karabo Moroka, the wife of Tau Mogale. She worked with trendy and well-known celebrities such as Sophie Ndaba, Menzi Ngubane, and Slindile Nodangala.
After being a part of the Generations TV series for 16 years, she decided to leave in 2010 to venture into other career options. Four years after her departure, she made a come back in 2014 to assist with the relaunch of Generations: The Legacy for two years.
The exact amount Connie Ferguson was paid as a cast member of Generations and Generations: The Legacy for the 18 years she played a major role is unknown. However, judging from the fact that she played a major role for those 18 years and that it is one of the most popular South African TV shows, you can tell that she made a fortune from the series.
Other Movie Roles Also Contributed To Connie Ferguson's Net Worth
It is worthy of note that Connie Ferguson is one of Mzansi's most well-paid actresses. Playing one of the lead roles in Generations brought her to the limelight, and ever since, she has kept her light shining.
While on Generations set, the hardworking thespian also featured in other productions like Solly Loves Kina (2002) and Love By Many Way's' (2003). She also hosted the show Late Night News with Connie Ferguson from 2004 to 2007. In 2010, the same year she left Generations cast, she was a judge at Comedy Central Roaster. The amount she was paid for these jobs is unknown. However, the fact that she was already popular by then means she earned good pay.
She has also been featured in popular television series like Rockville and is currently a member of The Queen cast. Rumor has it that she was one of the most paid actresses on the South Africa TV series, The Rivers, where she featured as a guest act. She also receives a huge sum of money presently from her role on The Queen, and although her exact salary is classified information, it is estimated that she receives up to R130,000 – R150,000 per month.
All of these have contributed to Connie Ferguson's net worth of $2 million. You can already tell that she is a very hard-working woman and deserves all the luxury and wealth she is currently enjoying.
Connie Ferguson is The Co-founder Of Ferguson Films
Connie Ferguson was previously married to Neo Matsunyane, a fellow actor. They got married in 1993, and after five years of marriage, they got divorced in 1998. Three years after divorcing her first husband, she married Shona Ferguson, a director, and business mogul. Connie and Shona Ferguson have been married since November 2001 to date.
After leaving Generations in 2010, Connie Ferguson and her husband Shona Ferguson founded their own television and film production company, Ferguson Films, in 2010. The company has successfully produced several popular TV shows. Their first production was Rockville in 2013, which M-Net commissioned.
Other television shows produced by Ferguson Films include iGazi, The Gift, The Throne, The River, The Imposter, and The Queen. Connie has also been featured in some of their film productions, like The River and The Queen. She is still a cast member of the latter has also been nominated for a couple of awards.
Her beauty products line and endorsement deals also contribute to her wealth.
After serving as the face of Garnier's facial product, Even & Matte, Connie Ferguson launched her own line of beauty products, and it kicked off with the fragrance 'True Self' in 2008. Six years after launching the fragrance, she launched a body lotion in 2013. These body care and beauty products are a part of her company, Koni Multinational Brand. Her beauty products are sold in the biggest supermarkets in South Africa. She is also the face and model of her skincare products.
Connie Ferguson has modeled for big brands like Eskimo, Black Chic, Vodacom, and Wella Sheen – all of which contributed to making her one of the richest celebrities in South Africa.
Different brands Connie Ferguson had endorsement deals with include:
Garnier facial products
Eskimo
Vodacom
Wells Sheen
Black Chic
Connie Ferguson Has A Magnificent House And Luxurious Car Collection
Connie Ferguson is rich and knows how to give herself luxurious treats. Besides expensive vacations she goes on with her family, they also live in a magnificent house and own expensive cars. The Fergusons live in a mansion that is estimated to be worth R22 million.
The mansion has several rooms, a beautiful driveway, and carefully picked expensive furniture. It is also surrounded by green plants to give the occupants an amazing feel of nature, and most importantly, it has enough garage space for parking her expensive cars.
Let's take a look at the cars in her garage, their cost, and specs below:
1. Maserati – Price: $86 000
2,979 cc V6 twin-turbo engine
Can drive up to 345 bhp (257 kW; 350 PS) at 5750
Can drive up to 60mph in 6 seconds.
2. Mercedes Benz AMG63 – Price: $92,000
503 maximum horsepower @ 5,500-6,250 rpm.
12.6 cu ft. Cargo capacity
Can accelerate from 0-60mph in 3.8 seconds
516 lb-ft Torque
Connie Ferguson was gifted this particular car by her husband, and of course, she didn't fail to show her gratitude and appreciation for it on social media.
3. Range Rover – Price: $92,000 (est.)
557.86 horsepower @6000-6500rpm
700Nm@3500-5000rpm torque
2995 engine displacement
Engine uses petrol
4. Rolls Royce – Price: $450,000 (est.)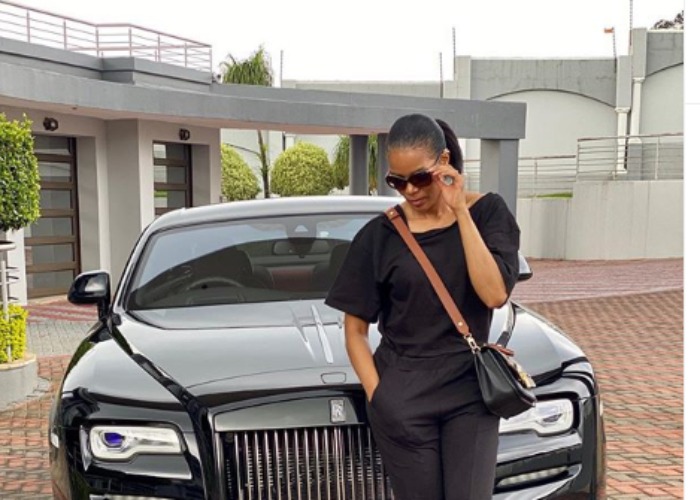 Maximum Horsepower @ RPM
563 @ 5000
Maximum Torque @ RPM
664 @ 1700
Fuel Capacity/Gas Tank Size – 23.8
5. G-Wagon – Price: $131,600 (est.)
576.63bhp@6000rpm Maximum power
850Nm@2000-5000rpm maximum torque
Seating capacity of five
6. Bentley – Price: $179,725 (est.)
664 lb-ft torque
626 hp horsepower
24.0 Gal. fuel capacity
4 standard sitting