Sizwe Dhlomo is a South African radio and TV personality with an estimated net worth of R4 million. This makes him one of the richest radio personalities in the country.
Interesting, controversial, talented, hardworking, and rich are ways to describe South African media personality Sizwe Dhlomo. From his initial career as a computer programmer to building a niche for himself as a TV and radio personality and a host and presenter, Sizwe has accumulated an estimated net worth of around R4 million.
Apart from his career in the media, which has been the main source of his wealth, the media mogul has also recorded millions as an entrepreneur and farmer, among other things.
He Started His Career As A Computer Programmer
Born in Durban on 21 June 1983, Sizwe may currently be in a profession that is making him happy and sending fat checks into his account, but that has not always been his first choice of career. Initially, he had dreams of becoming a computer programmer. However, after he finished from Kingsway High School in Amanzimtoti, he moved on to study the course at the Durban Institute of Technology.
After his education, he took a job with one of the biggest banks in the country. From there, he was able to break into the entertainment world when he emerged as one of the finalists of the MTV base VJ contest. He resigned from his work and proceeded to Johannesburg, where he started a new phase of life.
For someone who had never dreamed he would break into the South African entertainment, he found it very hard believing his sheer fortune, so he had to pinch himself sometimes to believe he was not dreaming.
Sizwe Dhlomo Built His Net Worth Of R4 Million Through Many Endeavors
Sizwe Dhlomo's R4 million net worth was built over a long time through his many works and other business dealings. While his name may easily be associated with his works as a media personality, presenter, and host, he is a man whose hands are filled with many more endeavors.
Initially, the claims on social media were that he managed to stay at the top of his game and gain so much wealth due to the connection he has in the industry. On the contrary, he made it clear that his fortune has nothing to do with any connection. He stated that it was from all that he has been doing in the last fifteen years; grinding.
Dhlomo Has Made Money As A Radio Presenter
Sizwe Dhlomo is, without any doubt, one of the top celebrity radio presenters in the country. Before he started the career therein after he left SABC1, he began with YFM, where he spent less than two years before he moved to 947. His career here also did not last a long time before he packed his things and left.
His next destination became Radio 702, which became where he rose to gain the fame he enjoys today. Years later, he is still with the station, and he still rakes in money for his show, Sizwe Dhlomo 702. In 2020, he returned to Kaya FM, where he now hosts the Afternoon Drive With Sizwe Dhlomo.
Dhlomo's name will always emerge among the big names in the radio business in South Africa, but what he actually makes from this is not known. More so, there has continued to be a debate on how much the top radio presenters in the country, with the dominant speculation claiming they don't take home less than R3000 each month.
Before he turned to radio, Sizwe initially worked on TV as the presenter of SABC's Live, where he worked with Bonang Matheba and Minnie Dlamini. He left the job at the end of 2011. Although his job on TV did not add significantly to his fortune, it paved the way for him to have a place on Radio.
Sizwe Dhlomo Is Also A Farmer
Another important way that he was able to make money is through his work as a farmer. The media personality has never been afraid to get his feet and hands dirty on the farm. He has a large farm that originally belongs to his family.
He has put his heart and soul into his farming business which he revealed in 2020 brought him close to 150 tons of eucalyptus Smithii leaves. It is not known what this is worth in monetary value, but it is believed to be worth so much. Sizwe also revealed that he was replanting 83 hectares of timber clones.
The Kaya FM presenter also has many animals to his name, including a French horse which he churned out between R35,000 to R4,500 to acquire. He made it known that the two years old is a pure Percheron. Interestingly, that is not the only horse he has.
Sizwe Dhlomo Has Put His Money In Real Estate And Restaurant
Sizwe once claimed that he owned a mountain of his own, like American rapper Kanye West. He stated that he gave some part of his land for rent to cellular networks for cellphone towers.
While this has never been verified, it is known that he is into the estate business and has several properties. What remains unknown is the number of houses he has, the location, and the actual worth. For someone who is known to be eager to brag about his possessions and status, he has been very private about matters concerning his home.
In 2012, reports had it that he founded  Scooters Pizza Ferndale, a restaurant in South Africa. Since then, nothing further was said about it.
He Inherited Some Part of His Net Worth From His Grandfather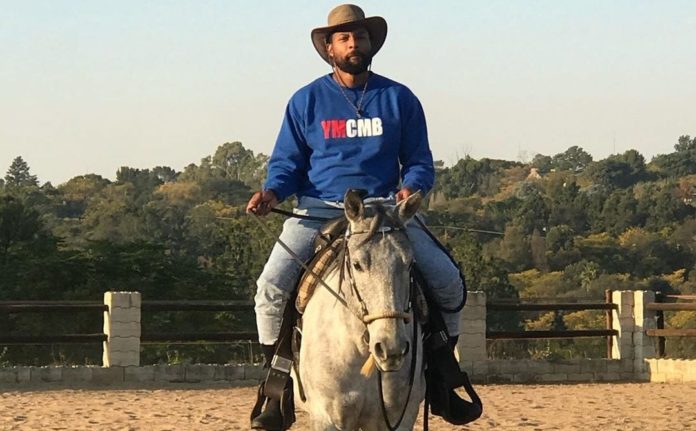 The radio presenter has no doubt worked for a good chunk for what he has to his name, but it has also been indicated that he has also inherited a good part of his fortune from his father, a very wealthy man and a landowner.
As a result of the massive size of the land that belongs to his family and on which he works, he once got dragged by AKA during a Twitter war when the rapper questioned how Sizwe's grandfather was able to acquire so much land during apartheid, wondering if he was a spy at the time. This further got things heated between the two men before they later settled.
Sizwe did not meet his grandfather because the former died before the latter was born, but that did not stop the much-amassed wealth from trickling down to him. Despite the things he inherited, he indicated that there was no cash attached to him. He had to work hard for his money.
The Media Personality Is Not A Fan of Forex Trading
Although he has many means through which he makes his money, one is not through Forex trading. In fact, he once took a shot at them, claiming that most of those claiming to be trading forex are nothing short of scammers. He claimed that all the cars they flash on social media are rented and do not have the wealth they always claim to have.
The presenter claimed that most of those claiming that they make money from trading forex actually make their money from trading forex and seminars and not from the Forex itself.