AKA doesn't seem to disappoint with his music and women as he has released some of the best hip-hop songs in South Africa, and dated some of the most beautiful women. It is no news that the favorite Mzansi rapper has parted ways with his longtime love, DJ Zinhle. What may be news for some is that there is a new woman in his life named Nelli Tembe.
Apart from the good looks, she is the direct opposite of his past lovers as she is far younger than the tapper on one hand, and she is not a celebrity. Nelli is quite close to a few other celebrities, but to the fans of AKA (Kiernan Jarryd Forbes), she remains a mystery that needs to be understood.
Nelli Tembe Is A Very Private Individual
Super Mega's new woman is on the private side of things, and she keeps most details about herself away from the public. Her actual date of birth is not known, but there are speculations that she was born in 1999, which places her more than 10 years younger than her man.
It is known that Nelli Tembe was born in Durban, South Africa, but her childhood and education remain as hidden as most other things about her. She is, nonetheless, said to be the younger sister of multi-award-winning South African actress and singer, Nondumiso Tembe.
If, as alleged, she is the younger sister of the SA actress, then, Nelli could have as well been brought up in New York in a very rich family, as the Tembes are known to be a very rich family.
Her Relationship With AKA Started In 2020
Although the exact time that their relationship started or how they first met is not known, the first attention that was drawn to them as a couple was after a video was shared on social media, in which AKA was seen kissing a mysterious lady who happened to be Nelli Tembe.
At the time, it was not known that AKA and DJ Zinhle had ended their relationship, and so it was thought that he was cheating on her. AKA cleared the air that he had been single since 2019, and he was thankful to whoever leaked out the video as it helped clear things up. Since then, the two have continued to be very close as the rapper keeps sharing his photos with Nelli on social media.
HAPPY FRIDAY!!!! 💜🍹💜🍹💜🍹 LETS GOOOOOOO!!! pic.twitter.com/VzMfLChIvK

— AKA (@akaworldwide) August 21, 2020
As stated, Nelli Tembe is very different from the other women that came into the life of AKA. First of all, of the three women he is known to have dated, she is not just younger than him by over 10 years, but she is also the only one younger than him. Bonang was older than AKA by a year, while DJ Zinhle is older than him by more than five years. In addition to that, she is the only non-celebrity that he would date since 2008. She doesn't seem to be after the attention that comes with fame as she keeps her social media handles at private.
Before Nelli Tembe, There Was DJ Zinhle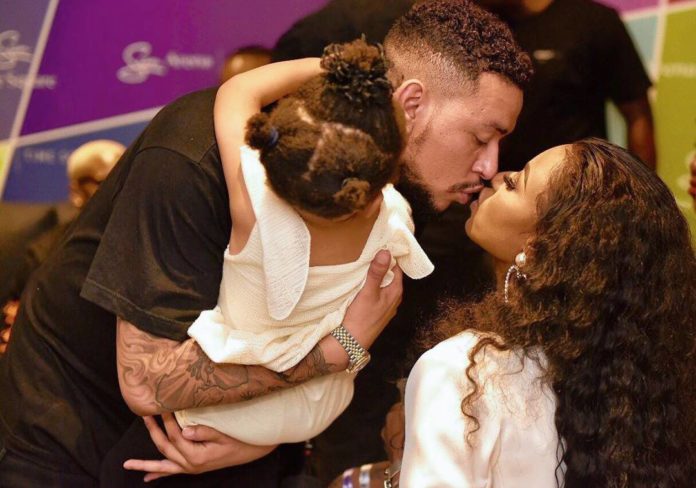 Shortly before he started dating Tembe, AKA was in a relationship with DJ Zinhle. The relationship between the DJ and the rapper dates back to 2012 when they first met in a club in Botswana. Before then, Zinhle had once DMed the rapper that she would want to have a song with him. After their first meeting in the club, AKA walked up to her and started a conversation. One thing led to the other, and they started dating.
By 2015, Forbes and the DJ, whose real name is Ntombezinhle Jiyane, had a daughter together. but shortly afterward, it emerged, according to Zinhle, that her man was cheating on her with none other than Bonang. What was more was that he confessed it to her after an honest discussion, and so she decided to end the relationship. Bonang promised to get her legal team on the matter.
Because of the messy nature in which the relationship ended, many believed that Zinhle was never going back to her baby daddy, but they returned to each other's arms in 2018. Unfortunately, the relationship was not to last a long time; they parted ways again towards the end of 2019. The rumor was that the relationship ended because of the interference of friends and family members mostly because of the age difference between them, as well as because the DJ partied with AKA's nemesis, Cassper Nyovest.
Zinhle later spoke on the rumor, noting that she was behind the headline claiming she was dumped by AKA because of Cassper. AKA and his baby mama continue to be very good friends mostly because of their daughter, Kairo Owethu Forbes. He claims that they are all a big happy family without necessarily being in a relationship. It is still a subject of debate on whether AKA will leave Nelli again and pitch his tent with Zinhle who has also found herself a new man in Murdah Bongz.
AKA Also Dated Bonang Matheba
When the dust was settling on the controversial breakup between AKA and Zinhle, there was a whirlwind of rumors stating that Bonang and AKA were dating. It didn't take the two long before they confirmed that they were dating, neither did it take them long before becoming one of the favorite celebrity couples of South Africa.
The two looked like a match made it heaven, but the relationship went hell ways; it ended in a rather messy manner. Based on the tweets of AKA, the rumor was that the relationship came to an end because Bonang allegedly bewitched him after he found stones from the river tied up in his room. Some believed the rapper started the whole thing because he released a song, and he wanted to trend.
In his song, Beyonce, he said after he left his baby mama, he thought she was going to be his soulmate until she became a bomb bae. Although he did not mention Bonang's name, almost everyone seemed to agree she was the one he was rapping about, since she is also known as Queen B. He further added in the song that he waited for two years just to see her without her waves on.
There Are Rumors That Nelli Tembe Dated Drake
There have been speculations for a while that Nelli Tembe had a brief relationship with Canadian born American rapper, Drake. The rumor was fuelled by a picture shared on Twitter, in which a woman believed to be Nelli was seen to be having a swell time with the rapper.
According to the now-deleted tweet, Nelli and Drake had the time together in 2016, which marked the period when it was rumored that the two dated. While the rumor continues, neither Nelli Tembe nor Drake has made any comment on the alleged relationship.