Ntando Duma (born 29th August 1995) is a South-African model, actress and television personality Ntando Duma who is primarily known as a presenter on e.tv's youth programming block Craz-e.
Instagram has enabled the rise of the careers of so many people in the entertainment industry around the world. One South African who appears to have capitalized on the impact of the photo-sharing website is Ntando Duma, who makes sure to always keep her followers engaged through the sharing of numerous sultry photos. For people not subscribed to the platform, the beautiful and clearly talented Orange Farm native can be seen in her roles as Zinzi Dandala on e.tv's soap opera Rhythm City and her hosting of e.tv's youth programming block, Craz-e.
Summary of Ntando Duma's Biography
Full name: Ntando Duma
Gender: Female
Date of birth: 29 August 1995
Place of Birth: Orange Farm, Johannesburg, South Africa
Ntando Duma'sAge: 28 years old
Ethnicity: Black
Nationality: South African
Zodiac Sign:  Virgo
Sexual Orientation: Straight
Marital Status: Unmarried
Ntando Duma's Children: 1
Siblings: 3
Education: Kwabhekilanga High School in Alexandra in Gauteng and Boston Media House.
Famous for: Being a presenter on e.tv's youth programming block Craz-e
Ntando Duma's Instagram: dumantando
Twitter: @dumantando20
Ntando Duma's Early Life and Career Beginnings
Ntando Duma was born on the 29th of August 1995 in Orange Farm, a township located near Johannesburg, Gauteng Province, South Africa. She was raised alongside her three siblings, including her reported twin sister Thando, by her grandmother and mother.
Duma's father is said to have left the family when she and her twin sister were only three years old. Speaking about her life while growing up, the actress has said that having an absent father did not stop her from having a normal childhood even though the family did not have much.
Ntando Duma attended Kwabhekilanga High School in Alexandra in Gauteng before studying media at Boston Media House. She has since then launched her career as a model, TV personality, and actress. Her claim to fame later came when she won e.tv's presenter search for their new youth-oriented show – Craz-e.
Keeping it in the e.tv family, Duma later joined the cast of the network's soap opera Rhythm City where she played the role of Zinzi Dandala. The soap revolves around the lives of a select few trying to make it in the music industry. It focuses on issues like backstabbing, homosexuality, abortion, infidelity, drug abuse, and the love lives of those in the business.
The character Duma plays is described as a young sexy girl, a go-getter, and a definitive troublemaker. She is also noted to be an intelligent and mischievous character that lies a lot. Her first appearance on the show was her dancing seductively on top of tables, hinting at her feisty and unpredictable behavior.
The show is one of the most viewed local soap opera series in e.tv's docket. It was a surprise hit with the public with over two million viewers per episode, hence bringing huge fame and publicity to Ntando Duma's career. Rhythm City has further served as a launching pad for some of South Africa's biggest stars today and has also had many notable guest actors and actresses.
Other television series in which Duma has appeared in or presented include shows like Sistahood and Shizniz. As a model, she has participated in the Soweto Fashion Week Runway of 2015. She is also the founder of the Youth Development campaign – Inspire a Teen SA.
Read Also: What South African Soapie Actors And Actresses Earn is Unbelievable!
Details of Her Family Life
Ntando Duma is one of four siblings by her parents. Her father, who was not present while she was growing up, passed away in 2008. She described that period as 'the lowest point in her life'.
The TV presenter and actress is not the only famous person in her family as her sister Thando, who is widely reported to be her twin although none of them have confirmed it, is an events DJ/vocalist who goes by the name of DJ Lady Amar.
In regards to her relationship, Ntando has been in an off-again, on-again relationship with her boyfriend Junior De Rocka. The couple have a child named Sbahle Mzizi.
Quick Facts about Ntando Duma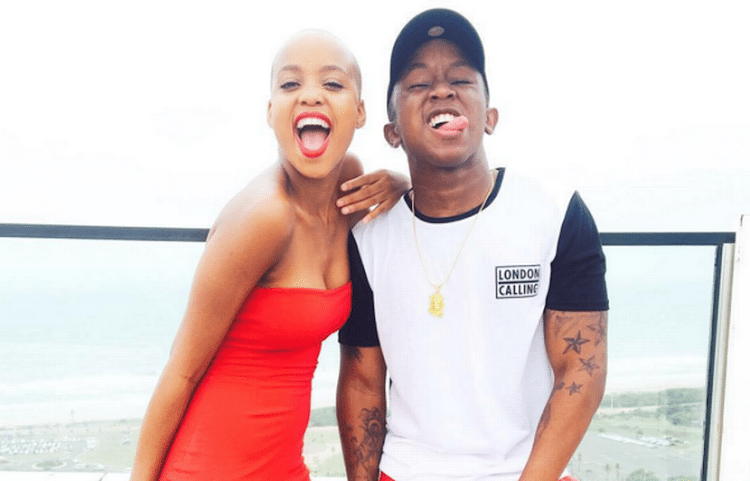 1. Ntando Duma has said on record that winning e.tv's presenter search for Craz-e was the best thing that could have ever happened to her. She has presented the show since 2014.
2. She cites Pearl Modiadie as her role model. Interestingly, Pearl Modiadie also hosted Craz-e before Ntando.
3. Ntando has confirmed that her celebrity crush is Bohang Moeko, a South African actor known for his role as Victor Ndou on Mzanzi Magic's soap opera – Zabalaza. Moeko also competed for Mr. South Africa in 2013.
4. Ntando Duma worked at Bee Strata – a business management consultancy firm as a verification officer before she became the presenter on Craz-e.
5. She aspires to be an inspiration to others through her success as a businesswoman and entertainer.