M-Net's original production, Gomora, is a South African TV drama series that airs on Mzansi Magic from Monday to Friday at 19h30. Currently, in its second season, the thriller soapie has caught the attention of a massive South African audience with its enthralling storyline. The show, which focuses on inequality in society, follows the story of the different lifestyles of two families whose worlds eventually got intertwined by tragedy. September 2021 came with a breakup season in Gomora as Melusi called it quits with Thathi, and Zodwa broke up with Bongani.
Last month, we also saw that Don and Zodwa had become an item, and he is threatening Bongani to stop distracting her. This October, the soapie is a must-watch as Don fights to fully win the heart of Zodwa back while Bongani plans on taking an important step in his relationship with Zodwa. Let's see how the drama unfolds and who amongst the two men is willing to lose the woman he loves.
Gomora Teasers For October 2021
Episode 115: Friday, October 1st, 2021
In the first episode of the Gomora teaser for October 2021, Melusi gets trapped in a messy situation. Mazet turns the tables. Don's party ends in a tragic manner, leaving tears in the eyes of people.
Episode 116: Monday, October 4th, 2021
Glady's worst nightmare comes to pass while Melusi gets set to reveal his secrets. Ntokozo finds himself at loggerheads with Don.
Episode 117: Tuesday, October 5th, 2021
Melusi fights with himself to reveal his long-hidden secret to Thathi. Ntokozo plans on getting closer to Don, and on the other hand, Don tries to settle his quarrel with Sibongile.
Episode 118: Wednesday, October 6th, 2021
Teddy and Ntokozo return home and disrupt the peace in their families. Don makes a special order for Teddy's birthday gift. Gladys accuses Melusi of not making efforts to become a good parent.
Episode 119: Thursday, October 7th, 2021
In the 119th episode of Gomora, Don lands two new hijacking candidates for his operation prospects. Zodwa receives an unexpected sum of money.
Episode 120: Friday, October 8th, 2021
Gladys flips the switch on Ntokozo. Melusi and Thathi have their first fight. Zodwa has had enough as Don goes too far while trying to win Teddy over.
Episode 121: Monday, October 11th, 2021
Many people didn't anticipate this Gomora teaser this month as Gladys and Thathi get into a physical fight. Zodwa and Bongani reignite their romance. Ntozoko gets a spot in Don's crew as he replaces London.
Episode 122: Tuesday, October 12th, 2021
The Dlamini family suffers a devastative loss. Ntokozo risks causing strain on his relationship with Teddy.
Episode 123: Wednesday, October 13th, 2021
Finally, Gladys makes known her big secret to Thathi. Melusi and Don get into a physical fight and almost come to blows. Zodwa plans big for the evening.
Episode 124: Thursday, October 14th, 2021
Melusi is caught in the middle of highly unpleasant circumstances from both his homesteads. With Teddy's father placing him between a rock and a hard place, the youngster witnesses the shock of his life.
Episode 125: Friday, October 15th, 2021
Another engrossing Gomora teaser is seen in Episode 125. When it comes to Don, Teddy and Ntokozo don't see eye to eye. Gladys needs Melusi's attention, and he unknowingly chooses Thathi over Gladys again. Tshiamo has to come face to face with her fears.
Episode 126: Monday, October 18th, 2021
Stompie reveals to Mazet about Ntokozo joining Don's crew. Gladys admits her worry about Ntokozo to Zodwa. Tshiamo gives an excellent answer to the question of the judge.
Episode 127: Tuesday, October 19th, 2021
Mazet plans on building solid ties with Ntokozo. Buhle fights to come to terms with losing the pageant. Melusi is left in shock after getting to know about the funeral.
Episode 128: Wednesday, October 20th, 2021
Melusi considers returning home. Mazet hatches a seductive plan for Ntokozo, and he falls for it.
Episode 129: Thursday, October 21st, 2021
In this thrilling Gomora teaser, Don catches Mazet and Ntokozo sharing a smooch. Thathi finally decides to confess to Melusi.
Episode 130: Friday, October 22nd, 2021
Ntokozo gets into trouble with Don. Thathi's conscience haunts her. Bongani gets ready to take his romantic affair with Zodwa to the next level as he plans on proposing to the love of his life.
Episode 131: Monday, October 25th, 2021
Don tells Stompie that he has something up his sleeves and that the chances of Bongani tying the knot with Zodwa are quite slim. Melusi gives Thathi the cold shoulder. Mazet plans on visiting Mam'Sonto together with Pretty.
Episode 132: Tuesday, October 26th, 2021
Melusi and Thathi decide to go their separate ways once again. Meanwhile, Don's position is threatened.
Episode 133: Wednesday, October 27th, 2021
Bongani and Zodwa are attacked. With Mel and Thathi deciding to fetch their lives in very different ways, Thathi kicks Melusi out.
Episode 134: Thursday, October 28th, 2021
Don hatches a plan to get everything back, which includes Zodwa―the woman he loves. While Melusi flails about, struggling to find his footing, Thathi puts her plans in motion.
Episode 135: Friday, October 29th, 2021
In this final Gomora teaser for October 2021, Gladys plots ways to make Melusi earn his way back to her heart. Thathi puts a plan in motion to entrap Don and Zodwa suspects Don's involvement in the robbery of the Shisanyama.
Who are The Producers of The Gomora TV Series?
Filmed in Alexandra township, Gomora is one of South Africa's best-scripted TV series. It was created and written by Phathutshedzo Makwarela and Gwydion Beynon. Also, Amanda Lane and Kutlwano Ditsele served as the creators of the soapie. Gomora is filmed in two original languages; Tswana and Zulu. Its executive producers are Leanne Kumalo, Kutlwano Ditsele, and Thabang Moleya. Lulu Hela additionally served as a producer of the TV series.
The cast members of the series, which include some big names in the SA film industry, are Zolisa Xaluva, Connie Chiume, Katlego Danke, Thulani Mtsweni, Ama Qamata, Siyanda Papu, Sphesihle Ndaba, Ntobeko Sishi, Thembi Seete, Lerato Mokoka, Siyabonga Xaba, Sannah Mchunu, Israel Matseke-Zulu, Sicelo Buthelezi, Leera Mthethwa, Robert Mpisi, Nandipha Khubone, and Khaya Mthembu.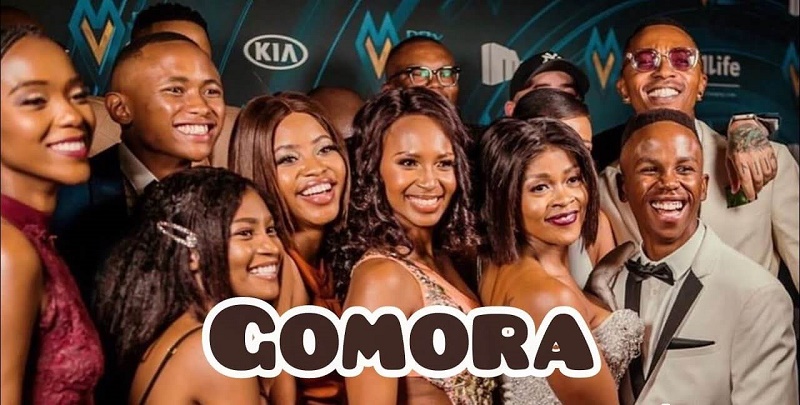 List of The Main Cast Members of Gomora TV Series and The Roles They Played 
Katlego Danke – Played the role of Onthatile "Thathi" Molefe-Ndab
Zolisa Xaluva – Played the role of Melusi Dlamini
Thembi Seete – Played the role of Gladys Dlamini
Connie Chiume – Played the role of Nomasonto "Mam'Sonto" Molefe
Ama Qamata – Played the role of Buhle Ndaba
Ntobeko Sishi – Played the role of Ntokozo Dlamini
Siyabonga Xaba – Played the role of Langa Dlamini
Siyasanga Papu – Played the role of Pretty Molefe
Lerato Mokoka – Played the role of Tshiamo Molefe
Sicelo Buthelezi – Played the role of Sibusiso "Teddy" Zondo
Sannah Mchunu – Played the role of Zodwa Zondo
Israel Matseke-Zulu – Played the role of Don Buthelezi
Nandipha Khubone – Played the role of Sibongile Buthelezi
Siphesihle Ndaba – Played the role of Mazet
Leera Mthethwa – Played the role of Jackie Hlungwani
Khaya Mthembu – Played the role of Sbonga
TV Stations Where You Can Watch Gomora TV Series
Gomora airs on Mzansi Magic (DStv channel 116) every Monday to Friday at 19h30. Each episode runs for a minimum of 22 minutes and 24 minutes at maximum. If you miss a few episodes, you can watch them on CatchUp on DStv or Showmax.