The union between Somizi Mhlongo and Mohale Motaung has gained so much attention from South Africans for different reasons. While some people are interested in knowing more about this couple and their relationship because they are of the LGBT side of things, others are interested because of the massive age difference between the two love birds.
Somizi and Mohale's relationship has been in the news for so long. The couple has faced a lot of controversies, but that should not have surprised them. When a man gets married to a much older woman, tongues wag, talk more when this happens between people of the same sex in Africa. Even with all of these rumors, criticisms, and challenges, Somizi and his husband, Mohale, have remained a strong couple and do not seem to be breaking up any time soon – despite the rumors.
Somizi Mhlongo is 22 Years Old Older Than His Husband, Mohale Motaung
Somizi Mhlongo was born on 23rd December 1972 and is 50 years old. He is an actor, choreographer, radio presenter, and brand ambassador of so many brands. He was born into the home of Mary Twala and Walter Mhlongo, who were both entertainers. Somizi has not always been open with his sexual orientation; initially, he was even in a relationship with a woman with whom he had a daughter, while Mohale Motaung, on the other hand, had always been clear and open with his sexuality.
Mohale, who is 29 years old, was born on 9th July 1994. He is the founder and CEO of Glam Troupe and also a model and an actor.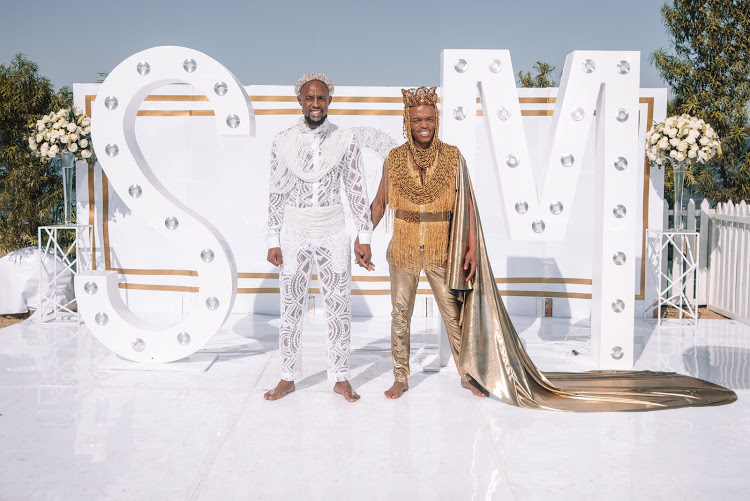 Somizi is 22 years old older than his husband, Mohale, which has made many people doubt their love. Some fans believe that Mohale Motaung is only married to Somizi for the benefits he is getting. Also, considering that Somizi has a daughter almost the same age as Mohale, it is evident that he is old enough to be his father, which makes fans think it is rather awkward that they are a couple instead.
In response to these speculations regarding what people have to say about their age difference and why Mohale is married to him, the Idol SA judge came out to say that his partner, Mohale Motaung-Mhlongo, works for his money. Somgaga claims that not every person can handle him the way Mohale does, as he is quite a handful. He added that even if Mohale came for the money, he is not complaining.
Somizi Mhlongo has publicly stated his commitment to building a long-lasting marital relationship with Mohale Motaung and has steadfastly rejected the notion that they are not good together or breaking up. He once posted a video of a lady who didn't want to lockdown with her sixty-year-old husband and said that is how he and his husband will look in 30 years. It means he is determined to grow old with Mohale Motaung despite the speculations which suggest otherwise.
Somizi and Mohale Had an Exquisite and Glamorous Wedding
The two love birds met at Somizi Mhlongo's book launch in 2017; an event Somizi can still remember clearly. In a post on Instagram, Somizi narrated how Mohale was the 13th person on the line, waiting for him to sign on the book, and immediately he saw him, he knew he would want to spend forever with him.
They started dating in September 2017 and traveled all the way to Paris for their engagement. Referring to their January 2020 wedding as outstanding and unique is beyond the fact as it was not the regular heterosexual weddings you'd see. Everything about the wedding was top-notch as their high taste for beauty and class was on full display.
Their wedding was attended by high-profile celebrities like Cassper Nyovest, Bonang Matheba, Black Coffee, and the then South Africa Minister of Transport, Fikile Mbalula. Security was tight so much that to get into the wedding proper, you had to pass three registration stages.
According to the couple, their wedding is not just a South African wedding but also an African wedding. Their outfit was like a symbol of what Africa would look like if it were united. With all of these, Mohale still does not see their wedding as extravagant. In an interview with Power 98.7, Mohale even said they stepped things down a little, leaving fans no option other than to wonder what it would have looked like without the so-called 'step-down.'
The Mhlongos Have Faced a Lot of Controversies
The dust had not settled down in the wedding venue before controversies began trailing Somizi and Mohale's new marriage. In fact, the rumors and speculations they had to face have not allowed the couple to enjoy their union. There has been constant speculation of a breakup, with suggestions of infidelity flying around, since they got married. So many things have happened that made fans think the couple may soon be heading for a breakup.
In 2018, Aaron Molosi posted a picture of himself and some mystery man who looked so much like Mohale Motaung, who was Somizi's boyfriend at that time. Rumor had it that Aaron's mystery man was Mohale, Somizi's boyfriend. However, the pair downplayed the rumor and went ahead with their traditional marriage and wedding in September 2019 and January 2020, respectively. Two years after posting the picture, Aaron Molosi finally decided to clear the air that Mohale Motaung-Mhlongo was not the one in the picture.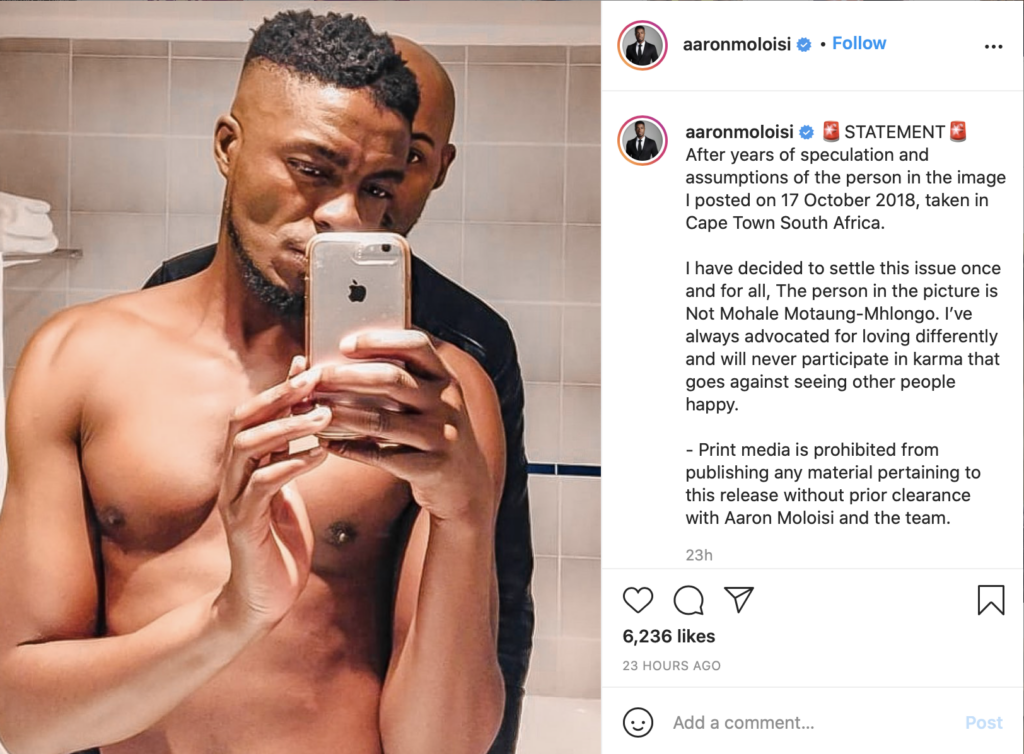 In January 2020, just after their wedding, it was speculated that Mohale wanted a divorce from Somizi and that his legal team had served Somizi the divorce papers. To date, there is no evidence to prove that such a thing ever happened. It has also been rumored that their marriage was hitting the rocks because of some challenges. Although the couple came out to admit that they were going through a difficult time, they also admitted that it was a situation they could manage just like every other regular couple would.
In February 2021, Somizi and his bestie, Vusi Nova, had a getaway vacation. However, what made fans curious was that it was happening in February, the month for lovers, and Mohale, Somizi's husband, was not a part of it. This drove on the suspicion that Somizi and Vusi Nova were having an affair. And even though Vusi Nova has since denied that allegation, that vacation (as they tagged it on social media) has given credence to the speculation that Somizi and Mohale's marriage is about to end. To cap it all up, fans also have noticed that Mohale Motaung no longer wears his wedding ring in the recent pictures he uploads on IG.
Somizi Mhlongo and Mohale Motaung have continued to trash all rumors about their breakup. The love birds are still very much together and will celebrate two years of marriage by September 2021. Being an openly gay couple in Africa is difficult; talk more of a situation like theirs where their age difference is like that of a father and son.