Fantana is a 26-year-old Ghanaian singer and songwriter. She has an estimated net worth of $2 million. 
The sensational musician burst into mainstream success in 2019 following the release of her hit track "So What". Since then, she has dropped an impressive number of relatable songs and collaborated with several artists in the music industry. Fantana is currently one of the richest and top-rated female artists in Ghana. Besides music, she is well-loved for her incredible fashion sense. Read more about her below.
Summary of Fantana's Biography

Full name: Francine Nyanko Koffie
Nickname: Big Fanta
Gender: Female
Date of birth: July 3, 1997
Fantana's Age: 26 years old
Ethnicity: Black
Nationality: Ghanaian
Zodiac Sign: Cancer
Sexual Orientation: Straight
Religion: Christianity
Marital Status: Single
Fantana's Parents: Dorcas Affo-Toffey and Joseph Lawrence Ashun
Fantana's Net worth: $2 million
Famous for: Appearing on the Netflix show Young, Famous, & African
Fantana's Instagram: iamfantana
Twitter: @iamfantana
Facebook: Fantana
Who Is Fantana?
Fantana is a Ghanaian singer and songwriter. She is easily recognized for appearing in the Netflix series Young, Famous, & African. Fantana became a household name in 2019 after she dropped her hit track "So What".
The project earned her an avalanche of online followers, especially on Instagram, and also thrust her into the limelight. The song, which quickly became a street anthem after its release, is outstanding because it is relatable and passes across meaningful message to listeners.
She was discovered by Bullet, the CEO of Rufftown Records, through Instagram and
signed a five-year contract with the label in 2019. Her music style can be best described as Afrobeat with a touch of dancehall, reggae, and pop.
Fantana has experienced so much growth in her career and personal life since she broke out. Today, she is a force to reckon with in the local music scene and the entertainment world in general.
She has worked with notable musicians in the Ghanaian music industry, sold a massive number of her records, and gets heavily paid for performances, features, or collaborations.
Fantana also sells her craft outside of the African shore. She is one of Ghana's female artists who gets booked for shows back to back.  She cites Rihanna, Beyoncé, Tiwa Savage, and Wendy Shay as her musical influences.
Where Is Fantana From?
Fanata is from Nzema land in the Southwestern area of Ghana. However, she was not born and raised in Ghana. The musician's parents actually gave birth to her in Atlanta, Georgia, in the United States of America.
Fantana spent her formative years in Ghana and her teenage years in the US. She had her elementary and high school in Ghana and her college studies abroad. She returned to Ghana for the first time after her birth in the U.S. at the age of six.
She attended the Accra-based schools Golden Star International School and Merton International School, after which she moved to the U.S. Fantana holds a degree in Business and Fashion from Bradford University, Virginia, in the US.
She eventually relocated to Ghana after she graduated from college. She took up classes at Kwobs Fashion School after she returned to Ghana as a result of her passion for fashion.
How Old Is Fantana?
Fantana is 26 years old in 2023. She was born on 3rd July 1997 to Dorcas Affo-Toffey (mother) and Joseph Lawrence Ashun (father).
Dorcas is a businesswoman. She shares an amazing mother-daughter relationship with Fantana, which obviously explains why the singer tattooed the name of her mother on her left hand. No one knows the kind of relationship she has with her father.
There is no available information on Fantana's family background, and it's unclear if she is an only child.
What Is Fantana's Net Worth?
Fantana's net worth is estimated at $2 million. She accumulated a huge part of her wealth through her main income stream (music) and other endeavors.
Some of the avenues through which she makes money as a musician include:
Live performanceS
Record sales
Collaborations with other artists
Streaming on major music platforms
TV Show
Fantana appeared in the second season of the Netflix TV series Young, Famous, & African alongside other celebrities from Africa. She made substantial earnings from her role in the project, although the exact amount is not public knowledge.
Clothing Line
Fantana owns a clothing line called Fantana Closet. The brand sells fashionable outfits and accessories online and offline.
The Ghanaian musician could likely have other income streams, but the aforementioned are her only known sources of income.
Fantana Before and After BBL Surgery
Fantana has openly talked about people resorting to cosmetic surgery if it is the best way for them to look their best. In an interview with blogger Zionfelix, she admitted to having gone under the knife to enhance her appearance.
She also encouraged people to enhance their bodies if they can afford the procedure. The singer, however, left the public in great shock in a subsequent interview when she denied ever achieving her banging body through surgery.
While being interviewed by Abeiku Santana in May 2023, she claimed her body enhancement was a result of natural growth and development. She shared that she always wondered why people would think her body would be the same as it was when she was in her teens.
A look at the singer's body before and after her BBL procedure shows a great difference, as she is now more curvier and heavily endowed in the right places. Despite denying having a BBL surgery, a lot of people still feel she is not being truthful.
Take a look at some of Fantana's old pictures before she reportedly had surgery.
A Look at Fontana's Post-BBL Photos
Who Is Fantana's Boyfriend?
Fantana is currently not in a relationship. However, she previously dated a young man called Ayanle Husein, who tragically lost his life in a car accident in 2022. He was a Muslim who, according to Fantana, taught her the Koran while she taught him the Bible.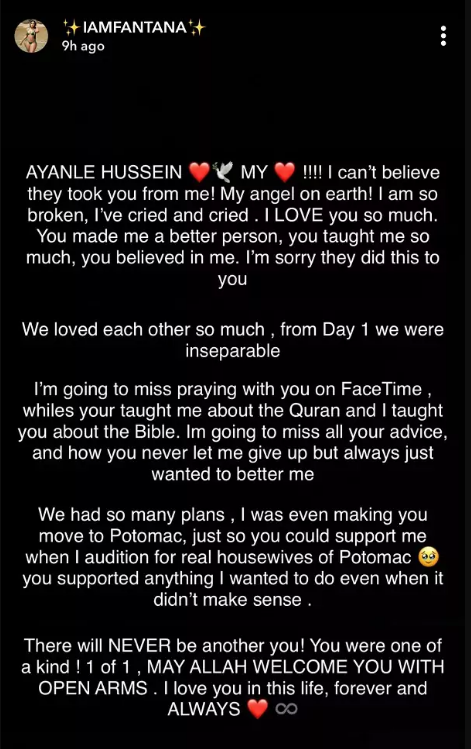 The two dated for a significant number of years before his passing. Fantana's song "Touch Me" is dedicated to the late Ayanle.
Is Diamond Kiss Dating Fantana?
Diamond is currently not in a romantic relationship with Fantana. Rumors about the two started making the rounds after they shared a passionate kiss on an episode of Young, Famous, & African.
Platinumz, a popular Tanzanian singer, confessed that Fantana was a better 'kisser', a statement that did not go down well with his then-girlfriend, Tanasha Donna.
Currently, there is nothing serious going on between the musicians. Despite locking lips and the chemistry that briefly existed between them on the show, they never took their friendship to the next level.
Diamond is currently in a relationship with singer Zuchu.