Fikile Mbalula (born 1 April 1971, Age: 52 Years Old) is a South African politician known for his service in several positions of authority in the country. He is currently serving in the cabinet as Minister of Transport. 
Former African National Congress Youth League (ANCYL) leader, Fikile Mbalula, is one politician to look out for in the coming years. Anyone that is conversant with the history of South Africa does not need to be told about the role played by the ANCYL in helping make the apartheid system of government that existed in the country a thing of the past.
The youth division of the political party, people like Nelson Mandela, Thabo Mbeki, and Peter Mokaba played significant roles that have given them legendary status in the country. Due to this, having a leadership role in the ANCYL has been viewed by many as an indication that one might be able to go ahead to one day attain the highest office in the land as two of the aforementioned three have managed.
Mbalula is one of the latest crop of South African politicians to be viewed in such a manner thanks to the leadership role he had in the ANC youth league. Following his time there, he has moved on to serve as a minister of three different ministeries, gaining valuable knowledge that might help him one day run the office of the president effectively.
Summary of Fikile Mbalula's Biography and Profile
Full name: Fikile April Mbalula
Gender: Male
Date of birth: 1 April 1971
Place of Birth: Free State, South Africa
Fikile Mbalula's Age: 52 Years Old
Ethnicity: Black
Nationality: South African
Zodiac Sign: Aries
Sexual Orientation: Straight
Marital Status: Married
Fikile Mbalula's Wife:

Nozuko Mbalula

Siblings: Jabu Mbalula
Famous for: Being a South African politician
Facts About Fikile Mbalula That You Probably Did Not Know
He Began His Political and Activist Career as a Teenager
Fikile Mbalula, who was born on the 8th of April 1971, got engaged in politics and activism in the mid-1980s as a teenager. Between 1986 and 1987, he served as President of the Botshabelo Youth Congress before attaining the position of Publicity Secretary and Vice-President in 1987.
In 1989, Mbalula became an area member of the United Democratic Front. The following year, he was named Secretary of the ANC Provisional Youth Committee before he was then elected to the position of Regional Secretary of the African National Congress Youth League in 1991. In 1994, he moved to become provincial Secretary of ANCYL and then by 1996, Secretary of the ANCYL Political Education until 1998.
Thanks to his rising profile, Fikile Mbalula did not face so much opposition when he moved to become Secretary-General of the ANCYL in 1998. He held the position until 2004 when he moved up the ladder to be elected as president, a position he held until 2008 when his age disqualified him as a member of the body.
Mbalula Played a Significant Role In Deposing President Thabo Mbeki as the Head of ANC
Fikile Mbalula has been credited with having played a significant role in the election of Thabo Mbeki as South African president. Mbeki first occupied the position in 1999 before being elected for a second term in 2004. Things, however, got sour in the ranks of the ANC after Mbeki removed Jacob Zuma from his post as Deputy President of South Africa following the latter's implication in a corruption scandal.
Mbalula was said to have sided Zuma during the ordeal and thus played a critical role in making sure the former Deputy President became president of the ANC. Through this role, Zuma was able to orchestrate the recall of his political rival before later going on to win the 2009 general election which Mbalula was the party's campaign manager.
He is Happily Married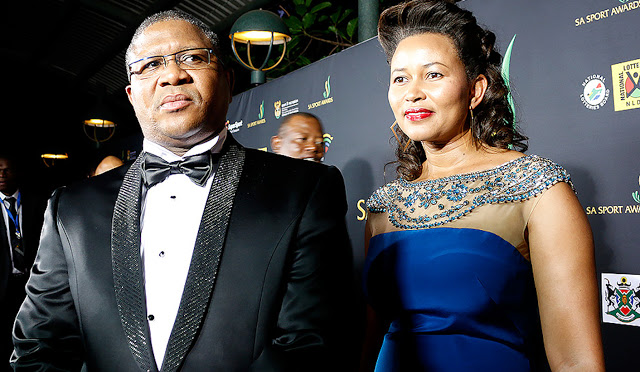 Regardless of the fact that very little is known by the public in regards to the details of his family, Fikile Mbalula is known to be happily married to his wife who is identified as Nozuko Mbalula. Speaking in an interview with Umhlobo Wenene FM' the former Minister of Police revealed that his wife is of royal blood and her ability to speak her mind and put him in check when he oversteps is what attracted him to her.
Fikile Mbalula Is a Huge Football Fan
Mbalula is a huge football fan and a vocal supporter of both the South African national team and Kaizer Chiefs football club. In January 2014, he famously lashed out at the national side, calling Bafana Bafana "a bunch of losers" after they were eliminated in the first round from the CHAN competition. In 2018, his love for the side was evident for everyone to see as he rallied the nation to get behind the squad ahead of a 2018 World Cup qualifying match that would have seen the country travel to Russia if they won the match. Unfortunately, the side did not manage to qualify for the showpiece event.