Ryan Waller was an American man who was shot in the face by his former roommate, Richie Lee Carver, in December 2006. He bravely survived his horrific injuries for two days until after the police failed to get him medical attention.
In an unfortunate turn of events, cops failed to get medical care for Waller for hours. Perhaps suspecting that he was responsible for the murder of his girlfriend, whom Carver also shot, they wasted precious hours interrogating him while his health deteriorated. They later got him help but it was late. Ryan Waller went blind and suffered seizures for the remainder of his life before dying in January 2016.
Summary of Ryan Waller's Bio
Full name: Ryan Thomas Waller
Gender: Male
Date of birth: 12th of February 1988
Ethnicity: Caucasian
Nationality: American
Zodiac Sign: Aquarius
Sexual Orientation: straight
Religion: Christianity
Marital Status: single
Ryan Thomas' Parents: Don Waller (father)
Ryan Thomas' Height in Inches: 5 feet 8 inches
Ryan Thomas' Height in Centimetres: 172
Ryan Thomas' Weight: 70 kg
Famous for: Ryan Thomas was shot in the head and survived for two days. He was interrogated by the police for several hours before getting medical treatment
Ryan Thomas Waller Was a Native of Maricopa County, Arizona
There is a dearth of details about Ryan Waller's background but what is public knowledge is that he was born on the 12th of February 1988. His nationality is American while his ethnicity is Caucasian. His father's name is Don Waller but the identity of his mother is not known. Ryan Waller grew up in Maricopa County, Phoenix, Arizona, and completed his high school diploma there. He likely proceeded for a college degree and it was during this time that he was murdered.
He and His Girlfriend, Heather Quan Were Ambushed and Shot in His Home on Christmas Day 2006
Ryan Waller was ambushed in his own home and shot on the 25th of December 2006. As the story goes, he and his girlfriend, Heather M. Quan were hanging out at home while preparing to have a pre-Christmas dinner with his father. Someone knocked on their door and he went to check who it was. He opened the door to see his former roommate, Richie Lee Carver, and Richie's father, Larry Lloyd Carver.
Both father and son were carrying guns and Ryan Waller immediately tried to push the door close. In the ensuing struggle, Richie put his arm inside and shot Ryan in the eye. The young man fell away from the door and the duo gained entrance into the house. They shot Heather Quan in the head as she was lying down on the couch. They then stole several weapons and computers from the scene before fleeing.
Ryan Waller Survived His Injuries for Two Days but the Cops Failed To Get Him Medical Help on Time
Heather Quan immediately died from her gunshot wounds but Ryan Waller survived. He was however weakened and couldn't even call emergency services. He, therefore, remained there with the corpse of his late girlfriend for two days. Help later came Ryan Waller's way through his dad. His dad had tried calling him for two days and couldn't get him. He, therefore, reported to the police who went over to his house and broke into it. Upon breaking in, the cops were confronted with a gory scene. There was a badly injured Ryan Waller.
There was also the corpse of his girlfriend lying around. The remains of the dead girl influenced the perspective of the cops and they started viewing Ryan Waller as the prime suspect. They treated him like a suspect and not the victim he was. Rather than getting him emergency health services, they incarcerated him for six to eight hours during which they interrogated him. They made no effort to get him medical help and his health continued to deteriorate. It later got to the stage where things were too bad and they called for help.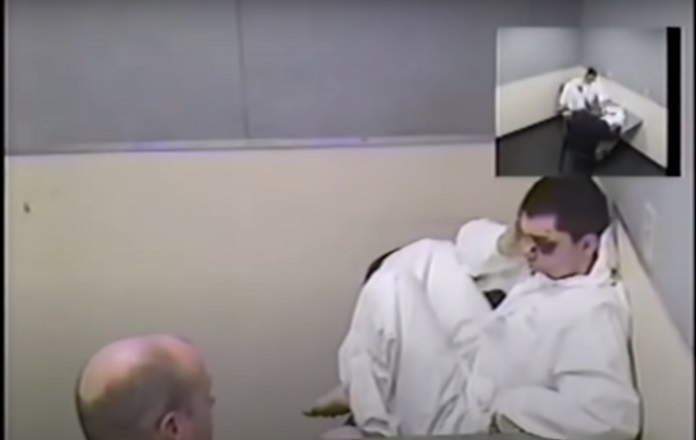 Ryan Waller Went Blind and Suffered Seizures Until His Death in 2016
Ryan Waller died of a seizure on the 20th of January 2016. The gunshot injuries he sustained back in 2006 were complicated by the fact that he did not get help on time. His left eye had to be removed. A part of his brain was also removed as well. This rendered him blind and affected many of his other capabilities as well.
He, therefore, lost the ability to live a quality and independent life and had to depend on his parents for the rest of his life. Ryan Waller lived another ten years after he was shot and gave up the ghost on the 20th of January 2016 following another seizure. It was indeed a sad way to go but he was able to give the testimony which helped to apprehend his assailants.
The Duo of Richie Carver and Larry Carver Were Sentenced to Life Imprisonment
Richie Carver and Larry Carver were convicted for the Ryan Waller incident. The two were apprehended following Ryan's testimony to the police and were charged in court in 2006. Richie Carver was charged with felony murder, aggravated assault, and misconduct involving weapons. His trial lasted for several months and he was convicted in June 2008. He was thereafter sentenced to a term of natural life meaning that he will spend the rest of his days behind bars.
Richie's dad and accomplice, Larry Llyod Carver, was also charged with first-degree murder, attempted first-degree murder, burglary, and aggravated assault but he nearly escaped justice. When the incident happened in 2006, his wife initially made a confession incriminating him to the police.
She later refused to come to court and testify, invoking her right to marital privilege. The case against him was therefore dismissed. The family of the deceased Heather Quan was quite infuriated with this and they started a campaign to pass Heather's Law in Arizona.
The law provided an exception to marital privilege and was passed by the Arizona state legislature in 2009. Larry Carver was thereafter charged again with his crimes and he was convicted on the 14th of December 2012. Though he tried to argue that Heather's Law should not apply retrospectively to him, this argument was rejected by the court and he was eventually sentenced to a long time behind bars.
The Ryan Waller Case Has Been The Subject of Several True Crime Podcasts
The Ryan Waller case continues to fascinate true crime junkies to this day. It has been the subject of several podcasts with many wondering why Carver shot Ryan Waller. Some say that Carver's act was motivated by revenge because Ryan threw him out of the room they shared. Some other schools of thought have it that the problem between Ryan and Richie was because Richie hit on Waller's girlfriend.
Another issue that has sparked reactions is the failure of the cops to get Ryan treatment immediately. Members of the public see it as highly negligent of the police to focus on interrogating Ryan rather than getting him help. They also feel that his fate could have turned out better if he had gotten prompt medical attention.
FAQs:
Who was Ryan Waller?
Ryan Waller was a young man who was shot during a home invasion in December 2006, along with his girlfriend Heather Quan.
Who was Heather Quan?
Heather Quan was Ryan Waller's girlfriend at the time of the home invasion and was tragically killed during the incident.
How did Ryan Waller and Heather Quan die?
Ryan Waller was shot in the face, and Heather Quan was shot in the head during a home invasion by Richie and Larry Carver.
Where did the home invasion take place?
The home invasion took place in the house Ryan Waller shared with Heather Quan and a third roommate named Alicia in Phoenix, Arizona.
What did the Carvers take during the home invasion?
The Carvers ransacked the house and stole electronic devices and a guitar that were never recovered.
What did the police assume about Ryan Waller after arriving at the scene?
The police assumed that Ryan Waller had killed Heather Quan and treated him as the primary suspect in her murder.
Why did the police assume that Ryan Waller killed Heather Quan?
The police assumed that Ryan Waller killed Heather Quan due to his facial gunshot wound, which they speculated was a black eye caused by a violent altercation with her.
What happened during Ryan Waller's interrogation?
Ryan Waller, who had suffered a traumatic brain injury from the gunshot wound, was made to remain in a police vehicle for four hours and then subjected to a two-hour interrogation, during which he struggled to provide coherent answers to questions posed by lead detective Paul Dalton.
What legal action did the Waller family take against the Phoenix Police Department?
The Waller family initiated legal proceedings against the Phoenix Police Department and the City of Phoenix for their handling of Ryan Waller's case, seeking $15 million in damages.
Why was the Waller family's lawsuit dismissed?
The lawsuit was dismissed after the City of Phoenix filed a "Motion for Dismissal" with the court, arguing that the delay in treatment would not have affected the extent of Ryan's injuries.
Why does the Waller family believe corruption played a role in the case's dismissal?
The Waller family believes that corruption on the part of the city attorneys, police officers, and detectives played a role in the case's dismissal, fearing that the jury would rule in favor of the family.
What allegations have been made about the Phoenix police department in relation to Ryan Waller's case?
There are allegations that the Phoenix police department falsified information to cover up their negligence regarding the case of Ryan Waller, including changing the incident date from December 25 to December 23 to evade responsibility and tampering with evidence.
Who did Ryan Waller accuse of breaking into his home and shooting him and Heather Quan?
Ryan Waller accused Richie and Larry Carver, who were subsequently arrested.
How did the police ultimately apprehend the real perpetrators?
During the interrogation, Ryan Waller provided crucial information by stating that "Richie and his dad" had broken into the house and shot them.
What is the Waller family's hope regarding their case against the Phoenix Police Department?
The Waller family hopes to gain enough exposure and pressure to reopen the case and have their day in court against the Phoenix Police Department by spreading awareness of the injustice.