Jaden Smith is a 25-year-old American actor, singer, rapper, and model who was born on July 8, 1998. He is known for his roles in the movies The Pursuit of Happiness (2006), The Karate Kid (2010) and After Earth (2013). 
Jaden Christopher Syre Smith, popularly known as Jaden Smith, has been in the limelight for most of his life. His parents are big shot actors in Hollywood, so he has always been popular right from birth due to their popularity as celebrities. Jaden Smith has also taken up a career in the line of his parent's jobs, and he has been excelling well in his field, with numerous achievements to his name.
He has garnered much fame and popularity at such a young age due to his tremendous efforts as an actor and musician. The 25-year-old is also known for his unique and outstanding fashion style and assertiveness towards what he believes in. Let us explore his accomplishments and milestones in his career.

Jaden Smith's Profile Summary
Name: Jaden Smith
Date of birth: July 8, 1998
Place of birth: Malibu, USA
Age: 25 years old
Star sign: Cancer
Nationality: American
Ethnicity: African-American
Father: Will Smith
Mother: Jada Smith
Siblings: Willow Smith, Trey Smith
Height: 174cm
Weight:143 lbs
Hair color: dark brown
Eye color: Brown
Profession: Actor, singer, and model
Net worth: $8 million
Jaden Smith was born in Malibu, California, in 1998
On July 8, 1988, Jaden Smith was born in Malibu, California, to Jada Pinkett and Will Smith. He happens to have two siblings; one elder half-brother, Trey, and a younger sister, Willow. Before being homeschooled by his parents, he used to attend New Village Leadership Academy. There are speculations that he started homeschooling because of unwanted exposure due to his parent's fame. Further details about his schooling have not been revealed to the public. In an interview, Smith said that he had a pretty isolated childhood, and he couldn't live like an average child because his parents were acclaimed actors.
Jaden Smith's Mother is a Singer and Actress
Jaden Smith's mother, Jada Pinkett Smith, is an American actress, producer, screenwriter, talk show host, singer, and businesswoman. Currently 52 years, she has left an indelible mark in the entertainment industry. She attended the Baltimore School for the Arts, where she majored in dance and theatre, before graduating in 1989. Pinkett Smith began her acting career in 1990 when she starred in an episode of True Colors and received guest roles in TV shows such as Doogie Howser, 21 Jump Street, and the likes.
Subsequently, she rose to prominence in the acting world and appeared in blockbuster movies like The Nutty Professor, Set it Off, Woo, Bamboozled, The Matrix, Collateral, and The Women. In 2002, she set up her band, The Metal consisting of her and three others. The band released its debut album in 2006 and has been soaring ever since. Jada Smith also set up her own music production company, 100% Women productions, and owns her fashion brand.
His Father, Will Smith, is One of Hollywood's Top Stars
Jaden Smith's father, Will Smith, was born on September 25, 1968. He is an American rapper, film producer, and actor. Smith has been nominated for two Academy Awards and five Golden Globe Awards, and he has also won four Grammy Awards. In the late 1980s, he was pretty famous as a rapper under the name The Fresh Prince. In 1990, his fame drastically increased after starring in the NBC television series, The Fresh Prince of Bel-Air, which ran till 1996. Following the end of the series, Smith transitioned from television to film, and he became a regular face in several blockbuster movies, including Independence Day and Men in Black.
He is the first and only actor to star in eight consecutive films that grossed over $100 million in the US box office. In 2006, Jaden Smith played along with his father in the movie Pursuit of Happyness, and the movie happens to be the first movie Jaden featured in. In 2007, Will Smith was named the most powerful actor in Hollywood by Newsweek. He was also named the most bankable star in the world in the world by Forbes in 2013.
Jaden Smith's Acting Career Began When He Was 8 Years Old
Smith's major role debut was in 2006 in the film, Pursuit of Happyness, as Christopher, the son of Chris Gardner. At the time he appeared in the movie, Jaden was only eight years old. It can be said his parents' career had a huge effect on his career since that was what he was accustomed to, and they put him on that line at a very young age. Due to his excellent performance in the movie, he won the award for Breakthrough Performance at MTV Movie Awards in 2007. The next movie he appeared in was The Day the Earth Stood Still, shot in 2008.
In 2010, at the age of 12, he starred in The Karate Kid, the remake alongside Jackie Chan. They have also announced that a sequel to the movie will most likely be released. In April 2014, Jaden Smith was cast in the film The lord Bird based on the novel written by James McBride. For about three years, Smith took a break from acting only to return in 2017 with the Netflix original, The Get Down.
He subsequently took roles in Neo Yoko and had a role in Nashville as himself. Smith returned to acting in films with the announcement of a movie based on skateboarding, and on August 10, 2018, a skateboarding movie titled Skate Kitchen was released with Jaden as the main character. His most recent movie is Life in a Year, where he acted as the lead character alongside Cara Delevingne.
His Music Career Began with a Collaboration with Justin Bieber in 2010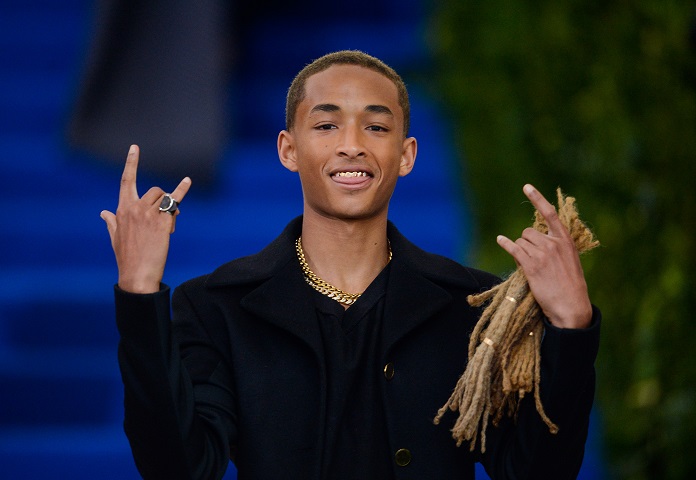 The inception of Jaden's music career was when he rapped alongside big-time Canadian singer Justin Bieber in 2010 for the song, Never Say Never. The song was certified five times Platinum in the USA, and it peaked at No. 8 on the Billboard Hot 100. On October 1, 2012, Jaden released his debut mixtape, The Cool Café. He started working on his debut studio album in 2014, and it was later released on November 17, 2017.
The album was named 'Syre,' making it an eponymous album because it is also his name. Some of the tracks on the album were found on US Billboard 200 and Bubbling Under Hot 100. He started taking up gigs, and he began gaining ground in the music industry as well. On July 24, 2020, Smith released the single, Cabin Fever, from his third album, CTV3. It is described as a trilogy and a combination of some of the works he has done in the past.
Besides Acting and Music, Jaden is a Model and Businessman
Smith was once described as 'in a league of his own' in terms of fashion and style, as he has taken it to another level. He refers to Tyler the Creator, Batman, and Poseidon as his icons in fashion. In 2016, he raised controversy after modeling in a womenswear campaign for Louis Vuitton wearing a skirt. To make a statement, Jaden continued to wear womenswear throughout 2016. He became the first male model to model women's wear for Louis Vuitton.
In 2018, he created a denim line with the fashion brand G-Star. From the age of twelve, he became a partner in the spring water company Just Water. The company is trying to create a water filtration system that's cheap and can be used in poorer areas.
At 25, Jaden has Achieved Quite a Lot
The 25-year-old Jaden Smith made his acting debut at the age of eight and received his first awards at the MTV movie awards at age 9. He received his second award, Saturn Award for Best Performance by a Young Actor, at the same age. One of his biggest movies, The Karate Kid, was made when he was 12 years old. In 2013, when Jaden was only 15 years old, he was nominated yet for another award, MTV Award for Summer's Biggest Teen Bad Ass Star.
Similarly, his music career began at a very young age as his first music feature happened when Jaden was 12 years old. His first mixtape was released in 2012, and he was only 14 years old at the time. At the age of 19, he released his first debut studio album in 2017.
He Has Surpassed his Parents' Achievements When They Were His Age
Jaden Smith has achieved so much in comparison to his parents at his present age. While his mother started acting at the age of 20, and his father, at the age of 28, Jaden started acting at eight. His father, Will Smith, began his singing career at the age of 20, while Jaden started his music career while he was only 12 years. What he has currently achieved at the age of 25 is beyond what his parents did at that age.
It, therefore, makes sense to predict that by the time Jaden attains his mother's or father's age, his fame would have surpassed theirs. He might even be a much bigger personality than they ever were. He would have broken records like his father did and conquered the fashion world, considering his unique sense of fashion.
List of Jaden Smith's Awards and Nominations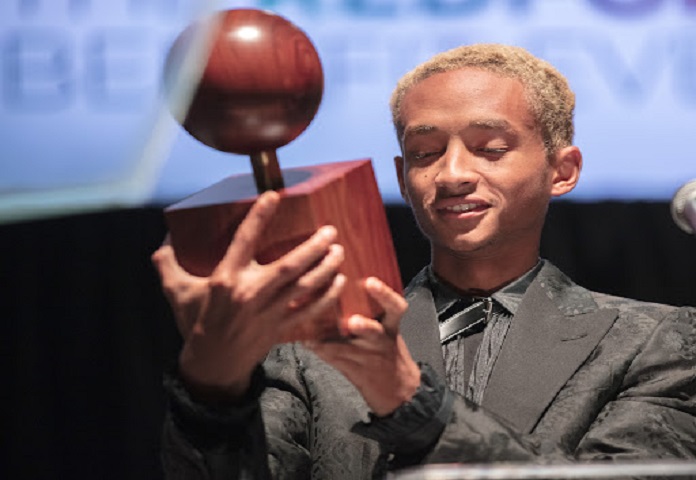 Teens Choice Award for Choice Movie Chemistry (2006)
MTV Movie Chemistry MTV Movie for Breakthrough Performance (2006)
PFCS Award for Best Performance by Youth in a Leading Supporting Role (2006)
Teen Choice Award for Choice Movie (nomination) (2006)
NAACP Image Award f6r outstanding supporting actor in a motion picture (nomination) (2006)
Broadcast film critics association award for the best young actor (nomination) (2006)
Saturn award for best performance by a young actor (2008)
BET YoungStars Award (2008)
Black Reel Award for Best Song (nomination) (2010)