With a height of 5 feet 8 and ½ inches, Jaden Smith is as tall as the regular Joe out there. However, there is nothing average about this young fellow who hails from a family of accomplished Hollywood stars. Ever since he debuted as a six-year-old alongside his dad in the 2006 film, The Pursuit of Happyness, Smith has done significant exploits in the music and movie industry. The fashion world has also not been spared his touch as he has blazed the trail for more progressive-minded fashion. Away from fashion, Smith has pursued a vegan lifestyle, and while this has its benefits, it also came with some negative side effects for his health at some point.
How Tall is Jaden Smith?
Jaden Smith is 5 feet 8 and ½ inches tall, which translates into 1.74m. While this does not exactly make him a giant, he doesn't perform too shabbily compared to his fellow Americans. Data from the Centre for Disease Control and Prevention shows that the average American male aged 20 and above is 5 feet 9 inches (1.75m) tall which means that Smith is just an inch shorter than the more significant percentage of American men out there. When it comes to the ladies, the average American woman is 5 feet 4 inches (1.62 m) tall which means that Smith is four and a half inches taller than most women in America.
Of course, the actor-cum-singer can get even taller and match up with the guys if he should ever desire so. Even though human beings generally stop growing taller after the age of 18 (an age Smith has surpassed), science has made waves in the area of a limb or leg strengthening surgery which can increase someone's height by as much as five inches. The surgeries are long, expensive, and painful, meaning that it doesn't seem like an option that Jaden Smith would be exploring anytime soon as he is already a career success and doesn't need to prove anything to anybody.
Has Jaden Smith's Height Affected His Hollywood Career?
Even though filmmakers can utilize various techniques to make movie stars appear taller than they are in real life, height remains an important consideration in the industry. Several actors have lost roles because they were not tall enough. Some actresses have also lost roles because they were too tall. These considerations do not seem to have affected Jaden Smith's career. For one, the Karate Kid star is within the range of the average Hollywood star going by statistics. Data show that the average male celebrity in Hollywood is 5 feet 10 inches (1.77m) tall while the average female celebrity in Hollywood is 5 feet 5 inches (1.65m).
It, therefore, means that Jaden Smith is just one and a half-inch shorter than the average male celebrity out there. However, he is three and a half inches taller than the average female celebrity, meaning that he can perfectly slot into the role of a leading man that the heroine can literally look up to. Height has not affected Jaden Smith's acting career. Even though his movie appearances have not lived up to the expectations that many people had after the Karate Kid and other impressive titles that he previously featured in, height is not the issue. Instead, it is the California native that is holding out for roles that impress him rather than just taking up any projects that come his way. Such 'pickiness' means that the number of projects that Smith has appeared in over the years has reduced, but he wouldn't have it any other way as he wants to be true to himself.
Jaden Smith's Height Compared to His Siblings, Trey and Willow Smith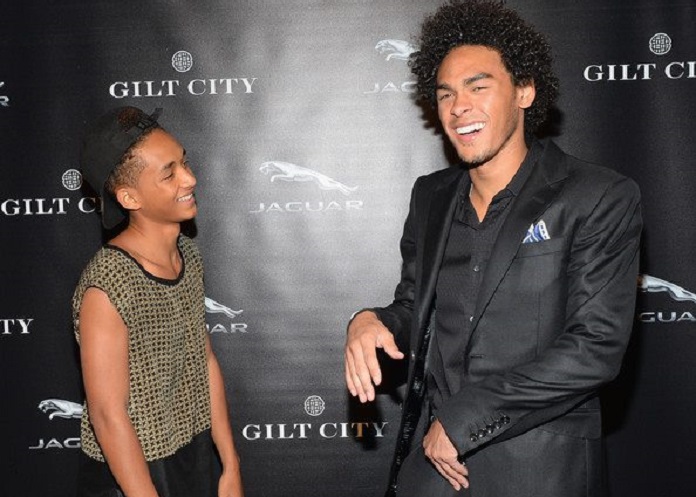 As anyone who has the slightest interest in pop culture will know, Jaden Smith is not the only member of his family making waves in the entertainment industry. His elder half-brother, Trey Smith, is a budding actor and musician. Trey has featured in a handful of TV shows over the years, including All of Us, The Oprah Winfrey Show, and David Blaine: Real or Magical. He also appeared in their dad's music video for 1998 single, Just the Two of Us. He is also a singer and has several songs listed on Spotify. Another of Jaden Smith's siblings that is also a force to be reckoned with is Willow Smith. Willow has featured in movies such as I Am Legend and Kit Kittredge: An American Girl.
She has also dropped multiple albums and singles, including the monster hit Whip My Hair. Willow's current exploit is the popular talk show, Red Table Talk, which she co-hosts with their mom, Jada Pinkett. There are many similarities in the careers of all three Smith children, but when it comes to the issue of their height, it is a different ballgame altogether. Willow Smith is 5 feet 7 inches or 1.7m tall, while Trey Smith is 6 feet 0 ½ inches or 1.84 m tall. It, therefore, means that Jaden Smith, with his 5 feet 8 and ½ inches height, is not the tallest amongst his siblings. His elder half-brother, Trey, takes the first spot while he comes in at second. The shortest Smith sibling is Willow Smith.
His Height Compared To His Parents Will and Jada Pinkett Smith
Research has shown over the years that several factors can determine how tall a person will get. They include nutrition, access to healthy food, gender, hormonal considerations, and the presence of congenital disorders such as dwarfism, etc. However, the primary determinant of height remains genetic makeup, as DNA is responsible for about 80% of our height. It means that our parents play a significant role in determining how tall or short we end up, which is true in Jaden Smith's case. Smith's father, actor, producer, writer, director, and rapper – Will Smith, is famously tall and dashing and stands at an impressive height of 6 feet 2 inches (1.88m) tall.
On the other hand, his mother, Jada Pinkett Smith, is famously petite and stands at exactly 5 feet (1.52m) tall. It, therefore, means that Jaden's mom is one foot and two inches shorter than her husband, and this unarguably played a critical role in his height. If Jaden's mom had been as tall or just a few inches shorter than his dad, then there is a good chance that he may have ended up quite tall like his elder half-brother, Trey. However, this is not the case, and he and his sister hover in the 5 feet region and are quite shorter than their dad. At 5 feet 8 and ½ inches tall, Jaden Smith is five and a half inches shorter than his dad. He is, however, eight and a half inches taller than his mom.
Jaden Smith's Vegan Diet has Affected His Health and Weight in the Past
Jaden Smith boasts of a slim build with an estimated weight of 65kg or 143 lbs. When divided by his height, this makes for a BMI of 21.46, which falls within the healthy weight range of 18.5 to 24.9. The actor/singer presently boasts of a ripped physique, but it hasn't always been so. A few years back, he looked seriously malnourished that fans were alarmed. Even his parents noticed that he had a bit of greyness to his skin and dark circles under his eyes. They staged a sort of intervention and discovered that the culprit was his vegan diet which meant he wasn't getting enough proteins and other nutrients.
Jaden Smith has now made changes to his diet. Even though he won't be devouring meat anytime soon, he has toned down his diet and is now a vegetarian. He has also been working out regularly and now has a buff physique to show off. His shirtless photos attract hundreds of thousands of likes on Instagram. Jaden keeps fit by drinking a gallon of water each day and tries not to eat past 9 pm, which is three hours before he goes to bed. He works out in the gym, taking part in strength training, cardio, swimming, etc. His meals are well balanced and contain lots of veggies, nutritious grains, and proteins.