Benni McCarthy has been married to Stacey Munro since 2014. Before her, he was married to Maria Jose-Santos from 2000–2007. Benni has a total of five children from his two marriages- four daughters and a son. He had his first three children, all daughters, named Minna, Miya, and Allegra, with his first wife while his marriage to his current wife produced a daughter named Lima Rose and a son, Lio Romero McCarthy.
Sometimes, loss and disappointments only serve to open the doors for us to bigger things. This is always true in the story of those who, after a divorce, get to meet and get married to the love of their lives. This may as well be true with the story of Benni McCarthy and his wife, Stacey Munro, whom he got married to after his first marriage to Maria Jose-Santos came to an end.
Today, if one were to sum the life of Benni McCarthy thus far, it would be characterized as a life of hard work, football, and love. The former South African striker and the current coach of AmaZulu have never hidden the fact that he lives for football and his family. Benni and Stacey have been together as man and wife since 2014 and are blessed with beautiful kids.
Benni McCarthy And Stacey Munro Got Married In 2014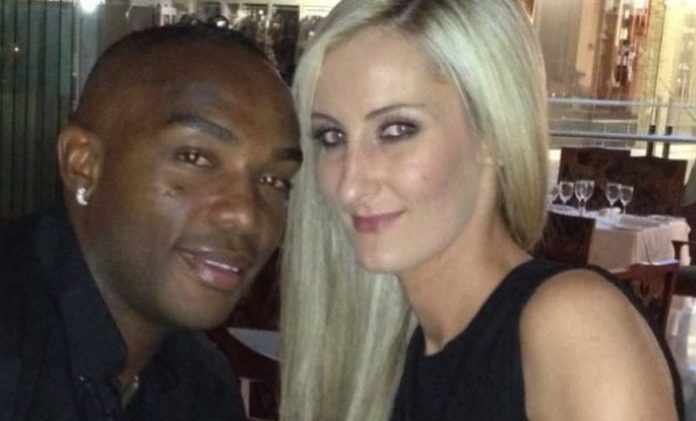 The story behind how McCarthy and Stacey met is not known, but we know that they have been together since 2009, when a picture of them together first appeared. They dated for several years, and then in 2013, the beautiful duo got engaged in December.
McCarthy walked down the aisle with Stacey in a simple yet exquisite event in 2014. The wedding took place in the home country of Stacey, Scotland, and it was attended by his close friends and family members, whom he flew from South Africa.
For the beautiful ceremony in Edinburgh, where he still has a home, Benni McCarthy wore a kilt, which was a tradition for Scottish marriages. The event was said to be filled with good food and champagne, fireworks, and dancing. The marriage came when Benni had already retired from playing football and was 36 years old.
During the marriage ceremony, the flags of South Africa and Scotland were tied together as a sign that the two countries were joined in the couple's marriage. She has since changed her name to Stacey McCarthy.
Stacey McCarthy Is A Former Model
At a glance, Stacey will pass for a model. She is a tall, beautiful woman who has blonde hair and an elegant disposition. Well, she is, in fact, a model. While not so much is known about her, she is believed to have had her career in her home country and was still a model until they got married. She was once into pageantry in her earlier days.
That said, it is worthy of note that Stacey was already 30 years old when they got married, and she did not continue with her modeling career as she moved to South Africa with her husband, where they settled in Cape Town. The family shares time between South Africa and Scotland.
The current career path the former model choose is unknown. However, she seems to be performing the role of a great supporter for her husband in his career as a football manager and an excellent mother for their kids.
This Was Not His First Marriage
As stated, the footballer's marriage to his current wife was not the first time he had to walk down the aisle. He was previously married to a Spanish woman, Maria Jose-Santos, whom he met after moving to Spain to play for Celta Vigo.
Less than a year after he moved to Spain in 1999, Benni got married to Maria, and for a while, their marriage seemed to be one filled with love and happiness. He was only 23 years old when he got married the first time, but that did not affect the union.
His career took him to Porto in 2002 on loan, but in 2003, he signed a permanent deal with the club, where he remained until 2006. The marriage was still good at this point, but cracks began to make it to the marriage in 2006 after moving to England to play for Blackburn Rovers. The cracks got serious, and that led to the final demise of the marriage.
McCarthy's First Marriage Ended Because His Wife Did Not Want To Leave Spain
While he was with Porto, it was always easy for Benni McCarthy to travel to Spain to be with his then-wife and kids, but when he moved to England, the luxury was hampered by distance. He wanted his wife and kids to move with him to England, but his wife was not ready to leave Spain.
According to him, Spaniards do not like to leave their country, including their football players who, once they leave, are always eager to return. That was what happened between him and his ex-wife. She refused to leave Spain and follow him, and that led to their divorce.
The divorce left Benni McCarthy heartbroken because he was still in love with the Spanish beauty. That said, there was no acrimony between them when they went their separate ways. In an interview in 2011, he revealed that he was still close friends with his ex-wife. He did not get married a second time until seven years after the divorce.
When the marriage ended, they were already blessed with three beautiful daughters; Minna, Miya, and Allegra. Their youngest child, Allegra, was only three years old at the time of the divorce, while Miya and Minna were 6 and 5, respectively.
Benni McCarthy And Stacey Munro Have Two Children Together
The family life of the former Porto man and his former model wife has been blessed with two children together. His first child with his wife is Lima Rose, a daughter who was birthed to him even before they got married. Lima was already 2 years old when her parents got married; she was born on May 12, 2012. Her father has a tattoo of her name on his neck.
The young girl became the fourth daughter of Benni after having the aforementioned three kids with his first wife. In 2011, he revealed that after his marriage ended, he allowed his former wife have custody of the kids because he believed that was the best thing for the kids. However, he always traveled to spend time with them.
With four daughters in the pack, Benni welcomed his fifth child and second with Stacey in 2019 when she gave birth to their son, Lio Romero McCarthy. He was born on 6th August to a joyful father who has since selected a jersey number of the kid; 17.
In all they do, Benni and his wife always ensure that they put their kids first. The former South African legend and the country's leading goal scorer revealed that his kids are the reasons he is always striving to be more successful, to give them a life that is better than what he had while growing up.