Cassper Nyovest's flashy car collection has a new addition which he added to the fleet recently.
The rapper's latest set of wheels brings the total value of his state of the art cars to about R9.4 million.
While engaging his fans in a casual conversation on social media recently, the rapper responded to a user who said he was craving for a V-Class. Subsequently, the rapper tweeted that he had just bought one. In other words, a flashy new Mercedes-Benz V-Class has joined the Bentleys in his garage.
I really want a V-Class 😭😭😭😭but priorities, and black tax 😭😭😭

— #PartyWithpH Faki'volume boi (@iam_ph) May 17, 2017
Just bought one. It's the most comfortable car to be driven in. True luxury. Almost sold all my cars. I don't even wanna drive no more. https://t.co/jl7EBhBYSl

— R.M Phoolo (@casspernyovest) May 17, 2017
The two Bentleys valued at R3.7 million each and his custom tour bus which is valued at around R1million brings the total amount he has spent on cars to about R9.4 million. Now, that's some levels!
Last year, Cassper Nyovest's flashy car collection had Twitter green with envy after a picture of him posing with his two Bentleys went viral. Subsequently, fans started what could be called the Cassper Nyovest Challenge.
The challenge was inspired by a picture Cassper uploaded of him standing on his two states of the art cars just in time for his birthday.
The challenge saw many people tweeting and sharing images of themselves standing on a lot of things including people, cars and other things you can't even imagine. Even celebrities joined in the craze at the time.
Nevertheless, while fans were having fun marvelling at the rapper's collection of expensive cars, radio personality Euphonik was waiting for the right moment to shut the whole thing down.
For Euphonik he would rather stand on his property deeds than some flashy cars. Thus, he didn't waste time in telling everyone what it feels like to swim in the ocean of wealth.
Year after year, Nyovest keeps enlarging his empire by purchasing more eye-popping assets. Recently, the South African A-lister augmented his already impressive list of fortune with an ultra-luxurious R10 million house which features a lot of rooms, a cigar lounge, four garages, and a state-of-the-art studio.
"We got a new spot. It has so many rooms. I have a place for everyone. I still haven't digested it [having a new place]. We also have a new studio at the new place and an entertainment area. I have been wanting to build it for some time and I finally have it now. A lot of good music is going to be coming from it," the Tito Mboweni hitmaker confirmed.
He also revealed that he forked out a whopping  R10 million on his new crib and that he had moved in on the same day.
Nyovest, whose name is synonymous with luxury, has in addition to his house and cars, a Presidential Rolex watch worth R448, 300 and a custom diamond-encrusted Rolex Oyster Perpetual Date Just worth R160,000.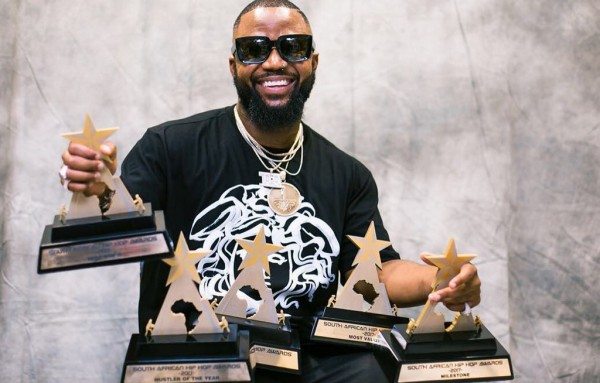 Read Also: Top 10 Richest African Artists: Black Coffee And Masekela Lead The Pack
Quick Facts about Cassper Nyovest
His real name is Refiloe Maele Phoolo.
The South African recording artist cum record producer is currently signed to Family Tree, his own independent media company.
His parents welcomed him on December 16, 1990, in Mafikeng, South Africa.
He has one brother named Khotso and a sister named Tsholofelo. They all grew up in Montshiwa, Mafikeng. His mother's name is Muzuki Phoolo.
Before dabbling in music, he participated in sports like football, cricket, and basketball in his school.
Nyovest started rapping in his 6th class. He would later drop out of school in 2006, at 16 after he failed in his 10th class.
His debut album, Tsholofelo, was released on 18 July 2014 while his second album Refilloe, was released in 2015 with its first single titled: Mama I Made It (#MIMI).
He had a short-lived relationship with actress, Boitumelo Thulo. The duo first made their relationship public in 2015. They, however, called it quits at the end of the same year.
Cassper has been decorated with streams of accolades ever since he stormed the spotlight. He is a proud winner of the following awards; Watsap TV Africa Music Video Awards, Channel O Music Video Awards, Metro FM Awards, South African Music Awards, SA Hip Hop Awards and MTV Africa Music Awards (he won the last award twice).
He has an impressive net worth estimated to be around $3 million.