Busisiwe Mkhwebane is an erudite scholar. She attended Mkhephula Secondary School before moving on to the University of the North from where she bagged a BProc and an LLB. She also has a diploma in corporate law, a higher diploma in tax, and a Masters in Business Leadership. Although her salary as a Public Protector is not known, she is said to have an estimated net worth of R10 million.
While many people may know Busisiwe Mkhwebane as a public protector, the South African advocate has actually held several key government positions since 1994. What is even more interesting about her career success is that she achieved success at an early age. As early as the age of 24, she was already working with the Department of Justice, and since then, her career has continued to blossom.
Of course, career success does not come as a stand-alone package; it comes with a consistent increase in salary and mouth-watery net worth, all of which Busisiwe Mkhwebane enjoys today. Unlike most public office holders who may not have been academically qualified for the positions they have held, Busisiwe is very much qualified to be where she is today.
Summary of Busisiwe Mkhwebane's Biography
Full name: Busisiwe Joyce Mkhwebane
Gender: Female
Date of birth: 2 February 1970
Place of Birth: Bethal, Mpumalanga, South Africa
Busisiwe Mkhwebane's Age: 53 Years Old

Ethnicity: African
Nationality: South African
Zodiac Sign: Aquarius
Sexual Orientation: Straight
Religion: Christianity
Marital Status: Widow
Education: University of the North, Rand Afrikaans University, and University of South Africa
Occupation: Ombudsman, advocate, prosecutor
Busisiwe Mkhwebane's Net worth: R10 million
Famous for: Her time as a public protector in South Africa
Busisiwe Mkhwebane's Instagram: busisiwemkhwebane
Twitter: @AdvBMkhwebane
Busisiwe Mkhwebane Has Been Serving As A Public Protector Since 2016
In October 2016, Busisiwe Mkhwebane was appointed as a Public Protector by the former South African president, Jacob Zuma. This came after she had served in government for about 22 years in different capacities. As Public Protector, she is responsible for receiving complaints from the public regarding maladministration by government officials and agencies and investigating them. She has done this job since 2016 to date, despite the change of government and the challenges and accusations she and her office have faced.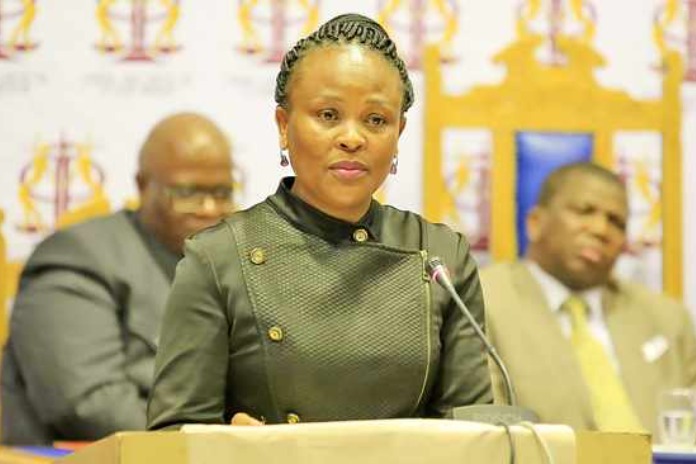 In 2020, when President Cyril Ramaphosa proposed that the salary of the Deputy Public Protector, Kholeka Gcaleka, should be increased to R1.8 million per year, it was revealed that Busisiwe Mkhwebane, who is the Public Protector received R2.3 million annually. This means her monthly take-home pay is about R192,000. This is very close to the R2.47 million South African ministers earn every year.
Her Position As Public Protector Is Currently Under Threat
Busisiwe Mkhwebane's position as South Africa's Public Protector has recently come under fire due to some controversies. She investigated the donation of R500,000 by BOSASA to the African National Congress (ANC) for the election campaign of President Cyril Ramaphosa, a donation that she refers to as 'improper,' even though her report was deemed unlawful and irrational by the court.
In 2017, she issued a Bankorp-CIEX report to ABSA requesting that they refund R1.125 billion for the financial assistance bailout that the former government had given its predecessor, Bankorp Group. However, a North Gauteng High Court discovered that her investigations were not properly done, and she lied while under oath. She was therefore charged to pay a fine that is estimated to be R900,000.
This is to mention but a few of her the controversies she has had to face as a Public Protector. Due to these and others, in 2020, a panel was set up to deliberate on whether there is prima facie evidence of incompetence and wrongdoing that proves that she is unfit for the office. Findings were made, and she was deemed to have abused the powers of her office. However, she is yet to be removed from office. And until that is done, Busisiwe Mkhwebane remains the South African Government's Public Protector.
Mkhwebane Is An Erudite Scholar With A Master's Degree In Business Leadership
Though information about her primary education is unavailable, Busisiwe Mkhwebane matriculated in 1988 from Mkhephula Secondary School before continuing her education at the University of Limpopo, formerly called The University of the North, where she graduated with a BProc and an LLB.
She also has a diploma in Corporate Law and a higher diploma in Tax from the University of Johannesburg, which was called Rand Afrikaans University at the time. Having a higher diploma and a bachelor's degree was not enough for Busisiwe Mkhwebane, as she went on to bag a Master's degree in Business Leadership from the University of South Africa (UNISA) in 2010. All of these certifications make Busisiwe Mkhwebane adequately qualified for the public position she holds now, including the ones she has held in the past.
She Started Her Public Service Career As A Public Prosecutor In 1994
Busisiwe Mkhwebane's career in public office spans over two decades. Her first shot at public office was in 1994 when she joined South Africa's Department of Justice as a public prosecutor. Two years later, she was already a Legal Administrative Officer in the International Affairs Directorate. In 1998, she became a senior researcher for the South African Human Rights Commission, and a year later, she joined the Public Protector's office as a Senior Investigator and Acting Provincial Representative.
She left the public protector's office in 2005 after seven years to join the Department of Home Affairs, where she served as the Director for Refugee Affairs. By 2009, she became the asylum seekers management's acting chief director.
The following year, she served as a Counselor for Immigration and Civic Services in the South African Embassy in China from 2010 to 2014. During her time in China, it was reported by the Organised Crime and Corruption Reporting Project that Mkhwebane received the sum of $5000 from the controversial Gupta family for a railway contract with China South Rail, an accusation that she denied.
After serving in China for about four years, she returned to the country in 2014 to continue her job with the Department of Home Affairs as a director on country information and cooperation management. In July 2016, she became an analyst for State Security Agency until October, when she was appointed by President Jacob Zuma as a Public Protector.
Her salary, while she was holding all of these positions, is not available. However, we know that as of 2020, she received R2.3 million as her yearly salary. Considering the major offices she has held, it may be safe to say that all her career success so far has contributed to her current net worth.
A Look At Busisiwe Mkhwebane's Career Timeline
Here is a look at all the offices and positions she has occupied since she started charting her career path in 1994.
1994: Public Prosecutor – Department Of Justice
1996: Legal Administrative Officer – International Affairs Directorate
1998: Senior Researcher – Human Rights Commission
1999: Senior Investigator – Office of Public Protector
2005: Director for Refugee Affairs – Department of Home Affairs
2009: Ag. Director – Asylum Seekers Management
2010: Counselor, Immigration and Civic Services – South African Embassy in China
2014: Director, Country Information and Cooperation Management – Department of Home Affairs
2016: Analyst – State Security Agency
October 2016 to date: Public Protector – Office of Public Protector
Busisiwe Mkhwebane's Net Worth Is Estimated At R10 Million
South Africa's Public Protector is said to have an estimated net worth of R10 million. Judging from the fact that she does not have any known business (though she advertises clothes on IG, and we can't say for sure if it is her business or she is just promoting someone else's), a major part, if not all, of her net worth has been accumulated from her salary and other benefits (if any) from all the positions she has held from 1994 to date.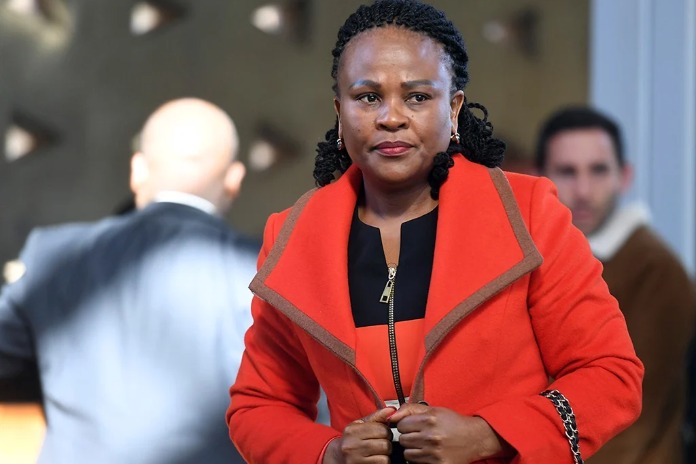 According to reports, if Busisiwe Mkhwebane can successfully hold on to the position of Public Protector till 2023, she is expected to receive a gratuity of R40.2 million. Still, judging from the fact that she is being probed, we cannot be sure that she may continue being Public Protector until 2023.
As of March 2017, she was already eligible for a gratuity of R2.6 million, which should have increased drastically by now, as she is only two years away from completing her tenure.
Busisiwe Mkhwebane Does Not Show Off Her Wealth
With a net worth of R10 million and an enviable position to show for it, Busisiwe Mkhwebane is not someone who you would say lives a luxurious and expensive lifestyle. But when you scroll through her Instagram handle, you will observe that she is the kind of woman who loves being happy and comfortable.
Even at the age of 53, she always tries to look good and to have an amazing time with family and loved ones who she does not fail to celebrate with whenever they reach a milestone in their lives.