Walter Sisulu University (WSU) online application process requires little to no effort. The institution only accepts online applications, and it is a free service with no fee payment required. There are certain things you need to do to save your money and time while navigating through this process.
To have a smooth transaction, you must get the following information ready – Personal details, address of the person responsible for the account, address of next of kin, as well as email addresses is compulsory. Do ensure also that you save all documents as soft copies for uploading.
Facts To Note Before You Commence WSU Online Application Process
You must first determine what you want to study before you start the online application.
Find out if you met the admission minimum requirements for the choices you are making.
Also, have in mind that the endorsement for the certificate and the achievement levels for the specific subject stated as a requirement must be met.
The Following Documents Are Required For WSU Online Application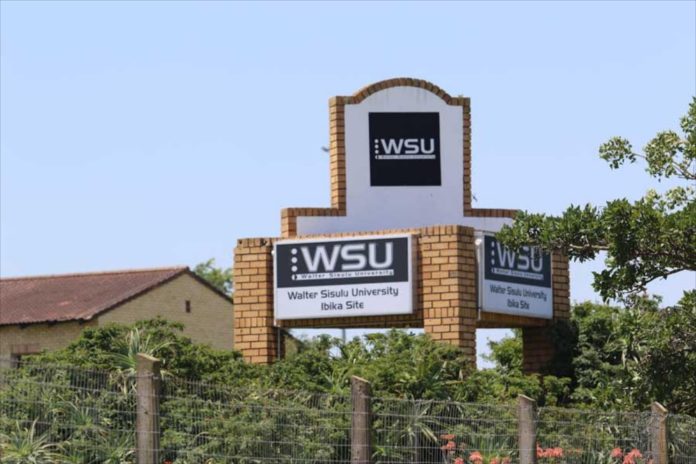 New Applicants
The University considers various post-matric certificates for admission purposes. Hence, the following certificates are accepted by the university:
The "Old Senior" certificate
The National Senior Certificate "NSC"
National Certificate Vocational "NCV"
N6 certificate
Current grade 12 learners must upload Grade 11 final results and first quarter or mid-year results if available.
Post-matric candidates must upload a matric or equivalent certificate, academic record, copy of ID, or passport.
Some departments may consider mature age exemption for admission for some programs.
Note: You may inquire from the Admissions Office at [email protected] for more information.
Transfer Students
Students who are from another tertiary institution who wish to apply must submit the following documents:
Matric Certificate
Post-Matric Certificate
Identity Document
Official Academic Report
Conduct Certificate.
International Applicants
Here are important things to note before you commence:
You will need to first apply to Universities South Africa (USAf) for evaluation of school results or other degrees/diploma certificates.
When you receive the results from USAf, you may commence with the application process and upload the results and the copy of your passport.
Note: Kindly visit CCIP offices at: [email protected] for more information.
WSU Online Application Process For International Students
All international students must follow the following procedure when applying for admission at Walter Sisulu University:
The evaluation of all international students' qualifications is accessed through the South African Qualifications Authority (SAQA) and Higher Education South Africa (HESA). Kindly send email inquiries to [email protected] for more information.
Complete the WSU application form for admission.
A transcript in English plus certified copies of your certificates, diplomas, and degrees previously obtained must be submitted.
Proceed to submit a certified copy of your passport.
Also, you are expected to submit a marriage or divorce decree(s).
Submit the identity document for a parent or legal guardian if less than 21 years.
Then pay a non-refundable application fee.
About Fees At WSU, please note that:
a. SADC students are required to pay the same tuition fee as South African students, but other international students must pay two and half times(+2x) the normal tuition.
b. No international student will be allowed to write the final exams with an outstanding balance.
c. At registration, all international students must pay a once-off payment of R2000.00 international levy plus the registration fee (except refugees).
d. International students do not qualify for financial aid offered by institutions.
STUDY PERMITS
Before commencing registration at WSU, all international students must be in possession of a valid study permit, which can be obtained through the South African High Commission or South African Embassy of the student's home country.
Here are some of the documents needed for the study permit application:
A letter of acceptance
Valid passport
Proof of sufficient funds for tuition, accommodation, and living costs [bank statement, payslip, or undertaking by a sponsor]
Proof of Medical Aid cover
A police clearance certificate [less than 6 months]
Medical and radiological reports [less than 6 months old]
Relevant certificates if married, widowed, divorced, or separated.
2 identity photographs
Administration fee determined and payable to respective embassies
A deposit slip or bank statement? Students from other African countries are not required to pay this deposit provided that the Government of their country submits a written undertaking to pay all costs relating to the deportation of the student should it become necessary.
Yellow fever vaccination certificate [if relevant]
Note: A study permit will be issued for a period of study and must be renewed at least 30 days before the expiry date at the Department of Home Affairs anywhere in South Africa. After the expiry date, no applications will be accepted by the Department of Home Affairs.
When carrying out a study permit renewal, ensure to go with the following items:
Deportation guarantee
Valid passport
Valid study permit
Police clearance certificate [less than 6 months from each country the applicant has resided for longer than a year].
Confirmation letter from the institution, stating the duration of studies
Proof of funds [bank statements, payslip, or letter of undertaking from the sponsor if applicable]
Medical and radiology reports [less than 6 months]
Yellow fever vaccination (if applicable)
Administration fee
Proof of residence during your period of study
WSU Online Application Process: How To Apply
All fields with a red asterisk are compulsory. This means you will not be allowed to proceed if left blank or incorrect information is supplied.
It is compulsory to have an email address. You may create one on Gmail or Yahoo.
All the communication that will follow after you have successfully completed your application will be sent to the email address you have provided.
Note: Should you encounter a problem during the application process, send your query to [email protected]. You will also be asked to apply for residence and financial assistance while email will be sent to you with directives on the process of application. Also, note that you will be advised if additional information is required to assist during the assessment process.
WSU has two platforms for processing applicants. They include:
1. Application wizard (for first-timers only). Here is its link –  http://itsapp.cle.intra.wsu.ac.za:7771/pls/prodi03/gen.gw1pkg.gw1startup?x_processcode=ITS_OAP
2. Student Online iEnabler (for those who are re-applying). Here is its link – http://itsapp.cle.intra.wsu.ac.za:7771/pls/prodi03/w99pkg.mi_login
How To Check Your Admission Status On Walter Sisulu University
If after a while and you haven't received a response to your Walter Sisulu University (WSU) application for admission, then you need to simply check the status of your application. It is usually expected that you get a response a few days after the application closing date. If it didn't happen this way, then you might need to take things into your own hands. Actually, it's not a difficult process.
To make things even easier, follow the steps below to pull through.
Does WSU Charge For Application?
This is one question that most applicants usually ask. However, it is good for applicants to be conversant with this aspect of the application process before commencing it. Walter Sisulu University (WSU) does not charge any fees for its online application.
Does It Take Long To Get Accepted To WSU?
As mentioned earlier, it is usually expected that you get a response a few days after the application closing date. If it didn't happen this way, then you might need to take things into your own hands by checking your status.