Hlubi Nkosi is a prominent and successful South African businessman who is best known as Londie London's husband. His wife is a television personality and one of the real housewives of Durban.
Nkosi has been under the radar all his life until his relationship with the television sensation and songwriter Londie London. Not much is known about him, and from the looks of things, his alleged cheating habits make him even more famous than his business.
Summary of Hlubi Nkosi's Biography
Full Name: Hlubi Nkosi
Gender: Male
Ethnicity: African
Nationality: South African
Religion: Christianity
Marital Status: Married
Hlubi Nkosi's Wife: Londie London
Hlubi Nkosi's Children: Uminathi Hlubi
Famous for: Being the husband of TV personality, Londie London
Hlubi Nkosi's Instagram: hlubi_nkosi
Hlubi Nkosi Keeps His Background Away From The Public
Hlubi Nkosi is not one to discuss his background and his private life with the media and the public. He has been completely silent and has refused to disclose details of his background and the family he hails from. However, his wife Londie London hails from Durban, KwaZulu-Natal, South Africa.
What Does Hlubi Nkosi Do For a Living?
Hlubi Nkosi who has become very successful as a businessman in South Africa today, is a very secretive man by nature and although has over thirty thousand followers on Instagram, it still seems difficult to know about him.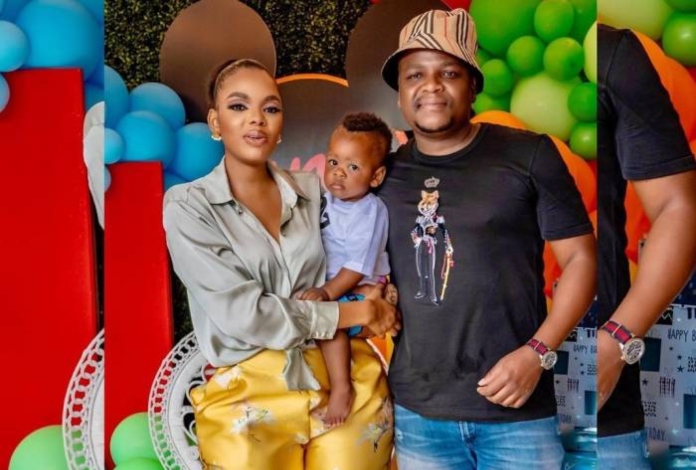 Details of the kinds of businesses he manages or is into have not been specified and detailed. However, from the lavish and extravagant lifestyle he and his wife enjoys, he has a huge source of income.
From what we can see on the reality TV show (The Real Housewives of Durban), the couples live in a Hillcrest mansion and own flashy cars. One can easily conclude that they both live luxurious lives.
Hlubi Nkosi Dated For Long Before Becoming Londie London's Husband
Yes, Hlubi Nkosi is married to Londie London. It turns out Hlubi Nkosi and Londie London have been married for over a year traditionally, as her husband met the basic requirements and her lobola was paid in 2020. However, before their marriage, Hlubi Nkosi was in a long-term relationship with the songwriter and television personality.
The pair dated and were in a relationship for years before they both decided to take it to the next stage. How and when the pair met is still a secret but what we know is that their relationship and union have had so many ups and downs. From time to time, the pair had to take breaks and restructure their relationship before they could move on.
How Many Children Does Hlubi Nkosi Have?
Hlubi Nkosi has two children with Londie London. In March 2021, Hlubi Nkosi and Londie London became parents as Londie put to bed a bouncing baby boy. Their lovely son, who they named Uminathi Hlubi, turned one year old in 2022. The baby boy is referred to as "Umi" by his mother.
The little Umi, since his birth into this world, has been showered with a lot of luxury and a flashy lifestyle – and who would blame him?
The baby's first birthday celebration was in his sixth month on earth as his parents could not wait till he clocked one year old before they threw him a glamorous birthday party in which the RHOD co-stars were in full attendance. In July 2022, Nkosi and his wife welcomed their second child, a daughter named Princess B.
Hlubi Nkosi Has Been Involved in a Cheating Scandal
Hlubi Nkosi has shown over time to be a man who likes to keep his personal life a secret and under the radar, unlike his wife, Londie London. However, he keeps making headlines for cheating on his wife. He has been accused of having a sexual relationship and impregnating Kim Kholiwe, who happens to be the best friend of TV personality Faith Nketsi.
Their relationship was exposed by the notorious Twitter blogger Musa Khawula, who is well known for exposing cheating celebrities. Not long after the news of Nkosi's relationship with Kim was exposed, she gave birth to her child. Putting one and two together, rumors began to spread that Hlubi Nkosi was the father of Kim's child.
Although the accusation of Nkosi fathering another child outside his marriage has not been verified, Londie also took to her Instagram handle to express her bitterness concerning what transpired between her husband and Kim. Her actions were criticized by the public, and she has since tendered her apologies.
However, Musa Khawula took to his Twitter handle to accuse Londie London of stealing Hlubi Nkosi from Kim Kholiwe in the first instance. The controversial Twitter investigator claimed that Kim Kholiwe and Hlubi Nkosi were in a very happy relationship until Londie London came into the picture.
Hlubi Nkosi Has Also Been Involved With Another Woman Named Phumla M
The prominent businessman seems to be putting his wife, Londie London, through a lot of psychological trauma as a result of his alleged cheating habits. Musa Khawula has been keen on exposing the relationship and scandals of Hlubi and his family, and he also takes credit for exposing Nkosi's relationship with Phumla M.
There are rumors that Nkosi got Phumla M pregnant, and he may be taking her as a second wife. Although Hlubi doesn't want to lose Londie London due to these allegations, the RHOD star has moved out of their Hillcrest mansion.
Londie London and her husband Hlubi have received backlash on Twitter and other social media handles for not being able to work out their marriage, while others have called out this mystery woman, Phumla M accusing her of deliberately trying to tear the family apart as she was unaware that Hlubi Nkosi was married before going on to have an affair with him.
As the scandal continues to rumble and a family on the verge of tearing apart tries to steady their ship, neither Hlubi Nkosi, London Londie, nor the mystery woman, Phumla M, has come out to clear the air either by confirming or debunking these speculations regarding a second wife for Hlubi Nkosi or another pregnancy from an extramarital affair.