Mark Leonard was the father of Kawhi Leonard, an American professional basketball player. Kawhi Leonard's dad died in 2008 when his son was just about 16 years old. Mark was murdered at the age of 43 in front of his car wash in Compton, California. The horrible incident left Kawhi and his family completely devastated.
Who was Kawhi Leonard's Dad, Mark Leonard?
Kawhi Leonard's father, Mark Leonard, was an African-American man who was born and raised in the USA. Our findings show that he was born in the South Side of Chicago. However, he did not grow up there; instead, he was raised and lived most of his entire adult life in Compton, a city in southern Los Angeles County, California, United States, situated south of downtown Los Angeles.
It is not very clear when exactly he was born, but it is generally believed that he was born in 1965 since he was bout 43 years old in 2008 when he died. Also, details about Mark Leonard's early life and his experiences as a child have remained out of reach today as information about this remains vague.
The identities of his parents are not known, and it is not clear if he had any siblings with whom he grew up. Also, details of where he had his education remain unknown at the moment. Much of what is known about him revolves around his ultimate demise and his relationship with his famous son, Kawhi Leonard.
Mark Leonard Owned a Car Wash in Compton
Even though very little is known about his life and times, one thing we know about Mark Leonard is that he worked hard to provide for his family. As a matter of fact, our findings show that he owned a car wash in Compton. He is reported to have built the car wash from the ground up and turned it into a thriving hub.
Mark's car wash was reportedly quite popular in his Compton neighborhood, and many people came there to wash their cars. He himself was quite popular in the area, and nearly everyone was fond of him. Sometimes, his son, Kawhi Leonard, would come to the cash to help in attending to the many customers who came there to have their vehicles cleaned up.
In this way, father and son bonded really well from early on. Kawhi and his father were reportedly very close. This was mainly because Mark always ensured he carried his son along in everything and also because he loved sports just like his son. Their mutual love for sports always dedicated what they talked about when they were together.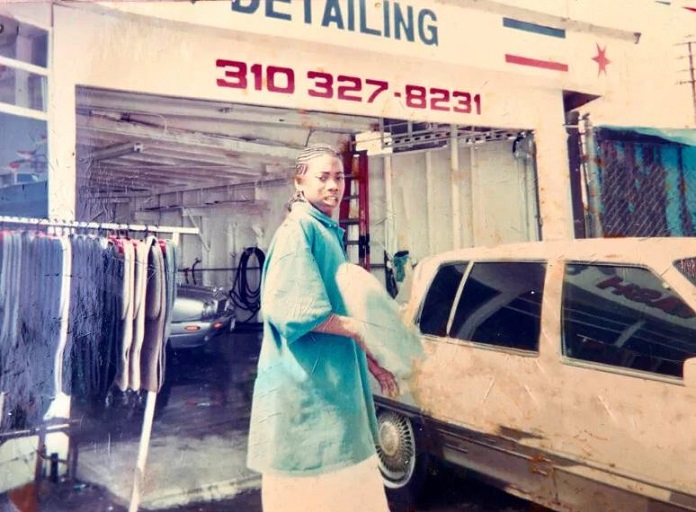 Inside Kawhi Leonard's Family
Kawhi Leonard's family dynamic comprises his father, Mark Leonard, and his mother, Kim Robertson. The NBA star also has four older sisters. He is the last-born child in the family. Very little is known about Kawhi's parents and their romantic journey.
It is unclear exactly when they first met and got together as a couple. It is not clear when they got married to each other. However, what is clear is that the marriage of Mark Leonard and Kim Robertson fell apart a few years after the birth of their youngest child, Kawhi. They were subsequently divorced soon after when Kawhi was still a child,
His parents' divorce was undoubtedly a challenging and tumultuous chapter in the young boy's life. Coping with the separation of his parents was a difficult emotional journey for Kawhi, as it often is for children in such circumstances. However, despite the dissolution of their marriage, both Mark and Kim remained steadfast in their commitment to their children.
Our research reveals that following the divorce, Kawhi primarily lived with his mother, Kim. Yet, it's important to note that the bond between him and his father remained strong, and he continued to spend a substantial amount of time with his father, Mark. A shared passion for sports played a pivotal role in cementing their father-son relationship. Their love for sports only provided a common ground for them to bond further.
Kawhi's Mother Has Also Been a Huge Pillar of Support
Kawhi Leonard's mother, Kim Robertson, has been a steadfast pillar of support in her son's life, especially since the inception of his basketball career. Her unwavering dedication to his career journey was evident from the very beginning, as she stood by his side on the crucial night of his draft, which is a milestone event in the life of any aspiring basketball player.
Following the tragic loss of Leonard's father, Kim Robertson's maternal devotion became even more pronounced. She made it her mission to ensure that her son lacked for nothing, providing him with the love and resources necessary to pursue his dreams. Also, in the wake of her husband's passing, Kim Robertson harbored legitimate concerns about the potential pitfalls her son might encounter without a father figure in his life.
However, those fears were ultimately assuaged by Kawhi's remarkable commitment and professionalism. He not only defied the odds but also rose to become one of the preeminent players in the world of basketball, a testament to his character and the enduring influence of his mother's support and guidance.
Does Kawhi Leonard Have any Siblings?
Yes! As we have explained before, Kawhi Leonard is not an only child. In fact, he actually has four sisters who are all older than him. Kawhi is the last-born child in the family. As the only son and the last child, Kawhi was highly protected in his childhood by the women in his life, who were all very protective of him.
However, not much is known about who his sisters are. Details about when they were born, how old they are right now, and what they currently do for a living remain out of reach. What is certain is that Kawhi and his sisters were raised in a modest manner, as their parents were not rich. However, their parents worked hard to put food on the table for the kids.
In addition to his sisters, Kawhi also has a half-brother as well who has been identified as Zion Mark Anthony Leonard. Our findings show that after Kawhi's parents divorced, his father, Mark Leonard, went on to marry another woman called Jacquelyne, and they had a child together. But, sadly, Mark never witnessed the broth of this child as he died before that.
In fact, the very day Mark died was the same day he learned that his wife, Jacquelyne was pregnant with their child. He was overjoyed and began to make arrangements to ensure that Jacquelyne had an easy life during her pregnancy. As fate would have it, on the evening of the same day, he was shot dead.
Jacquelyne went on to deliver the baby following Mark's death and called him Zion Mark Anthony Leonard. Zion now plays basketball just like his famous half-brother, Kawhi. It is not clear how close Kawhi is to his brother.
One of His Sisters was Sentenced To Life in Prison
Unfortunately, one of Kawhi Leonard's sisters has been sentenced to life in prison. Our findings show that in 2019, Kawhi Leonard's sister, Kimesha Williams, found herself in a harrowing legal situation, ultimately resulting in her being sentenced to life in prison.
Kimesha Williams was handed the life sentence alongside another woman called Candace Townsell. They received life sentences without the possibility of parole for their involvement in the murder of an elderly woman who was discovered with a fractured skull in the bathroom of Pechanga Resort Casino in California in 2019.
The victim, Afaf Assad, an 84-year-old resident of Long Beach, lost her life in a horrifying incident that transpired at the four-star hotel and casino in Temecula, located about two hours south of Los Angeles. On the morning of August 31, 2019, deputies from the Southwest Sheriff's Station responded to a distress call, finding Assad unconscious on the bathroom floor.
Following a month-long trial in February, both Kimesha and Townsell were convicted of first-degree murder, robbery, and elder abuse. Assad and her husband, Youanness, who had been married for 59 years, had entered the casino with a purse containing $1,000, as reported by The Press-Enterprise. Kimesha entered the bathroom with Assad while Townsell stood guard, even preventing a custodian from entering at one point.
Although no witnesses observed the actual attack on Assad, a woman in a stall reported hearing a 'thud.' Eventually, Kimesha is said to have left the bathroom and quickly exited the casino alongside Townsell. Assad succumbed to her injuries four days later after being admitted to a local hospital.
Kawhi Leonard and his family were devasted by the entire legal drama that ensued and the ultimate imprisonment of Kimesha.
How Kawhi Leonard's Father, Mark Leonard, Died
Kawhi Leonard's father, Mark Leonard, lost his life on January 18, 2008, when he was tragically murdered. The tragic incident sent shockwaves through Kawhi Leonard and his family on that fateful day in Compton, California. The circumstances surrounding Mark's death were horrifying, as Mark was the victim of a shooting that claimed his life. Multiple gunshot wounds proved to be fatal, and he was pronounced dead upon arrival at the hospital, as reported by The Los Angeles Times.
Mark Leonard's final moments were quite poignant. Our findings show that on that fateful day, he was done with work and was closing up his car wash, aided by his workers so they could go home and rest for the day. He was also in a hurry to lock up the shop because he wanted to go and watch his son, Kawhi, play a basketball game, a testament to the deep bond between father and son.
However, just as he was almost done locking up the car wash, a car pulled up to him and asked for a wash. Mark explained that the car wash was already closed for the day, but the driver pleaded for his car to be washed. Out of generosity, Mark agreed to do it for him. However, just as he moved to start washing the car, the driver pulled out a gun and shot at Mark several times before driving off.
Mark was fatally injured, and by the time he was rushed to hospital, he was already dead. At the time of his tragic passing, Mark was only 43 years old, leaving a void in the lives of his family and loved ones. His father's death deeply affected Kawhi.
Kawhi Leonard, known for his reserved and private nature, rarely divulges details about his personal life. However, those who are close to him emphasize the profound connection he shared with his father.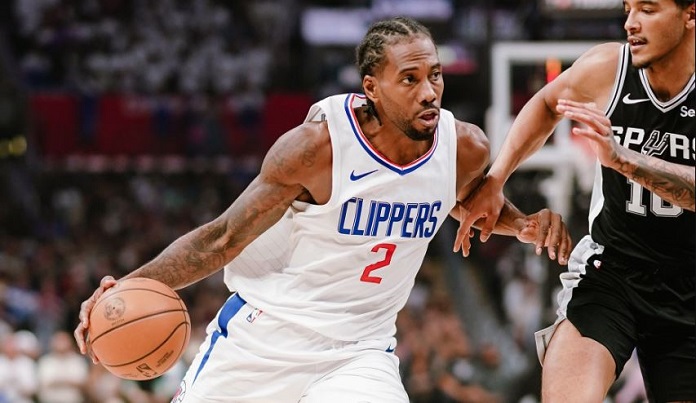 Kawhi Was Just 16 Years Old When His Father Died
At the time Mark Leonard died in January 2008, Kawhi Leonard was just 16 years old. At the time, Kawhi was a high school student at Riverside King, and he had to juggle the emotional turmoil of his father's sudden death with the demands of being a student-athlete for a long time.
On the day his father died, Kawhi, who was a young aspiring basketball player, was en route to one of his high school basketball games when he received the heart-wrenching news. One of his sisters called him and told him their father had died. What made the whole incident even more heartbreaking was that Mark was actually trying to close shop and hurry to watch his son in action at the basketball game when he was killed.
Interestingly, despite the immense weight of grief that threatened to consume him when he learned of his father's death, Kawhi displayed an unwavering commitment to honor his father's memory through his actions on the basketball court that day. He refused to turn back from going to play the game. Instead, he proceeded to play and even scored an impressive 17 points during the game that night, all while carrying the emotional burden of his father's sudden death.
However, it was at the game's conclusion that the emotional floodgates finally burst open. Overwhelmed by the pain and sorrow that had been building within him, Kawhi broke down in tears when the game was over and fell into his mother's arms. His mother later revealed that Kawhi was broken beyond words by what happened. The loss of his father had a profound and enduring impact on Kawhi's character. It served as a catalyst for his introspective and reserved nature in public appearances.
Was Kawhi Leonard's Dad's Killer Ever Found?
As of 2023, the killer of Kawhi Leonard's father has not been found. To this day, the precise circumstances surrounding his father's murder and the identity of the culprits are shrouded in mystery. However, investigation shows that on the day Mark Leonard met his tragic end, a series of ominous events took place as three different men visited him at various points throughout the day.
These individuals were suspected to be members of a gang, and it was believed that Mark had fallen out with at least one of these men. Mark is even said to have hit one of the men at some point. Later, as night fell on that same ill-fated day, Mark Leonard met his grim fate as he was shot and killed. Interestingly, the killer did not take cash or any valuables from Mark Leonard's car wash. This meant the shooter wasn't a robber but someone who wanted to exact revenge.
Law enforcement authorities now believe that one of the three men who had earlier confronted Leonard that day had a hand in the violent act, and they were linked to a Latino gang. However, the true identity of the shooter remained frustratingly elusive, adding an element of mystery to the case that lingers to this day.
Curiously, Mark Leonard's wife, Jacquelyne, almost suffered the same fate as her late husband, but her life was spared by a slender margin. This is because someone also tried to kill her by firing at her in the same spot where her husband was killed. As the story goes, after Mark's tragic murder, she displayed unwavering determination and resilience by keeping the car wash business running, even while carrying the weight of pregnancy. It is not clear if the assailant who tried to kill Jacquelyne was connected to the people who killed her husband, Mark Leonard.
However, one day, out of nowhere, a man in a car fired a gun at her while she was just doing her business. She was badly injured and had to undergo numerous surgeries just to walk again. Eventually, Mark's wife made the difficult decision to part ways with the car wash, an establishment that had been deeply intertwined with her family's life. The choice to sell this business marked a significant turning point in her journey, perhaps a step towards healing and closure in the wake of the tumultuous events that had unfolded.