Billy Raymond Burton (born 4th of October 2003; Age: 19 years old) is an American actor best known as the son of Tim Burton and Helena Bonham Carter.
Tim Burton's son started making movie appearances as early as age 2, however, his mother has expressed her desire to see him join nine-to-five professions like accountancy and law. Helena's wishes remain to be seen as the youngster is still in college.
Summary of Billy Raymond Burton's Biography
Full Name: Billy Raymond Burton
Gender: Male
Date of Birth: 4th of October 2003
Billy Raymond Burton's Age: 19
Ethnicity: Mixed
Nationality: American and English
Zodiac Sign: Libra
Religion: Christianity
Marital Status: Single
Billy Raymond Burton's Parents: Tim Burton and Helena Bonham Carter
Siblings: Nell Burton
Famous For: Being the son of Tim Burton
How Old is Billy Raymond Burton?
Billy Raymond Burton is 19 years-old; this age is calculated from the youngster's date of birth – 4th of October 2003. Though Billy was born in London, England, he holds dual citizenship in America and Britain. This is because his dad hails from the US while his mum is English. Billy's ethnicity is mixed, as he has German, Croatian, Norwegian, Polish, Swedish, and Russian ancestors.
As the son of two entertainment heavyweights, Tim Burton and Helena Bonham Carter, Billy's birth was highly anticipated by his parents' fans. Thus, it came as no surprise that his arrival sparked excitement in the industry.
Billy does not just have top-notch celebrities as parents. His godfather happens to be one of the best in the entertainment industry – actor Johnny Depp. The Hollywood Walk Of Famer is Tim and Helena's close friend and has played leading roles in several of Tim's productions.
Growing up in the United Kingdom, Billy Raymond Burton shared his formative years alongside one sister, Nell Burton. Born on the 15th of November 2007, Nell is four years younger than her big brother. Billy's baby sister is also part of the entertainment industry as an actress. She has played several juvenile roles. Some good examples are Alice in Wonderland (2010), where she depicted a girl at the docks, and Dark Shadows (2012) as a young girl at a station. Billy is currently living in his mother's country, the UK.
Billy Raymond Burton's Dad is a Known American Moviemaker
As earlier mentioned, the parents of Billy Raymond Burton are entertainment heavyweights in both American and the United Kingdom. His dad, Tim Burton, is listed as an artist, moviemaker, animator, and writer. Tim takes credit for producing the popular superhero movies Batman and Batman Returns.
His directorial portfolio is overflowing with A-list movies, including the musical adventure film called Charlie and the Chocolate Factory, the fantasy drama known as Big Fish, including the age-old fantasy movie, Alice in Wonderland. The films Miss Peregrine's Home for Peculiar Children, Beetlejuice, Ed Wood, Edward Scissorhands, Corpse Bride, Sleepy Hollow, Frankenweenie, and Sweeney Todd: The Demon Barber of Fleet Street are also to his credit.
Tim Burton's effort in the entertainment industry has been bountifully rewarded. The American moviemaker has been a three-time BAFTA Award nominee and a two-time Academy Award nominee; he has won one Golden Globe and one Emmy.
Billy's Mum Has Starred in Some Blockbusters
Billy Raymond Burton's mum, on the other hand, is a celebrated English actress. Helena Bonham Carter gained popularity for appearing in large-scale blockbusters and independent films. She became a star by acting in productions like Hamlet, Mary Shelley's Frankenstein, Howards End, Mighty Aphrodite, Wallace & Gromit: The Curse of the Were-Rabbit, Fight Club, the Harry Potter series, and more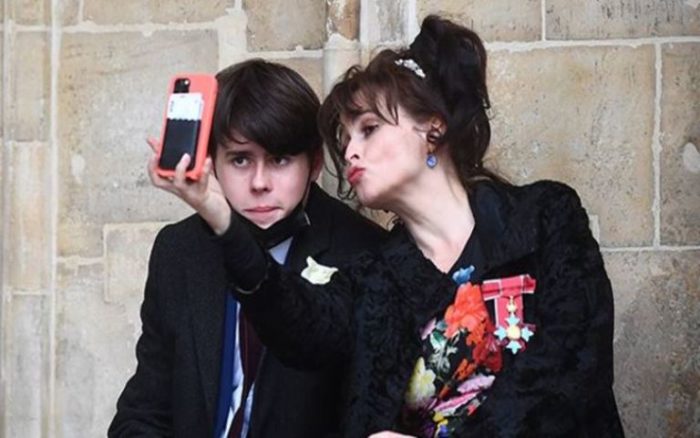 Helena's years in the entertainment industry have seen the movie star sweep awards in their numbers. She bagged Screen Actors Guild Awards three times and won a British Academy Film Award. Her nominations include nine Golden Globes, two Academy Awards, five Emmys, and four British Academy Television Awards.
Are Billy Raymond Burton's Parents Married?
Sources have not revealed any indication that Billy Raymond Burton's parents ever got married. The movie power couple first crossed paths in 2001 while Tim was working on the Movie, Planet of the Apes with Helena in the starring role.
Even before they started dating, there were speculations that the duo was romantically involved while on set. However, the rumors were proved right when they publicly declared their relationship after the movie's premiere.
While their relationship lasted, the celebrity duo was like a match made in heaven. Though they had their issues, Tim and Helena appeared to complement each other. The births of their two children were celebrated with joy, and fans expected that wedding bells would ring for the two.
However, Billy Raymond Burton's parents came up with the announcement of their split in December 2014. Helena was in an interview session with Vanity Fair the next year when the English movie superstar spoke about their affair for the first time. According to the mother of two, they always had a special relationship which she hopes remains the same forever.
Going on, Helena said being there for each other should be the mark of a flourishing relationship. Sometimes, people are not meant to last forever in their relationships and you just have to admit that things have ended. Admitting that her affair with Tim was a gift, Helena called it a massive gift as they got two adorable kids out of it and a whole lot more.
Both Helena and Tim have since moved on with other people.
Tim Burton's Son is an Actor
Given his parents' identities, it was no surprise that Billy Raymond Burton started making onscreen appearances before he was out of diapers. At age 2, he appeared in Charlie and the Chocolate Factory, playing a Baby in Stroller. He was also spotted in Beach in Sweeney Todd: The Demon Barber of Fleet Street as a Boy at Beach.
In Big Eyes, Billy breathed life into the character of a Boy at Park, Dark Shadows featured him as a Boy at Train Station, and he was part of the cast of Alice in Wonderland as the Boy at Dock.
Though Helena and Tim exposed their kids to the movie world early enough, the actress has come out to say that she wouldn't like to have any of them follow in their footsteps and join the entertainment industry. She would love them to join mundane professions like accountancy or law.
Though Billy loves to live a private life away from the public eye, he has been severally spotted making public appearances with his parents. He was spotted walking the red carpet alongside his father at the 16th Rome Film Fest and was seen in Westminster Abbey with his mum, attending an International Nurses' Day service.