Monica Turner (born 1967, Age: 56) is an American pediatrician who is primarily known as the ex-wife of the all-time famous athlete and renowned boxer, Mike Tyson.
Celebrities are always under the scrutiny of the public, with their lives being constantly monitored. This usually results in little to no privacy in their private life. Their families are usually put under the spotlight unconsciously due to their association with them.
This can be likened to the case of Monica Turner, who became popular due to her association with a celebrity – Mike Tyson. Although Monica Turner has made quite a name for herself in her career as a pediatrician, most of the fame she has gotten is due to her past relationship with Tyson.
Due to their union, she has been thrust into the limelight and has consequently piqued the attention of the public. Questions about her personal life are arising, as people want to know more about her. Read to find out more about Monica Turner, the second wife of Mike Tyson.
Monica Turner's Profile Summary
Full Name: Monica Teresa Turner
Year of birth: 1967
Age: 56
Place of birth: Washington DC, The USA
Nationality: American
Religion: Christianity
Mother: Mabel Steele
Father: John Turner
Brother: Michael Steele
Ethnicity: African-American
Occupation: Pediatrician
Height: 5ft 9in
Eye color: Brown
Hair color: Black
Spouse: Mike Tyson (divorced)
Children: 3
Monica Turner Was Born and Raised in Washington DC, USA
Monica Teresa Turner was born in 1967 in the neighborhood of Petworth in Northwest Washington DC, the United States of America. She was born to John Turner and Mabel Steele. Her mother worked as a scout's executive while her father worked as an attorney. The family was an average well-to-do average family in the USA at the time. Both of her parents are black Americans and after her birth, her parents adopted a boy named Michael Steele. He later became a lieutenant governor of Maryland between 2003 and 2007. He was a former Republican National Committee Chairman and is currently a political commentator.
Monica's primary education line has not been revealed to the public. However, it has been established that she attended Georgetown University with a degree in Medicine in 1995, and subsequently specialized as a pediatrician.
Monica Turner and Mike Tyson Met At A Party In New Jersey
The Pediatrician met Mike Tyson at a party in 1990. The party was hosted by the famous comedian and actor, Eddie Murphy, in New Jersey. Monica was still in the university, while Mike was actively a boxer at the time. However, Tyson was still married to his first wife and actress, Robbin Givens, though they were on the brink of divorce. Turner and Tyson felt an instant connection at the party. They started out as friends and kept in touch with each other. Their relationship eventually became something more. While processing his separation from his first wife, Mike and Monica began a romantic relationship, but they kept it a secret from the public.
Mike Tyson Was Convicted of Rape During the Course of Their Relationship
Mike Tyson was convicted of rape two years into his relationship with Turner. He was consequently sentenced to six years in jail with four-year probation. The World Champion only served three years of this sentence. Tyson was released in 1995, having been sentenced in March 1992. Monica Turner stood by Tyson during the saga and even visited him occasionally. She constantly flew in every two weeks to check in on Mike while he was in jail. It helped build their love as they grew more intimate with each other as time passed.
After his release from prison, the couple dated two more years before they tied the knot.
Their Marriage Ceremony Was a Private One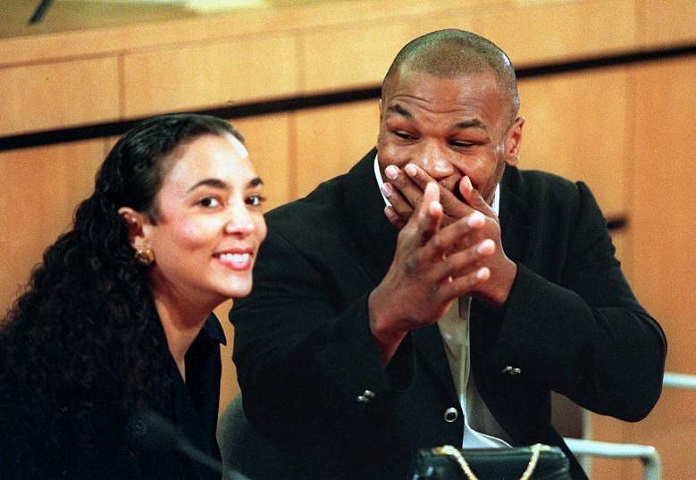 Moana Turner and Mike Tyson had their wedding ceremony in April 1997, after dating for over six years. Their marriage took place at their home in Bethesda, in a private Muslim ambiance. It was quite small, with just close family and friends in attendance. The wedding ceremony was officiated by Mike Tyson's spiritual adviser, Muhammad Sideeq.
Mike Tyson Was Convicted Again After Their Marriage
Trouble struck again one year into the couple's marriage. Mike Tyson was convicted of assault this time around. This was filed after he assaulted two motorists. He was found guilty and then sentenced to one year in prison in August 1998. Mike was eventually released in February 1999. The couple's marriage never really recovered after the last conviction.
Monica Turner's Ex-Husband, Mike Tyson Holds The Title Of The Youngest Boxer to Win a Heavyweight Title
Michael Gerald Tyson, Monica's ex-husband is an American retired professional boxer whose career spanned from 1985 to 2005. Tyson is one of the greatest heavyweight boxers of all time. He won his first professional 19 fights by knock-out, winning 12 in the first round. Tyson reigned as the undisputed world heavyweight champion for three years. Claiming his first belt at the age of 20, he holds the record of the youngest boxer ever to win a heavyweight title. Tyson is the first heavyweight boxer to hold the IBF, WBA, and WBC titles simultaneously.
Tyson was known for his intimidating and wild boxing style, as well as his questionable behaviors outside the ring. He was ranked first on ESPN's list of 'The Hardest Hitters in Heavyweight History' and 16th on The Ring Magazine's list of 100 greatest punchers of all time. He has been inducted into the International and World Boxing Hall of Fame.
Monica Turner Eventually Filed For Divorce in 2000
Monica decided to file for divorce against her then-husband, Mike Tyson after they eventually fell out. She filed it the on grounds that he had cheated on her and was constantly unfaithful to her. She also added that he was a notorious womanizer who didn't spend his time at home. Monica further said that he was a spendthrift who spent most of his money on women, cars, and other materialistic possessions.
Friends and families expressed their unhappiness with the couple's misunderstanding and they hoped that they would clear it. However, it seemed Monica Turner was quite determined to put an end to the union. The divorce proceedings lasted for about three years. In 2003, the couple finally resolved and decided to part ways. It was a peaceful process, with no major fights or disagreements. Monica Turner was awarded $9 million as a divorce settlement. She was also given a luxury estate in Farmington and the Bethesda home. The two houses are worth a combined $9 million.
The Couple Had Two Children Before Their Divorce
Monica Turner had a child from a previous relationship with Eugene B. Bryd. Her first child with Mike Tyson was born on the 14th of February, 1996, and named Rayna Tyson. The second child, Amir Tyson was born on August 6, 1997. In addition, Mike Tyson had two children from his previous marriage. Monica was the one that took care of all the children while she was married to Mike Tyson. She filled in the role as a stepmother for Mike's children and took care of them as her own.
Rayna and Amir Tyson Are Both Doing Well For Themselves
Her second child and the couple's first, Rayna Tyson graduated from New York University. She studied Film and Television production. Rayna won the award of Best Film Student in college. She has since been involved in the production of several movies like Joker, The Death and Life Of Marsha P. Johnson, and many more.
Amir Tyson enrolled in the American University, where he earned a degree in Broadcast Journalism. He is currently the CEO of Debonair Attire, a clothing line label.
Monica Turner is Currently the COO of Debonair Attire
Monica Turner presently serves as a pediatrician in Bethesda, Maryland. She is also a member of APP, the American Academy of Pediatrics. In addition, Monica is an active member of her community, and is a part of several NGOs, although consumed with work. According to her Instagram page, she is presently the COO of Debonair Attire, a clothing line established by her son.