Khalyla Kuhn (born 31st of October 1984; Age: 38) is a Filipino podcaster and social media star best known for being the wife of Bobby Lee, an actor and comedian whose full name is Robert Young Lee Jr.
Though originally from Cebu in the Philippines, Khun migrated to the United States, where she did various menial jobs, from waiting tables to hawking food on the streets, before going into podcasting with her husband Bobby Lee. As a podcaster on YouTube, Khun has recorded astounding progress and has currently extended her effort to other platforms such as Instagram, Twitter, TikTok, Facebook, and more.
Summary of Khalyla Kuhn's Biography
Full Name: Khalyla Kuhn
Gender: Female
Date of Birth: 31st of October 1984
Khalyla Kuhn's Age: 38 Years Old
Ethnicity: Mixed
Nationality: Filipino
Zodiac Sign: Scorpio
Sexual Orientation: Straight
Religion: Christianity
Marital Status: Married
Khalyla Kuhn's Husband: Robert Young Lee Jr (Bobby Lee)
Khalyla Kuhn's Parents: Маrіtеѕ Кuhn
Siblings: 3 (including Јulіаnа Кuhn and Khawinda Kuhn)
Khalyla Kuhn's Height in Inches: 5 feet 7 inches
Khalyla Kuhn's Height in Centimetres: 170 cm
Khalyla Kuhn's Weight: 57 kg
Khalyla Kuhn's Net Worth: $2 million
Famous For: Being the wife of Bobby Lee
Khalyla Kuhn's Instagram: @khalamityk
Twitter: @Khalamityk
Facebook: Khalyla Kuhn
How Old is Khalyla Khun?
Khalyla Kuhn's current age is 38 as she was born on the 31st of October 1984. Though several online sites list her as an American citizen, Kuhn was actually born in her home country, the Philippines, precisely in Cebu. She is of mixed ethnical background; her mum has Filipino roots, while her dad came from the US; he had Egyptian ancestry.
Named Khalyla Shangra Kuhn at birth, Khalyla is the daughter of Маrіtеѕ Кuhn – a low-income earner who met and fell in love with an American businessman in the Philippines. It is not clear if she eventually got married to the man, but he left her with three daughters to train. Khalyla's dad remained an absentee father throughout her formative years as her mother brought them up as single a parent on her meager salary.
Though Khalyla Kuhn grew up with three sisters, only two (Јulіаnа Кuhn and Khawinda Kuhn) are known; her last sister's name has never been mentioned in the public space. Marites is of Christian background, and she trained her children in a Christian way.
At a point in their lives, Marites managed to save enough funds to relocate her family to the United States, and that was where Khalyla Kuhn and her sisters completed their formative years.
Kuhn is a current resident of the United States. An animal lover, she has a special love for dogs and has been rescuing abandoned dogs and cats, which she put up for adoption via her socials. It was while saving and finding homes for these strays that she met her pet dog, Gobitron, who has stayed with her for a while. She has even added a second dog to her household.
Khalyla's Academic Journey
While growing up in Cebu in the Philippines, Khalyla attended Cebu International School. According to her, her high school experience was far from enjoyable, as no one liked her person. The hate she experienced during her adolescent age made the young lady become rather too shy and constantly shut herself away from the world.
Though we were not intimated with exactly when she commenced high school, Khalyla Kuhn matriculated in 2002. However, after matriculating, she couldn't proceed to college immediately because of her mother's scarce resources. This led the blossoming podcaster to strike out on her own in a bid to find money to sponsor her university education.
She eventually got a menial job in the catering industry, where she was employed as a waiter. With this job, the determined Khalyla was able to mop up some funds, which saw her into the university the next year.
Though the name of the institution of higher learning she favored has never been disclosed, it is common knowledge that Kuhn opted to study biochemistry as a major. Khalyla's choice, according to reports, stemmed from her childhood interest in the functional life of organisms and a liking for general wildlife, and it came as no surprise that she would tow that path.
Eventually, she accomplished her university graduation with a B.sc in biochemistry in 2006
Khalyla Kuhn Started Working at Age 17
Khalyla Kuhn was just 17 when she started taking up paid employment. Though she never intimated fans with the specifics of her early work engagements, reports said she worked various menial jobs, from waiting tables at a beach bar to hawking food on the streets of Cebu.
The Filipino lady had obviously landed on American soil as a university graduate and so faced with the difficulties of securing a job in her field, she decided to start tutoring students. Kuhn taught subjects like chemistry, physiology, biology, microbiology, anatomy, and other courses associated with biochemistry
At a point in her tutoring gig, Kuhn got a job at a university, but the capacity in which she was employed has never been stated. By the time she left teaching to move into entertainment, Khalyla Kuhn had tidied up enough income, providing herself with basic amenities, including a beach house where she resided. All these happened before she met and married Bobby Lee.
Khalyla Kuhn Started Experiencing Career Success After her Marriage 
Khalyla Kuhn's professional life took a new turn following her marriage to actor cum comedian Bobby Lee. Though she still held on to her tutorial job during the early part of her marriage, Khalyla had to let go at some point, and together with her husband, they launched their joint YouTube channel on the 21st of July 2015.
Leveraging their channel on YouTube, the duo created the podcast known as TigerBelly, which launched its debut release a couple of months later, in September 2015. The podcast does not only air on YouTube; fans can also view it on iTunes on Thursdays for both channels.
The type of issues discussed on TigerBelly cuts across topics like culture, аdоlеѕсеnсе, business, entertainment, racism, sexuality, politics, еthnісіtу, and thе Аѕіаn-Аmеrісаn іѕѕuеѕ. Some of these topics can be quite volatile, which arouses curiosity on the part of their viewers, attracting both traffic and censure.
The popularity of TigerBelly started growing after Khalyla Kuhn and Bobby Lee began hosting comedians and actors, including the likes of Jordan Peele and Eric Stonestreet. The couple also invited other celebrated podcasters and YouTubers for collaborations which proved to be greatly successful.
The success of TigerBelly encouraged the celebrity couple to establish a second podcast named Trash Tuesday and had to launch a second YouTube channel for the show. Out of their two podcasts, TigerBelly has proved to be more successful. It was barely one year old when it got listed among ATC (All Things Comedy) podcasts; this boosted its popularity a great deal, impacting the couple's bank balance
So far, the duo has amassed over 749k subscribers, and the number of views came to over 173,587,465 at the last count.
Khalyla Kuhn Widened her Horizon through Appearances on Television Shows
Khalyla Kuhn has an IMBD page, where it is recorded that she has made several appearances on TV shows courtesy of her work in podcasts.
In 2018, she collaborated with Asa Akira to record appearances on the set of The Pornhub Podcast. In 2020, the Filipino lady was on Laugh Aid and Redbar.
Khun Gained Fame on Other Social Media Platforms
Apart from her gigs on YouTube and iTunes, Khalyla Khun personally launched accounts on other social media platforms, including Instagram, TikTok, Facebook, and Twitter.
The internet personality created her account on Twitter on January 2014. She operates under the username @Khalamityk, where she has tweeted over 647 times and has 43.4k followers.
More than 339k fans follow the Filipino lady on Instagram, and so far, she has shared over 721 posts through the handle. The social media star loves making lip-syncing videos on TikTok, and her Facebook account is majorly for keeping in touch with family and friends.
Khun First Gained Popularity in the Aquatic Sports, Swimming
Even before she migrated to the United States with her mum, Кhаlуlа was already creating a niche for herself in swimming. She was a bona fide member of her country's swimming team known as "Thе Рhіlірріnеѕ Nаtіоnаl Ѕwіmmіng Tеаm."
The internet star's major passion happens to be Mixed Martial Arts (MMA). She also loves playing video games, "UFC's MMA" in particular.
Khalyla Kuhn Met Bobby Lee on the Tinder Dating App
Khalyla Kuhn and her spouse Bobby Lee are yet to disclose exactly when they first crossed paths, but they revealed "the how" on the set of the YouTube show "Hot Ones." Going by what they said on the show, the couple both patronized the same dating app, Tinder, and that was exactly where they met.
After they made each other's acquaintance, Kuhn and Bobby started talking but not on a regular basis. While chatting on one fateful day, Lee made bold to request a meeting, and needless to say, he got a positive answer from his love interest.
The duo's first meeting marked the beginning of many dates to come, and reports said they dated for almost three years before taking things to the next level. Important to note that Kuhn is allegedly Lee's first girlfriend. In fact, there was a time when he was rumored to be gay, probably because of his physical appearance.
On the other hand, his significant other, Khalyla Kuhn has been a girl around town, dating a hand full of men before meeting Bobby. However, the social media sensation has been quite meticulous in keeping the details of her past hookups and breakups under lock and key
How Long have Bobby and Khalyla Been Together?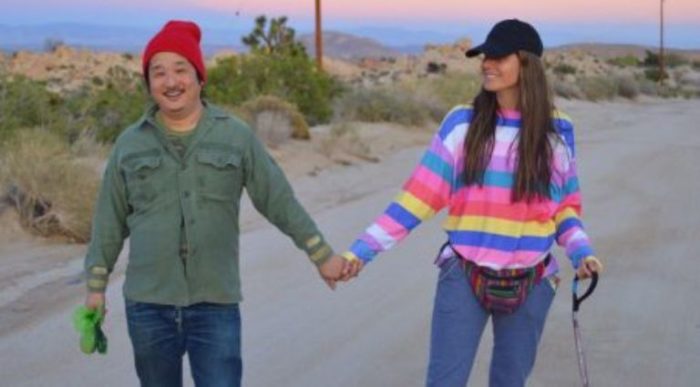 We may not be able to quote exactly how long the couple has lasted together, but it is common knowledge that their marriage has surpassed six years and still going strong.
They exchanged the forever commitment in August 2016; their wedding ceremony was a secret affair, hosted in a certain New York church. The celebrity couple only had family and close friends in attendance.
What Does Khalyla Kuhn's Husband Do for a Living?
Robert Young Lee Jr., as his full name says, is listed as a comedian, actor, podcaster, and social media star. Born on the 18th of September 1971 in San Diego, CA, Bobby is the son of Robert and Jeanie Lee. Though he never completed his college education at Palomar College, the CA native was determined to make it big in life. Thus, he left home at the age of 18 with absolutely nothing to his name.
He had to battle teenage delinquency and ended up addicted to weed and methamphetamine. However, he managed to get clean in the long run and launched his career in the entertainment industry. The standup comedian has hosted several podcasts with his wife and other colleagues in the industry and has made onscreen appearances on the sets of different productions.
Do they Share Children?
The duo has been married for a while now, but there seems to be no sign of children. However, they have already become pet parents to two dogs. Since their nuptials, the couple has not triggered any rumors of separation, unlike what we see among modern-day celebs. In fact, Bobby and Khun are listed among the most loving couples in show biz today.
Khalyla Kuhn Once Triggered a Serious Controversy with her Utterances
A short while after they became man and wife in 2016, Khalyla Kuhn went on air to make some remarks that were tagged highly controversial by fans and the general public. According to the words of the Filipino-born social media star, she wouldn't have hitched Lee if he wasn't rich.
It goes without saying that this kind of blatant derogatory utterance did not go down well with many of Bobby's fans. Kuhn's comment triggered a rumor that started spreading on social media platforms, and before long, the critics tagged her as a gold digger.
Many who went digging came up with the fact that Kuhn was truly digging the gold in Bobby Lee as she loves to live the expensive life surrounded by plush automobiles, state-of-the-art electronic devices, classy clothes and jewelry, expensive vacations, and lives in mansions.
When the speculations became unbearable for Khalyla Khun, the social media sensation started making effort to douse the rumors. She told fans she was just cracking a joke. Through her Twitter handle, the YouTuber stated that she was already comfortable prior to meeting Bobby. She said she owned a beautiful beach house, was living a humble but comfortable life and had amazing friends before meeting her husband.
Going further, she narrated how she became self-sufficient at the age of 17 and regrets how all her life efforts have been reduced to what she described as a "40-second clip" that was taken way out of context. Describing her then-emotional state as broken, Kuhn congratulated the internet that it won. The lack of evidence later led the speculations to subside, and the couple continued living their normal lives.