Gregory Mecher is the husband of Jen Psaki, an American television political analyst and former government official who served as the 34th White House press secretary in both the Barack Obama and Joe Biden administrations. 
Gregory and Psaki have been married for over a decade since the year 2010, and they have remained together ever since. They have two children between them, and it appears that their romance keeps gaining momentum as each day passes.
Summary of Gregory Mecher's Biography 
Full name: Gregory Matthew Mecher
Gender: Male
Date of birth: September 30, 1976
Gregory Mecher's Age: 47 years old
Ethnicity: White
Nationality: American
Zodiac Sign: Libra
Sexual Orientation: Straight
Religion: Christianity
Marital Status: Married
Gregory Mecher's Wife: Jen Psaki
Gregory Mecher's Children: 2
Gregory Mecher's Parents: Mary Ann Mecher and Michael Mecher
Gregory Mecher's Height in Inches: 5 feet 9 inches
Gregory Mecher's Height in Centimetres: 175 cm
Gregory Mecher's Net worth: $2 million
Famous for: Being Jen Psaki's husband
How Old is Gregory Mecher?
Gregory Mecher is currently 47 years old. This is because he was born on the 30th of September 1976. His zodiac sign is Libra. Our findings show that he was born and raised in the southern region of Ohio, USA. Growing up in southern Ohio, Mecher's early life was characterized by the simplicity of his surroundings and, especially, the warmth of his family.
Mecher was not born into a rich family. In fact, his childhood was spent in a modest home, with his family living within their means. However, despite the limited material wealth, he has revealed that childhood was a time filled with joy and love, largely due to the unwavering support of his parents.
His father has been identified as Michael Mecher, and his mother's name is Mary Ann Mecher. Their commitment to nurturing their son's well-being and dreams created a nurturing environment that left lasting impressions on Mecher.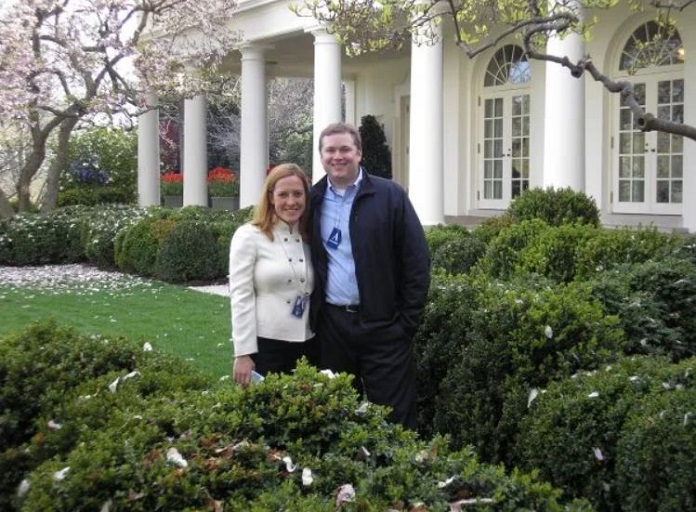 From what was read out from his wedding announcement years later, we understand that Mecher's mother played a vital role in the community as a dedicated 4th-grade teacher at a Catholic elementary school in Cincinnati. On the other hand, Mecher's father pursued a career as a mechanical engineer in Hebron, Kentucky. His mother was particularly interested in his education and ensured he gave everything to become the best version of himself.
While the Mecher family may not have enjoyed extravagant wealth, their bond was rich with love and mutual care. Mecher has talked about how his family's support for one another created a nurturing environment that allowed him to thrive in his pursuits. It remains unclear whether Gregory has any siblings, but what is evident is that his upbringing was marked by the values of family, community, and the pursuit of knowledge.
Gregory Mecher is a Graduate of Northern Kentucky University
During his formative years, Gregory Mecher enrolled at Elder High School, an institution he proudly identifies as his alma mater. In fact, he has this on his Facebook page as his alma mater. This school is renowned for being an all-boys Catholic preparatory school situated in Cincinnati, Ohio, where Mecher received his foundational education.
Upon successfully completing his education at Elder High School, Mecher chose to remain close to his hometown for his college years. He enrolled at Northern Kentucky University, where he pursued his academic journey and achieved a bachelor's degree in communications and television production in the year 1999.
This educational path laid the foundation for Mecher's future endeavors and undoubtedly played a significant role in shaping his career in the field of politics and beyond.
Gregory Mecher's Wife is a Well-Known Figure in the USA
Gregory Mecher's wife, Jen Psaki, is a prominent figure in the American political and media landscape, and she is widely recognized for her contributions to both the government and the media. With a strong background in political analysis and an affiliation with the Democratic Party, she has made significant strides in her career. Having played integral roles in two presidential administrations, Psaki's journey in politics began with her service in the Obama administration.
In 2009, she assumed the position of White House deputy press secretary, where she skillfully navigated the complexities of communicating the administration's message to the public. Her abilities were soon recognized, leading to her appointment as the White House deputy communications director, a role she held from 2009 to 2011. In 2013, her expertise was sought after by the United States Department of State, where she became the spokesperson, a critical role in international relations and diplomacy.
The pinnacle of Psaki's government service came when she was appointed as the White House communications director in 2015, a position of immense responsibility within the Obama administration. Transitioning from government service to media, Psaki took on the role of political contributor at CNN from 2017 to 2020.
Her insightful analysis and deep understanding of the political landscape made her a valuable asset to the network, where she continued to engage with the public on critical issues. Jen Psaki has further expanded her media presence by hosting a weekly television program called Inside with Jen Psaki on MSNBC.
The Story of How Gregory Mecher Meets His Wife
Gregory Mecher and Jen Psaki's love story began in 2006 when fate intervened and brought them together through their shared passion for politics. Both were actively involved with the Democratic Congressional Campaign Committee at the time they first met. Psaki had just embarked on her new role in the communications department, while Mecher served as a deputy finance director, laying the foundation for their eventual connection.
Their initial encounter, though, had an unexpected twist. That fateful day, Mecher and a group of other men, including Rahm Emanuel, the chair of the DCCC at the time, were trying to get to an important event, and he was asked to call Jen to get directions, so he did after getting her number. However, during the phone conversation, Psaki inadvertently provided Mecher with incorrect directions to the event and this caused some problems for Mecher and the group he was with, as they struggled to get to the event due to Psaki's wrong directions.
Psaki later realized her error, and because of the mix-up, she got concerned that the group, which included Rahm Emanuel, would be displeased with her upon their arrival. However, when Mecher and the others finally got to the event, he was blown away by Psaki's beauty. Once Mecher met Psaki face-to-face, any memory of the mishap quickly faded as he was captivated by her charm. Mecher and Psaki eventually spoke briefly during the event, but nothing serious happened between them that day.
Later, Mecher and Psaki found out that their desks were conveniently placed near each other at the DCCC headquarters in Washington, D.C. This thrilled Mecher because he became determined to get Psaki to like him back. He later confessed to the Washington Post that attempting to get Psaki's attention as he passed by her desk was no easy feat. Her constant multitasking, including phone conversations, BlackBerry typing, and computer work, made it nearly impossible to catch her eye unintentionally.
As Mecher contemplated asking Psaki out, nerves got the best of him, and he was scared to talk to her. Eventually, he mustered the courage to extend an invitation via email for a dinner date in September 2006. She immediately agreed to it, thrilling Mecher beyond words. The sparks between them were undeniable, and thus, their romantic journey began.
However, their relationship faced an early test when Psaki relocated to Chicago to work for the Obama presidential campaign in early 2007. Over the next year and a half, Psaki and Mecher embarked on a long-distance relationship that frequently involved late-night phone calls due to Psaki's demanding travel schedule. Mecher affirmed to the Post, during an interview, that at one point, they went without seeing each other for 36 days and it was hard for them.
But, neither of them ever contemplated ending their relationship, as they both recognized that the campaign would eventually conclude. Mecher, in particular, empathized with Psaki's daily grind, having himself worked on John Kerry's presidential campaign in 2004.
Gregory Proposed To Psaki Shorty After They Moved in Together
Following the conclusion of the 2008 election, Mecher and Psaki decided to take their relationship to the next level by moving in together. This got them head even more over heels in love as they started living like a married couple. Just a few months later, Mecher proposed to Psaki, and she happily accepted. It is not exactly clear where and how he proposed.
But, reflecting on this significant moment later, Mecher revealed to the Washington Post that he was so excited that he immediately reached out to his former boss, Rahm Emanuel, to share the news after he proposed. In his characteristic fashion, Emanuel congratulated Mecher with a few colorful expletives, a unique form of praise that only he could offer.
Mecher also reached out to other important people in his life to share the good news. The stage was set for their wedding.
They Got Married in 2010
Some months after getting engaged, Gregory Mecher and Jen Psaki became husband and wife. Their marriage took place in May 2010. Their wedding, as announced in the New York Times, took place at the picturesque Woodlawn Farm in Ridge, Maryland. The ceremony was officiated by a Protestant minister, adding a touch of spiritual significance to their union.
At the time of their wedding, Psaki held the role of White House deputy communications director, a position that exemplified her dedication to public service. Mecher, on the other hand, worked on Capitol Hill and served as the chief of staff for Democratic Representative Steve Driehaus of Ohio. Their professional pursuits mirrored their shared commitment to making a positive impact on the nation, even as they embarked on this deeply personal journey of marriage.
Gregory Mecher and Jen Psaki Have Two Children Together
Gregory Mecher and Jen Psaki are the proud parents of two young children. However, they have consciously chosen to maintain their kids' privacy, shielding them from the public eye. In fact, details about the dates of birth and how they are being raised remain out of reach of the public.
However, Psaki occasionally offers glimpses into her life as a mother through her Twitter posts. In her Twitter bio, she proudly identifies herself as the "Mom of two humans under five," showcasing her dedication to her family alongside her professional endeavors. In a light-hearted tweet from August 2020, Psaki humorously anticipated the possibility of her two young children, aged 2 and 5 at the time, interrupting her CNN interview while she worked from the comfort of her home.
The couple has decided to raise their family in Virginia, having relocated from their previous residence in Washington, D.C. In 2013, Mecher and Psaki made a significant investment, purchasing a three-bedroom townhouse in close proximity to Georgetown University for $865,000. They resided in this townhouse for over five years before opting for a change. According to reports from The Washington Post, the couple sold the townhouse in March 2019 for $919,000.
Property records reveal that Mecher and Psaki made a subsequent move, acquiring a single-family home in 2018 in Virginia. This spacious residence, valued at $1.638 million, boasts six bedrooms, 5.5 bathrooms, and an expansive living area spanning more than 4,500 square feet, as reported by Redfin. It serves as their family haven, where they continue to nurture their children and build cherished memories together.
What Does Gregory Mecher Do For A Living?
Our findings show that Gregory Mecher has dedicated his entire career to the field of politics, a journey that began during his college years. His foray into the world of politics commenced when he served as the "student representative to the Board of Regents," at Northern Kentucky University. This was revealed in a 2018 feature in NKU Magazine.
During this time, a fellow student co-regent played a pivotal role in helping him secure an internship with Congressman Ken Lucas, who represented Kentucky's 4th district from 1999 to 2005. Mecher fondly recalled that this internship experience served as the crucible for his deep-seated passion for politics. From that point forward, he charted a path that led him to Washington, D.C., where he has steadfastly worked ever since. His commitment to public service and politics was evident even before he tied the knot with Jen Psaki in 2010.
In 2010, when Mecher and Psaki exchanged vows, he was diligently serving as the chief of staff for Congressman Steve Driehaus of Ohio. Congressman Driehaus represented Ohio's first district for a single term, from 2009 to 2011, and Mecher's role as chief of staff exemplified his dedication to advancing the legislative agenda of his elected representative.
Continuing his journey through the corridors of power, Mecher also held a significant position as the chief of staff for Representative Joe Kennedy III of Massachusetts. Representative Kennedy, who began his congressional tenure in 2013, represented not only his constituents but also Mecher's commitment to public service.
How Much is Gregory Mecher's Net Worth?
According to current reports, Gregory Mecher is believed to possess a net worth of approximately $2 million. While the precise details of Mecher's salary remain mostly undisclosed, his accumulated wealth can be attributed primarily to his extensive career as a politician spanning several years.
Mecher's dedication to the realm of politics has been unwavering, a commitment that he initiated during his college years at Northern Kentucky University. His steadfast journey in this field, combined with his passion for political matters, has played a pivotal role in his ascent up the financial ladder.